France, renowned for its rich cultural heritage, exquisite cuisine, and breathtaking landscapes, also contains a treasure trove of golf courses that cater to the most avid of golfers. One place that showcases two courses that truly encapsulate golfing in France is Terre Blanche Golf Hotel Spa Resort. Tucked away amidst acres of lush greenery and rolling hills in the enchanting countryside of Provence, the five-star resort welcomes golf enthusiasts and nature buffs from around the world. It is a member of "The Leading Hotels of the World."
The property was sold to entrepreneur and avid golfer Dietmar Hopp in 1999 with the goal to create an environmentally aware and carefully designed residential hotel and golf facility. Previously managed by Four Seasons, in 2012 Terre Blanche relaunched as an independent luxury resort with the intent to not only provide the highest level of luxury hospitality to guests but also to enhance the economy and tourism of the region while preserving the very delicate, natural surroundings.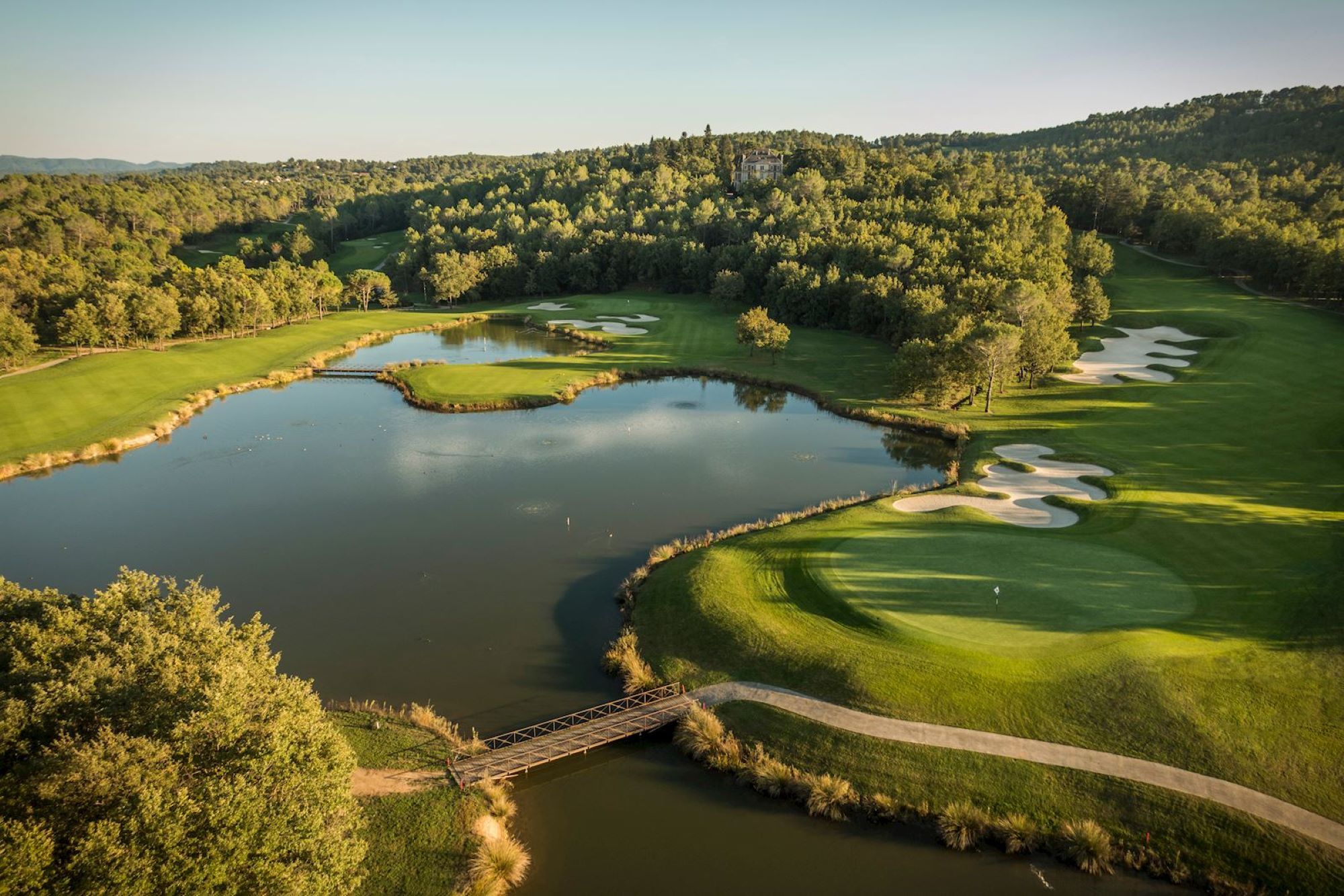 Terre Blanche Golf Course
Whether you are a golfer or merely seeking solitude and serenity in the bucolic setting of Provence, Terre Blanche is for you. Situated in Tourrettes, a charming hilltop village in the Var region of Provence-Alpes-Côte d'Azur France, Terre Blanche's ideal location provides guests with a serene escape from taxing city life, while still being accessible to Nice Côte d'Azure airport within 45 minutes, 80 minutes from St. Tropez, and 35 minutes from Cannes. 
Visitors to the resort will find that the grand, gated entrance hints at what treasures are to come, as the stunning architectural and interior design of the resort reflects the bountiful nature that encompasses the 750 acre property. Many of the design materials were locally sourced, such as the white stone carved from the quarries of Provence that is used for the buildings and the red clay terra cotta in the suites and villas. 
The immaculately manicured fairways, challenging layouts, and stunning vistas unquestionably make golfing at Terre Blanche a memorable experience. Awarded "2nd Best Golf Resort in Continental Europe" in October 2022 by Golf World (UK) TOP 100, Terre Blanche has consistently been ranked in the top three courses in continental Europe for the past eight years, claiming 1st place from 2015 to 2021.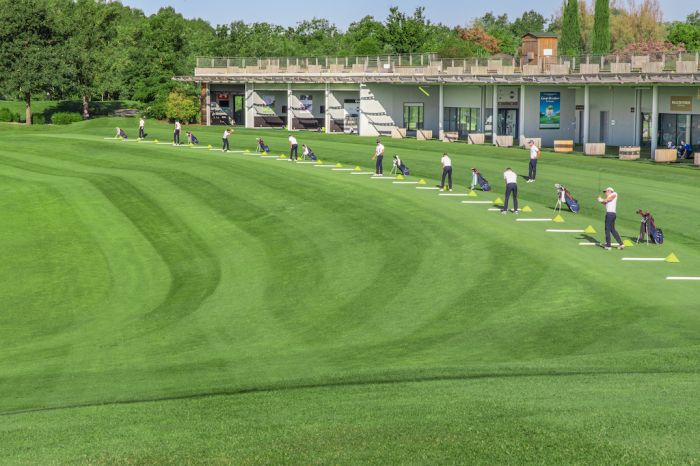 Albatros-Golf-Performance-Center
In operation since 2004, the property boasts two internationally acclaimed, championship golf courses, Le Château and Le Riou in addition to a state-of-the-art training facility. Golf architect Dave Thomas' task was to preserve the existing vegetation, with its vast forests, ravines, lakes, valleys and waterfalls, and incorporate nature into the design of the course. This dedication to preserve nature has earned Terre Blanche GEO Certified status. The GEO Foundation is an international not-for-profit organization that was founded to advocate, support and reward sustainability in and through golf.
Le Riou is a technical marvel with an18-hole, par 72 course set on a hillside that overlooks the quaint villages of the Pays de Fayence. The course is best suited for experienced players and is for the exclusive use of Club members and their guests in addition to hotel guests. Le Chateau is also an 18-hole, par 72 course that stands out for its unique water features and is the more demanding of the two courses. Golfers with a handicap under 35 are invited to play the challenging course. Both courses offer golfers an unforgettable experience, providing breathtaking views of the surrounding hills, dotted with centuries-old olive trees and fragrant lavender.
For those looking to enhance their golfing skills, the Terre Blanche Golf Academy offers personalized instruction led by a team of experienced golf professionals. The Albatros Golf Performance Center provides players with everything needed to give them an advantage, including a video analysis studio, customized club fittings, and a dedicated short game area that includes a driving range that has 64 bays over two levels. There are also two outdoor putting greens, one indoor putting green, and two approach greens and bunkers to round-out the practice area.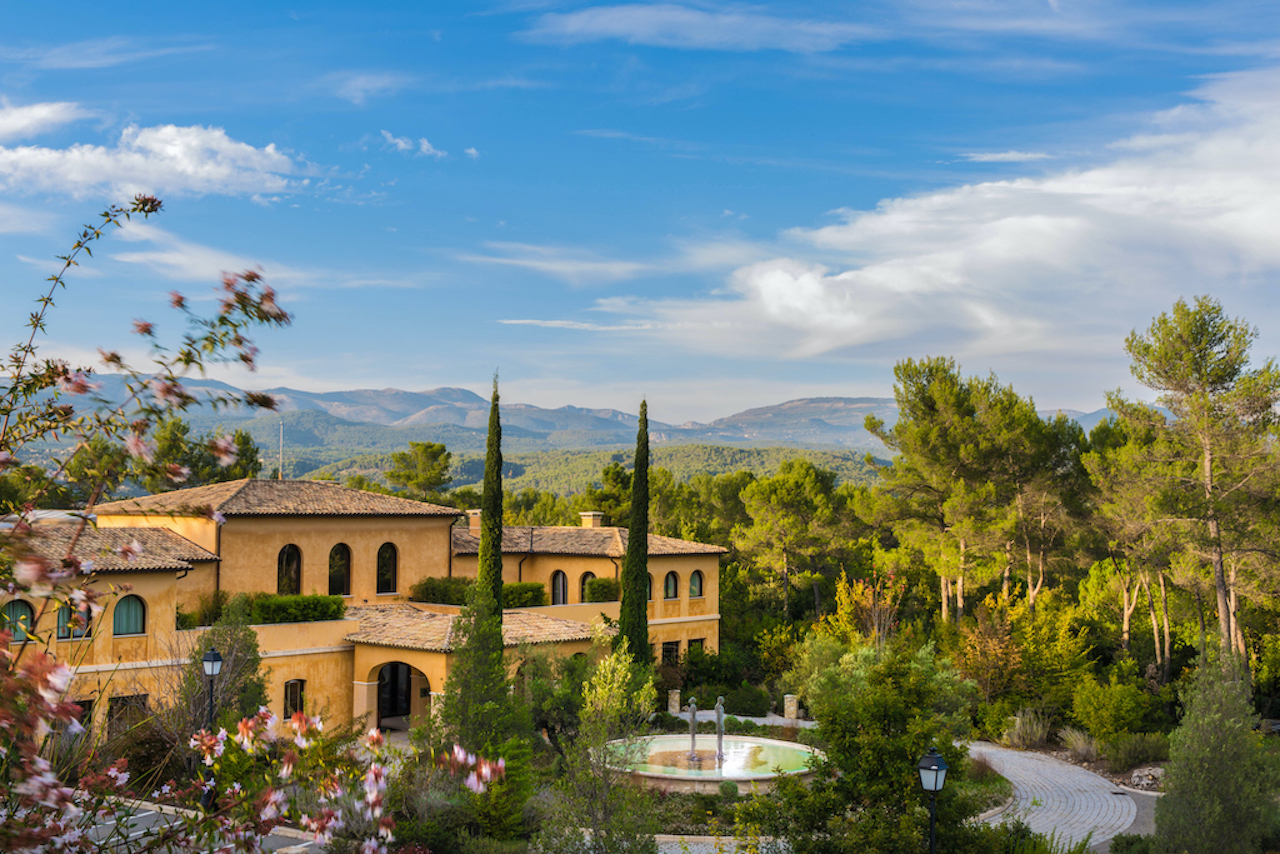 Terre Blanche Spa
Beyond golf, Terre Blanche offers 115 luxurious suites and villas; four restaurants serving exquisite Provençal fare; an award-winning, two-story spa facility; a breathtaking infinity pool;  and a Kid's Club and Teen's Club during summer months, making it an ideal destination for a family vacation.
Set amidst cypress trees, fragrant shrubs and aromatic plants, the Terre Blanche Spa is located within a sumptuous, 34,444 square foot Provençal country house. The award-winning spa is a haven of relaxation and rejuvenation, featuring 14 treatment rooms, an indoor pool, an outdoor vitality pool, sauna, steam room, and a relaxation lounge. There is also a hammam and a heated Laconium. Body and facial treatments are by the Swiss brand Valmont and organic brand KOS Paris. In addition to the spa, Terre Blanche offers a wide range of fitness and wellness activities, including yoga and Pilates, and outdoor fitness trails. The resort's commitment to holistic wellness ensures guests can focus on both physical and mental rejuvenation.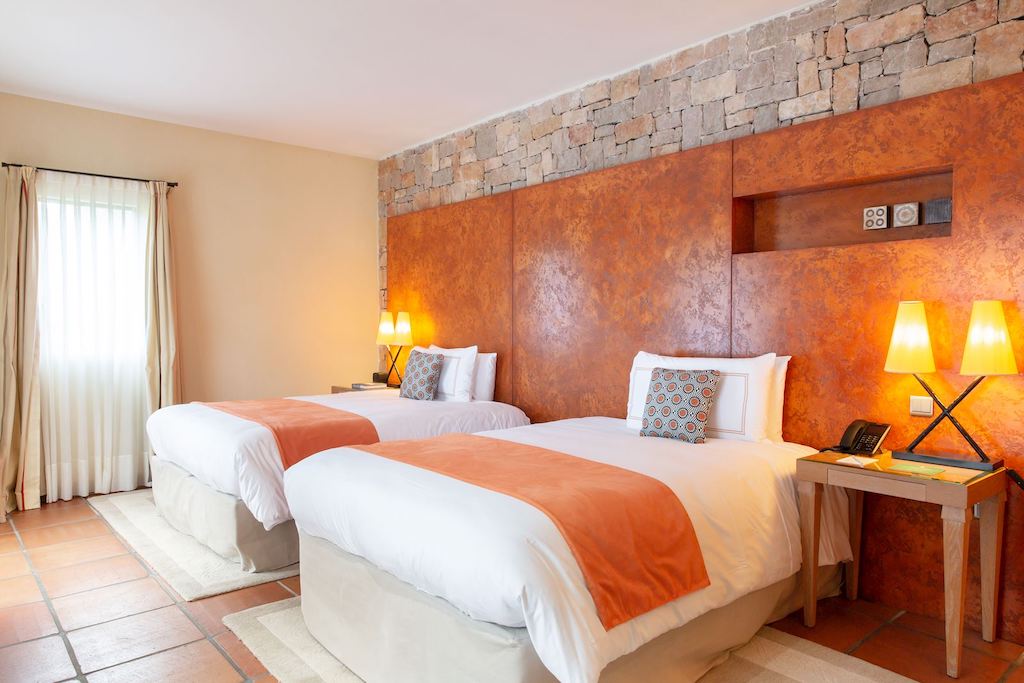 Terre Blanche Suite
The resort features 115 spacious suites and villas that are elegantly designed in a contemporary Provençal style. The luxurious suites consist of a master bedroom with one king or two queen size beds and a living room and sofa bed. There is a sliding door in between the master bedroom and the living room for added privacy and both rooms open onto a private terrace. Take in the picturesque views of the surrounding medieval villages and mountains while enjoying breakfast from your very own terrace. The opulent marble bathrooms are filled with natural light and have an inviting bath tub, a separate shower and a double sink. In addition to the suites, there is the Méditerrannée Villa with a private pool, the Estérel Villa with private jacuzzis, and the magnificent Terre Blanche Villa with 3229 square feet that has both a private pool and jacuzzi.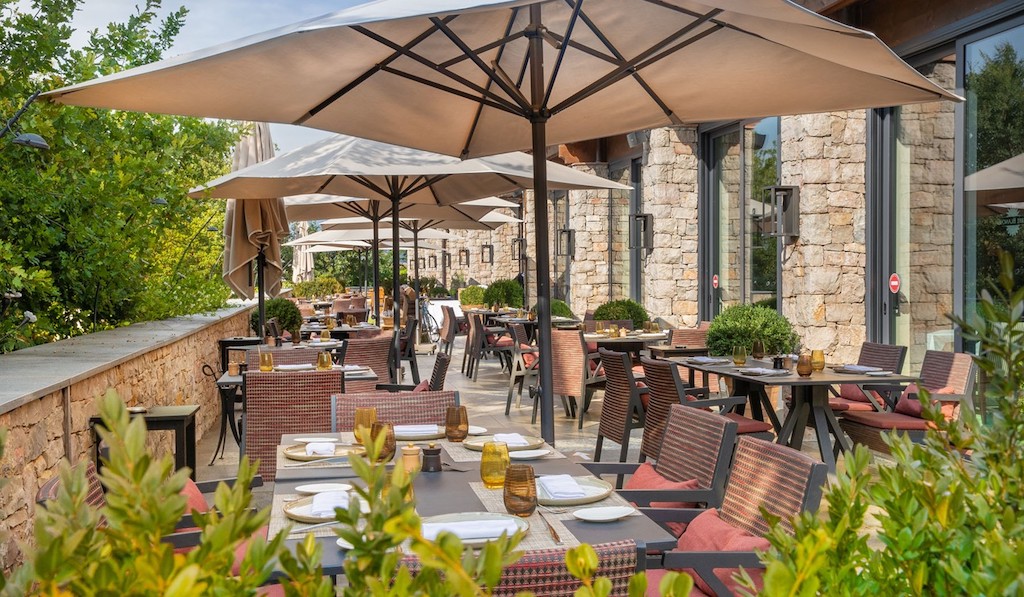 Le Gaudina Terrace
Terre Blanche Boasts a diverse range of dining options, from casual al fresco meals to Michelin-starred gourmet experiences. Le Faventia, the resort's Michelin-starred, gourmet restaurant, offers panoramic views of the hills of Pays de Fayence in an elegant setting. Chef Christophe Schmitt highlights the cuisine of the South of France, inspired by the flavors of the current season, local produce and Provence itself. Le Gaudina restaurant serves breakfast and diner in a more warm and relaxed atmosphere. The brasserie-style menu showcases elevated Mediterranean fare. Les Caroubiers, located in the resort's Clubhouse,  has stunning views from the 18th hole of the Le Riou course in a sporty yet stylish setting. Enjoy lunch on the terrace or by the fireplace, depending on the season, during a break from golf in a convivial setting. In the summer months, enjoy a relaxed lunch poolside at Le Tousco. The restaurant offers a buffet of salads, wild fish and shellfish, homemade pizzas and Buddha bowls. Next to Le Tousco is Le Pitchoun for children from 3 to 12.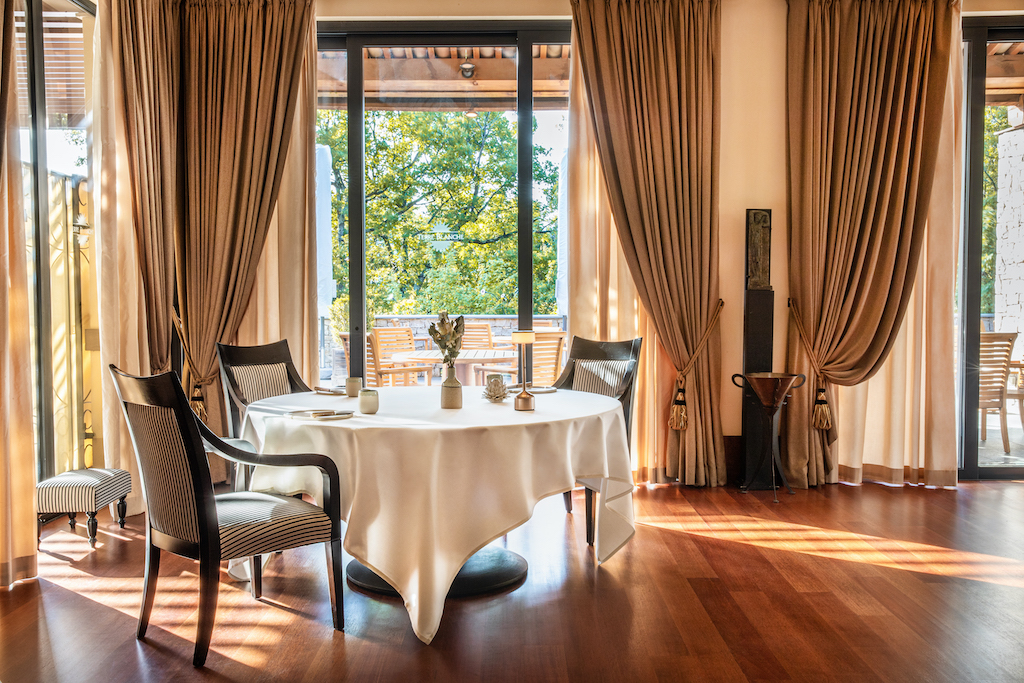 Le Faventia
Terre Blanche Hotel Spa and Golf is a quintessential Provençal paradise that marries the sophistication of luxury with the charm of the French countryside. Whether you're a golf enthusiast, spa aficionado, or simply seeking a peaceful escape in nature, the resort offers an unforgettable experience for the entire family. Terre Blanche embodies the essence of Provence, making it a destination that beckons travelers to return year after year.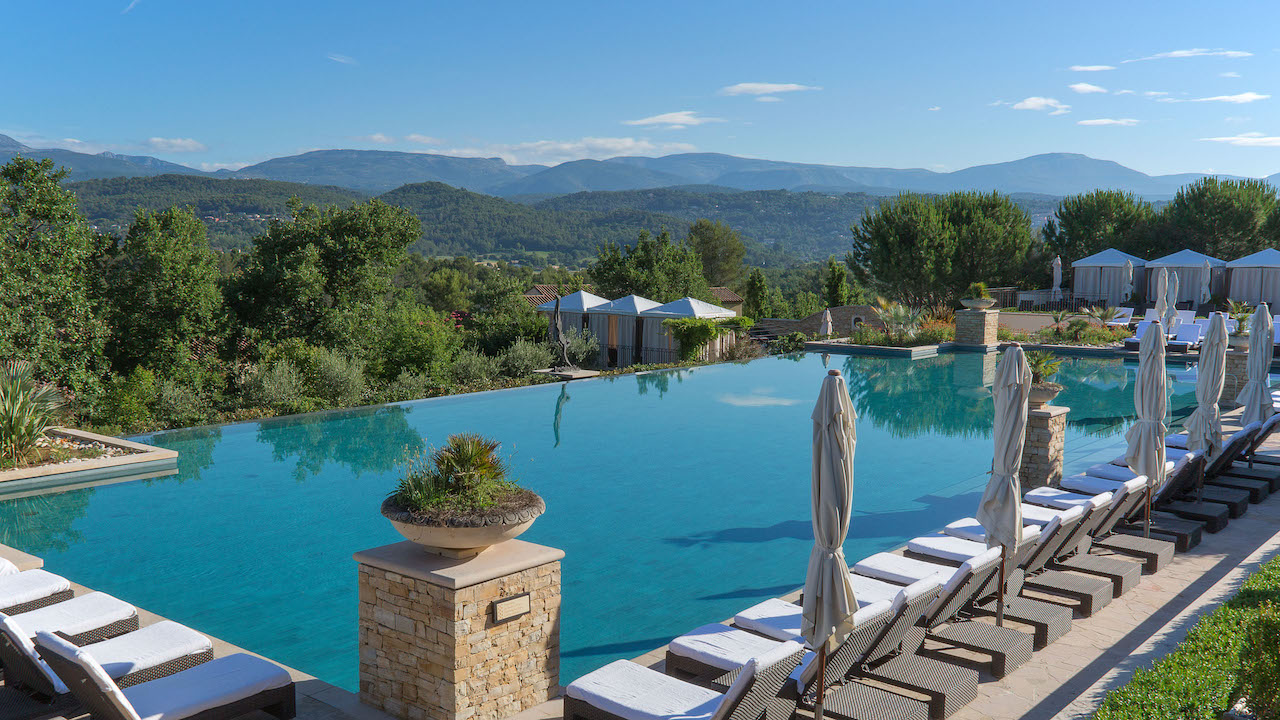 Infinity Pool