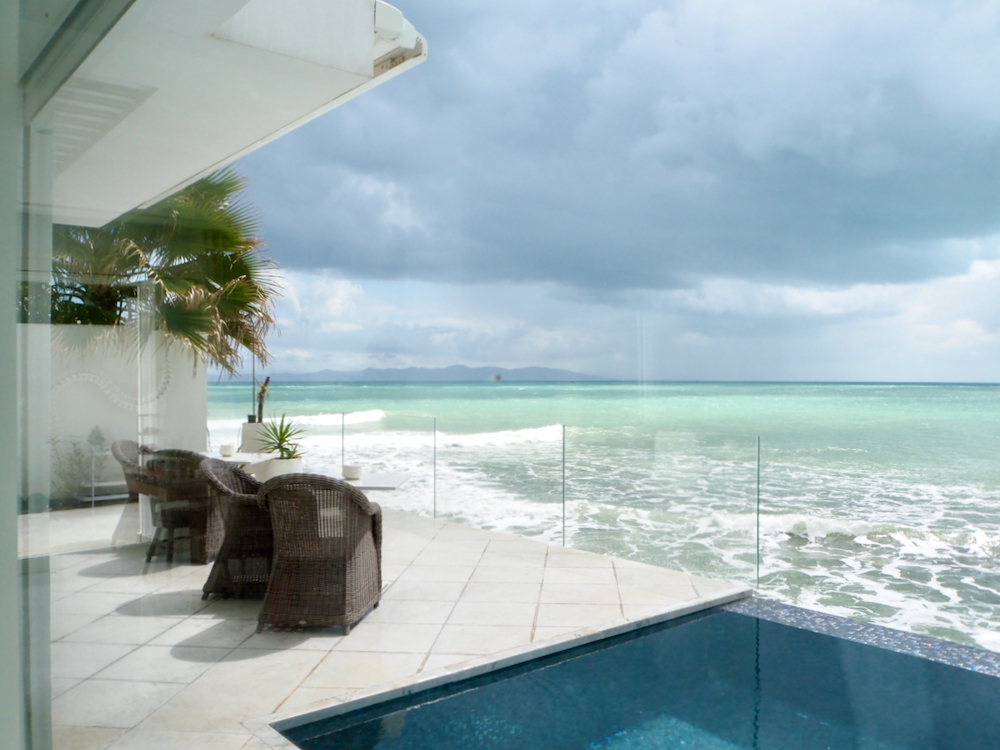 Columbia Hillen
Kissing the Mediterranean Sea, boutique hotel Maison Dedine is an oasis of calm on the north coast of Tunisia blending an eclectic mix of modern and traditional architecture and decor.
Named after its owner Nebil Sinaoul, so close is this five-room, marble-floored mansion to the sea, guests are serenaded to sleep by the rhythmic waves riding in from the Gulf of Tunis. Floor-to-ceiling windows in a lounge on the first floor grant panoramic vistas across the water as birds flit across the glittering waters.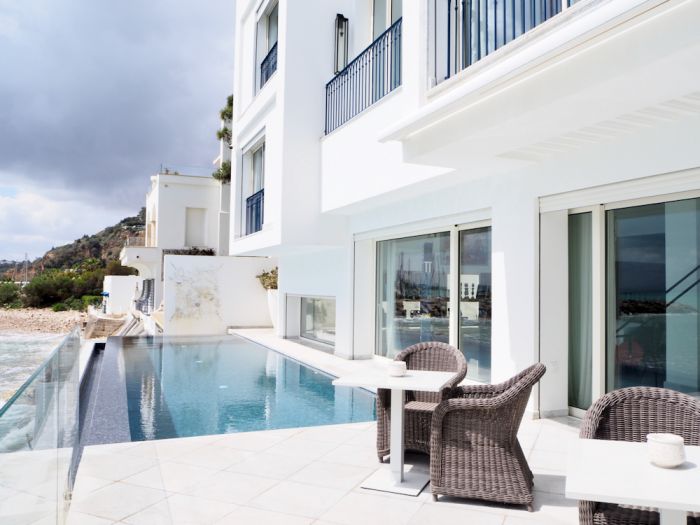 Columbia Hillen
Soft armchairs, a sofa and shelves of books embracing subjects as diverse as art, cinema, architecture and Tunisian history enhance the relaxed atmosphere here. 
Another panoramic view is offered from the hotel's large roof terrace, often used for wedding receptions, which overlooks a nearby harbor filled with yachts.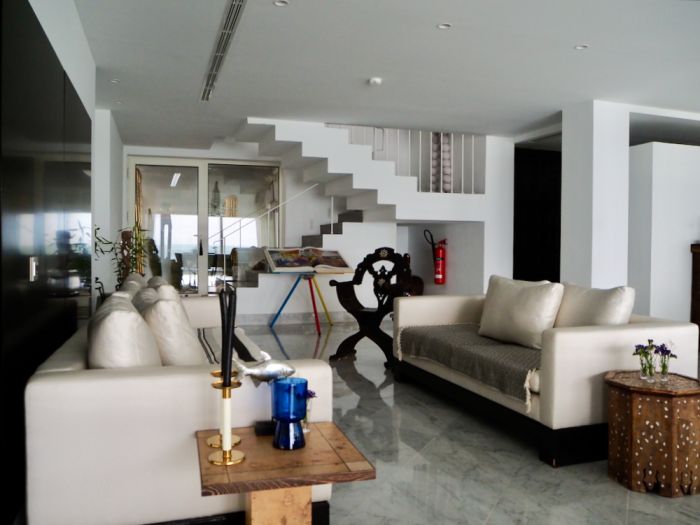 Columbia Hillen
Purchased sixty years ago in the upscale coastal town of Sidi Bou Said, Maison Dedine underwent major renovations about two years led by architect Sandra Sinaoul before opening its doors to adults-only guests over four years ago. While staying there recently, we met international guests including Belgians and Americans. 
Service is efficient and warm, led by friendly house manager Sana.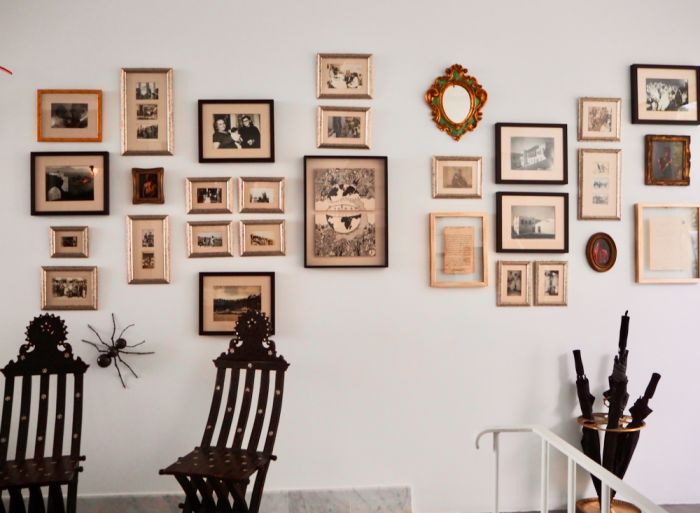 Columbia Hillen
Overall, the spacious interior of Maison Dedine is bright and uplifting with a diverse range of furnishings. Large-scale contemporary paintings and black and white photographs by Sabri ben Mlouka adorn the walls with a host of decorative artifacts such as traditional wooden cabinets featuring mother-of-pearl marquetry, giant ceramic prayer beads hanging from a wall and fantasy sculptures of what look like comical ant-eaters in a spicy mix of colors perched on long thin pedestals by local artist Rym Karoui. A collection of about thirty framed black and white photographs on one wall pays tribute to the owner's extended family dating back several generations.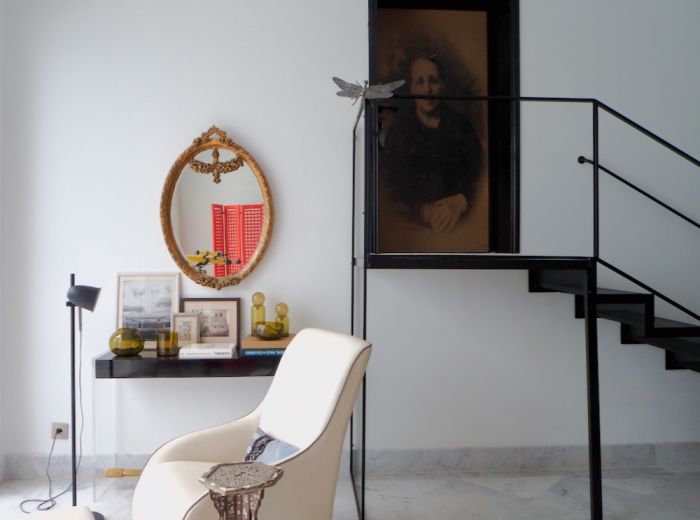 Columbia Hillen
Our room, entitled 'Uncle' with its door adorned by a full-length photograph of Nebil's uncle, comprised a comfortable bedroom with tile and carpet flooring, built-in closets, twin armchairs and coffee table, walk-in shower and a big screen TV.
A private terrace accessed through sliding doors featured garden chairs with soft cushions and a coffee table with views out to sea in front and a hillside behind filled with cacti, agave and aloe plants.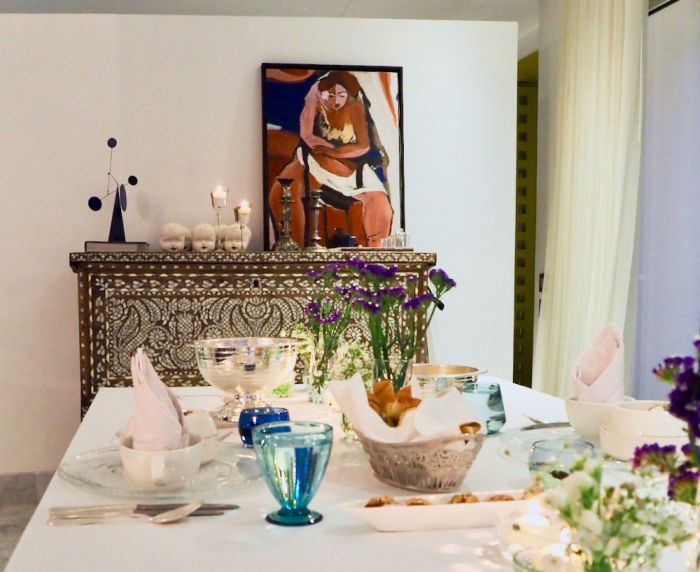 Columbia Hillen
While Maison Dedine doesn't have its own restaurant, guests can request in advance a private dining experience. While there, we were fortunate to have enjoyed one and feasted on a multi-course dinner (more like a food feast) prepared by local chef Mohamed Arbi Jelassi. It included two traditional soups – hsou, a spicy and hearty soup with beef balls, and chorba zaara with chicken; two salads – mechouia, a grilled salad of tomatoes, roasted red peppers, garlic, olive oil and herbs, and a Japanese-style tataki salad with chicken. There were also briks, or bureks, triangular-shaped filo pastry pockets filled with egg, chopped onion, tuna, harissa and parsley.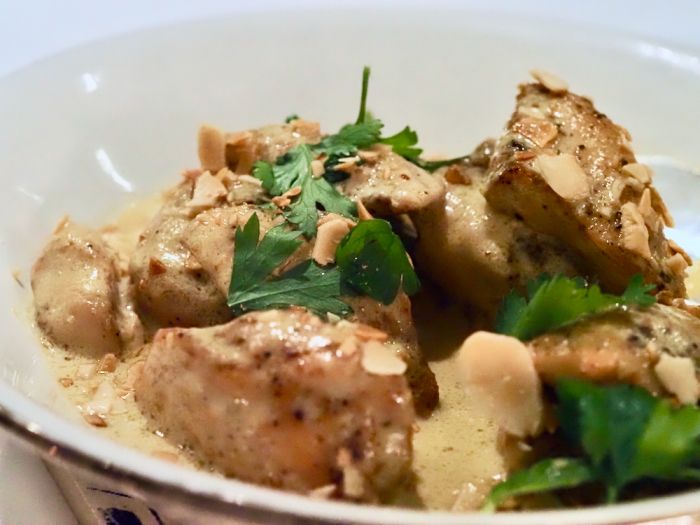 Columbia Hillen
Main dishes included tournedos, souris of lamb and chicken with green pepper and blue cheese sauce. Add to this couscous and calamari farci plus desserts such as assida, a pudding with pistachio and Aleppo pine nut cream, and zrigua, a sweet biscuit with rose water, and you can understand how we staggered, satiated from the dinner table.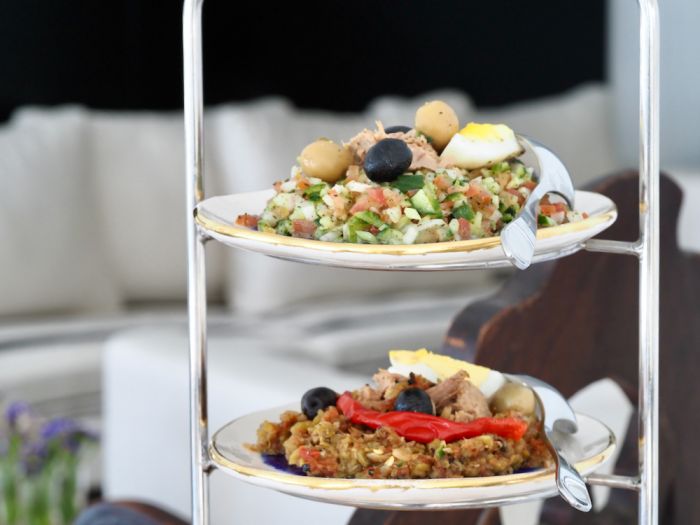 Columbia Hillen
And it's not just dinner dishes that are deliciously diverse at Maison Dedine. You know you're in for an enjoyable breakfast when accompaniments include five types of virgin olive oil (lemon, rosemary, garlic, pepper and pure), four different peppers, two salts and four assorted honeys. 
As for the food itself, various cheeses, cold cuts, fruit salad, homemade granola, eggs, salmon and pastries give an idea of the variety. Not to mention traditional dishes such as meloui, a type of Tunisian bread; b'sissa, a Berber dish featuring roasted wheat and vegetables including chickpeas and lentils, and madmouja, a dessert of puff pastry, honey, dates and dried fruits.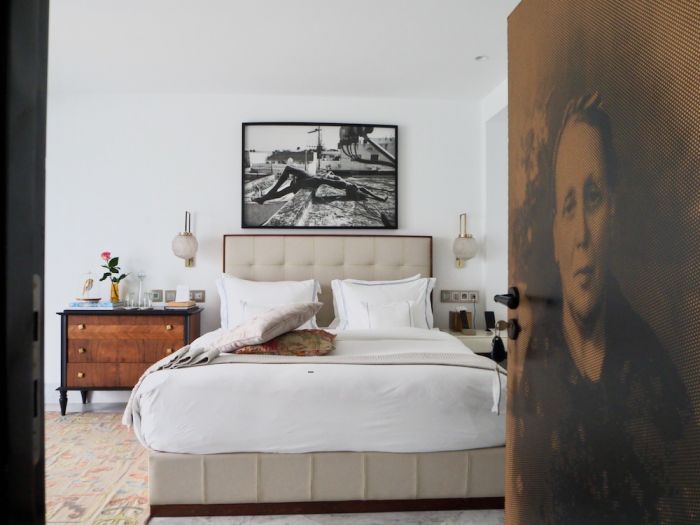 Columbia Hillen
After breakfast, relax with a traditional coffee in the cozy Bedouin-style room overlooking an infinity pool and the rolling waves beyond.
Sight-seeing opportunities are close by with the charming hill-top town of Sidi Bou Said, replete with restaurants, cafés, souvenir shops and museums, with rewarding views down to the port and across to Tunis, only a 15-minute walk away. 
As the route is up a steep winding coast road, it may be worth taking the short taxi ride there. As for the capital city itself with its bustling medina, it's a mere 20-minute drive away.