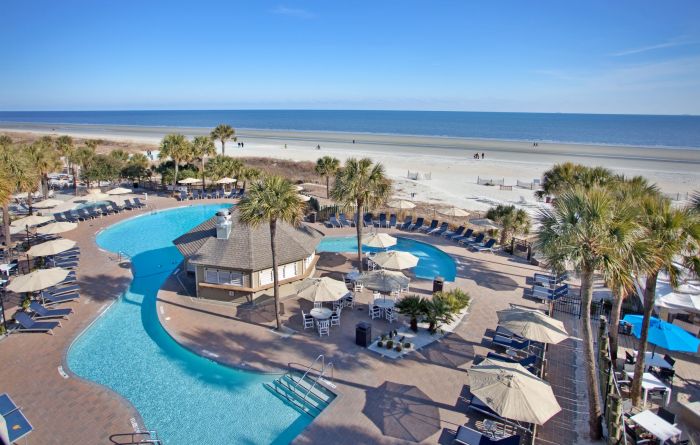 Courtesy of Beach House Hilton Head Island
There are beachfront resorts, but then there is a special spot known as Beach House Hilton Head Island where life gets a little slower and stress seems to melt away like butter.
Located directly on the beach, this oceanfront oasis seems like it was strictly designed for relaxing. From live music playing at their on-site Tiki Hut located on a private stretch of Coligny Beach where fruity cocktails (think Blood Orange Mojitos and Ultimate Margaritas) are served up all day to their welcoming embrace of four-legged friends, the vibe here is toes-in-the-sand chill.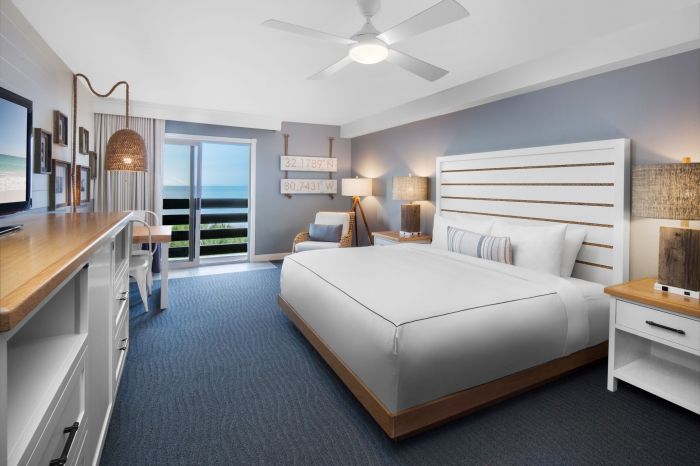 Courtesy of Beach House Hilton Head Island
Instead of a traditional room, opt for an upgrade to a King Jr. Suite complete with coastal-inspired décor. This bright and airy 462-square-foot accommodation featured a king bed along with a twin trundle sofa bed. We appreciated that this spacious room offered plenty of extra space for our bulldog to play.
Of the 202 rooms and suites ranging from ocean views to units with private patios, there is a variety of options that range in size from 347 to 462 square feet of space. Some offer king beds; others have queens; and family units feature bunk beds.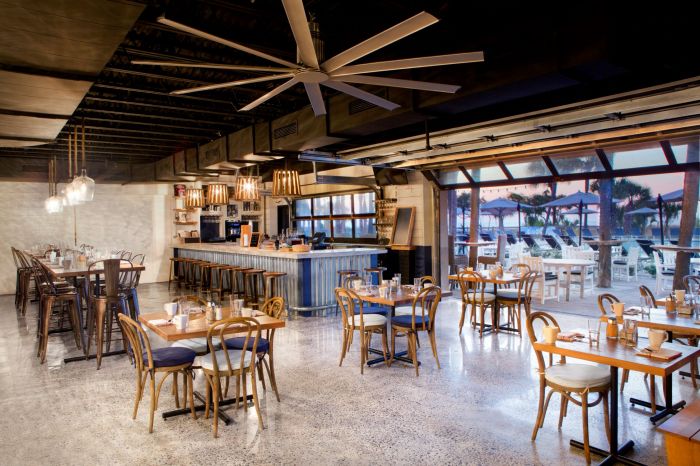 Courtesy of Beach House Hilton Head Island
When it comes to dining, Beach House's on-site restaurant, The Porch Southern Kitchen & Bar, was a great spot to enjoy traditional Lowcountry cuisine and exceptional service. For example, southern staples on the breakfast menu feature biscuits and gravy; and shrimp and grits. All of the usual suspects are also available along with lighter fare like a fresh berry parfait, homemade muffin, or build-your-own egg white omelet.
For dinner, the blackeye pea hummus and fried green tomatoes were standout starters. The all-day menu offers a nice collection of handheld sandwiches. The enormous and juicy Porch burger was topped with melted cheddar cheese, fresh lettuce, tomato and onion, and served on a soft potato roll. A Cubano sandwich overflowing with pulled pork and sliced ham was complemented by the addition of Dijon mustard, pickles and melted gruyere cheese.
Whether you opt to lounge by the pool for the afternoon or rent a bike and tour the island, there is something for everyone here. If you choose to leave the property and are a golfer, you have certainly come to the right island. There are numerous championship golf courses located just minutes from the property.
Hilton Head Island Airport and Savannah/Hilton Head International Airport are both within a short drive and offer access to daily flights to and from major cities throughout the country.
Beach House Hilton Head Island is located at 1 South Forest Beach Drive in Hilton Head, South Carolina.