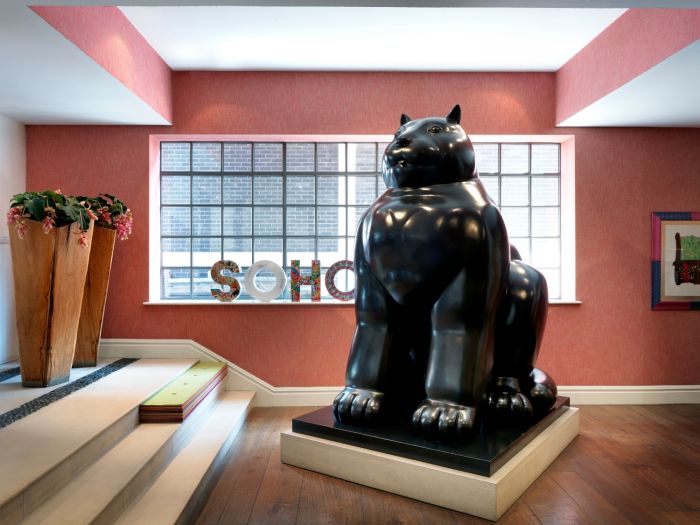 (credit: The Soho Hotel, Firmdale Hotels, Simon Brown Photography)
As one of London's most fashionable hotels, The Soho Hotel boasts a classic English style with a bit of flair and color. Featuring 96 individually designed bedrooms and suites, the hotel is proud to be one of the first luxury hotels in the Soho area of London. In the heart of Soho between Dean Street and Wardour Street, the hotel opened in September 2004 and has welcomed celebrities and dignitaries since. Converted from a multi-story car park, the hotel remains hidden down a small alleyway, a great escape from the bustle of the surrounding vibrant nightlife.
Across the five floors of the hotel, there is a spacious drawing room, Refuel Bar and Restaurant, two state-of-the-art screening rooms, four private event rooms plus a fully equipped gym with a spa treatment room and personal training services available. Offering a contemporary London look, each room designed by Kit Kemp, Founder and Creative Director of Firmdale Hotels, is different.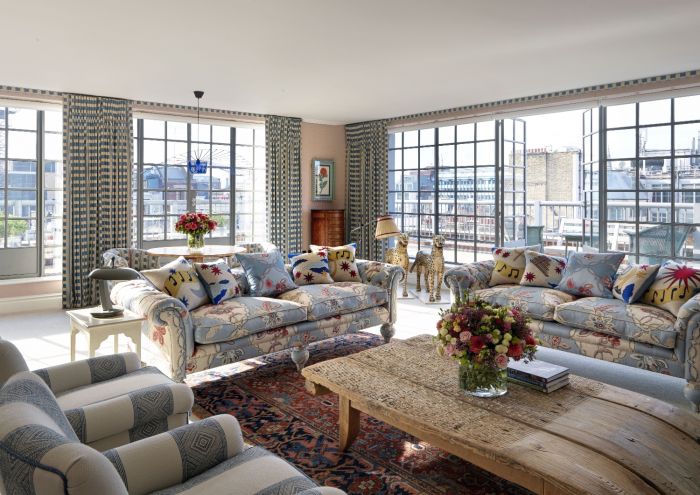 (credit: The Soho Hotel, Firmdale Hotels, Simon Brown Photography)
"I like every piece of work to be considered individual. I always try to achieve comfort, color and a certain carefree attitude in my designs. Every room is like a painted canvas, it has to tell a story," says Kit Kemp.
The contemporary London look that Kemp provides is a quirky modern take on traditional English style, with common spaces and rooms having a burst of color. Upon entering, guests are greeted by a 10-foot Fernando Botero bronze sculpture of a cat in the lobby, with a background full of color from the rugs and walls. The rooms feature sleek modern furniture, modern art and specially designed lighting and are some of the biggest in central London. In the fifth floor penthouse suites which include wrap-around tree-lined terraces and views stretching across London guests are surrounded by a verve of style and curated vibe from Kemp.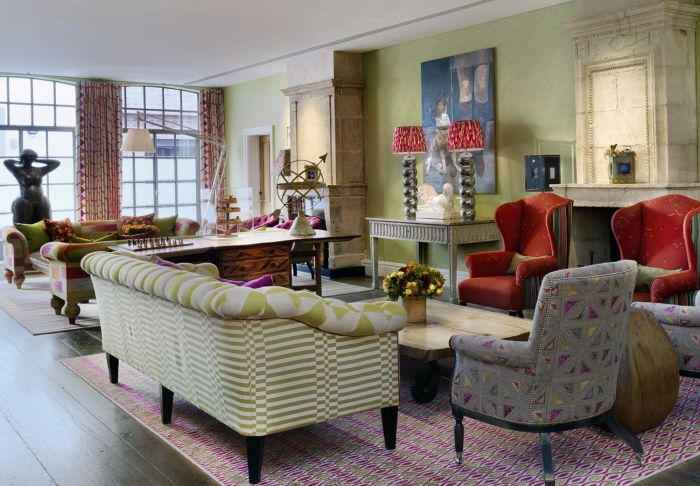 (credit: The Soho Hotel, Firmdale Hotels, Simon Brown Photography)
Beyond the lobby, the hotel's drawing room is a host of color, a sophisticated private space with two fireplaces, sofas and original art. Adjacent to the drawing room is the library, which blends warm neutrals with clean-line modern sofas and lamps and is great for a cup of tea or a brief respite during the day. On the lower ground floor, Soholistic is a 843 sq. ft. space (this does not include the bathroom or treatment room) which caters to all the fitness needs of the in-house guests. Alongside the very latest Life Fitness strength and aerobic machines, there is a beauty treatment room where guests can book a full menu of treatments using products from Temple Spa.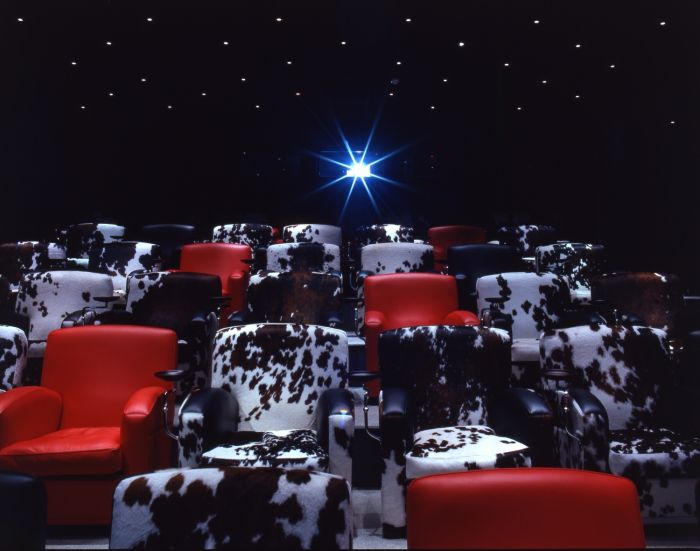 (credit: The Soho Hotel, Firmdale Hotels, Simon Brown Photography)
Another unique aspect of the hotel is its two state-of-the-art screening rooms which are located on one floor. Visitors can book either of the screening rooms for private screening or perhaps a corporate presentation. Choose between the 100-seat bright red seated theater or the more intimate theater with 45 deep individual Poltrona Frau armchairs which are dramatically covered in cowhide. Just outside the screening room is The Crimson Bar – a quirky lounge bar which is ideal for private parties or pre and post screening drinks receptions. And by joining the Film Club at The Soho Hotel, which releases a new screening schedule every month, guests can choose between a movie and popcorn or a three-course meal, movie and popcorn.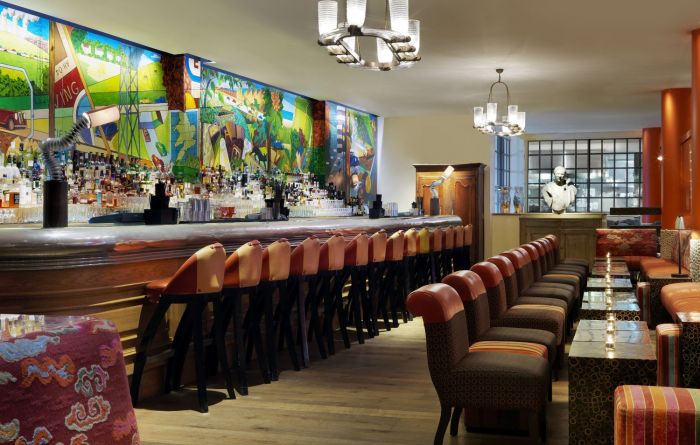 (credit: The Soho Hotel, Firmdale Hotels, Simon Brown Photography)
Open for breakfast, lunch, afternoon tea and dinner, Refuel Bar and Restaurant is a 100-seat restaurant with a further 60 at the bar. With floor to ceiling windows on both sides, diners sit beneath or alongside paintings (also in bright colors to match the palette of oranges, greens and neutrals) which reflect the site's previous relationship with the motor car. Staff graciously walk through dietary restrictions, share popular dishes and invite all guests to come for daily afternoon tea, starting at £45 per person.
The design-led hotel is tucked in a quiet street in the heart of London's entertainment neighborhood, making it ideal for those who want to explore the surrounding area.
_____

Visit our London City Guide for entertainment, dining, and things to do in the city.