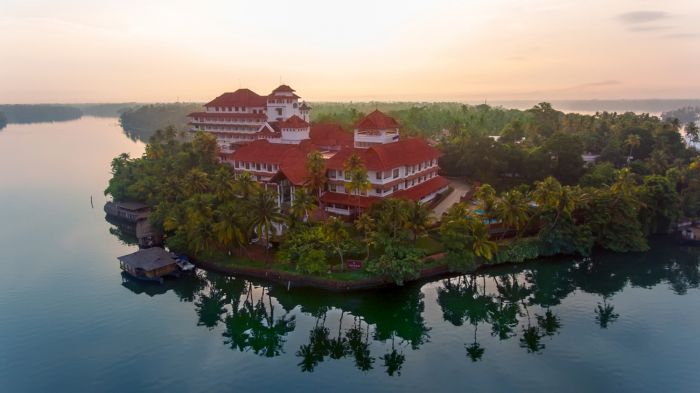 (credit: The Leela Palaces, Hotels and Resort)
The Leela Palaces, Hotels and Resorts announced the opening of its second hotel in Kerala, India with The Leela Ashtamudi, A Raviz Hotel. Fortifying its resort portfolio and opening its second hotel in Kerala, the resort perfectly complements The Leela Kovalam, A Raviz Hotel and adds to the companies twelve award-winning properties in major cities and leisure destinations across India.
Located in what is known as God's Own Country due to a mythological belief involving Lord Parshuram (a manifestation of Lord Vishnu), the hotel is situated in Kerala, a southern state of India. Introducing a magical backwater and beach experience, the picturesque resort is a tiny hamlet perched on the banks of the shimmering Ashtamudi Lake. The resort is 90 mins from Trivandrum (Thiruvananthapuram) Airport and 10 mins from Kollam Railway Station and perfectly balances barefoot luxury with rustic charm.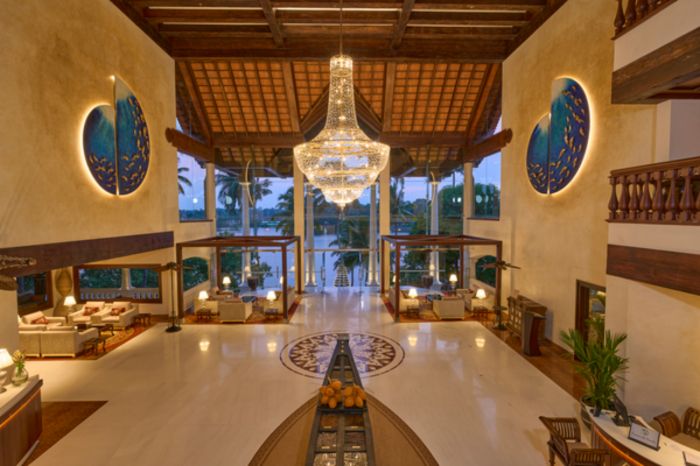 (credit: The Leela Palaces, Hotels and Resort)
"We are delighted to welcome The Leela Ashtamudi, A Raviz Hotel, an exciting new addition to our brand portfolio," said Anuraag Bhatnagar, Chief Executive Officer, The Leela Palaces, Hotels and Resorts. "Kerala has historically been one of our key markets and strategically significant to our growth in the region. The resort marks another milestone in our journey as we continue to grow in the most alluring leisure destinations across the country. This expansion is in lockstep with the growing demand from the discerning global leisure traveler to experience meaningful and transformative journeys that are an authentic expression of a region's beauty, heritage and culture."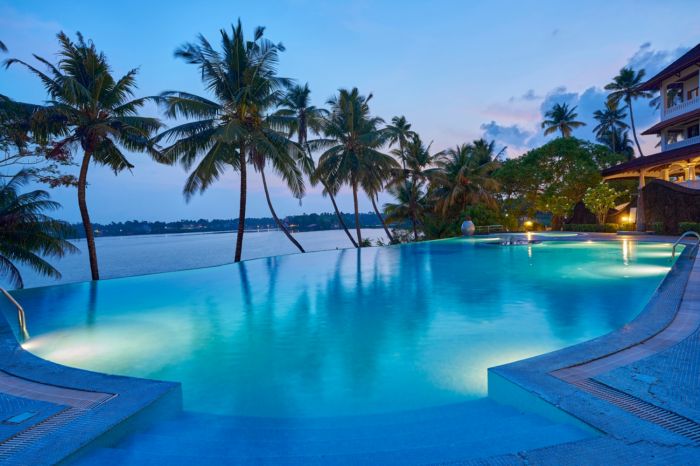 (credit: The Leela Palaces, Hotels and Resort)
Surrounded by lush greenery and swaying coconut trees and serene waters formed by the confluence of the eight lakes, The Leela Ashtamudi, A Raviz Hotel offers a tranquil atmosphere perfect for relaxation and rejuvenation.
The resort presents 93 tastefully appointed rooms and suites, along with two unique traditional experiential houses offering the THARAVADU Experience. Embodying historic charm that seamlessly blends the old and the new, each accommodation reflects the traditional Nalukettu aesthetic of Kerala. Guests can choose between the Tower Wing or the Heritage Wing or elevate their experience by upgrading to one of the two available private plunge pool villas. And for those who seek ultimate luxury and privacy can book a private getaway with a tranquil backwater cruise on Mahayana- the quaint houseboat that comes with all the comforts of a hotel and is evocative of everything that is quintessentially Kerala.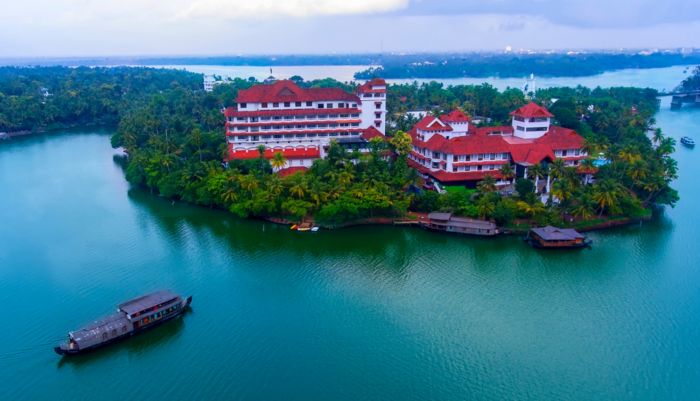 (credit: The Leela Palaces, Hotels and Resort)
The resort houses four unique dining venues – Keraleeyam: the multi-cuisine restaurant, Portico Café: serving comfort food, Raanthal: the floating dining experience and Zirkon: the aqua-themed bar.
Along with its unique design aesthetic and dining venues, the resort proudly offers curated experiences to unlock the magic and mystery of the locale. Guests who choose to travel to the resort will be guaranteed an enriching cultural immersion into the destination amidst an awe-inspiring setting.
The stunning aerial view of the property.