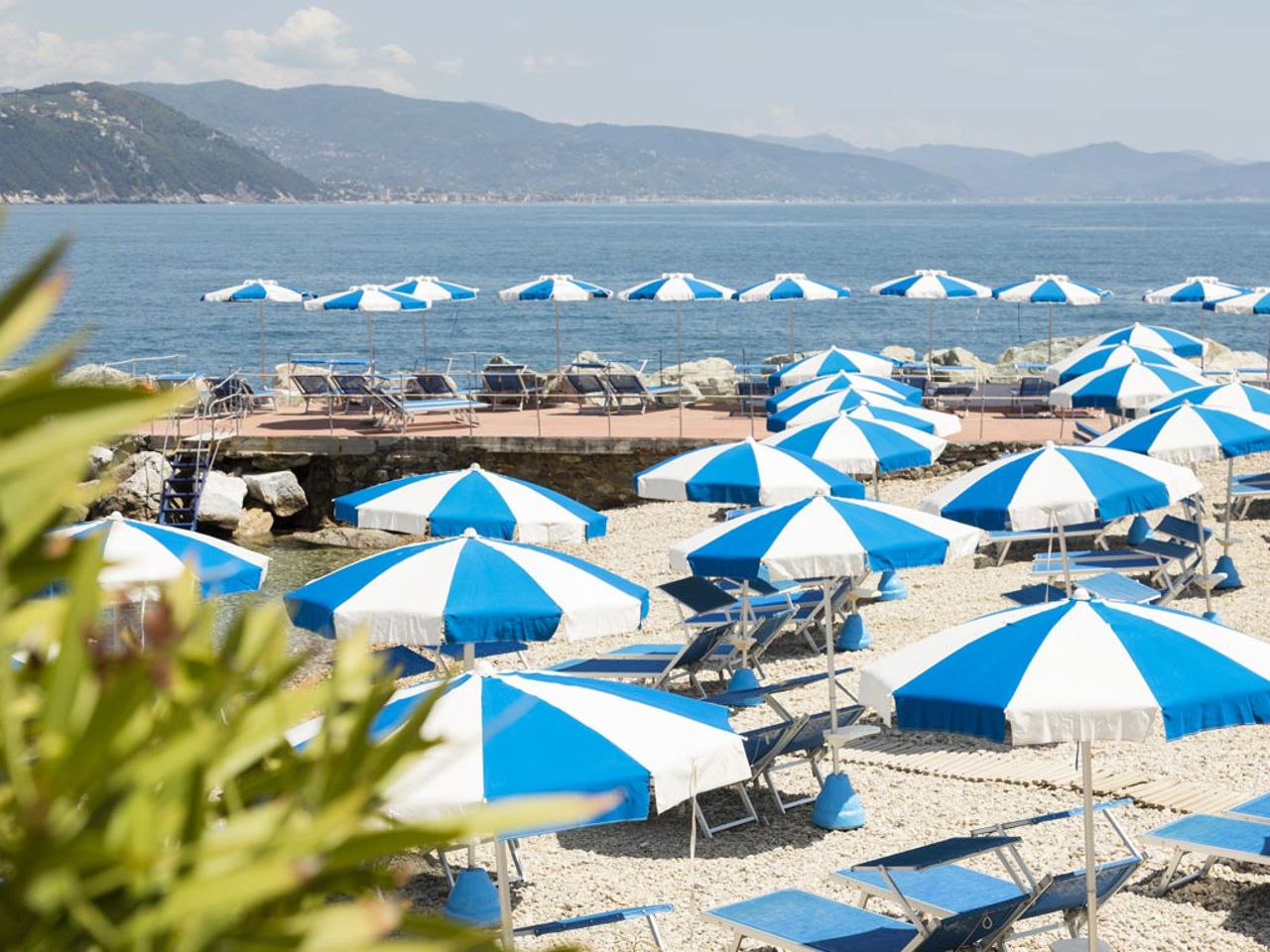 Grand Hotel Miramare
When most people think of the Italian Riviera, Portofino is the first place that comes to mind.  With its mega-yacht filled marina and celebrity sightings – just last spring Kourtney Kardashian and Travis Barker invaded the town's Piazzetta and tied the knot at Dolce & Gabbana's sprawling hilltop estate – it's no wonder Portofino is the most coveted vacation spot in northern Italy, drawing hoards of visitors from around the world.
But if you're looking for an Italian vacation that's a bit more removed from the ever-increasing, post-pandemic crowds, Grande Hotel Miramare in lesser-known, nearby Santa Margherita Ligure offers the best of both worlds. 
It's hard to believe this property turns 120 years old this year because while it certainly offers old-world charm, it has all the modern amenities you would expect from a 5-star hotel, blending the modern conveniences of home with a truly authentic Italian holiday. For example, when I realized that the shower in my room had an actual glass door and rainfall shower head, this hotel zoomed to the top of my list of favorite places to stay in Italy. Too often, the shower design in European properties abroad leaves me scratching my head, but not here. The water was nice and hot during my shower, and the bathroom floor nice and dry afterwards. 
As a Leading Hotels of the World member, Grande Hotel Miramare delivers white glove service and a personalized touch every step of the way – even before we crossed the Atlantic. The entire concierge team, led by Stefano Pagliuchi, was quick to respond to my every question in the months leading up to our trip – and as a travel writer with a journalism degree, I naturally have a zillion questions everywhere we go. But they were patient and thorough in their recommendations and arranged everything we needed to curate the perfect 10-year wedding anniversary celebration away from our kids.
We were limited to four nights with a second-grader and a baby back home, but that didn't stop us from making the most of our time there, and here's how you can too:
Book your room early: All the rooms at Grande Hotel Miramare are beautiful, but a sea view room with a balcony is where you want to stay. During daylight hours, enjoy breathtaking, panoramic views of the Tigullio Bay where you can watch yachts chart their course in the distance. When the sun goes down, the hotel's resident pianist serenades guests on the front patio during aperitivo. Leave your window open while you're applying that final coat of mascara or tying your tie, and enjoy a live soundtrack while you're getting ready for dinner. 
Dine at least one night at the hotel (if not all): There are plenty of excellent restaurants and trattorias a short walk from the Grande Miramare but not one of those compared to the on-site restaurant, Vistamare. With panoramic views and a calming color scheme of aquamarine and white, this Art Nouveau space is popular and books up fast. The service is impeccable, but the food, which incorporates fresh, local ingredients, really stands out. Each one of the home-made Pasta dishes, or "Pasta Fatta in Casa," rivaled the next, and the fish of the day or "Il Pescato del giorno" is not to be missed.  
Carve out pool and beach time: The Grand Miramare pool and across the street, Bagni Miramare Beach Club, are destinations of their own, so make sure you carve out time for both. The seawater pool offers comfortable loungers, a dedicated staff and a beautiful Mediterranean garden backdrop. I'm still dreaming of the crisp glass of Franciacorta I enjoyed and the pesto bread sticks that were served along with it. 
Get active: A day-trip to Portofino is a must, and it's only a 15-minute taxi ride away. For those with a sense of adventure, an hour to spare and comfortable sneakers, take the scenic route and walk off some of that extra wine and pasta you've been enjoying. The walk is flat for the first 30 minutes, and the sea views are breathtaking throughout. Once you reach Paraggi Bay, proceed to the Passeggiata dei Baci, the Walk of Kisses. This 25-minute picturesque path, which is a bit steep in some places, leads you directly to the heart of Portofino.
Lunch at this famous spot: You don't want to miss lunch and a cocktail at DaV Mare in the Belmond's Splendido Mare Hotel in the heart of Portofino's Piazzetta. The restaurant's signature dishes, the Pacchero alla Vittorio DaV and the Risotto with homemade pesto, Santa Margherita Ligure prawns and tomato emulsion, are in collaboration with a 3-star Michelin restaurant of the same name in Bergamo. The menu is chock full of unique offerings, but when a gentleman at the table next to us leaned over and said, "If you want to trust a local Italian, I suggest the pacchero," we placed our order. DaV Mare's prime location makes it the perfect place to people-watch all day while sipping a Spritz Portofino – made with Portofino Gin, rose liqueur, local lemonade, prosecco syrup and lemon juice. 
Spend a day at sea: Book a charter with Giorgio Mussini, recommended by the hotel; for a custom-tailored day at sea that meets your specific needs. The captain greeted us in the lobby and whisked us away to the boat, which was anchored only 3 minutes away from the hotel in the marina. With Italian music in the background, he shared stories and the history of the area while heading toward Camogli, a small seaside town famous for its Focaccia. Then we continued on to San Fruttuoso, a Benedictine monastery dating back to the year 1000, situated along a secluded beach only accessible by boat with several restaurants offering lunch. Don't forget a bottle of Prosecco to savor as you take in the beautiful coastline and views.
Treat yourself to a zen moment: The largest hotel spa in the Liguria region is Erre Spa in the Grand Hotel Bristol Spa Resort in nearby Rapallo, and their AQUASOMA holistic wellness experience is a one-of-a-kind treatment that combines a heated pool with singing bowls for total relaxation and rebalance of the body's vibrations through the water. It's the perfect way to reset so you arrive home refreshed and ready to jump back into reality.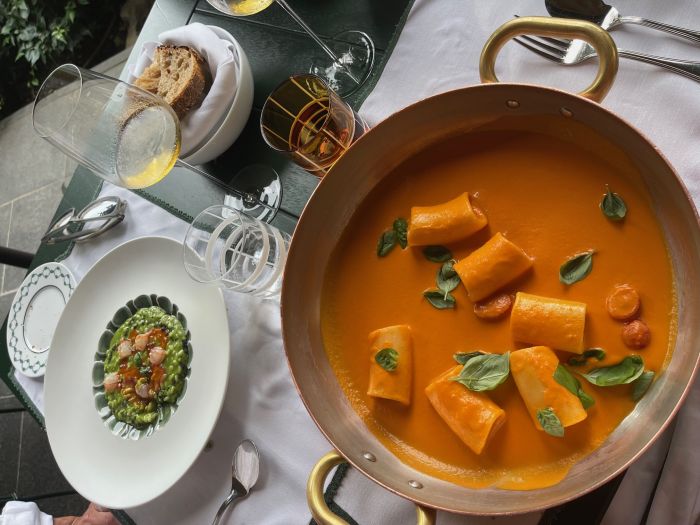 Dorothy Cascerceri Simone
Lunch at DaV Mare Restaurant in Portofino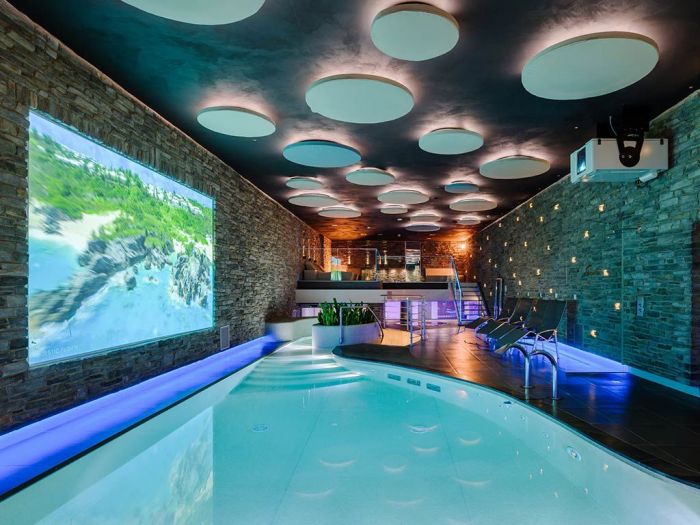 Erre Spa, Grand Hotel Bristol
Erre Spa at the Grand Hotel Bristol in Rapallo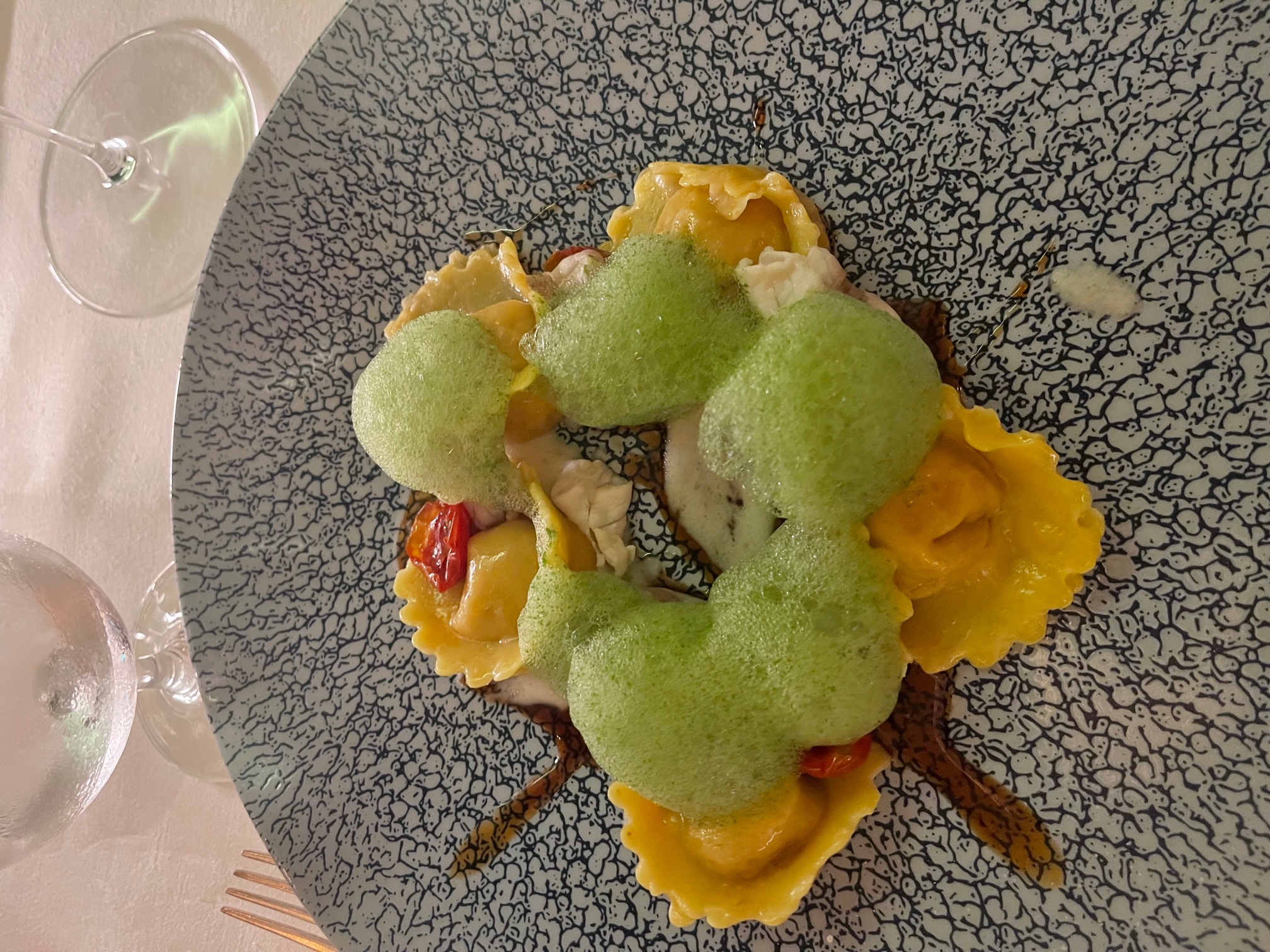 Dorothy Cascerceri Simone
Dinner at Vistamare Restaurant at Grand Hotel Miramare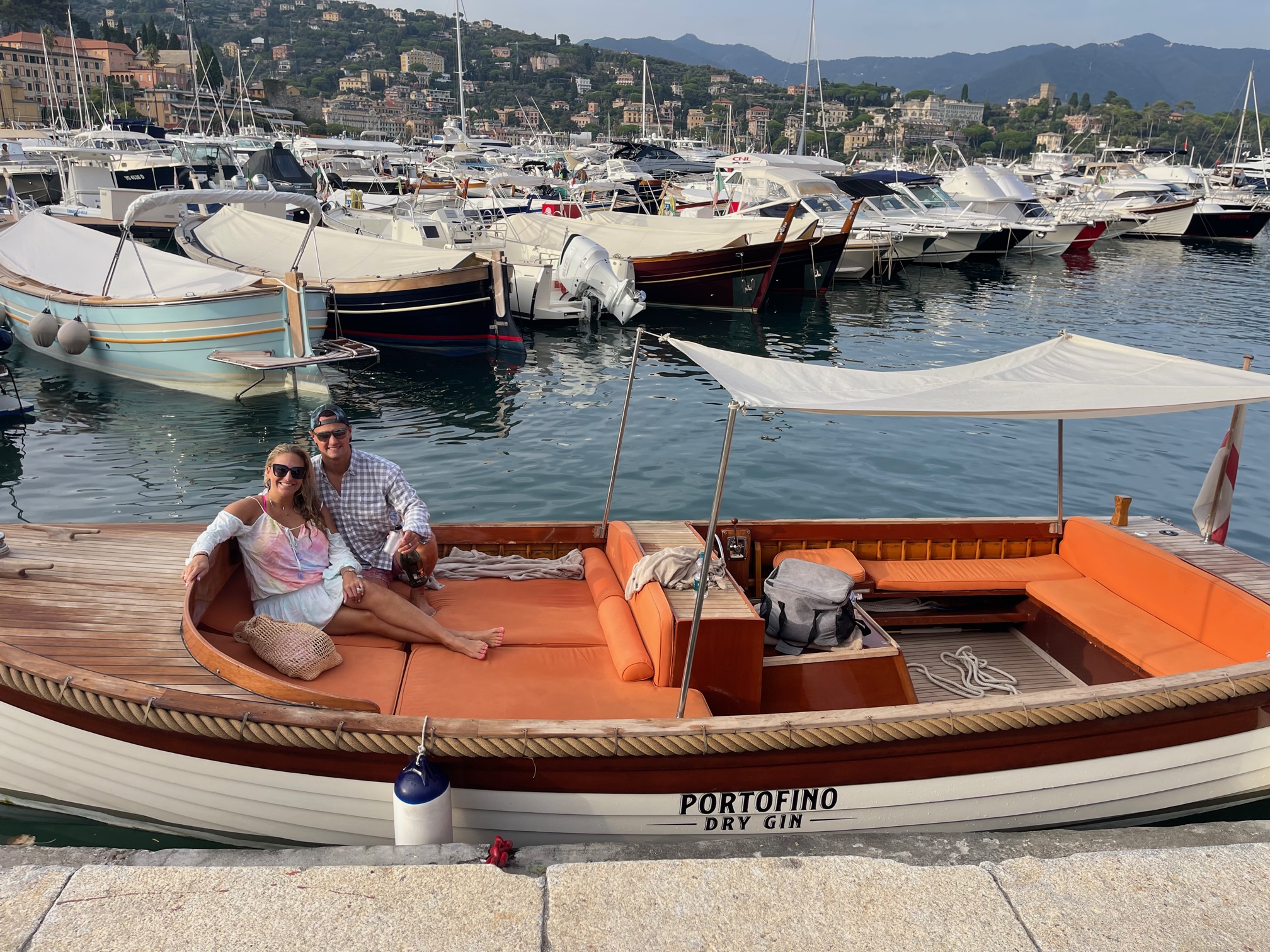 Dorothy Cascerceri Simone
A day at sea with Giorgio Mussini Charters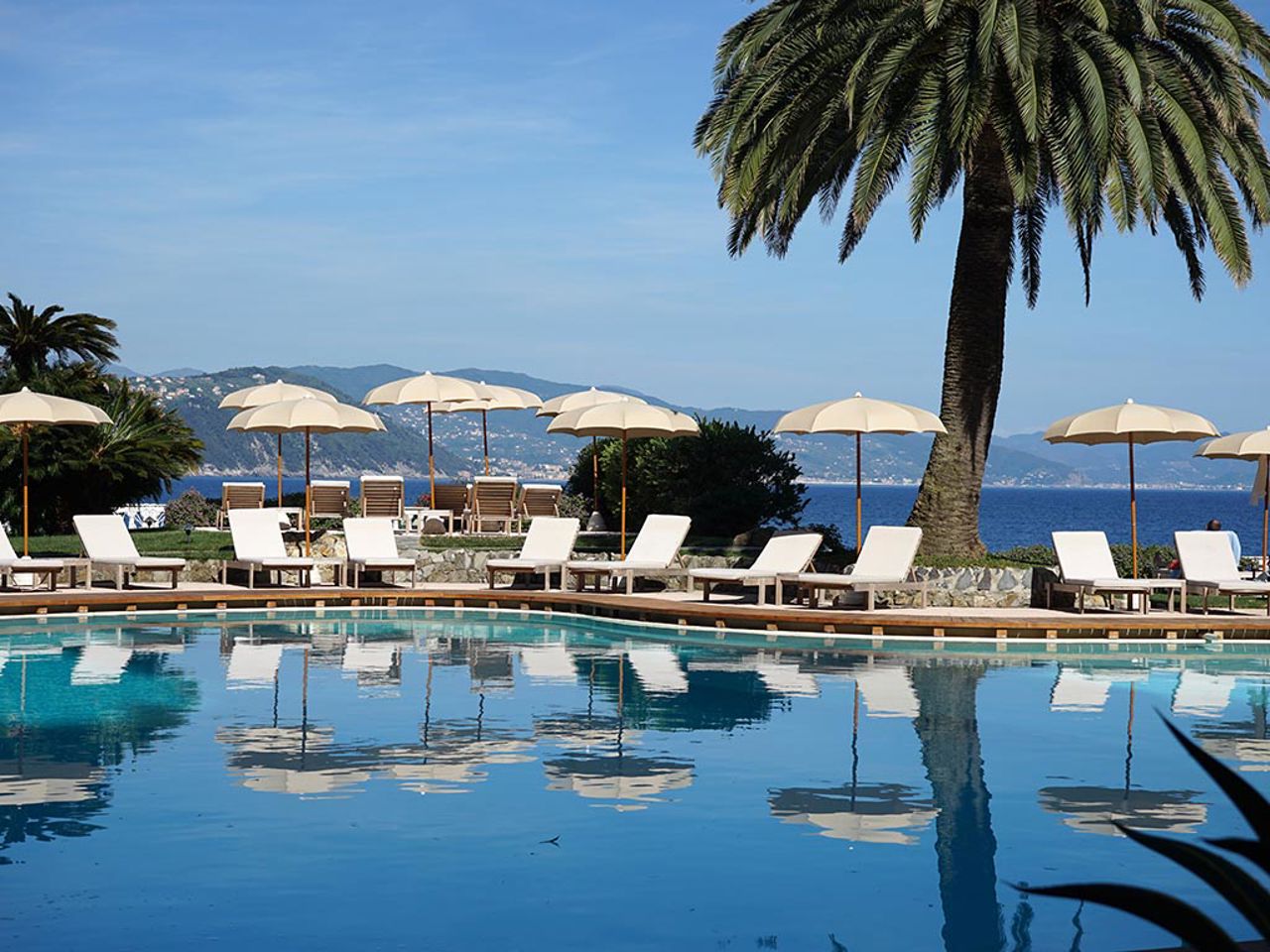 Grand Hotel Miramare
The pool at Grand Hotel Miramare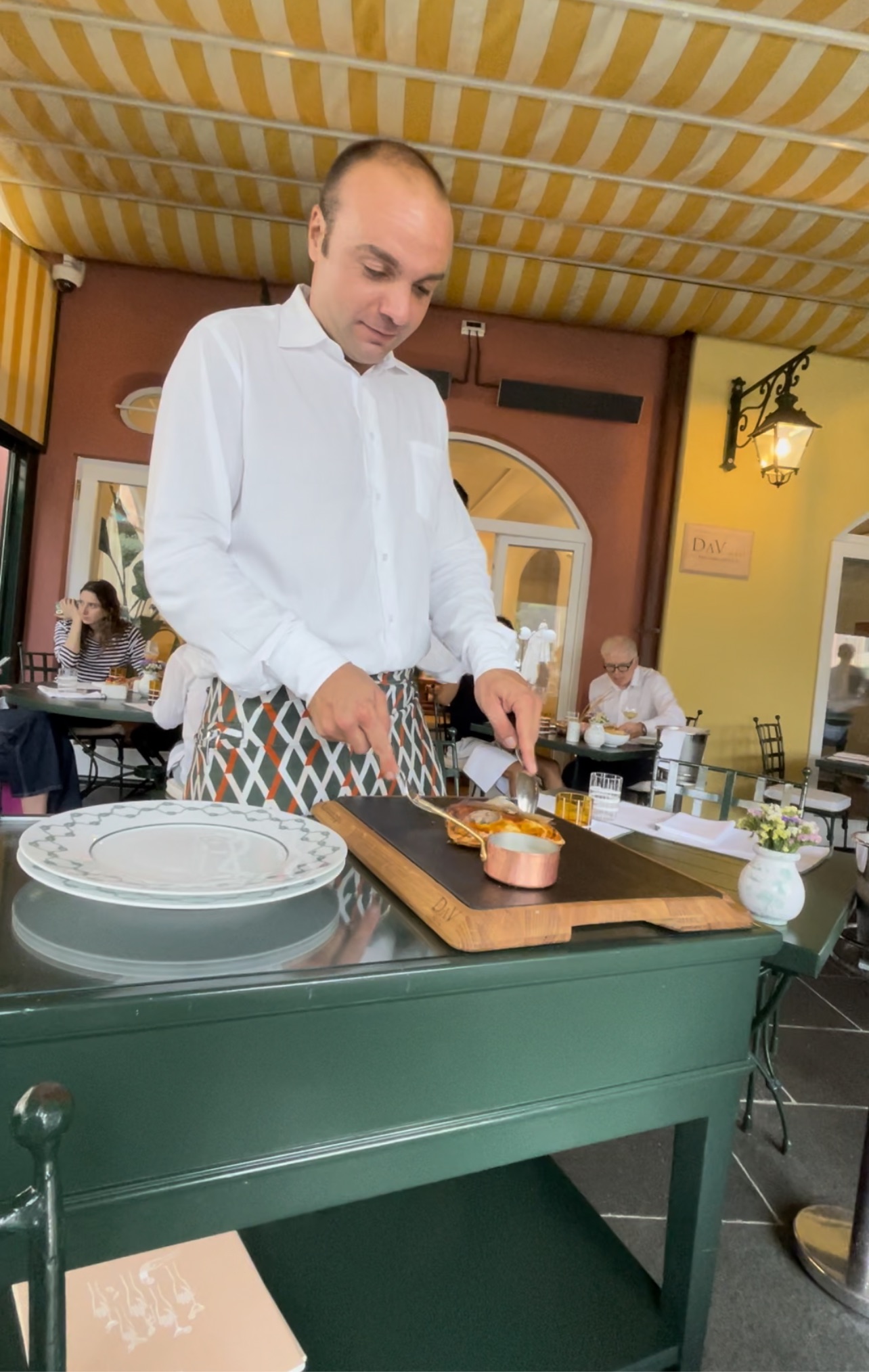 Dorothy Cascerceri Simone
Lunch at DaV Mare Restaurant in Portofino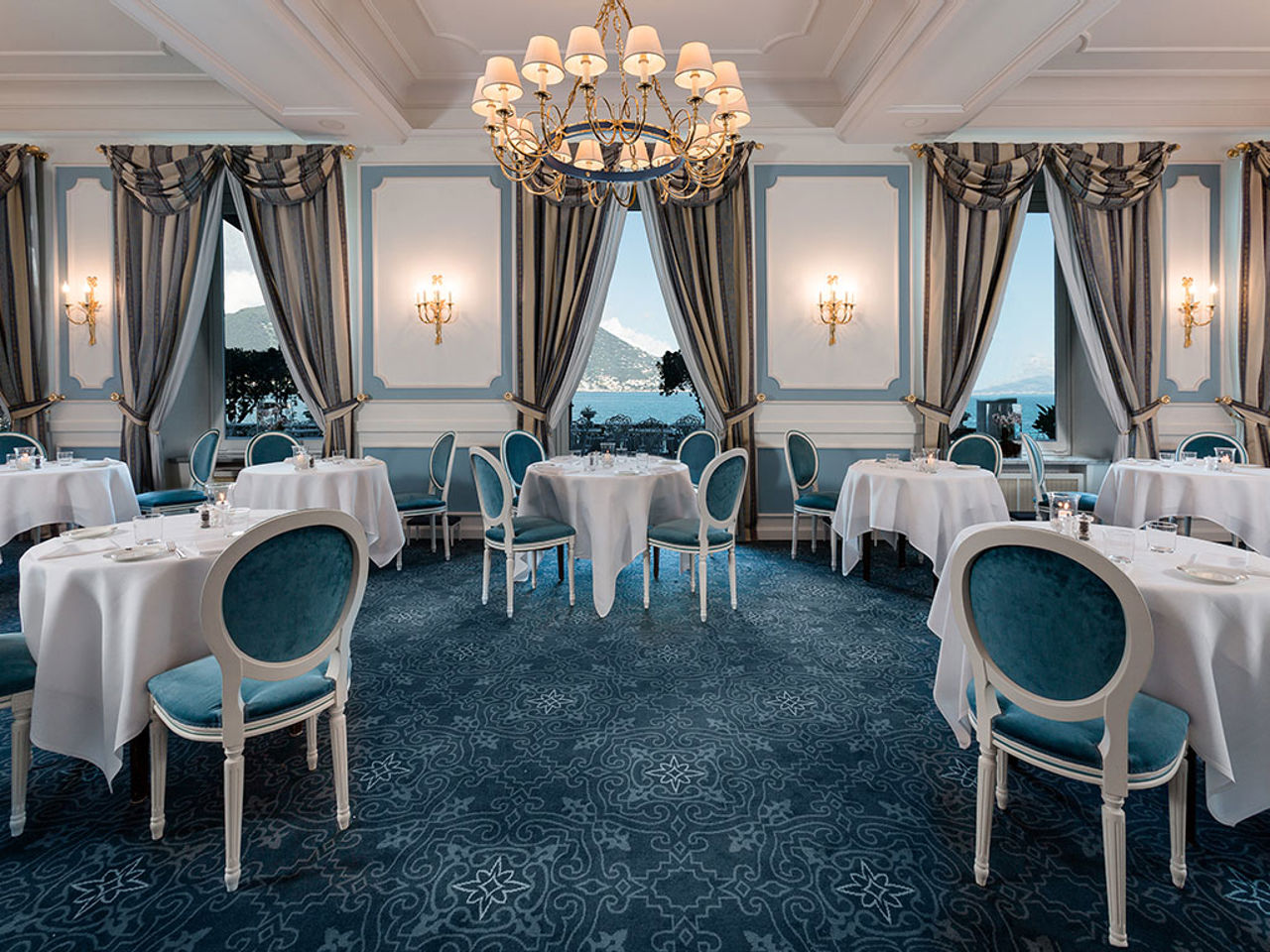 Grand Hotel Miramare
Dinner at Vistamare at Grand Hotel Miramare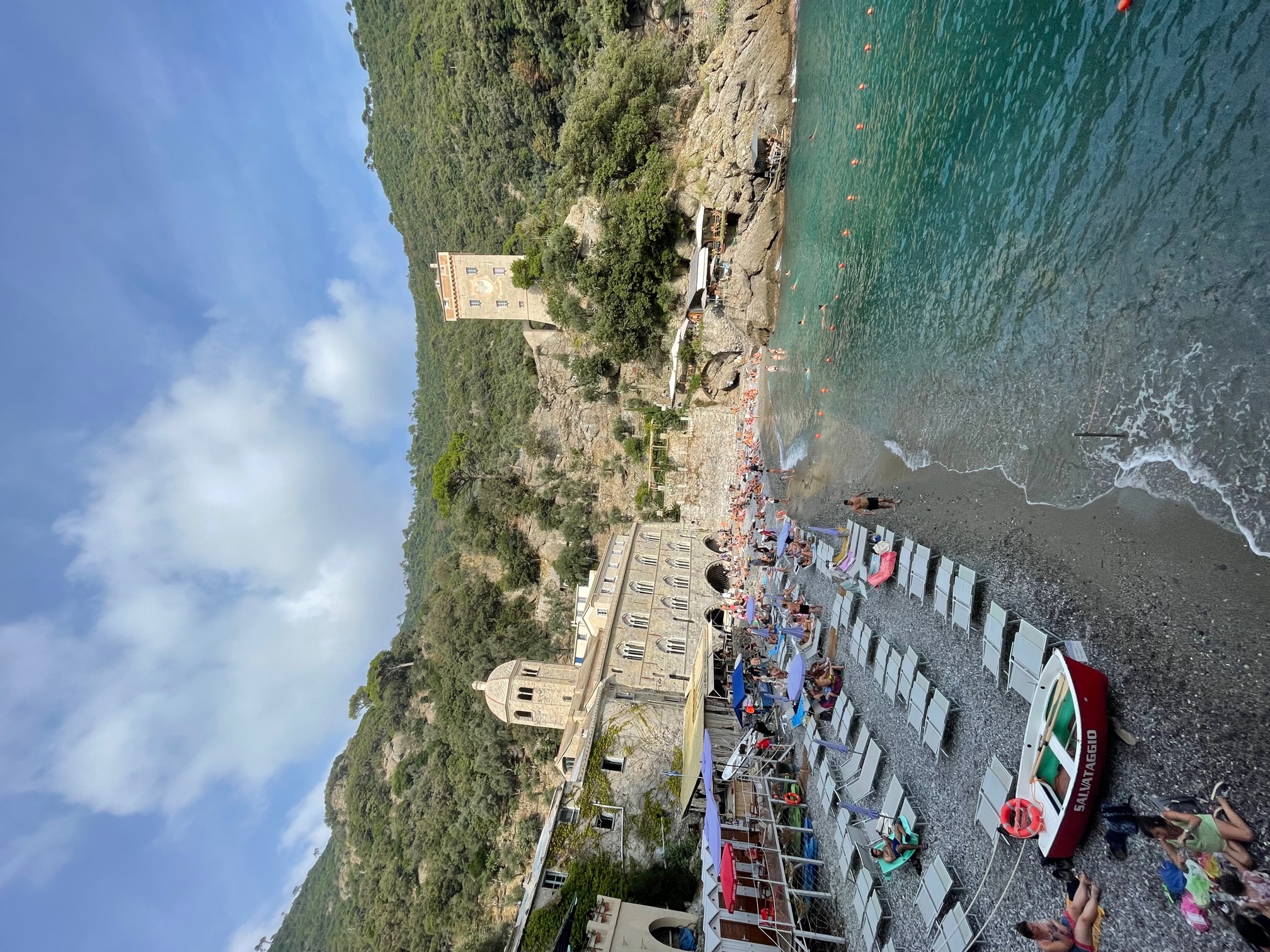 Dorothy Cascerceri Simone
San Fruttuoso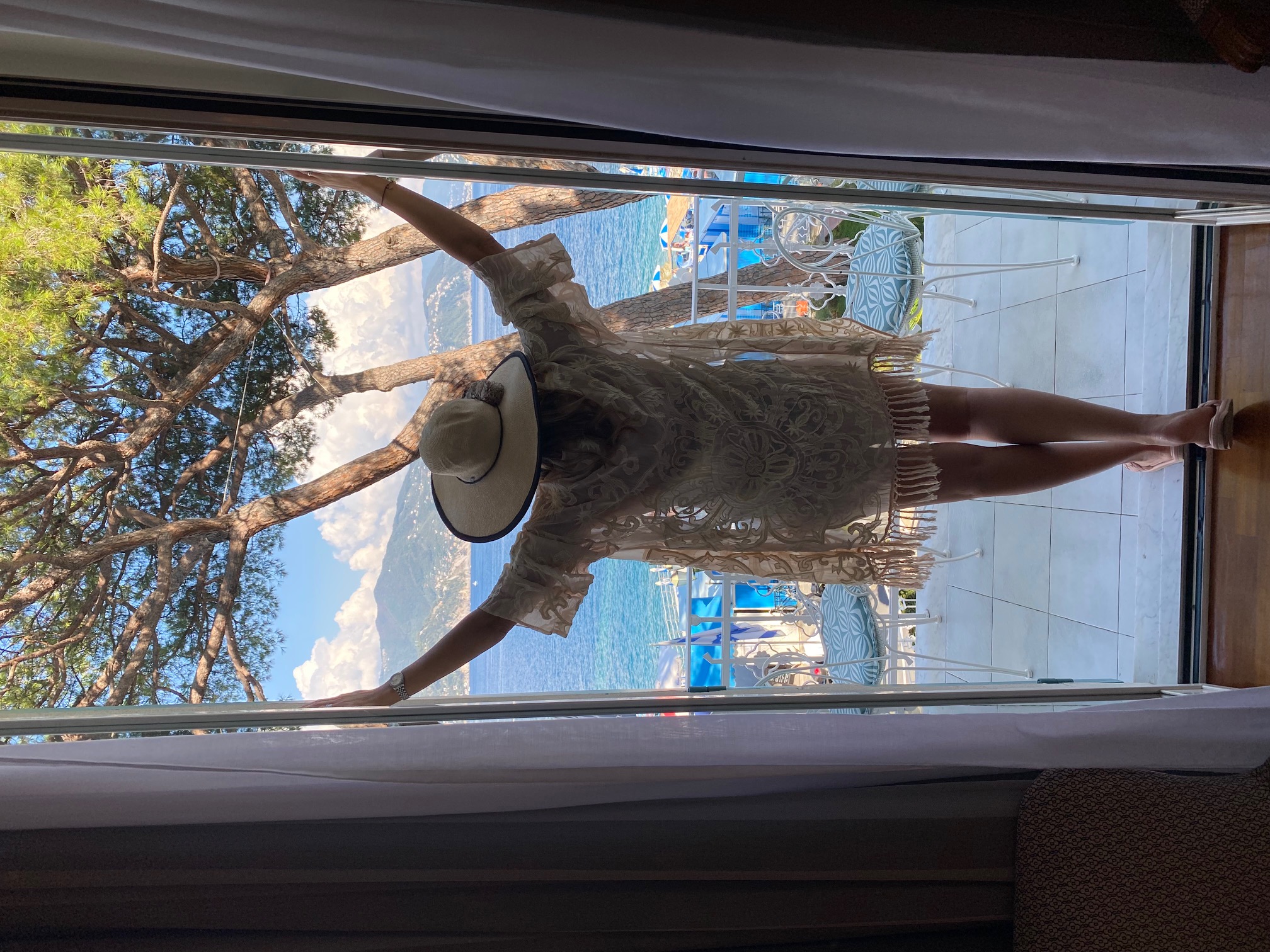 Dorothy Cascerceri Simone
Starting the day at Grand Hotel Miramare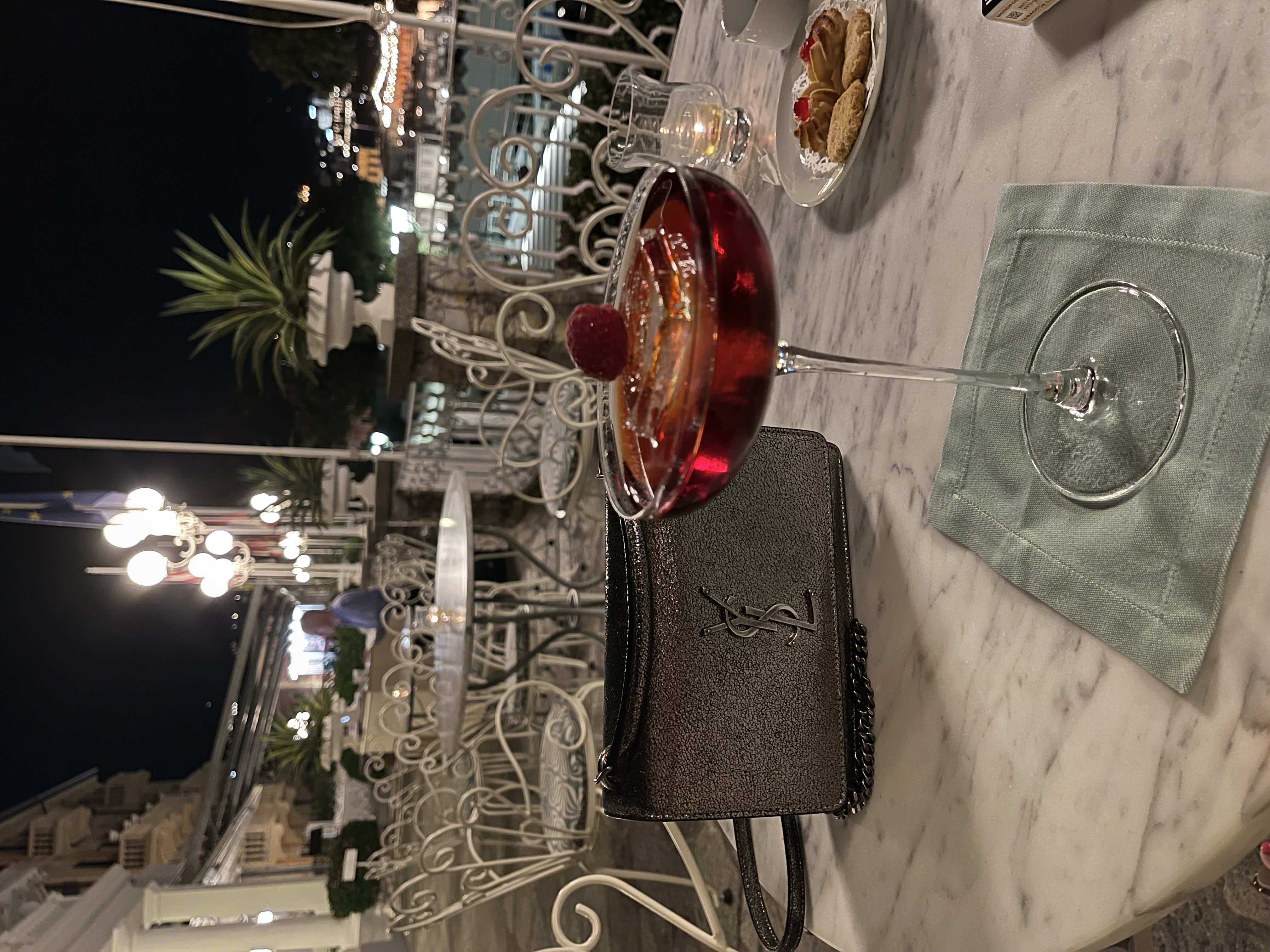 Dorothy Cascerceri Simone
Cocktails with a live pianist on the patio at Grand Hotel Miramare