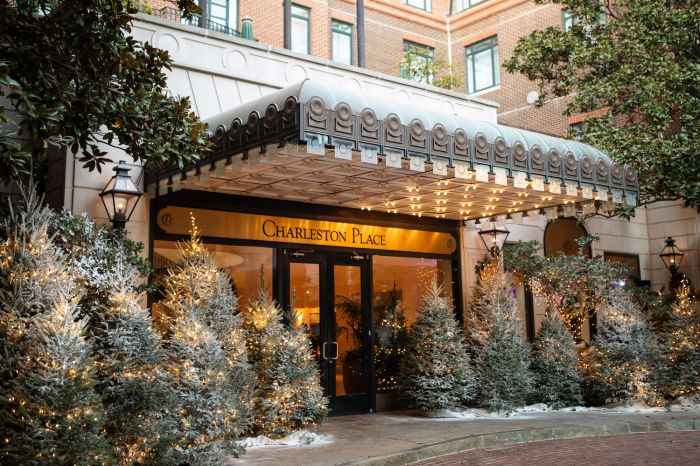 Historic Charleston, South Carolina is festive in any season. The Spanish moss that drips year-round from tree limbs gives a Christmas tree tinsel vibe, and the light strands dangling from the oaks in the College of Charleston's picturesque Cistern Yard provide soft illumination as fall's darker days descend. It's a magical town, made even more captivating by its crown jewel hotel, The Charleston Place, which year after year transforms into a holiday dreamscape, enchanting visitors and locals alike. 
Known as Charleston's "living room," The Charleston Place, its central location, and its numerous restaurants, bars, and wine pop-ups make it the town's ideal gathering spot at any time of year. The lobby central Thoroughbred Club is the ultimate rest stop for a post shopping cocktail, the horse-centric theme so encompassing as to inspire a urning for dressage or show jumping lessons. The garden-like Palmetto Café finds brunch goers glasses raised in Champagne toasts, and emanating in the evening from the urbane Charleston Grill are a jazz trio's dulcet tunes, those by Cole Porter, Jerome Kern, and David Mann, each song enhanced by the menu of creatively crafted cocktails, such as the soothing bourbon-based "French Quarter."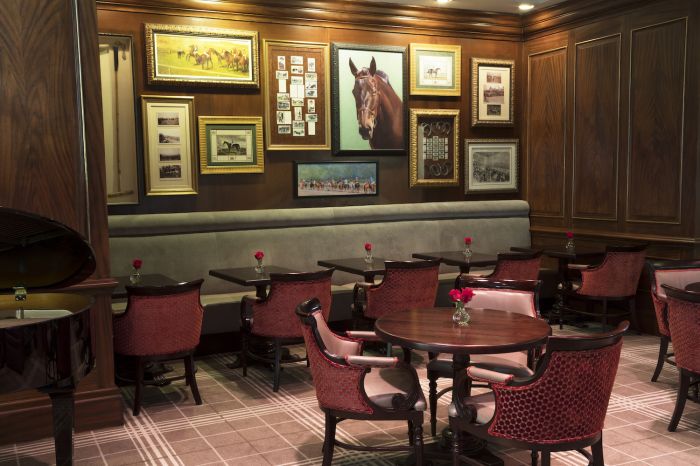 The Thoroughbred Club at The Charleston Place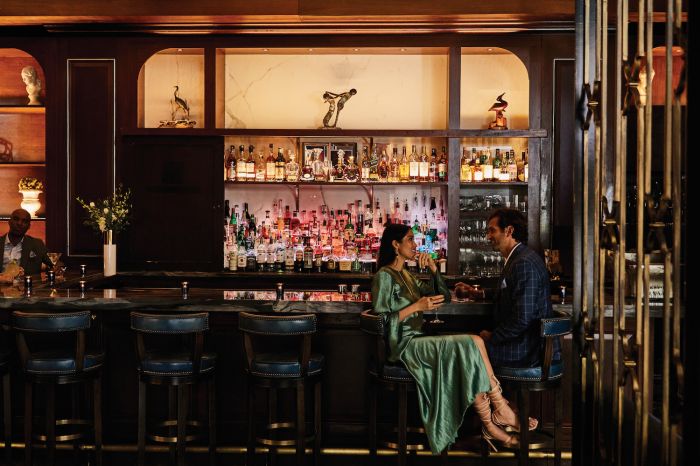 The Charleston Grill Bar at The Charleston Place
The hotel's central spaces alone evoke a celebratory atmosphere. The grand staircase wraps around a monumental Murano glass chandelier. At the entrance, guests are greeted by 14 foot tall water spouting bronze horses—four in total, representing Charleston's rich equine history. And an interior rooftop pool and its outdoor deck afford bird's eye views of the city. But come festive season, The Charleston Place thoroughly transforms into a Nutcracker dreamscape, featuring dancing sugar plum fairies, Nutcracker-inspired teas, children's dance classes, pop-up performances, and a nightly "snowfall" in the hotel's outdoor Market Street Circle.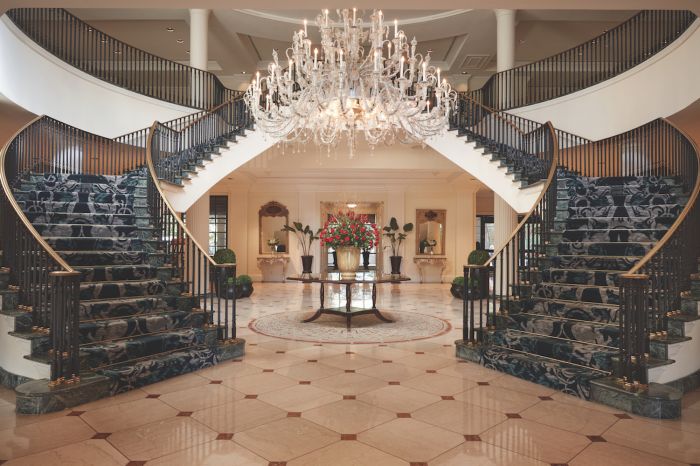 The Charleston Place Lobby
"At The Charleston Place, we are fortunate to function as the epicenter of holiday festivities for the city," said Rebecca Hubbard, managing director of The Charleston Place. "This year's theme of the Nutcracker will be a fantastic ode to the holiday classic and celebrate the treasure of family, gathering, and giving this holiday season." 
Here's a sampling of The Charleston Place's holiday activities that make a visit more than worthwhile:
Holiday Décor: From Nov. 24 through New Year's Eve, The Charleston Place is draped in shimmering silver and golds, and features oversized Nutcrackers, glistening sugarplums, and special appearances by ballerinas from the Dance Conservatory of Charleston. With décor designed by The Drifter, more than 140 decorated trees adorn the hallways and courtyards, along with a 40-foot tree in the center of Market Street Circle. The holiday train, one of the hotel's most memorable traditions, returns this year with new enhancements, traversing the grand lobby along 300 feet of track.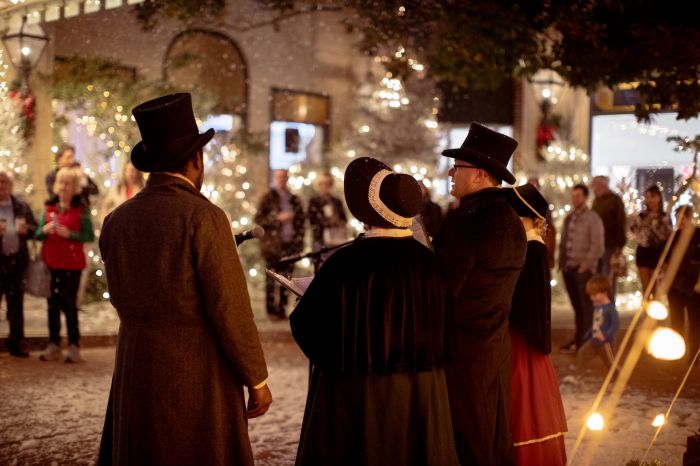 The Charleston Place is a hive of holiday activity during festive season.
Dream Concierge: The hotel's Dream Concierge features an array of aromatherapy oils from The Spa, Brooklinen Sleep Masks, a full pillow menu, and non-alcoholic adaptogen cocktails. Dream Concierge items are available for purchase through the hotel's Concierge from November 24 – December 31.
Nutcracker Tea: This cherished afternoon tea at the Thoroughbred Club features a selection of sweet and savory treats such as Nutcracker cookies and candy cane macarons. While dining, guests can enjoy a short performance from the Dance Conservatory of Charleston. Adults may add on Champagne service to their reservation. Pricing is $155 per adult, $135 per child. Reservations are required as space is limited. December 2 – 24, weekends 11AM – 1PM.
Let it Snow: From Nov. 24 through Dec. 31, snow magically falls on Market Street Circle, blanketing the holiday trees in a lovely sheet of winter white. Those bearing witness will have the option to purchase cocoa, cookies and festive cocktails while watching the snow fall. Daily, at 6,7, and 8PM. New this year, The Charleston Place has added an early snowfall for families at 4pm on Saturdays. This experience is complimentary and open to the public, but reservations are required as space is limited.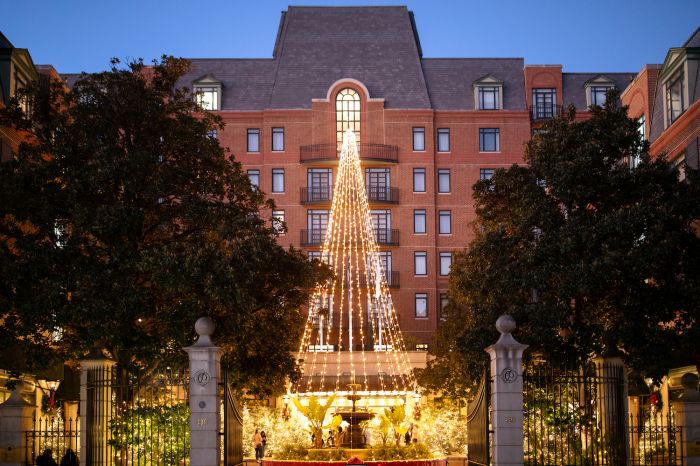 Known as Charleston's 'living room,' The Charleston Place is your holiday dream come true
Letters to Santa: The secret is out! The Charleston Place has a direct line to the Big Guy himself. Whether compiling a wish list or putting in a last-minute request, the hotel stands ready to help. Santa's postmaster elf retrieves all the letters and sends them off to the North Pole every Friday evening at 5:30pm on the 2nd floor landing.
Holiday Book Butler: In partnership with local bookstore Buxton Books, hotel guests can delight in a curated list of holiday classics exclusively available for guests of The Charleston Place. All selections are gift wrapped and hand-delivered within the hour. Books are for purchase and program participation is complimentary.
Historic Holiday Walking Tours: Enjoy a curated holiday walking tour of Charleston's Historic District with the "Lid Lady," Tyler Page Wright Friedman of Walk and Talk Charleston. During this two-hour tour, guests learn about the city's holiday traditions as they stroll past homes elegantly adorned in festive décor. The tour is $30/guest and reservations are required. Tour leaves from hotel lobby. December 2 – 23, Saturdays 2PM
Private Engagement Snow Fall: Pop the question under the enchanting snow with this exclusive private snow engagement package. Includes a buyout of Market Street Circle for a private snowfall, one photographer, savoring of Champagne, flowers, dinner for two at Charleston Grill, and the couple's names on the marquee of the Riviera Theater (depending on events) as well as a private shopping experience at Croghan's Jewel Box and the services of Propose Charleston. Reservations required and must be made a week in advance. 
Private Group Snowfall & Large Party Dining: The Charleston's Place legendary snowfall is available for private parties Mondays- Wednesdays from 4:00pm-5:00pm during the holiday season. This package includes a private snowfall for up to 100 people, passed appetizers, and an open bar. Friends, family and colleagues can also enjoy large party and private party dining in all of the hotel's restaurants, including the Charleston Grill, The Palmetto Cafe, Meeting at Market and Thoroughbred Club. Reservations required and must be made a week in advance.
There's Snow Place Like The Charleston Place Package: Includes an exclusive view of our snowy courtyard from your guest room accommodations; a holiday-themed welcome amenity (once per stay), in-room hot chocolate service and cookies (once per stay), and exclusive access to Snow Experience tickets. (This package is subject to availability and restrictions may apply. Seven-day advance notice is required. Two-night minimum stay required.) November 25 – December 31. 
Reserve experiences by visiting www.CharlestonPlace.com/Experiences
Photos courtesy of The Charleston Place