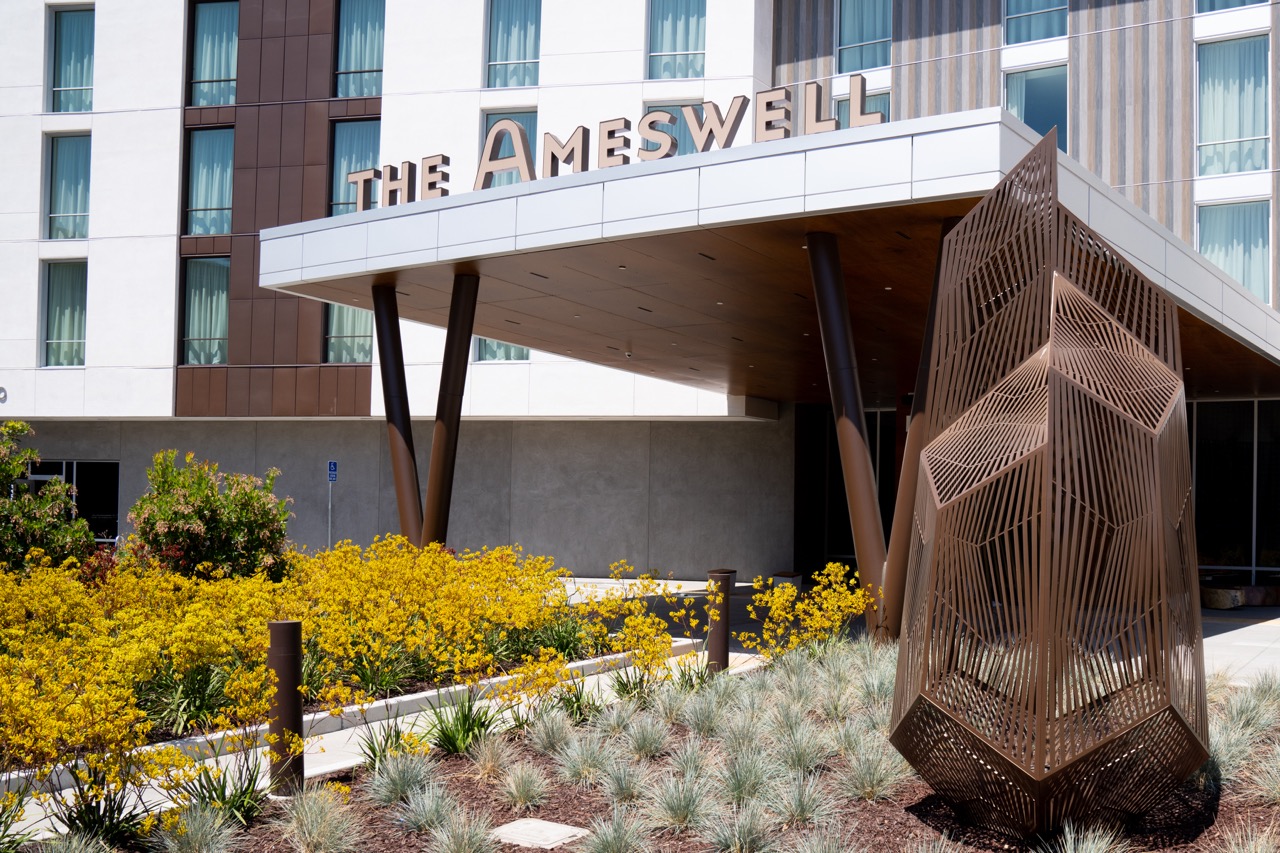 Photo by Alexander Stein
Nestled in the heart of Silicon Valley on a sprawling 10 acre property in Mountain View, The Ameswell is one of those beautifully designed hotels that brings together innovation, art, wellness, sustainability, and natural beauty.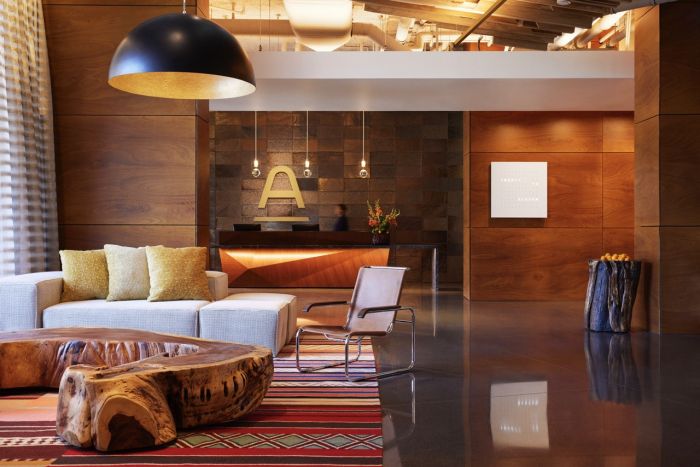 Photo by Jessica Sample
In an area where luxury seems to be standard, The Ameswell stands out through its dedication to sustainability and art, featuring an extensive art gallery and beautiful design elements at every step as well as a library, and an outdoor heated pool.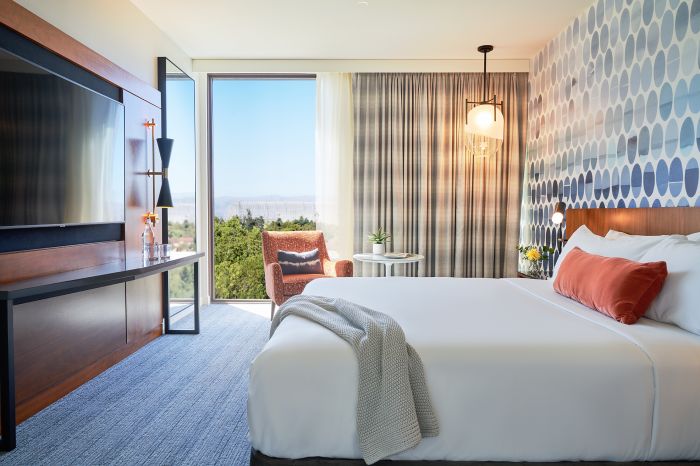 Photo by Douglas Lyle Thompson
It's the perfect destination for business travelers who need a hotel with ample meeting rooms and event spaces, while also being inviting to the more outdoorsy types with direct access to trails, and a recreational field.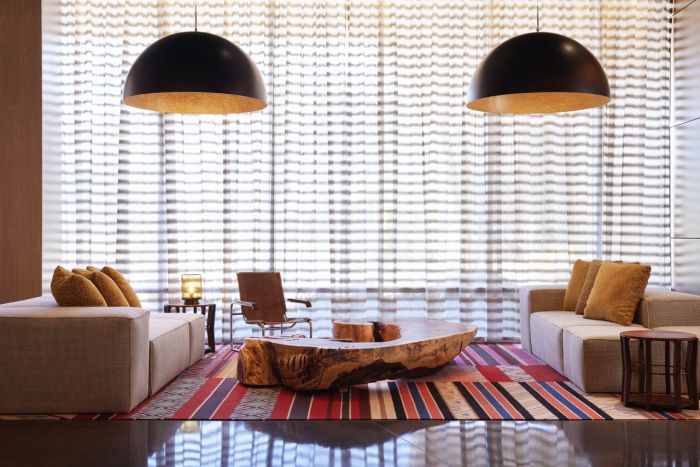 Photo by Jessica Sample
The Ameswell was inspired by nearby NASA Ames Research Center, celebrating the history and future of innovation, along with an underlying commitment to wellness and sustainability. Thoughtfully built from the ground up with design by BAMO, interior architecture by BAMO in collaboration with RYS Architects, and exteriors by WRNS Studio, also responsible for Microsoft's Silicon Valley Campus, the property's industrial public spaces feature a polished concrete floor and purposefully unfinished ceilings layered with ceiling clouds, slender panels of rough and raw recycled wood from Mexico, that are hung at different heights throughout the lobby level to evoke a sense of movement in the long space.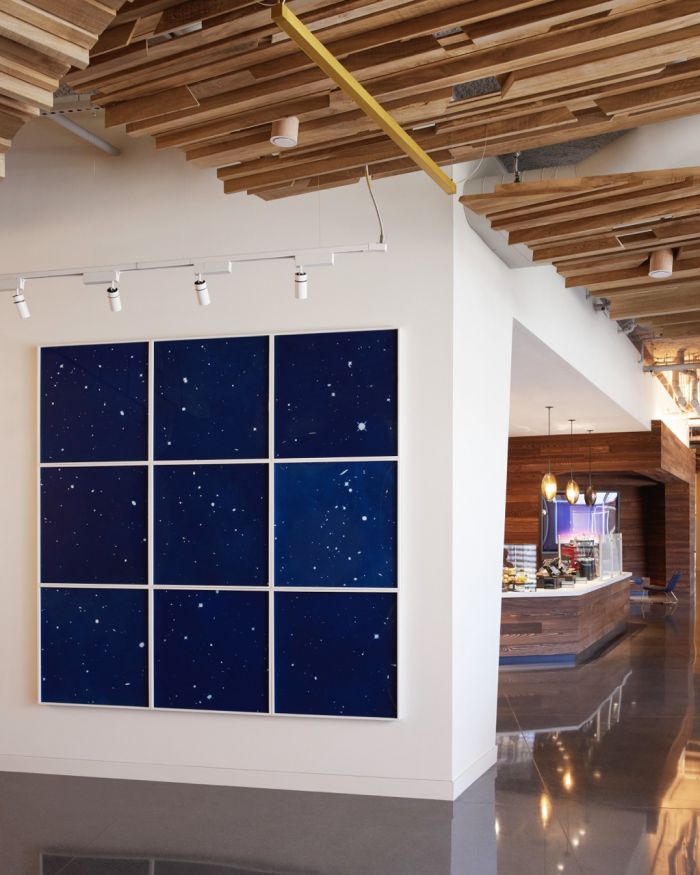 Photo by Jessica Sample
Various askew and textured walls, such as quarried lava stone tiles with a copper glaze finish behind the check-in desk and a wall entirely made of rope, are among the many architectural and interior details that evoke the area's surroundings.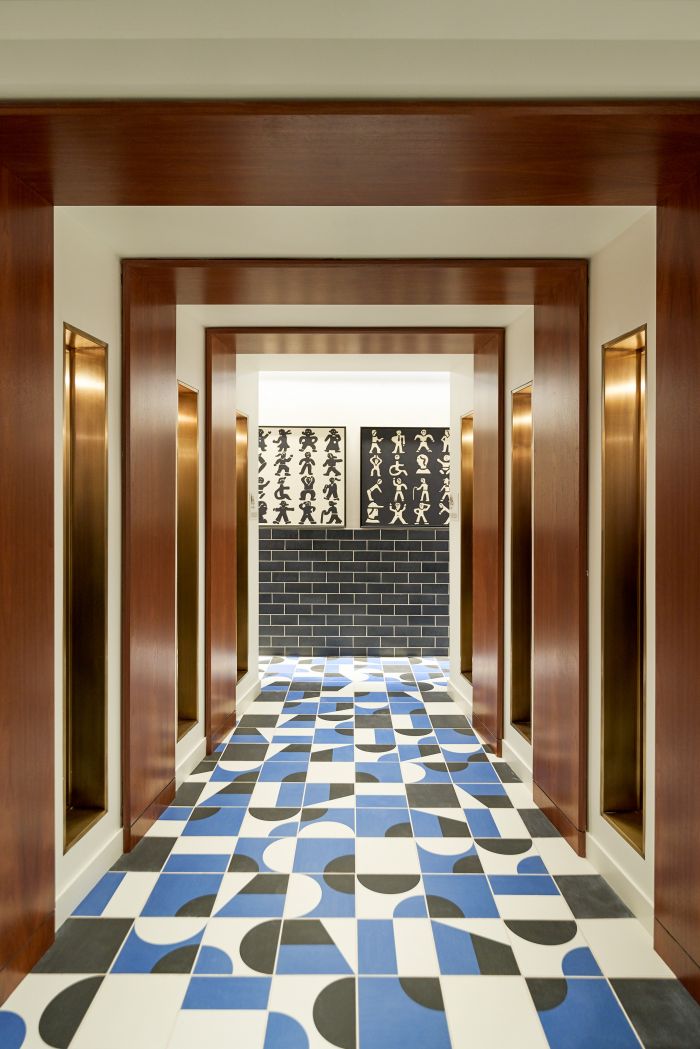 Photo by Douglas Lyle Thompson
The LEED Silver building boasts a permanent world-class art collection on the ground floor curated by Sweeney Co. Art Advisors: Hangar One Art Gallery, named after Silicon Valley's nearby hangar that once housed WWII naval airships. All of the individual pieces have a focus on, or are a response to, nature, such as local artist Ala Ebtekar's work using negatives from the Hubble telescope, or a seven-monitor video installation by contemporary artist Chris Doyle. In addition to the art collection, the hotel's heavy emphasis on wellness is showcased through a Wellness Wing that features private spa treatment rooms, guestrooms with the Mirror, ample equipment for personalized workouts, along with easy access to a 1,600 square foot state-of-the-art fitness center, the heated salt water swimming pool, plus the event lawn with fire pits, lawn games, and room for outdoor activities.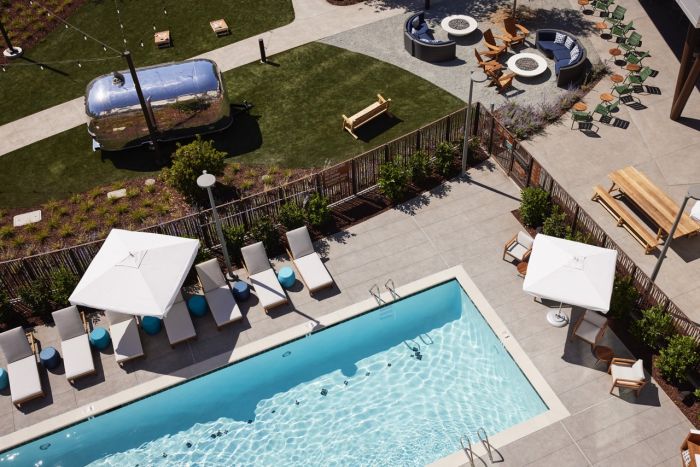 Photo by Jessica Sample
The hotel features three restaurants: Roger, the hotel's main restaurant and bar features seasonal California cuisine married with Mediterranean flavors along with craft cocktails and wine on tap, and boasts an open lay-out design with garage-style doors connecting the indoor/outdoor seating for easy access to the area's beautiful weather.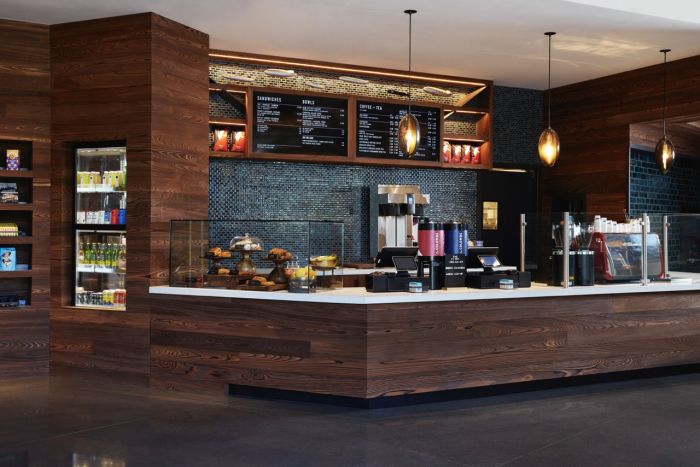 Photo by Jessica Sample
The Flyby is a quick and casual all day lobby café offering everything from coffee to made-to-order and grab-and-go meals.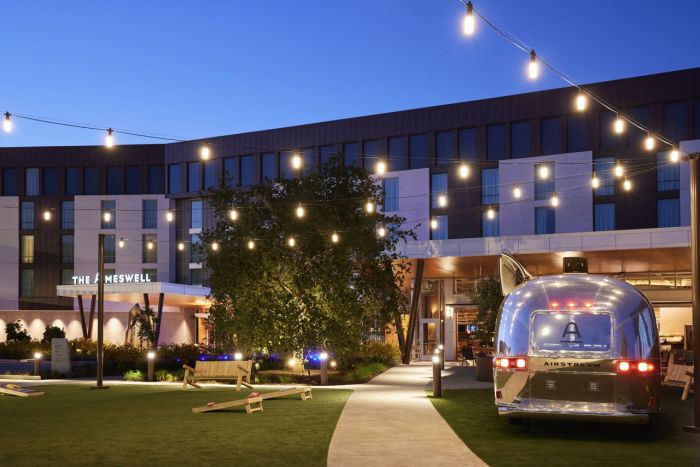 Photo by Jessica Sample
The Airstream Bar is a retrofitted vintage trailer serving up casual Cali-inspired cuisine intended to be enjoyed outdoors by the pool, lawn, or firepit.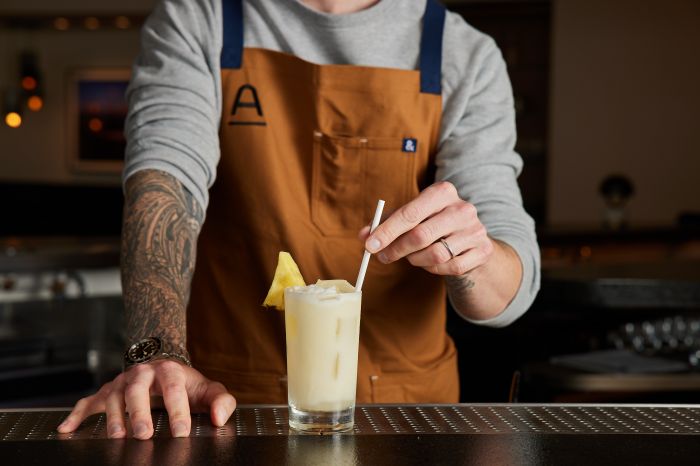 Photo by Jessica Sample
The beverage program, created by James Beard winner Shelley Lindgren and her husband Greg, focuses on wines from nearby small producers, while the cocktails feature unique ingredients.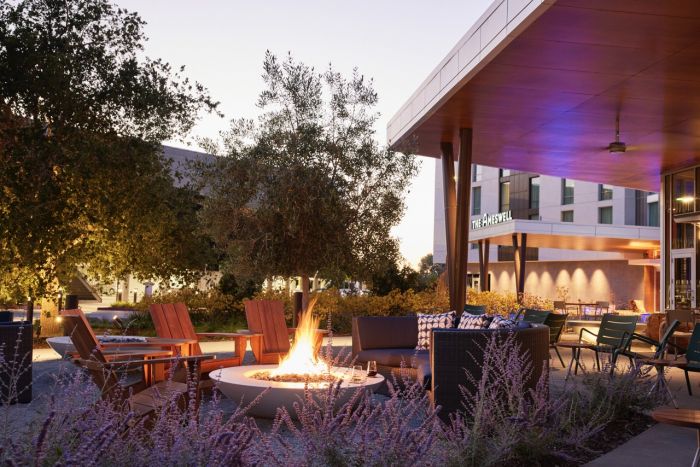 Photo by Jessica Sample