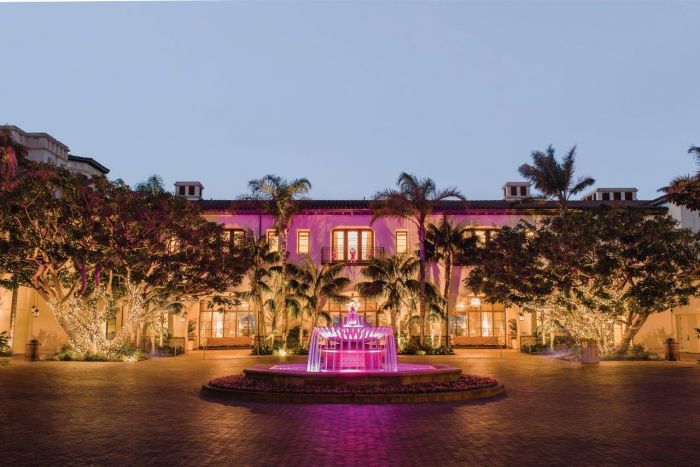 The resort's welcoming entrance fountain is lit up in pink. Photo courtesy of Terranea Resort
The main entrance of Terranea is bathed in a rosy pink every October for Beast Cancer Awareness Month. This is the 9th year the oceanfront luxury resort provides blush colored cocktails and a variety of enrichment activities to guests. Proceeds for the month's worth of activities, plus food and beverage specials benefit Play for P.I.N.K and Cancer Support Community South Bay.
"Women continue to change and enhance the hospitality industry" said Ralph Grippo, president of Terranea Resort. "We are proud to demonstrate our support for National Breast Cancer Awareness Month with our Terranea Turns Pink initiatives."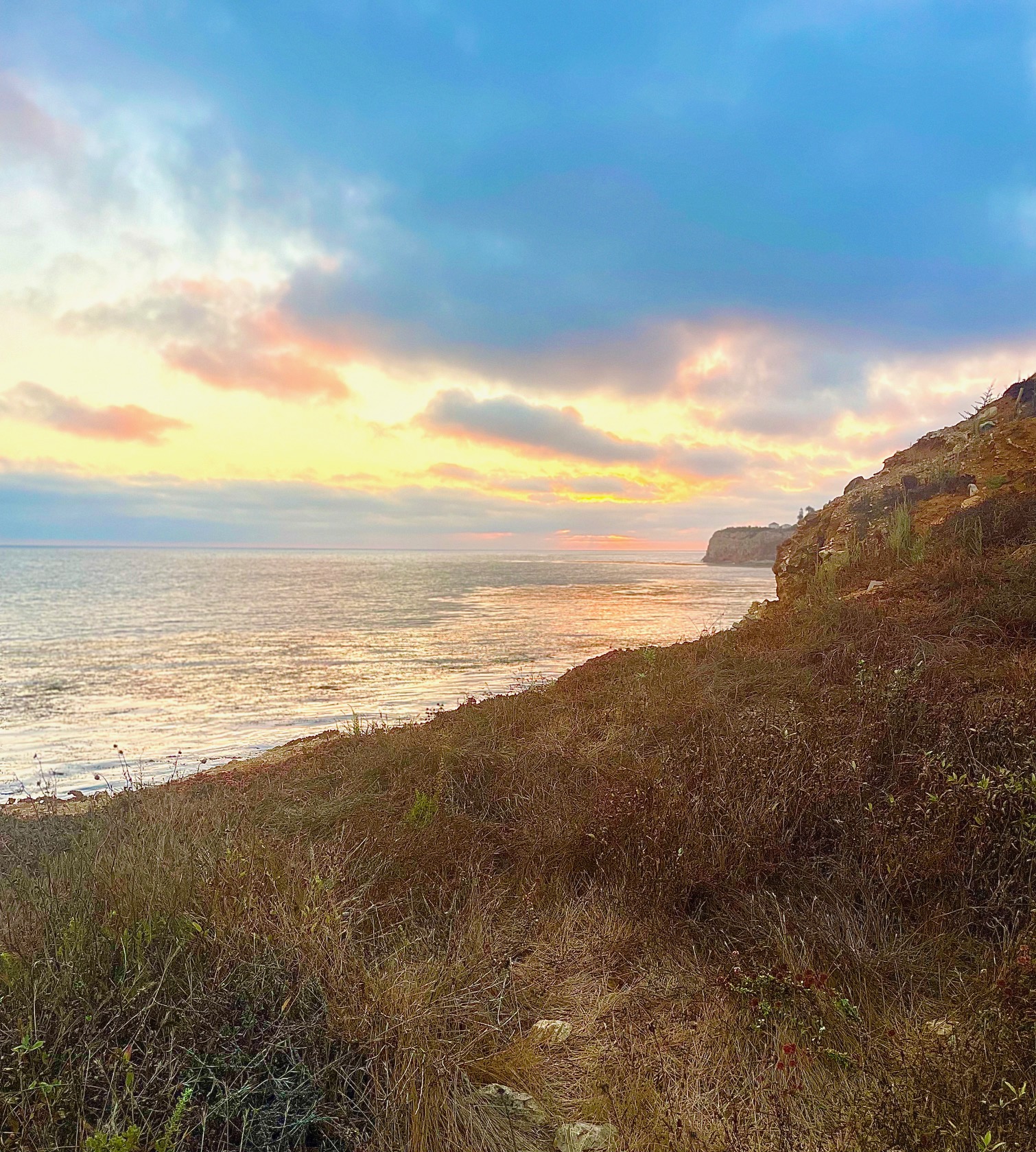 Photo by Jill Weinlein
Drink Pink for Breast Cancer Awareness
Nature also contributes to the pink theme, as sunsets in Southern California seem to be more beautiful and stunning during the month of October. Sit in one of the dining venues or outdoor bar lounges to soak up the beauty of the sun setting into the Pacific Ocean. 
Throughout October in the Lobby and all dining destinations, a signature "Florecita" pink cocktail will be available and $1 of every purchase will support breast cancer.
The rose-tinted cocktail is made with Tanteo Blanco Tequila, Rishi Lavender Mint Tea, cranberry, peach, lemon and lavender bitters. It's served in a large, rounded goblet with ice and garnished with delicate, beautifully colored edible flowers floating atop.  

Oceanview The Links at Terranea. Photo Courtesy of Terranea
Ninth Annual Birdies for Breast Cancer at The Links
The Links at Terranea is an oceanview par-3 golf course offering championship-caliber holes with Catalina Island and Pacific Ocean views. 
The course will fly a pink flag at each hole to show support for Breast Cancer Awareness Month. On October 1 from 8:30 a.m. to 2 p.m., City of Hope South Bay and Providence Little Company will sponsor a scenic golf round, plus provide delicious food and drinks, and a silent auction to raise money for the Cancer Support Community South Bay. Dress in pink and participate in the on-course contests.
Support Community South Bay's provides assistance and guidance to cancer patients and their families. This special event entry fee is $500 for groups of four.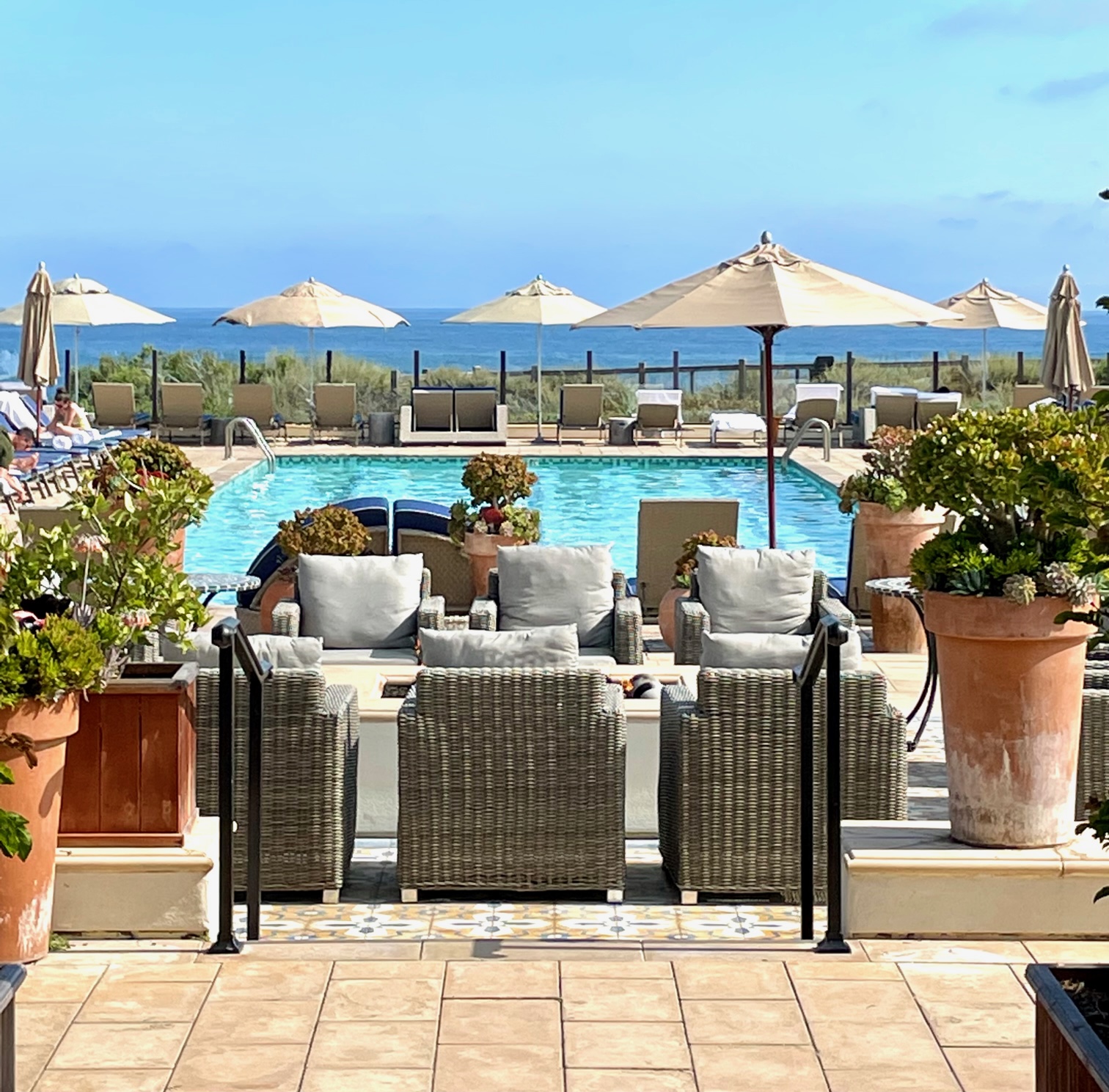 Soak up the Sun and Moon at Terranea. Photo by Jill Weinlein
Full Moon Yoga
At The Spa at Terranea along the edge of the Pacific Ocean, embrace the natural beauty and energy of the Pacific Ocean. Designed to promote wellness and restorative therapy, the 50,000 square foot indoor and outdoor oasis features 25 treatment rooms. 
During the month of October, the Spa celebrates the month's bright full moon on October 28 for yoga enthusiasts. All levels are invited to practice yoga under the brisk autumn night sky outside with the moon illuminating the ocean beyond. This special class begins at 6 p.m., and your $20 charitable donation will benefit Cancer Support Community South Bay. 
Archery Experiences Benefit Breast Cancer Awareness
Other Terranea experiences include an archery activity. For every session booked in October, Terranea will donate $5 to breast cancer support and research. Advanced reservations are required. The resort's partners at Palos Verdes Archery Lessons will generously match the activity donation. 
Dueling Pianos and Silent Auction
On Saturday, October 28, guests will be treated to a special edition of Dueling Pianos in the Lobby Bar. Signature cocktails, gourmet bites and creations will be available all evening.
In support of Cancer Support Community South Bay and Play for P.I.N.K., special silent auction items will be donated.
Photos by Jill Weinlein
Experience pink moments for a worthy cause while enjoying creative cocktails, culinary fare and wellness activities inspired by nature surrounding Terranea Resort.