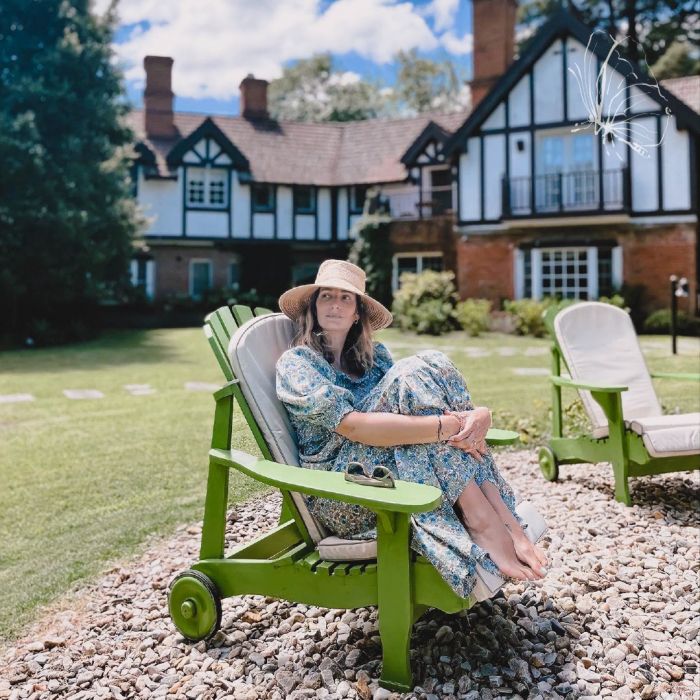 All Images credit Hotel L'Auberge.
Punta del Este has been called the St. Tropez of  South America. It's actually more like Miami Beach with its gleaming skyscrapers and condo towers owned by mainly wealthy Brazilians and Argentines. The city center is a buzz with plenty of shops, bars, eateries, and massive resorts with guests set up behind dealer tables and slot machines looking to get lucky in their casinos. Its miles and miles of sandy coastal front are dotted with beach clubs where the well-to-do of the world have endless summers of fun in the sun. Just a few miles from the frenzy of the city center tucked away in a suburban enclave of mansions and leafy parks is a boutique hotel. Surrounded by this haven of tranquility is where you'll find the Hotel L'Auberge.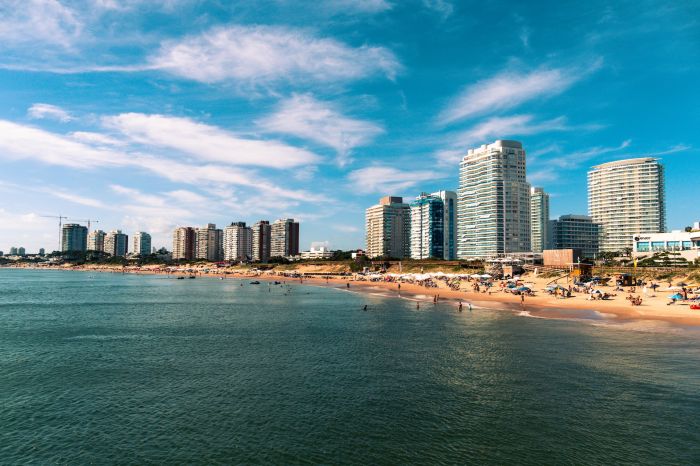 Argentinian and Brazilian high society have flocked to the exclusive Uruguayan beach resort of Punta Del Este for generations. Most of them opt to stay in those grand casino hotels, towering condo buildings, or massive beach resorts. However, country hotels are very rarely found in this part of the world. Even rarer, actually one of a kind,  is this circa-1947 country house that has an iconic red brick water tower incorporated into its design.
In this tony bolthole, guests are surrounded by lush gardens and old wood trees that create the feeling of seclusion yet all within a short distance to popular resorts and beaches. Hotel L'Auberge is an amalgamation of both the old and the new with 40 stylish rooms and a collection of facilities that removes the need for guests to leave the hotel if so desired.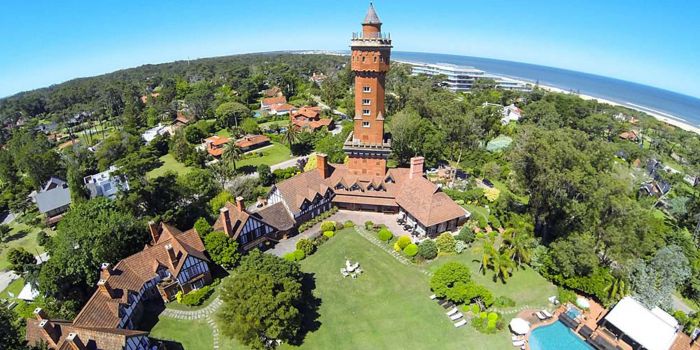 In contrast to those common condo buildings, Hotel L'Auberge is a grand dame hotel steeped in a rich history and local culture. Its most notable attribute is its 70-year-old water tower which was constructed to provide water to the Parque de Golf neighborhood and did so until 1960. Today, the locally-owned hotel has been in the family for two generations.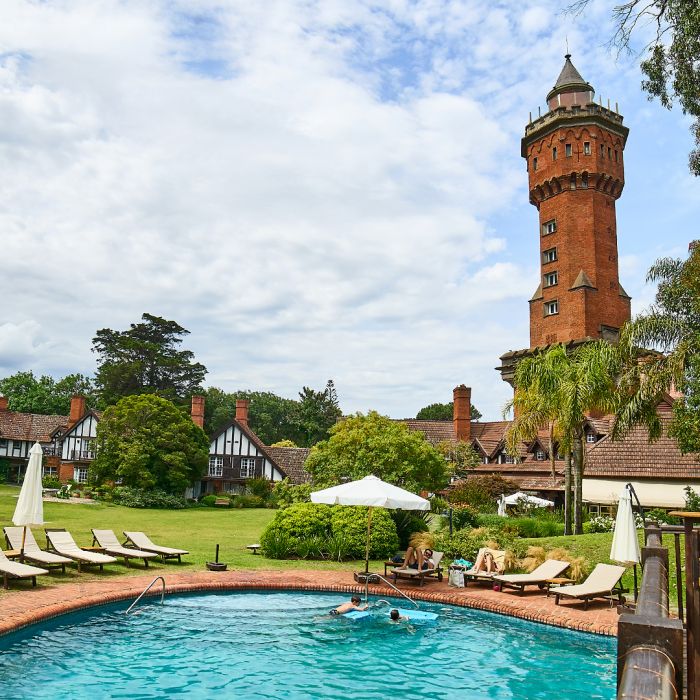 The grounds are like a park with verdant shrubbery, flowers bursting in color, and century-old cedar trees, planted by the property's first owners.   In the center of the property is an expansive lawn with chaise lounges and sitting areas for friends to gather. Nearby is the pool with more chaise lounges and umbrellas. During the summer months the sun is strong but never overly hot at the Hotel L'Auberge, with all of the trees and foilage there's always a shade or a cool breeze nearby.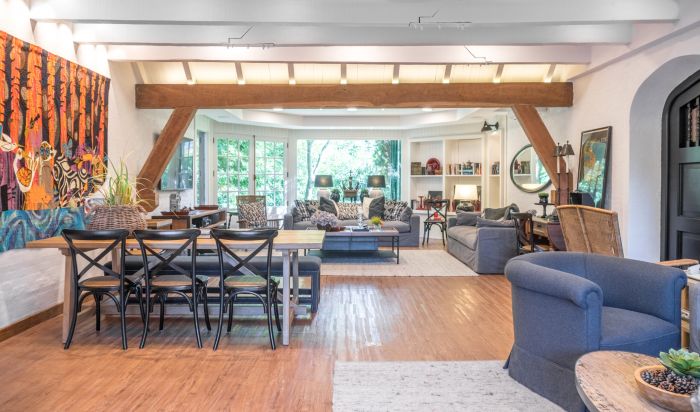 The interiors are beautiful and what one would expect in a 75-year-old country manor house. Forget minimalist, ultra-contemporary, or the latest designer trend of the day. This hotel is beautifully designed with French provincial decor of bright floral prints, gorgeous antiques, and museum-quality artwork. On the other hand, don't expect old and stuffy either. It is clean light fresh and bright with a fresh country chic aesthetic and takes advantage of the beauty outdoors with large windows throughout to let in the sun as well as unobstructed views of the gorgeous grounds. 
There are many spaces for guests to explore or curl up with a book with fireplaces ablaze in the cooler months. The guest lounge room is of particular note with vibrant flowery print sofa and curtains, splendid antiques, volumes of coffee tables, and books to peruse with a grand piano set in the room's corner.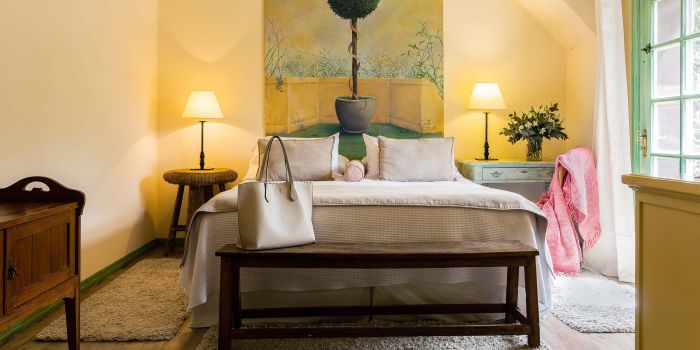 Whichever room a guest may opt for, all of the forty rooms meet the highest expectations of the most refined guest. The original rooms of the building transport guests to an English manor, whilst the newer buildings rather provide a French influence from the regions of Provence. Some of the rooms have jacuzzies, whilst others have the luxury of a fireplace. Guests can sleep in the watchtower, albeit the rooms may be a bit smaller, but this is more than compensated for in character.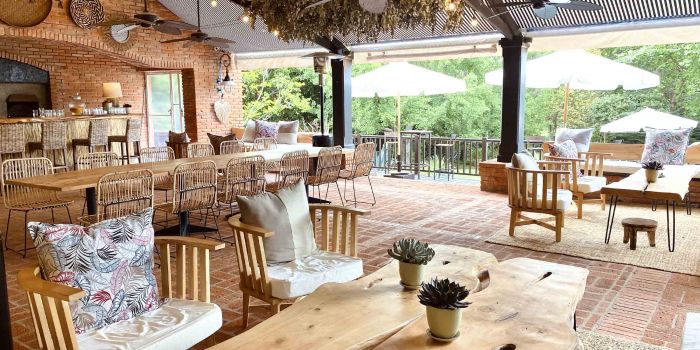 There is one word to describe South American cuisine and that word is asado. Asado means to grill and throughout South America grilling food seems more than traditional cooking, it is culture, tradition, and part of what makes traveling there so delicious. If it wasn't for football, asado would be Uruguay's national sport.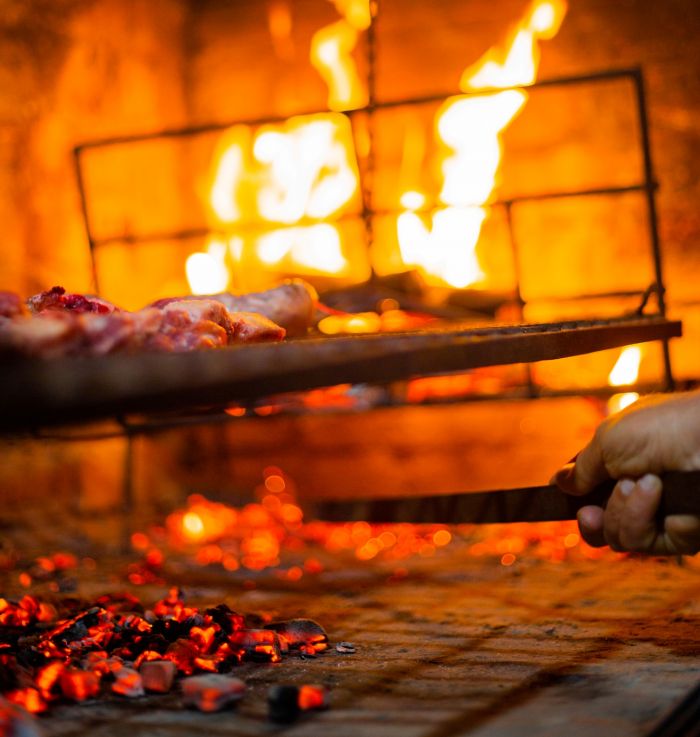 Hotel L'Auberge is no exception their Restaurant & Grill is open during the day for BBQ meals by the pool.  You'll see on one side of the restaurant the grill that covers the space along an oven providing a parade of hot baked bread to accompany meals.  In the center of the grill is where the wood is fired into glowing red coals which are then moved and spread under the grilling apparatus that lifts and lowers depending on the level of heat desired.  What comes out of it is perfectly juicy meats, veggies, and seafood charred to perfection.  Grilling is common around the world from the big barrel grills and smokers in the US to the open pit grilling in Europe. However, no region has perfected the art of grilling like South America. None. And Hotel L'Auberge does its part to uphold the tradition.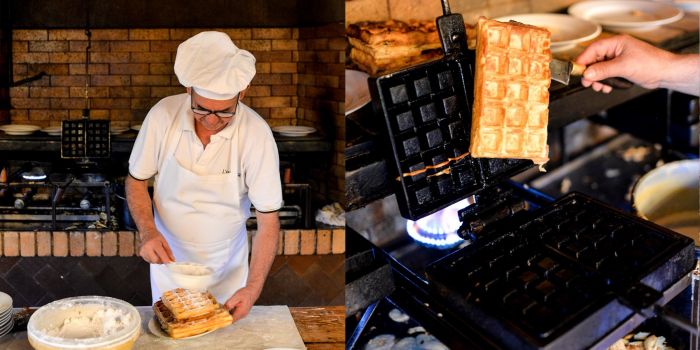 A second restaurant serves dinner and breakfast.  Guests may opt for a more informal dining experience in the garden or enjoy a sophisticated dinner service. Afternoon teatime has become a prominent feature in Uruguay. As unusual as it may sound, Hotel L'Auberge is probably the most famous for its waffles.  Like many gifts and traditions that come to a country with its immigrants,  the  European immigration in the 19th century brought along their love of waffles which has not integrated itself into Uruguay's food culture.  
Hotel L'Auberge became a tea house before it was a hotel and Belgium waffles were the rave back then as much as they are today. Having a waffle experience at Hotel L'Auberge has become an institution and the one thing you must do in Punta Del Este right up there with taking a photo in the dedos or fingers by the sea. But these aren't just any waffles. They are made the old way on an iron skillet heated by hot coals. They come out big, fluffy, and golden.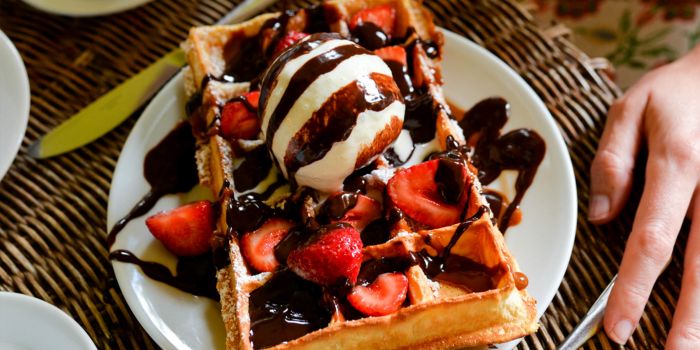 It's serious business from that point on with the competing tantalizing choices of honey, chocolate, and cream.  The options continue with strawberries, bananas, or even ice cream or the popular dulce de leche. Others who opt for savory choose melted cheese.   Those waffles are so decadent and delicious, if there was nothing else in Punta de Este, these waffles would still make the trip there worthwhile. Beyond their heavenly waffles, one would be remiss to mention the option for a proper afternoon tea which is a standout as well.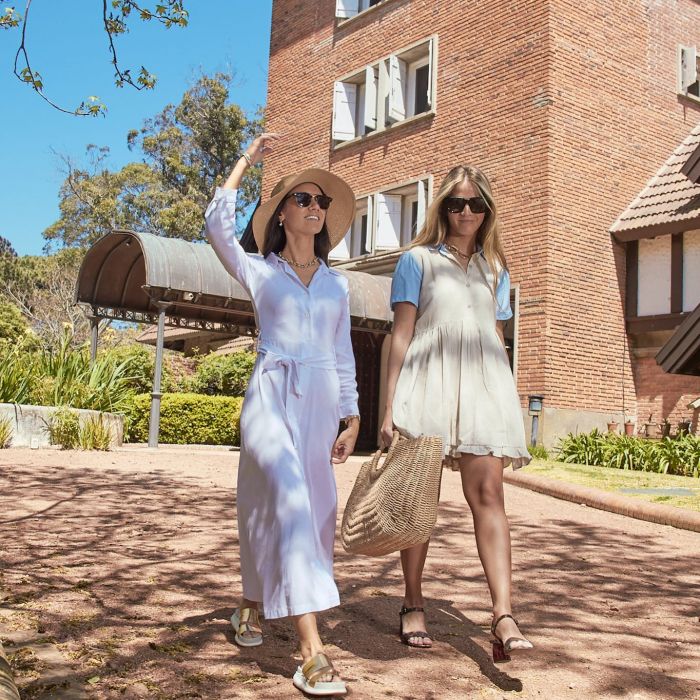 Hotel L'Auberge's location leaves nothing to be desired.  Guests can enjoy the calmness of the country estate whilst also being a short distance from the sun, sand, and sea of Brava Beach and the Atlantic Ocean. The hotel is also three miles from the buzzing city center and the shops, bars, and cafés of Gorlero main street. The hotel offers bicycles as well where guests can ride along the beach promenade into town or stop off at a beach club for an afternoon alternating between the beach, sea, and barefoot clubbing.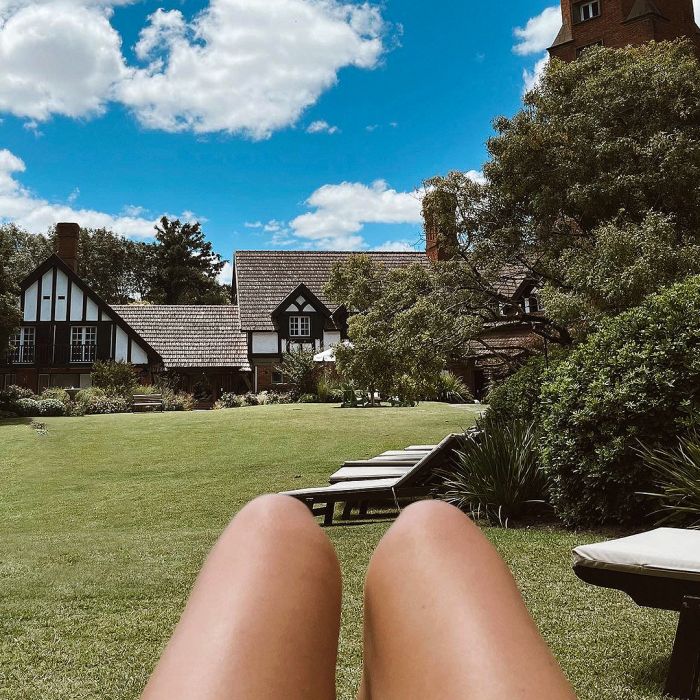 Uruguay may not be the first place you visit in South America. But once you go there, you'll wonder why it was not. This little country offers so much from its cities, countryside, and beach resorts such as Punta del Este. Hotel L'Auberge offers a sublime haven to exhale and breathe in the countryside calm. Yet it is close enough to the beaches and action of the resort town and ticks all the boxes for an idyllic South American holiday.