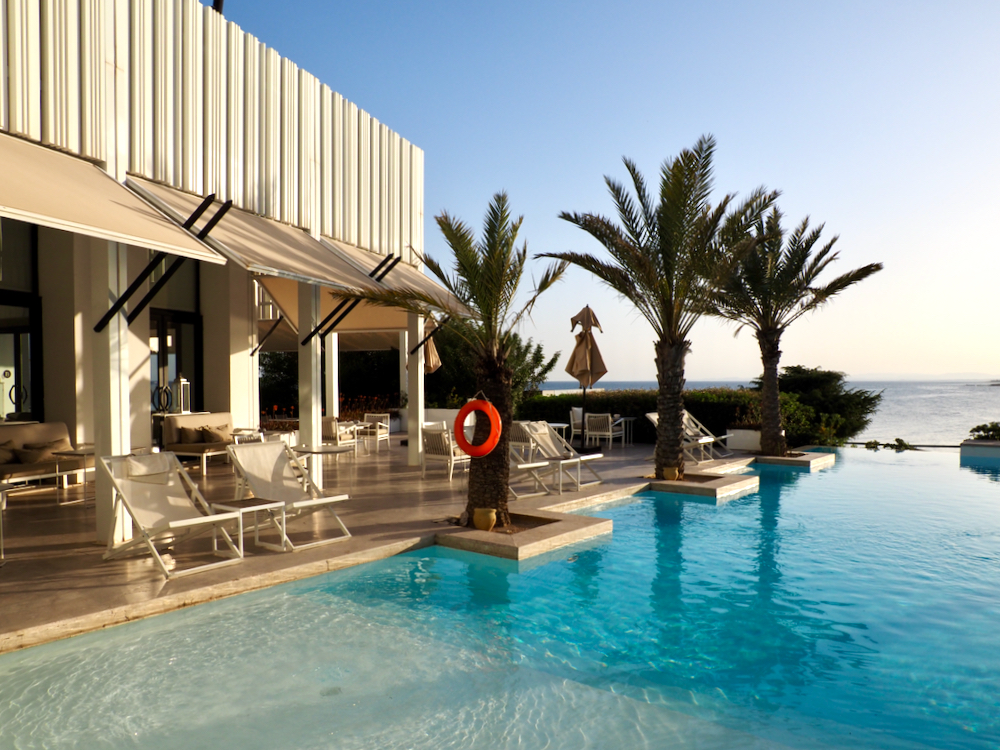 Columbia Hillen
Entrance to the five-star La Badira hotel on Tunisia's northern coast provides stunning visual contrasts of shadow and light. 
A colonnade of white columns lead to large doors that open to reveal a dark passageway bordered by ornamental white fish, then a second door automatically opens allowing a flood of light to pour in from the spacious lobby beyond.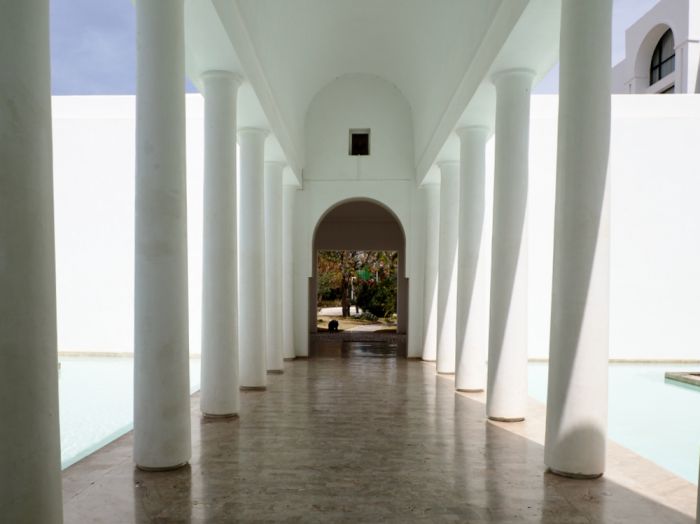 Columbia Hillen
Opened in 2015  after three years renovating a former Italian holiday club, this 130-suite adults-only hotel is situated in the Gulf of Hammamet, once a popular retreat for international writers and artists, including Oscar Wilde, Gustave Flaubert and Jean Cocteau. 
Artefacts throughout the hotel reflect pride in Tunisian heritage, ranging from a wall of handmade Berber-style ceramics in the ground-floor bar to a traditional Tunisian door and tej (colorful ornamental shelving) at the Adra restaurant, as well as copper serving plates featuring intricately-designed calligraphy and a decorative brass incense burner in the lobby.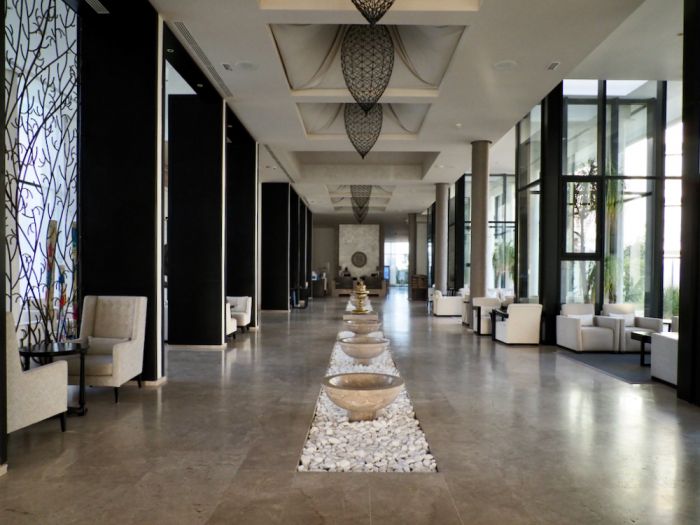 Columbia Hillen
Gleaming speckled marble flooring and discreet alcoves for seating create a charming ambience, the stone sourced from the town of Tela. Floor-to-ceiling glass walls reveal a manicured lawn outside, dotted with palm trees, with pathways to the hotel's private beach and an infinity pool.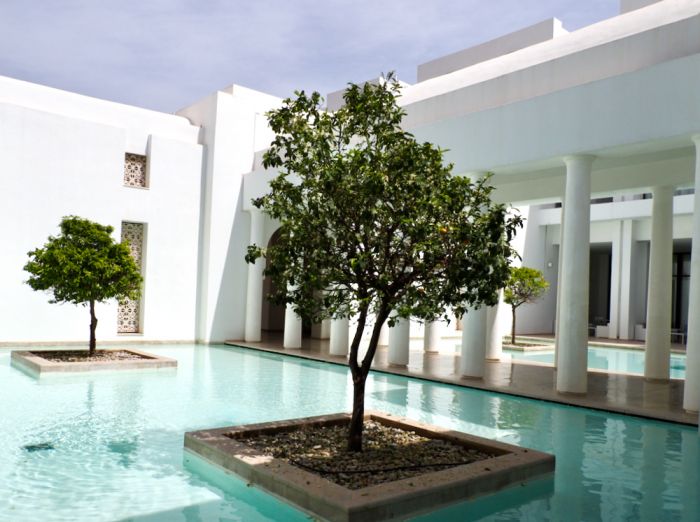 Columbia Hillen
Tunisia has long been associated with package tourism, but La Badira is one of a small but growing number of modern hotels catering to the developing luxury market. Thus La Badira, which means 'light of the moon,' will soon be extended to include stand-alone villas and a private pool.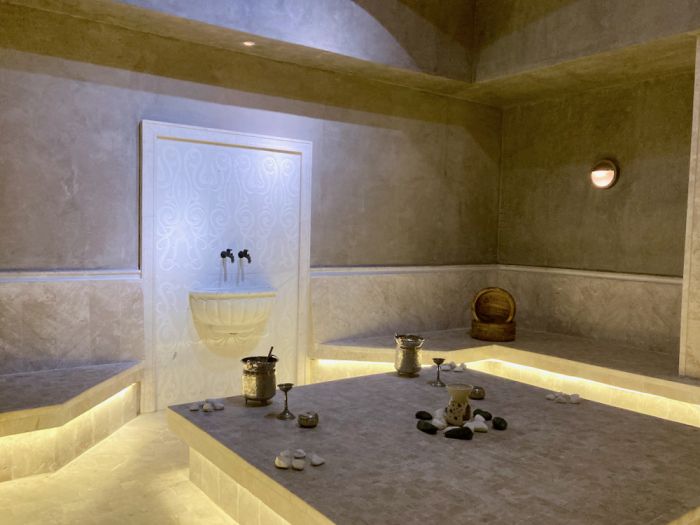 Columbia Hillen
Leisure facilities at the hotel include two swimming pools – the infinity one overlooking the sea and an indoor heated one on an upper floor with views of the beach. It also hosts a spa by Clarins with a hammam and an impressive range of treatments. I counted sixteen different therapy choices on the menu, ranging from Swedish and Lomi Lomi Polynesia massages to a Thai-inspired candle variation, Ayurvedic with hot oils and lymphatic drainage. There is also one for pregnant women.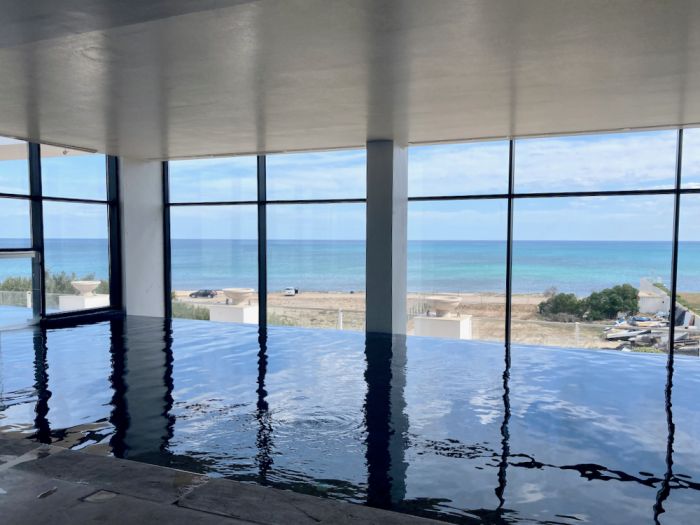 Columbia Hillen
My excellent therapist was Soumaya who used a menthol cream mixed with vegetable olive and sesame oils. My companion enjoyed a Thai-inspired 'melted candle wax' massage given by Amani with shea butter and floral essential oils.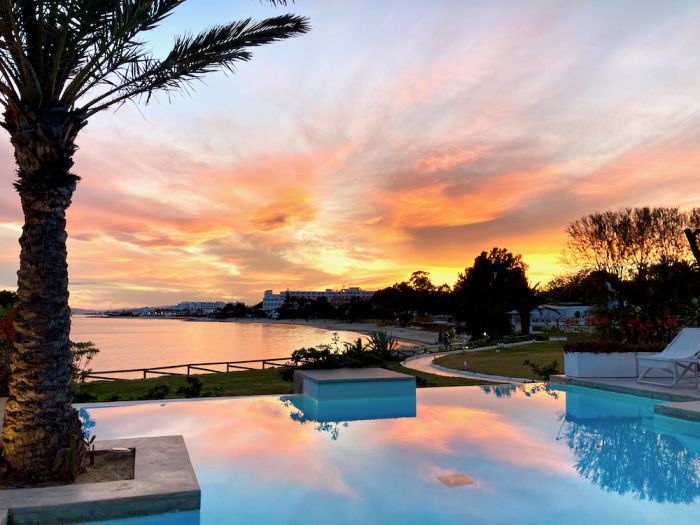 Columbia Hillen
La Badira offers several dining options – traditional Tunisian cuisine in the ground-floor Adra restaurant; international fare at Kamila, just across from it, and an outdoor beach grill during the summer season. Breakfast is served in the Zahila restaurant while the terrace of Cafe Maure is a relaxing place to watch the sunset.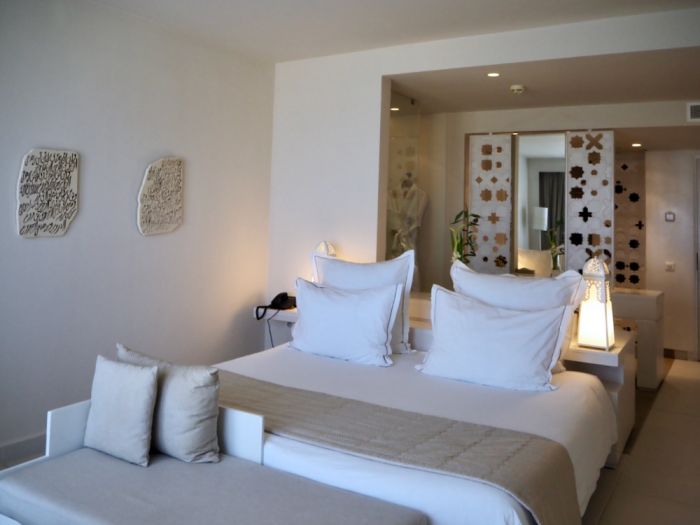 Columbia Hillen
Our third floor suite, 1357, reflected an all-white color scheme, including the furnishings, the only exception being a black television set in one corner. Cotton floor-to ceiling curtains led to a balcony with views for kilometres along the sandy beach and far out to sea. While not having separate rooms as some suites do, a lattice feature offered a subtle division between bedroom and enclosed toilet. A built-in, glass-fronted shower stood between them. A sofa, armchair and coffee table were positioned in front of our bed with a writing desk and chair immediately behind it. Two stone tablets inscribed with calligraphy adorned one wall.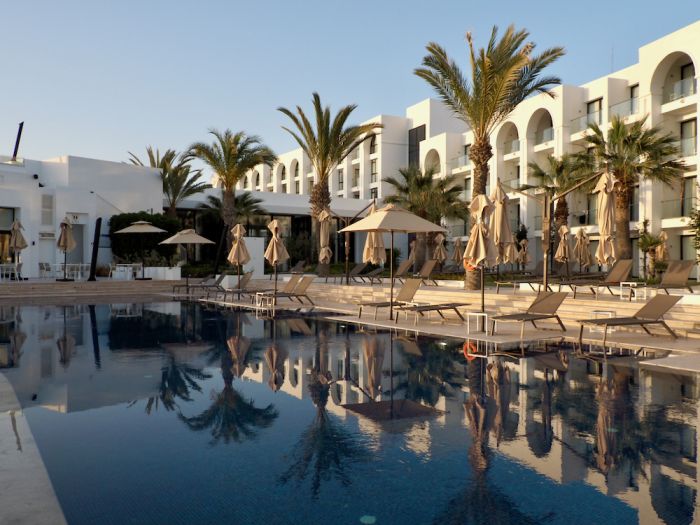 Columbia Hillen
All suites have sea views and some rooms are named after well-known people such as artist, Paul Klee, who lived nearby and Tunisia-born actress, Claudia Cardinale. Other rooms are named after various flowers.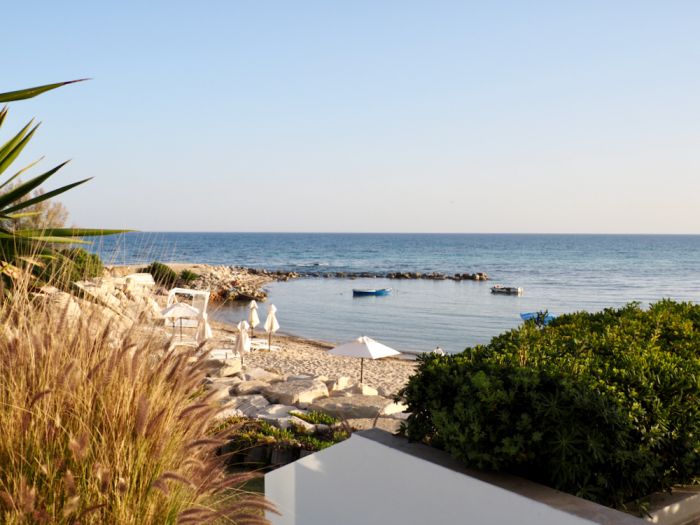 Columbia Hillen
In terms of sightseeing, the charming seaside town of Hammamet is only six kilometers away with its lively market (medina) and wide range of cafes and restaurants. Tunis and the ruins of Carthage are an hour's drive away.