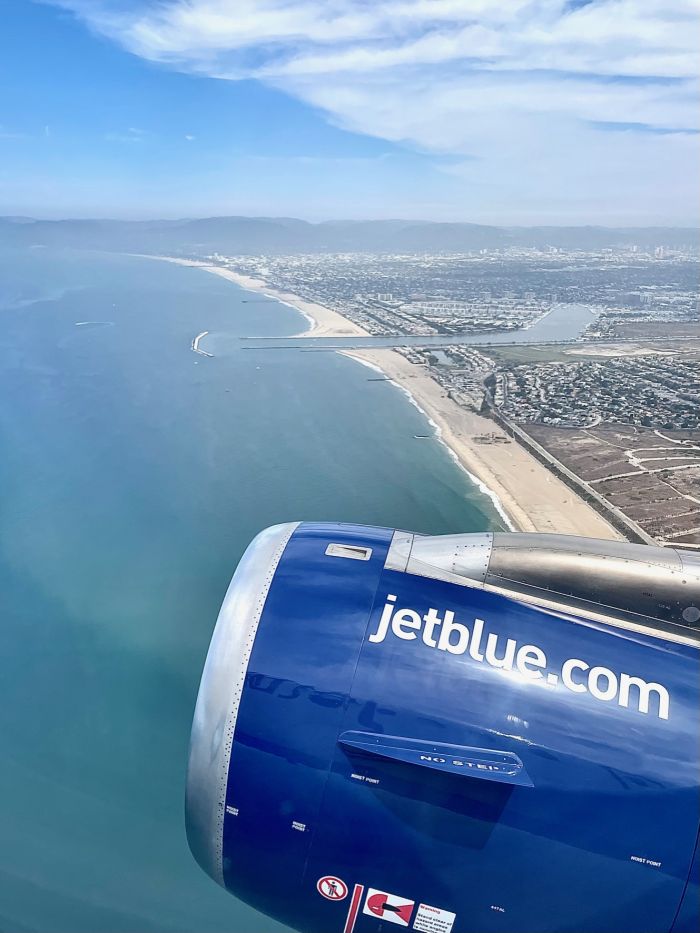 Photo by Jill Weinlein
Jet Blue is expanding from just an airline to a travel company offering entire trips and services in addition to flights. Booking JetBlue Vacations offers travelers Very Important Perks (VIP) and Insider Experience programs to enhance one's vacation. Besides offering discounted flights, they also offer discounts on hotels, cruises, cars, transfers and points packages.
It starts with JetBlue Vacations "Best Price Guarantee" that applies to all JetBlue Vacations flights and hotel packages originating from the U.S. and Puerto Rico. Their guarantee is that if you find the same package on another approved U.S. competitor website at a lower price within 48 hours of your purchase, JetBlue will offer an immediate credit to reduce the vacation package price.
COMPLIMENTARY BEVERAGE
Travelers over 21+ receive their first inflight libation – craft beer, wine or spirit-free on a JetBlue vacation.
BOARD YOUR FLIGHT EARLIER
No matter what your seat assignment is on a flight, JetBlue Vacations travelers get to board with Group B. This helps to get your bag in an overhead bin before they all fill up.
If you need to make a change to your JetBlue Vacations reservation, JetBlue won't charge air travel fees.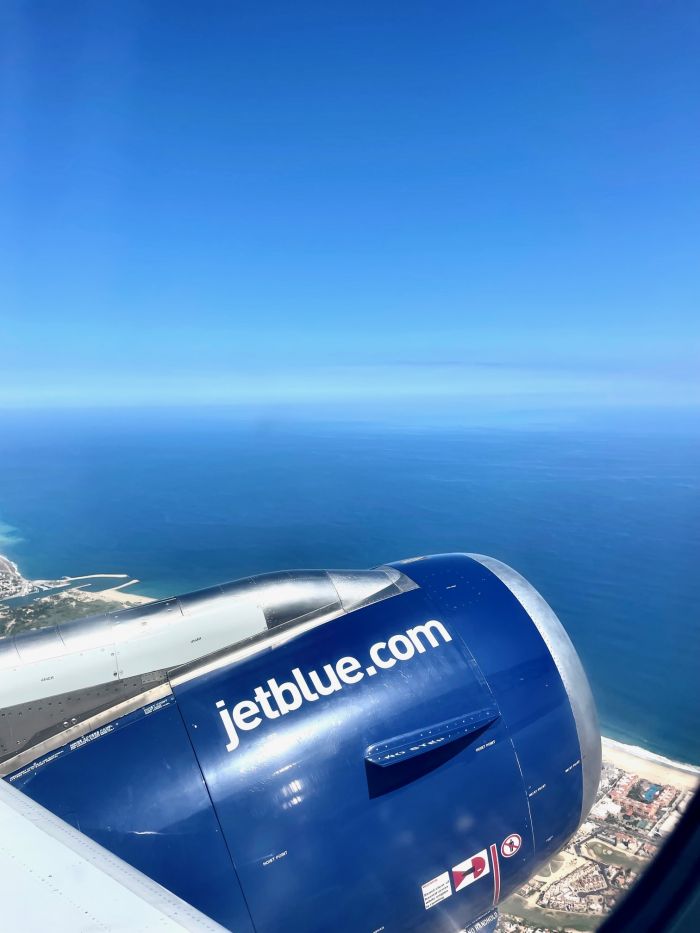 Photo by Jill Weinlein
THE INSIDER EXPERIENCE
What JetBlue Vacations offer is 'The Insider Experience' to vacation travelers seeking packages to Aruba, Cancun, Montego Bay, Nassau and Punta Cana (more destinations are coming soon). A local expert will assist you throughout your entire trip, at no additional charge. These benefits include free airport transfers. Just add 'Free Insider Experience Shared Roundtrip Airport Transfer when making your JetBlue Vacations. Airport transfers can be added later too by calling 1-844-JB-VACAY.
A pre-departure email will inform you of your itinerary before you arrive at your destination. A local expert wearing a JetBlue Vacations polo shirt will meet you in the Arrival Hall. They watch customer's flights to ensure a smooth arrival and transfer experience. Not only will they help get you through Customs. but they also will collect your bags and show you to your ride. It might be a small vehicle or a large bus. If you seek to upgrade to a private transfer upon arrival, for a small fee you can add this enhancement to your booking.
Those seeking a coveted sunset dinner reservation can contact JetBlue Vacations Insiders for advice and help booking dining reservations, tours and activities. Outside the U.S., travelers can contact a representative on WhatsApp.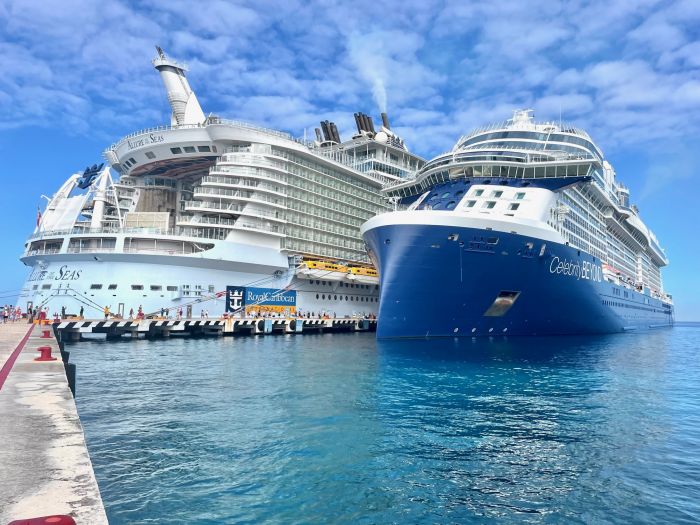 Photo by Jill Weinlein
PLANE TO PORT COMMITMENT
Late last year, JetBlue Vacations launched Flight + Cruise packages for travelers to book their flight, cruise and pre-board ship hotel all in one place. JetBlue is the first domestic U.S. airline to offer this VIP perk to customers.
The new cruise packages include Celebrity Cruises, Royal Caribbean International and Carnival Cruise Line. Save time and money by bundling your travel purchases while receiving JetBlue's signature service. The airline's Plane to Port Commitment is applicable if a cruise is missed due to a JetBlue flight delay or cancellation.If a customer misses their cruise departure due to JetBlue travel, JetBlue will fly you to the next port so you can still enjoy the rest of your cruise vacation.
The airline will also re-book a flight + cruise package for a cruise vacation another time. (Customer will be responsible for any difference in package price.)
VERY IMPORTANT PERKS – JetBlue Vacations
Jet Blue partners with select top hotels to offer travelers exclusive and unique benefits to those who book a JetBlue Vacations flight + hotel package. Benefits include room and restaurant discounts, resort credits, complimentary mini-bar access and guaranteed late checkout at hotels highlighted with the Very Important Perks flag. Perks vary by property and were developed based on customer feedback. 
Some of the VIP perks include the TRS Cap Cana in Dominican Republic. Travelers receive a $1,500 coupon booklet per stay, guaranteed late check-out and 15% off spa services.
At the all-inclusive Grand Fiesta Americana Coral Beach Cancun guests receive guaranteed late check-out, two complimentary 10-step hydrotherapy treatments plus 15% off additional spa service and a complimentary arrival gift.
At the all-inclusive Grand Palladium Jamaica Resort and Spa travelers receive a $1,500 resort credit per stay, guaranteed late check-out and 15% off spa services.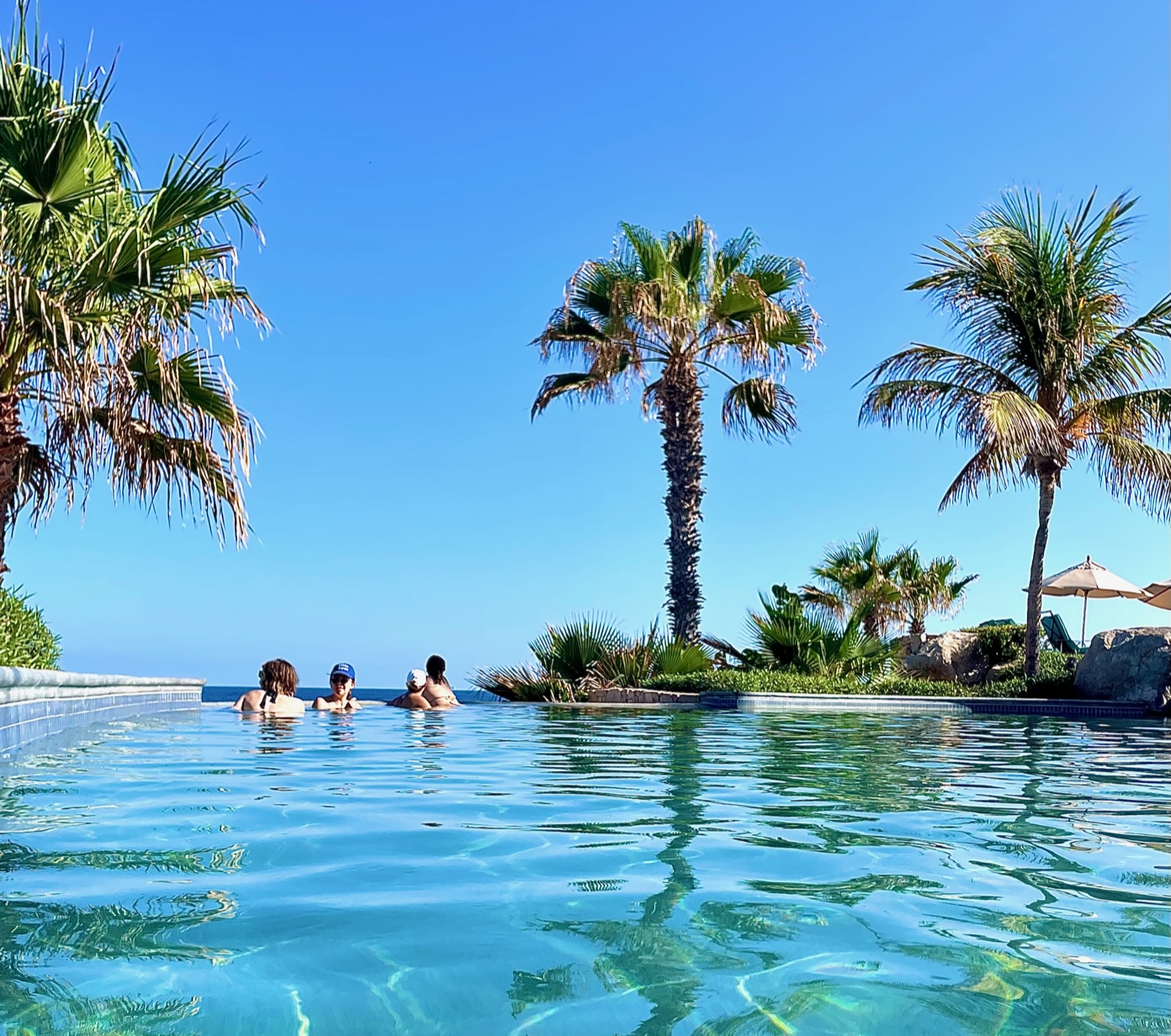 Hacienda Del Mar – Photo Jill Weinlein
BEST VACATION FINDER 
The right trip for your budget can be found on Best Vacation Finder. It's a JetBlue Vacations tool that allows customers to compare prices across a whole range of dates and destinations to find the best package. It's ideal for those who are not sure when or where to go. The price will inspire you.
TRUEBLUE POINTS 
Customers can earn TrueBlue points for their JetBlue Vacations flight + hotel package. TrueBlue members earn six (6) TrueBlue points per dollar spent on airfare and one (1) TrueBlue point per dollar spent on hotels, cruises, cars and transfers booked as a part of a JetBlue Vacations package.
Mosaic members earn nine (9) TrueBlue points per dollar spent on airfare and one (1) TrueBlue point per dollar spent on hotels, cruises, cars and transfers booked as a part of a JetBlue Vacations package. Only three of the nine TrueBlue points earned per dollar spent on flights are Mosaic-Qualifying points, the one (1) TrueBlue point per dollar on non-air products is also Mosaic-Qualifying 
Redeeming TrueBlue points for JetBlue Vacations packages is easy. Just log into your TrueBlue account online, and toggle on TrueBlue points while searching for a package. JetBlue Vacations' new Cash + Points redemption option allows customers to use TrueBlue points to book their entire vacation package (minus insurance and certain taxes & fees).
For JetBlue Vacations customers who are ready to book travel but do not have enough TrueBlue points to cover the full cost of their entire trip, TrueBlue members are now able to make up the difference by using a combination of cash and points towards their flight, hotel and even a rental car.