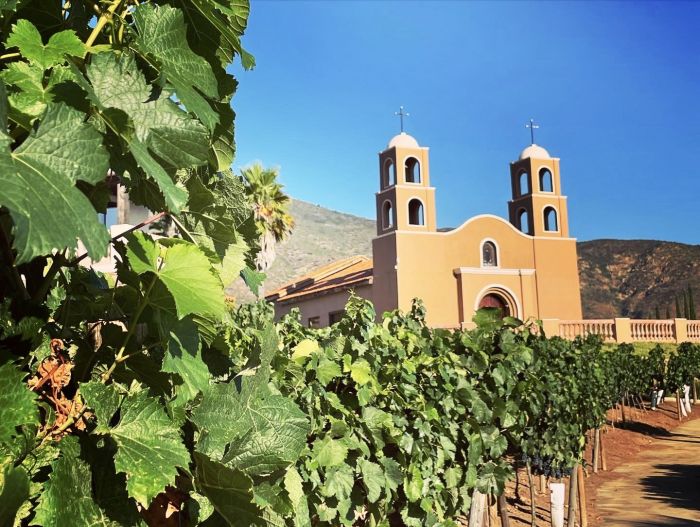 Views of EL Cielo in Valle de Guadalupe. Photo Jill Weinlein
Celebrating its 10th anniversary, El Cielo Resort and Winery in Valle de Guadalupe provides captivating wine country enrichment opportunities. The CEO of the resort, Gustavo Ortega is passionate about wine and hospitality. According to El Cielo's Sommelier Sebastian Reyes, Ortega visited Valle de Guadalupe years ago for a birthday celebration and loved everything about the area. He started buying land with grapes to make wine, and five years later built a boutique resort where guests could drink great wine, relax in sophisticated villas and appreciate the natural surroundings.  
El Cielo in English means "Heaven," and throughout the property, nestled in the heart of Mexico's wine country, guests will feel as if they are in a magical spot.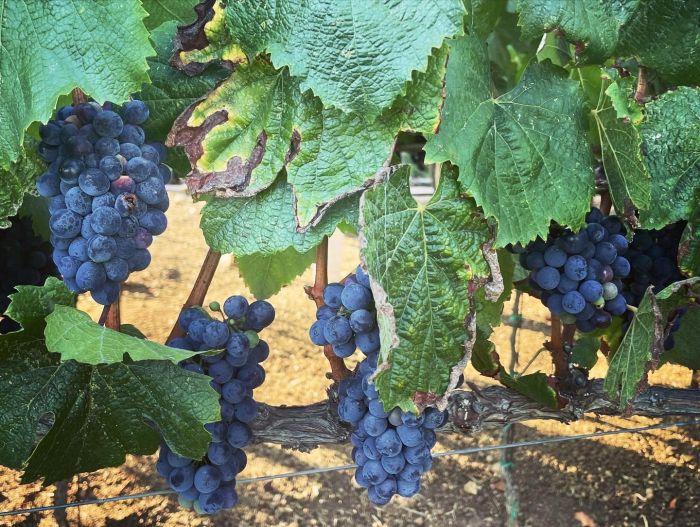 16 varietals at El Cielo Winery – Photo Jill Weinlein
Located near Ensenada, Baja California, El Cielo is one of the most environmentally, energy efficient, and sustainable destinations. Once the winery opened, it soon received recognition granted by the Ensenada City Council as the First Eco-Responsible Company in 2015. 
Guests can take a covered wagon or golf cart tour through the vineyards to learn more about the grapes. El Cielo Winery grows 16 different varietals that include Chardonnay, Sauvignon Blanc, Tempranillo, Sangiovese, Malbec, Merlot, Syrah, Zinfandel, Primitivo, Nebbiolo, Cabernet Sauvignon, Cabernet Franc, Grenache, and Pinot Noir.
Their mission is to produce Mexican wines with the best grapes in the region. They follow processes and practices ensuring the highest quality. 'At least 28 acres of vines are certified organic, and we are working to have 100% organic soon,' said Reyes.
Other enrichment activities at the resort include wine tasting, and blending your own wine to take home.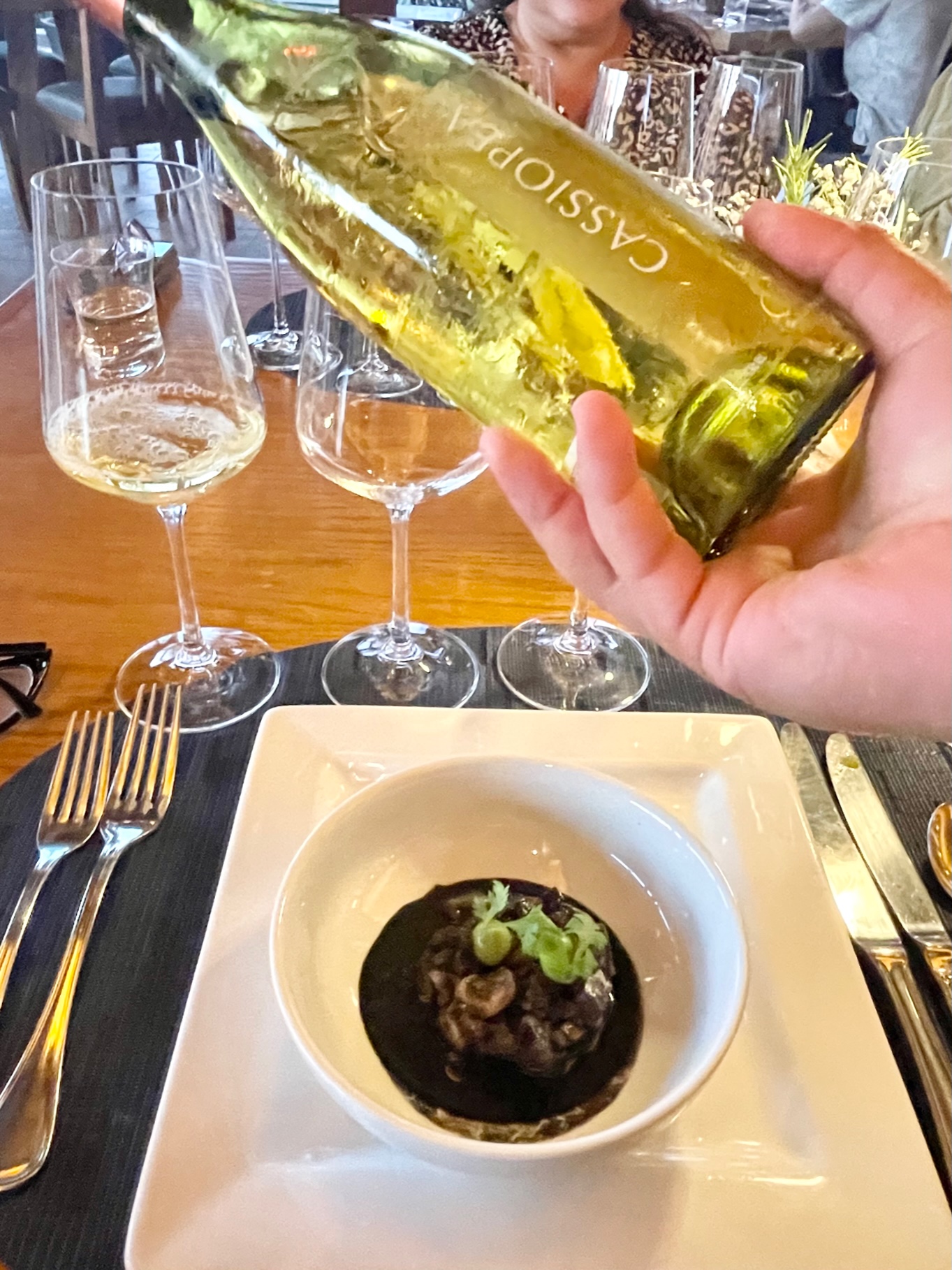 Photo by Jill Weinlein
Partake in a spectacular 6-course wine dinner during your stay. Unique dishes with thoughtful wine pairings includes Mayan ceviche with blackened spices paired with Cassiopea 2020 Sauvignon Blanc. Lamb Dzic is paired with a glass of Andromeda 2019 Chenin Blanc, and Duck Yucatan-syle Salbute is paired with a lovely glass of Capircorinus Chardonnay.
Pork belly tacos in a dark blue corn tortilla are enhanced in a chimole sauce and paired with Copernicus 2020 Cabernet Sauvignon – Merlot. Grilled lamb is served Baja style with a red Orion 2019, beautifully blended with Tempranillo, Grenache and Merlot.
Diners finish with a light guava mousse for dessert and a glass of G&G Sauvignon Blanc 2021.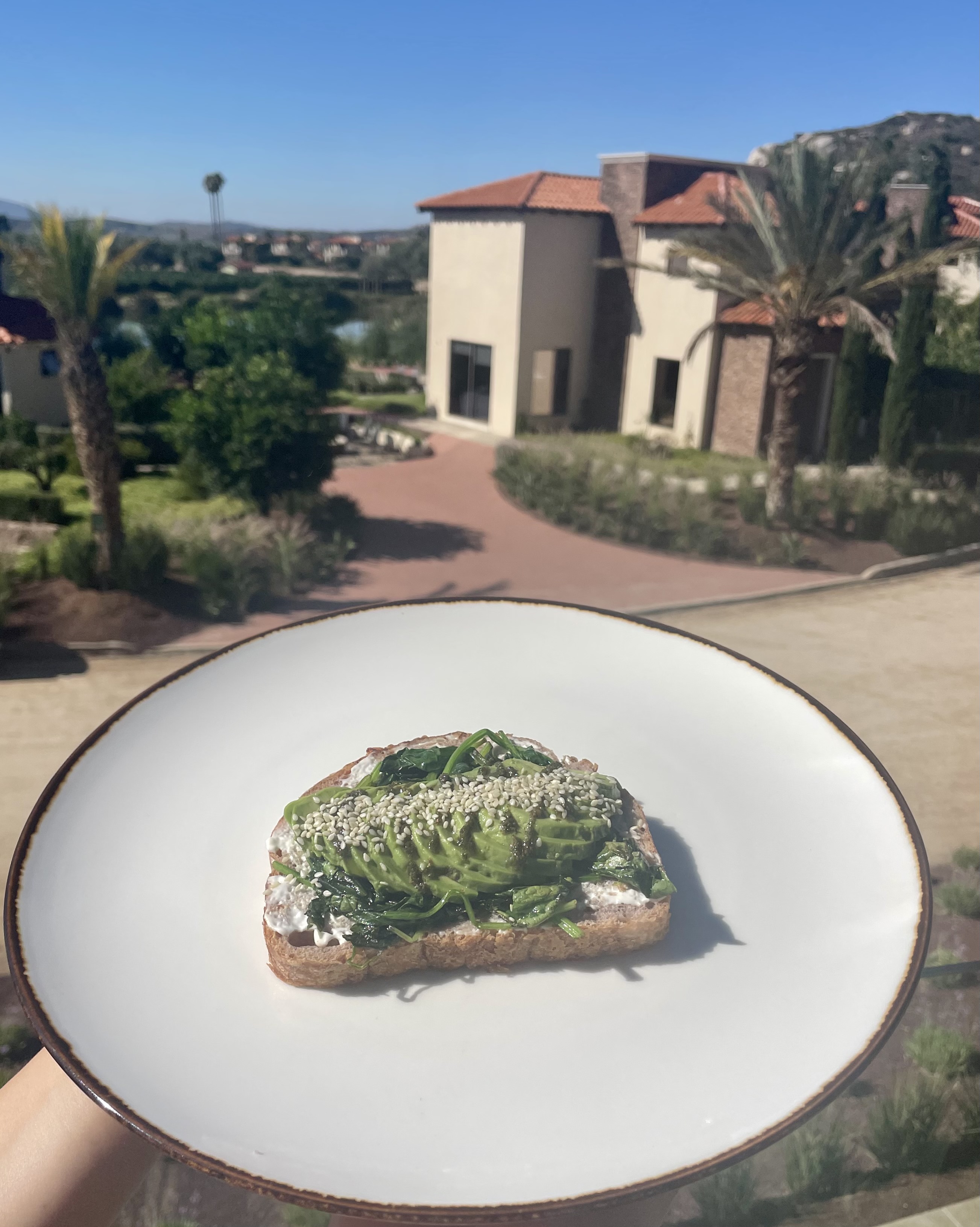 Polaris for breakfast and brunch – Photo by Jill Weinlein
The other dining venue Polaris is located perched above the lobby of the resort. It opens in the morning serving a sit down Baja influenced breakfast or brunch. Besides an air conditioned dining room, there is an outdoor dining terrace offering olive tree and resort views.
Start with green juice and coffee to enjoy with sliced baked bread and enhanced butter with local fruit preserves. Menu favorites include pancakes, avocado and spinach toast, eggs Benedict with lamb or a smoothie bowl.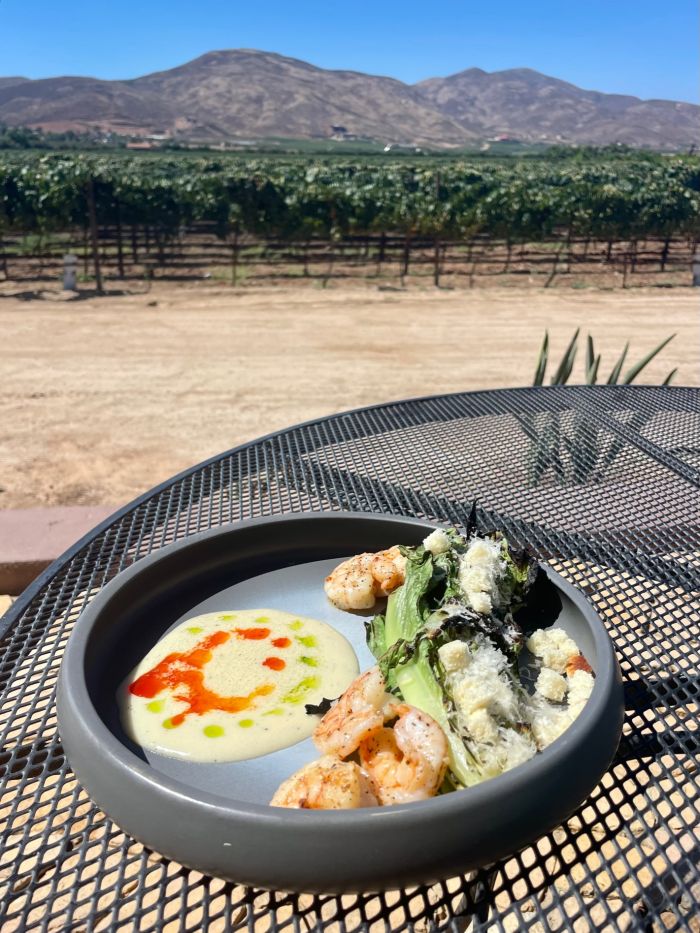 Wine and Dine at El Cielo Resort and Winery. Photo Jill Weinlein
Enjoy a Baja-Yucatan fusion lunch menu at Latitud 32 after wine tasting or bike riding through the vineyards. The menu features soups and salads, seafood, grilled prime Angus cuts, lamb and pork.
Al fresco dining presents panoramic views of the property's expansive grapevines and majestic mountains that paint the skyline. Wines can be paired with your lunch selection, or the staff is happy to make and serve ice tea and other non-alcoholic beverages.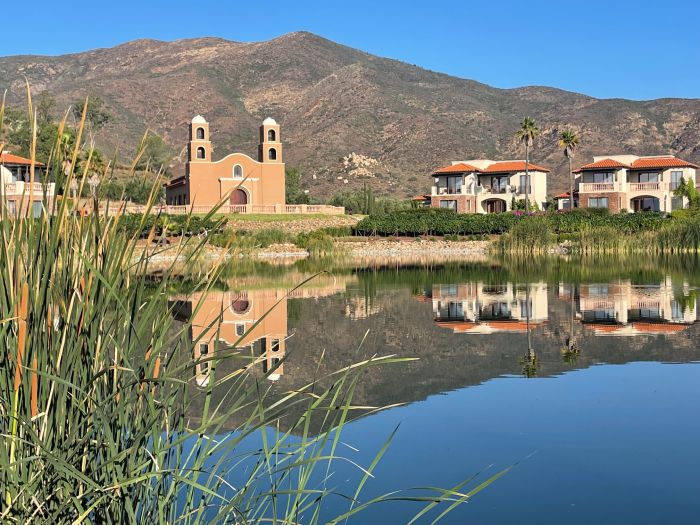 El Cielo Resort. Photo Jill Weinlein
WINERY WEDDING
The church is a focal point at El Cielo Resort. Those looking to have a winery wedding in Valley de Guadalupe will appreciate the picturesque setting. There is an outdoor reception area that is a short walk from the chapel and near a lovely lake. Guests can stay overnight in nearby villas next to the church or by the main lobby for easy access and parking.
Larger groups appreciate the new al fresco Equinox Terrace next to the vineyards accommodating up to 300 people. There is also a large lawn near the winery and Latitud 32.
El Cielo specialists will take care of every detail before the special day arranging flowers, food and wine. They will set up and decorate, plus arrange all your needs during and after your wedding, social or corporate event.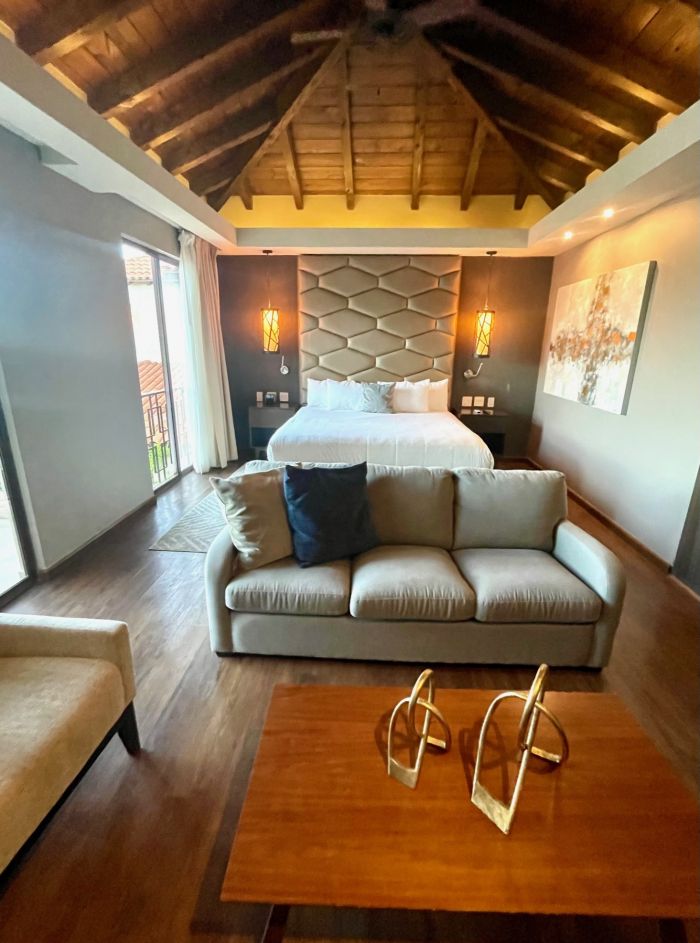 Master Suite at El Cielo Resort. Photo Jill Weinlein
Staying in one of the 95 luxurious suites, guests will discover a comfortable stay during their visit. Besides 23 Junior Double Bed Suites, there are 39 Junior King Suites and 31 Master suites. The resort also has two Presidential stand-alone homes for groups and families to stay together.
Each guest villa has three suites. Two separate suites are above the Master Suite on the ground floor. The Master Suites offer over 1,000 sqft of living space, with a large and bright living room with a double sofa bed. Off the living room is a guest bathroom with a shower, and a dining room that seats 8 guests. The full kitchen has a refrigerator and a separate wine refrigerator to keep your El Cielo wines at the ideal temperature.
A spacious private en suite bedroom and bath features a luxury king-size bed, a full shower, and a deep soaking jacuzzi bathtub with a large glass window looking out onto a lake, vineyard or mountains. The closet holds plush robes, slippers and a personal safe.
The view patio terrace has an outdoor dining table and seating around a fire pit for dinners under the stars. It's ideal for romantic getaways, bridal showers and families.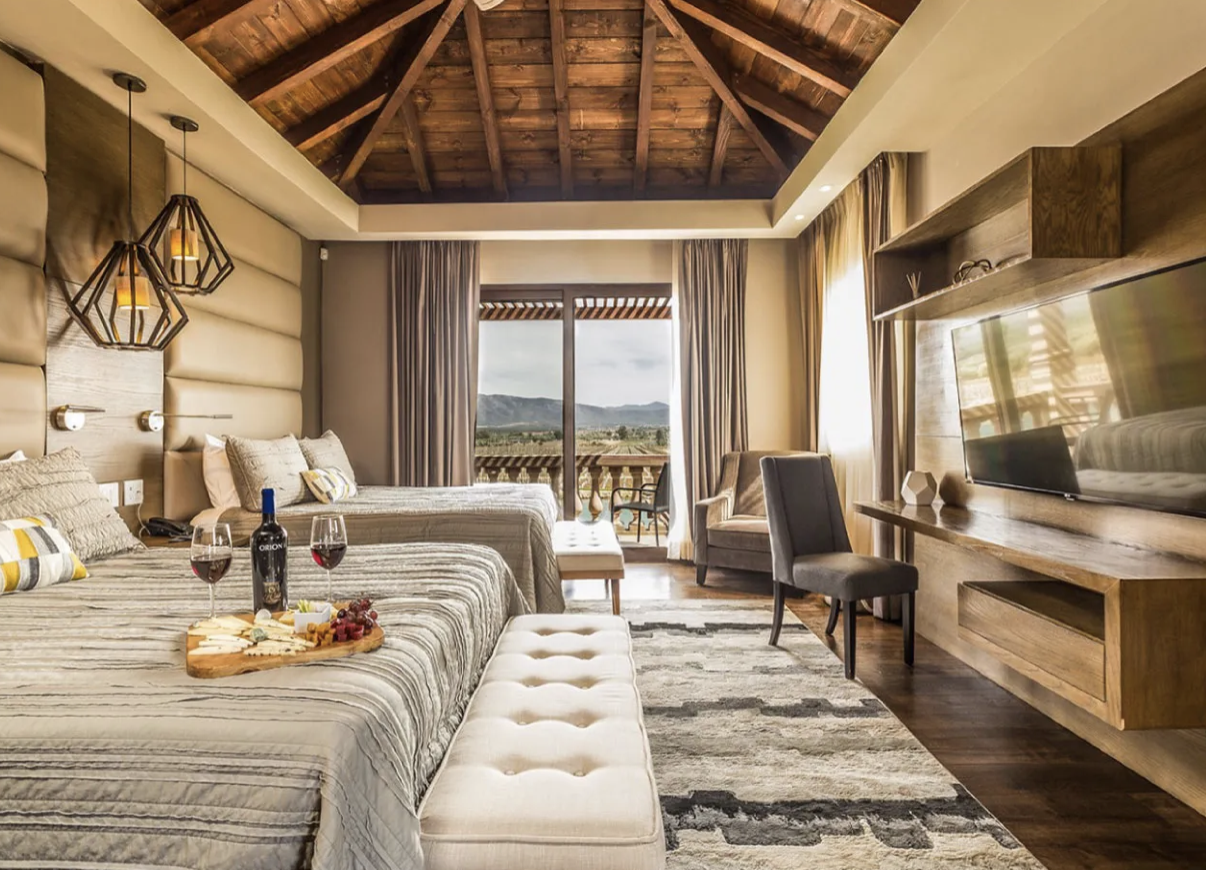 Upstairs Suites at El Cielo Resort
Upstairs are two beautifully appointed Junior Suites. One offers a king size bed and the other has two double beds. There is a smaller living room, a small refrigerator, a marble bathroom with a rainfall and hand-held shower head, and a private terrace with two chairs and a table overlooking the resort.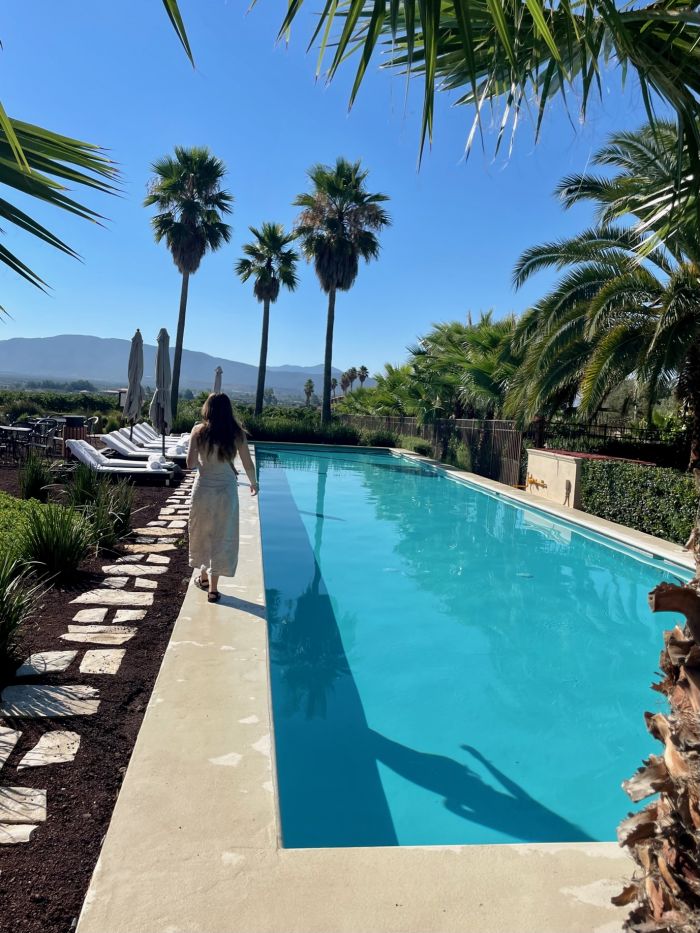 El Cielo Resort
After a day exploring Valle de Guadalupe, come back to El Cielo Resort for a soak or swim in the lap pool. Be sure to take a walk at twilight when the sun sets behind the mountains and casts a rosy glow throughout the valley. The property has been recognized three times as one of the '100 Must-See Places in Mexico.'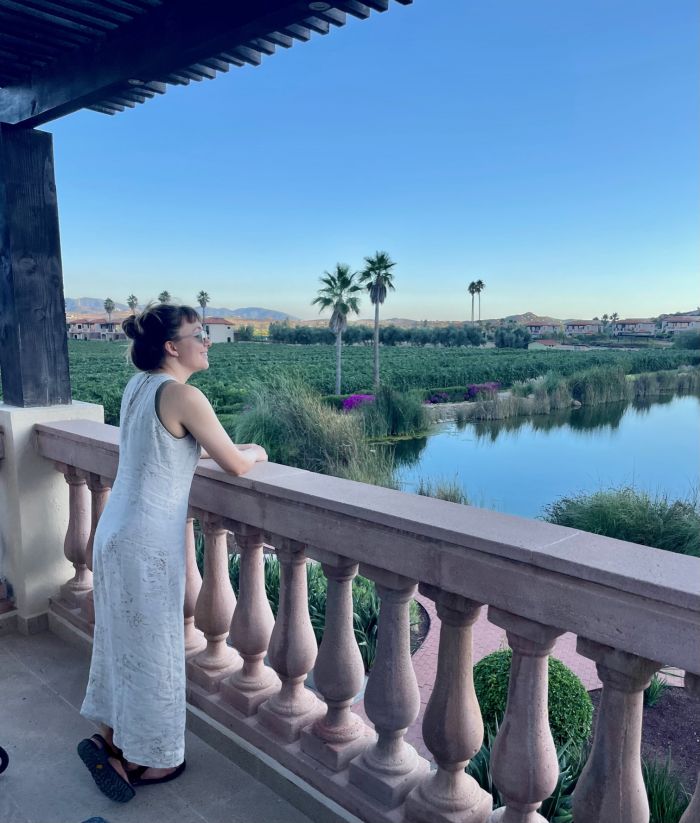 Views everywhere one looks – Photo Jill Weinlein
Specials include 'The Grape Harvest Celebration Experience' until Sept. 30, 2023. Book online for experiences starting at $204.00 per person.
For the most complete harvest experience, oenophiles will want to reserve 'Un Dia en El Cielo.' Enjoy breakfast at the on-site Polaris Restaurant, go on a resort golf cart or bicycle for a self-guided tour of the grounds, and meet Harris Hawks during a falconry session. You will get to experience a grape harvest and stomp session, plus taste Estrella's wines in the underground cellar. Finish with a four-course curated meal at Latitud 32 Restaurant. Book online at $310.00 USD per person.