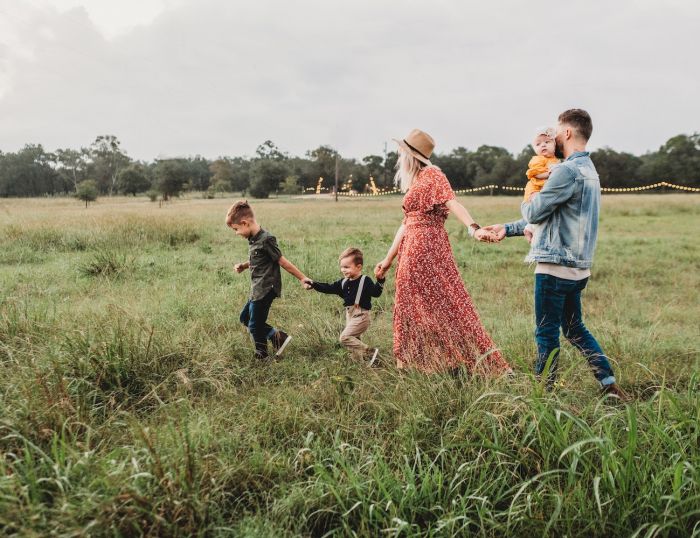 Photo by Jessica Rockowitz via Unsplash
Loews Hotels & Co, the 25 hotels and resorts brand within the United States, celebrates families of all shapes and sizes with a new, expanded Loews Loves Families offering. The legacy program now includes refined, kid-friendly F&B options catering to adventurous eaters of all ages, destination-driven educational programming encouraging discovery for the entire family, and partnerships with Little Spoon, the largest DTC kids food brand in the US reinventing baby, toddler + big kid food with organic, high-quality ingredients, and Hello Bello, Kristen Bell and Dax Shepard's plant-based baby product brand designed to make vacation bed and bath time a breeze.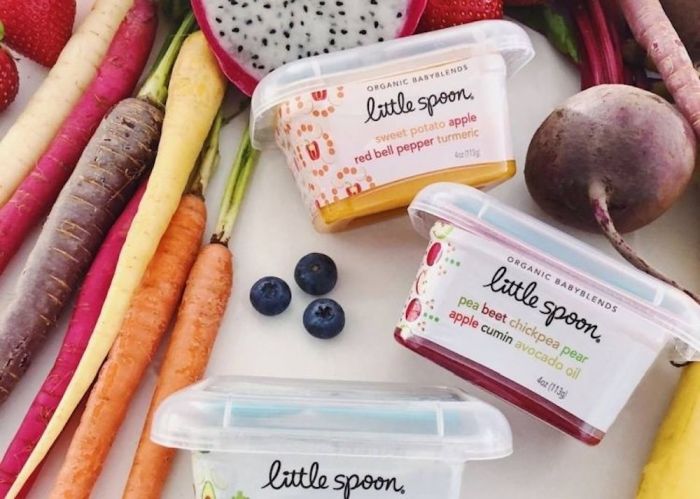 Loews has partnered with Little Spoon to offer a range of baby food options. Photo courtesy of Little Spoon
Little Spoon
Mindful that food quality and flavor is important for guests of all ages, Loews has partnered with Little Spoon. The award-winning leader in the DTC kids food space offering a range of products from baby's first bites to big kid years. Two of Little Spoon's most popular pureed meals (spinach, mango, banana, hemp and kale, avocado, apple, chia) are available at restaurants and on in-room dining menus across Loews' portfolio.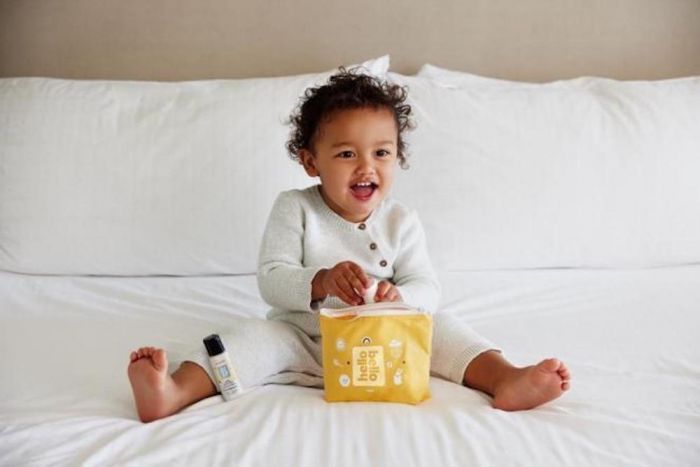 Baby guests at Loews Hotels receive a complimentary Hello Bello baby amenity kit
Hello Bello  
Traveling light with babies and toddlers is even more accessible thanks to Loews Hotels' partnership with Hello Bello. Designed for parents wanting to provide their children with the highest quality, sustainable products, Loews simplifies baby-friendly bath and bedtime routines on the road with complimentary Hello Bello baby and toddler amenity kits. All Loews properties offer kits inclusive of baby shampoo & body wash, conditioner, baby lotion, wipes, and an eco-friendly travel case.  
Adventurous Eater Menus
Loews believes kids' menus don't need to be elementary in flavor. The new Adventurous Eaters programming focuses on giving children the opportunity to expand their palates and explore destinations through regional cuisine. At various restaurants throughout the portfolio, signature menu items are available to kids with age-appropriate serving sizes. Beyond traditional kid fare, young diners can enjoy: 
Creole Cuisine at Loews New Orleans Hotel: At breakfast, kids can indulge in sweet, local favorites like the Pain Purdue – egg-battered local French bread griddled with candied pecans and traditional NOLA Beignets. At night diners of all ages can sample savory dishes like Chicken and Sausage Gumbo, a Crawfish Quesadilla, and even an authentic NOLA Fish Fry.
Latin Fare at Loews Miami Beach Hotel: Adolescent diners can dig into Latin delicacies beloved by locals including Fish Tacos at Nautilus, Guava and Cheese French Toast at Preston's Market, and Empanadas at Bar Collins. 
A New York Nosh at Loews Regency New York Hotel: There are bagels and then there are New York bagels. Kids will love their breakfast from New York City's local Ess-A-Bagel, one of the city's most iconic food items.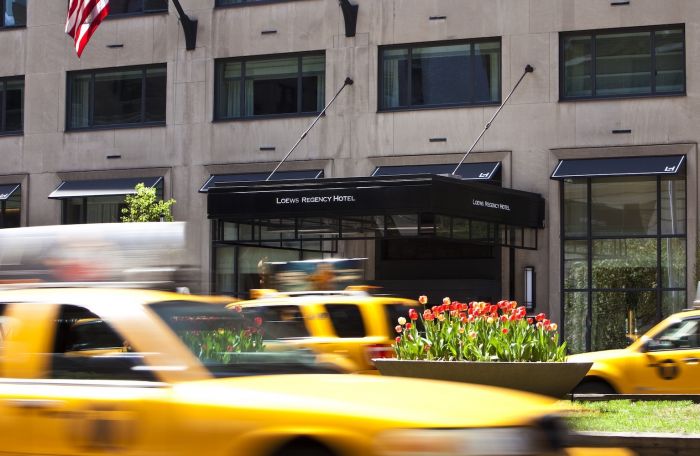 Kids enjoy Ess-A-Bagels while dining at Loews Regency New York
Destination Exploration 
Loews Hotels is set to facilitate expansive discovery opportunities for travelers of all generations. Through curated partnerships with local cultural institutions and regional excursions, Loews properties are offering families a collection of experiences designed to ignite learning, offer destination immersion, and empower young travelers to view travel as a "classroom without boundaries."
Located in the heart of key destinations across North America, a sampling of the Destination Exploration offerings include:
Country Music at Loews Vanderbilt Hotel (Nashville): For little ones who love the stage, a visit to the Country Music Hall of Fame is in order. Not only will they see real costumes worn by chart-topping artists, guitars and record-clad awards, everyone has the chance to record their own tune inside of its recording studio.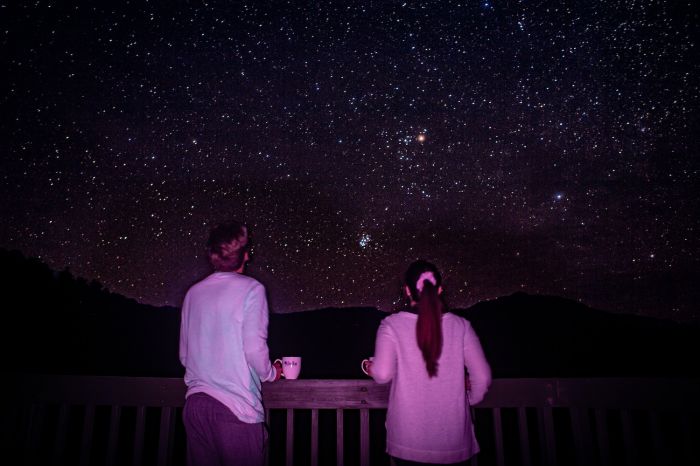 Enjoy stargazing at Loews Ventana Canyon Resort. Photo by Mark de Jong via Unsplash
Stargazing at Loews Ventana Canyon Resort (Tucson): Families can discover the endless stars and constellations that dot the nighttime sky with thrice-weekly observation programs led by the renowned Mt. Lemmon SkyCenter team. As the birthplace of the dark sky movement and home to the International Dark-Sky Association, Tucson is one of the best cities in the world for a stellar sky-gazing experience that the entire family will enjoy. 
Bedtime Bookcart at Loews Chicago Downtown Hotel: Chicago is a reader's paradise with the Newberry Library, American Writers Museum, and myriad of independent bookstores. The littlest guests of Loews Chicago Hotel can enjoy a selection of bedtime stories from the hotel's Bedtime Bookcart. From local favorites to classic bedtime tales, they will be sent into a peaceful slumber. 
Pro Sports at Live! by Loews-Arlington: For sports enthusiast families, the hotel offers premier access to some of the most renowned stadiums and arenas in the world. Guests can catch a live MLB baseball game adjacent to the hotel at Globe Life Field, home of the Texas Rangers or an NFL game at AT&T Stadium, home of the Dallas Cowboys. The destination is also home to the University of Texas at Arlington Planetarium and the International Bowling Museum & Hall of Fame. 
Enjoy pro sporting events while staying at Live! by Loews-Arlington
For more information about Loews Hotels & Co, visit https://www.loewshotels.com.
Photos courtesy of Loews Hotels & Co unless otherwise noted.