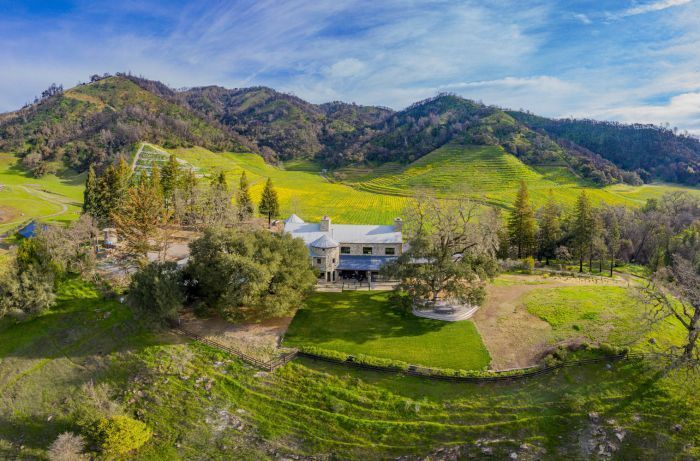 The Residence at Skipstone. Photo courtesy of Skipstone
Northern California wine country's continued effort to provide guests with authentic and exceptional experiences has resulted in participatory grape stomps, winery art installations, and horseback wine tastings. Visitors can find gourmet food and wine pairings, cave tours, and all-terrain vehicle vineyard expeditions. But to experience the true essence of the wine country lifestyle, visitors need only look to Skipstone. The Alexander Valley boutique producer of organic, Bordeaux-focused varietals provides a wine country hospitality experience like none other within its 200 acres in the soon-to-be-approved Pocket Peak appellation, and its 5 bedroom, 6.5 bath estate, The Residence at Skipstone.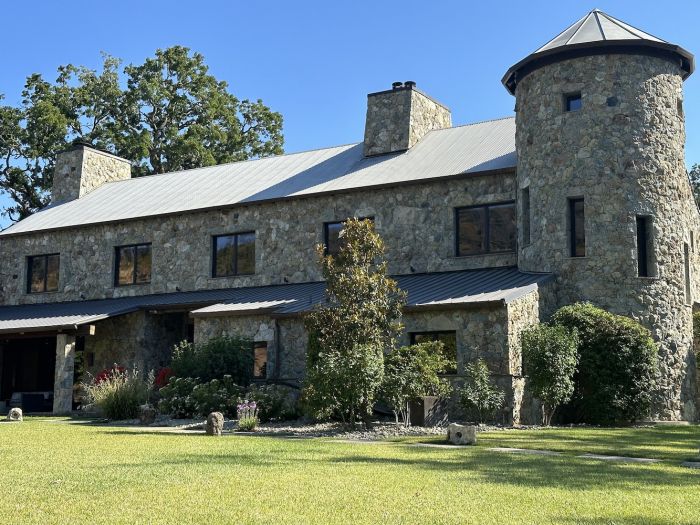 The Residence at Skipstone. Photo by Fran Miller
The luxuriously appointed, 8,344 square foot stone farmhouse is available for whole house rental, and is the ideal wine country vacation spot for families and groups of friends. (Book it for two for an especially decadent getaway.) Designed expressly for Skipstone proprietors Fahri and Constance Diner, whose exquisite taste is readily discernible throughout, the duo have graciously opened their home to guests who are fortunate to enjoy the gourmet kitchen, an extensive lending library, six indoor fireplaces, a billiards lounge, and a large swimming pool. Guests can gather fresh eggs from the nearby chicken coop, or pick salad ingredients from the onsite vegetable garden. The Diners even make their 2,500 bottle wine cellar accessible. Guests will find a QR code with a complete list of collectible labels and prices.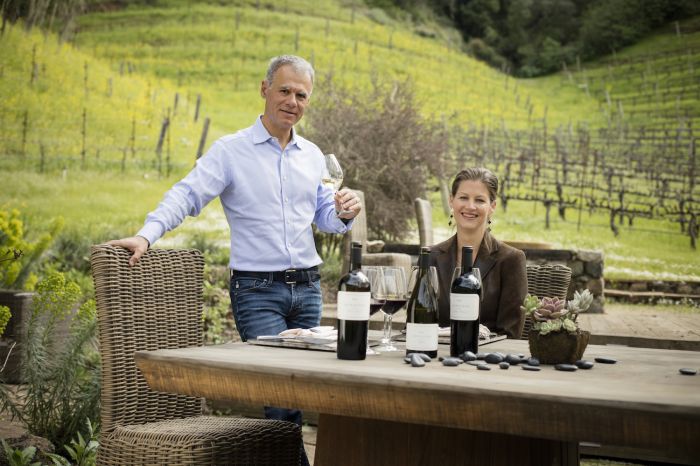 Skipstone Proprietors Fahri & Constance Diner. Photo courtesy of Skipstone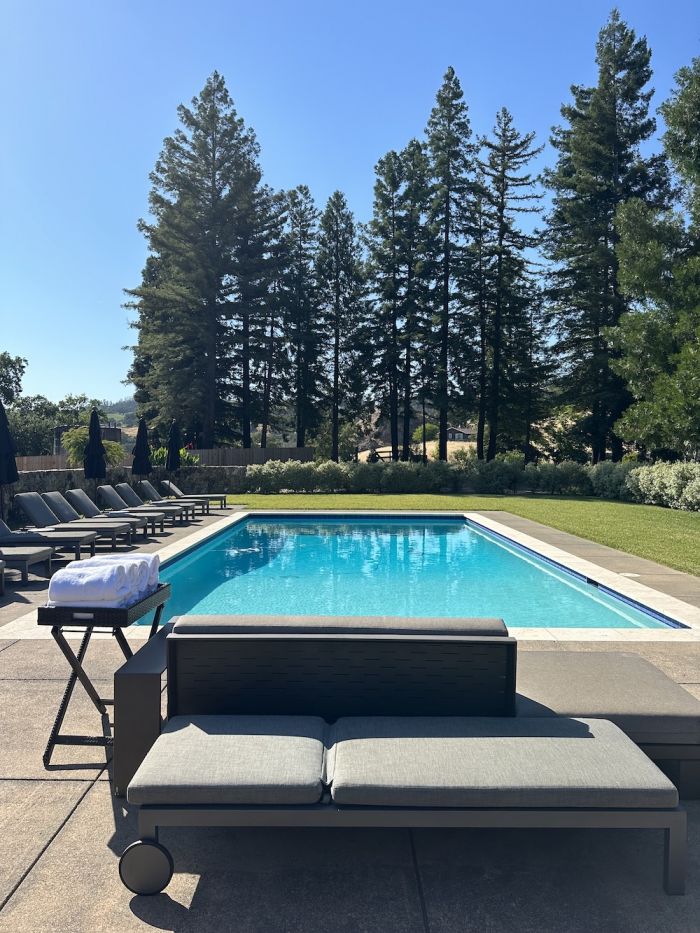 The Residence at Skipstone Swimming Pool. Photo by Fran Miller
Multiple outdoor seating areas take full advantage of both the western, amphitheater-like vineyard acreage and the eastern view, framed by Spanish moss-bedecked mature oaks that overlook what seems to be the whole of Alexander Valley. This is the view as enjoyed from the grand master bedroom, an entire wall of which is glass. Artisanal aspects abound, such as reclaimed wood ceilings and walls, and sinks carved from stone found on-property and polished to a glossy shimmer of greens and golds. 
Skipstone's estate director Patricia Smith can curate and facilitate the perfect visit, from booking private flights with NetJets to stocking the refrigerator to scheduling spa treatments, winery tours, and dinners. (Rumor has it she magically created a "winter wonderland" for a family's visit in December, complete with 15 foot Christmas tree.) Skipstone partners with a number of notable local chefs who can be called upon to cook memorable meals within either the gourmet kitchen or outside via a BBQ and pizza oven. Partners also include local lauded restaurants such as Cyrus, The Madrona, SingleThread and others where reservations can be notoriously difficult to obtain. Smith is adeptly able to work her magic, providing easy access for guests of The Residence at Skipstone.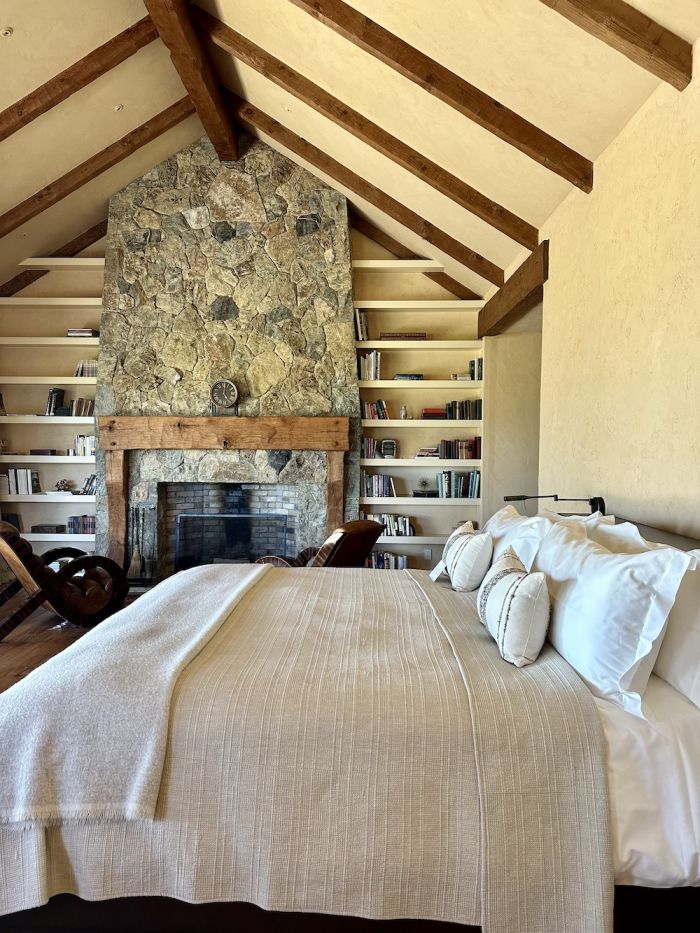 The Residence at Skipstone Master Suite. Photo by Fran Miller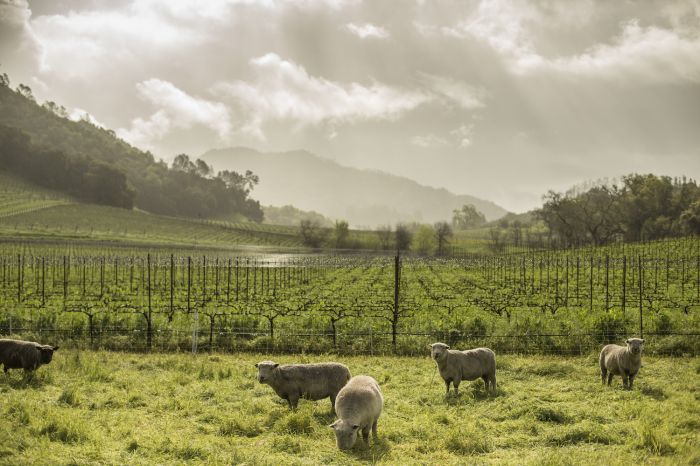 Sheep graze in Skipstone vineyards' adjacent meadow. Photo courtesy of Skipstone
Naturally, a stay at The Residence is Skipstone is not complete without a sampling of Skipstone's lush wines, made by Laura Jones expressly from the property's 27 acres and 30 distinct blocks of organically and biodynamically farmed grapes. Favored by global wine collectors, Skipstone varietals are elegant representations of the winery's unique site, soon to be designated its own AVA. All tastings include a bountiful offering of locally sourced charcuterie and cheeses. The winery is pleased to soon debut its new, state-of-the-art, on-site wine facility and visitor center, expected to achieve LEED Platinum certification readily; Jones is anticipating a fall completion for the production portion of the winery, in time for 2023 harvest. The second-floor hospitality portion of the winery will follow in summer 2024 with a living roof, a luxurious set of suites, a second floor wine library, and outdoor patios that feature sweeping vineyard and valley views. 
Wine tasting at Skipstone. Photo courtesy of Skipstone
Note: Skipstone was greatly impacted by the fires of the past years, and since 2017, the winery has donated 100% of the sales of its superior quality Melina's Harvest Extra Virgin Olive Oil to the Geyserville Volunteer Firefighters. 
For The Residence at Skipstone reservations, click here. For wine tasting reservations, click here.