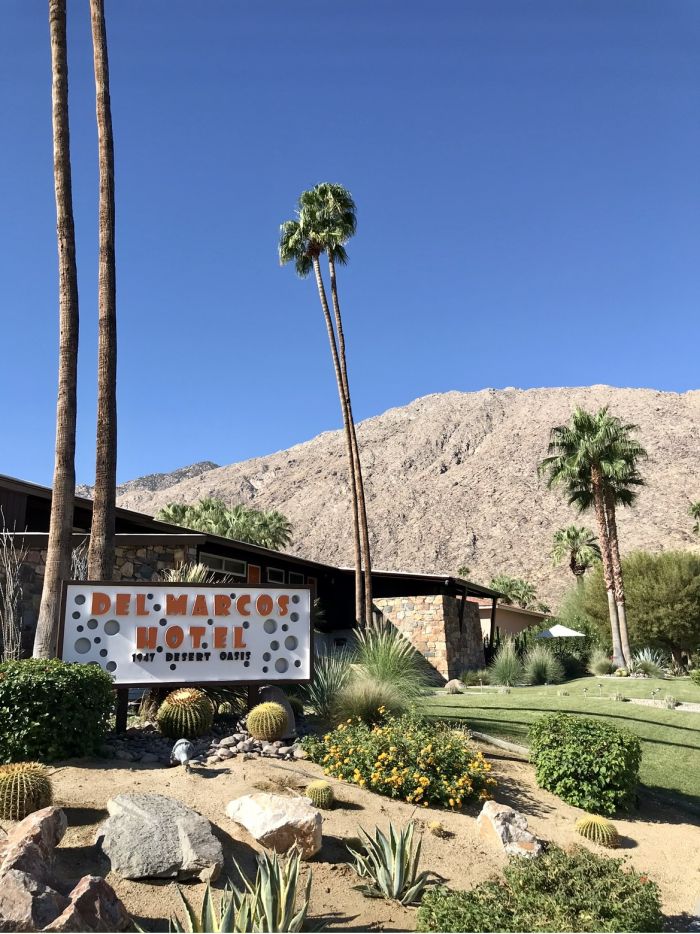 Del Marcos Hotel – Photo by Jill Weinlein
Built in 1946 and designed by William F. Cody, F.A.I.A, the Kirkwood Collection's Del Marcos Hotel has the majestic San Jacinto Mountains as a beautiful backdrop. This Frank Lloyd Wright-style design is reminiscent of Arizona desert architecture. It won a creative design award from the Southern California A.I.A chapter, as an example of cutting-edge hotel architecture.
Located one block from the lively Palm Canyon Drive in the city's historic Tennis Club neighborhood, the colorful retro mid-century modern hotel is an ideal respite for an adult getaway in Palm Springs.
Native stone and redwood materials were used to build the two-story 17 individually named guest rooms. The lobby lounge has a comfortable sitting area, and small book and game library. Fresh fruit, water and tea is available throughout the day.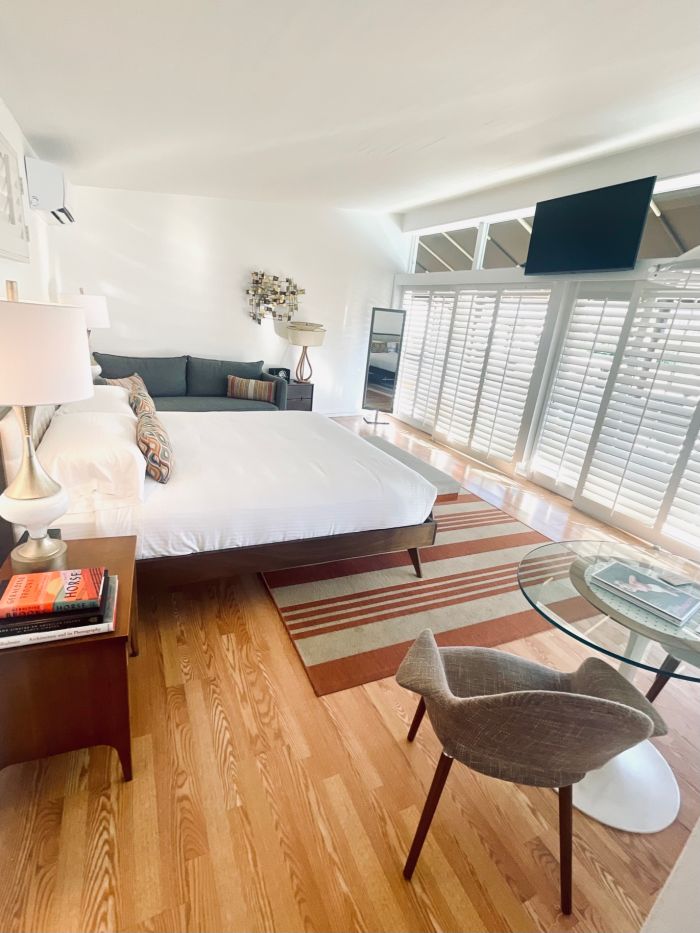 The Julius Schulman room – Photo Jill Weinlein
Instead of room numbers, guest rooms are named Oceans 11, Nat Reed, and Hollywood Retreat. There is an organic asymmetrical entrance doorway leading into the cozy lower level Artist Escapes.
In the upstairs Julius Shulman guest room, named after the famed architecture photographer, this room has one of the best pool and mountain views. From the cloud-like king size bed, guests looking out the floor to ceiling windows can take in the sunrise on the San Jacinto Mountains and Palm Springs Valley.
There is a mid-century kitchen complete with an oven, microwave, refrigerator, coffee maker, and blender, and microwave. The tiled bathroom is vibrantly styled in shades of green and yellow, with newly laid terrazzo flooring. New wood floor tiles with artisan rugs complete the living space.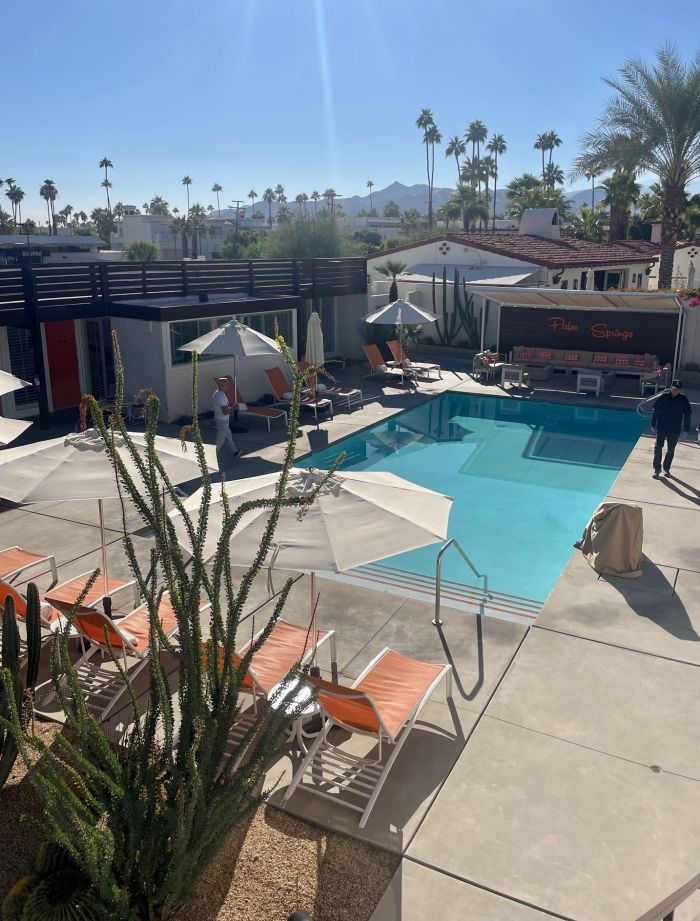 Del Marcos Hotel – Photo Jill Weinlein
The U-shaped design has an expansive center courtyard and sun heated swimming pool with lounge chairs for relaxation. It's an ideal temperature to swim laps or just float among towering palm trees.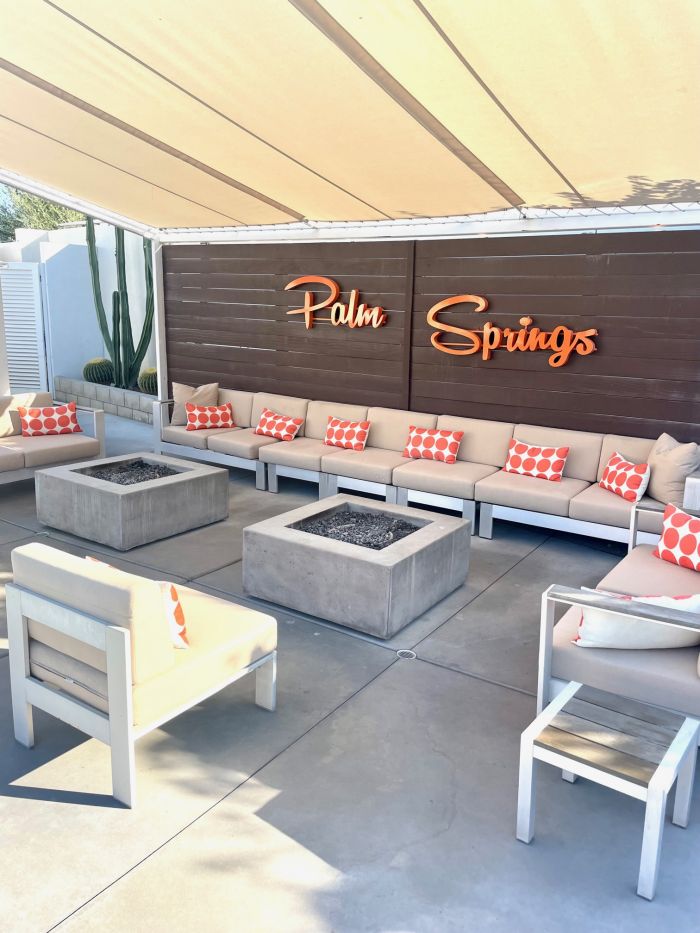 Palm Springs Vibe at Del Marcos Hotel – Photo Jill Weinlein
Guests can sit near the flickering fire pits in the early morning to enjoy a cup of coffee, or for an alfresco mid-day nap protected by the sun.
During the evening guests enjoy a nightcap before retiring back to their spacious and comfortable room.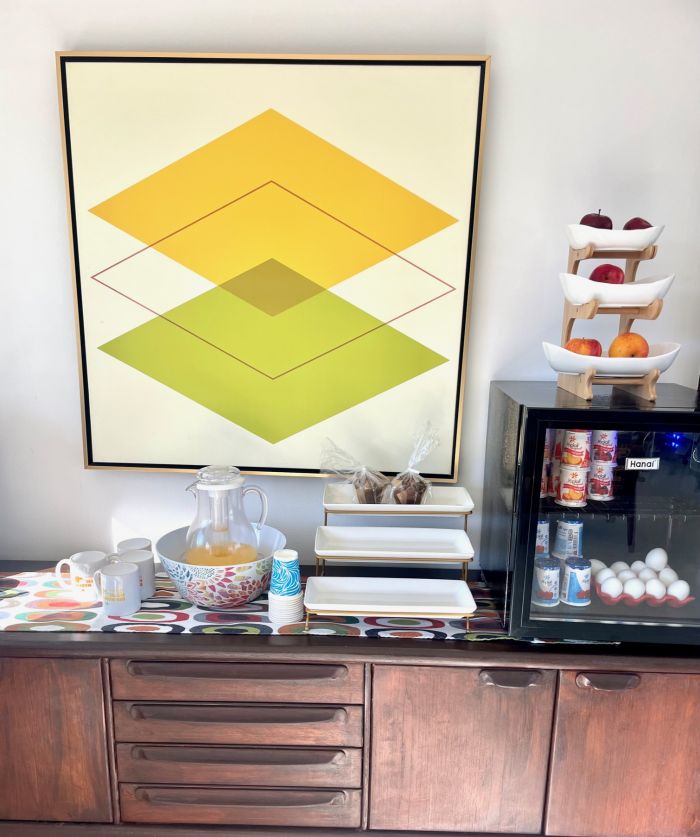 Del Marcos Hotel – Photo by Jill Weinlein
A complimentary breakfast for guests includes hot coffee and tea, orange juice, yogurt, hard boiled eggs, and two types of freshly baked muffins by Artisan Valley Baking. Grab and go fruit is also available throughout the day. 
There are bicycles for guests to borrow to take for a spin around downtown Palm Springs.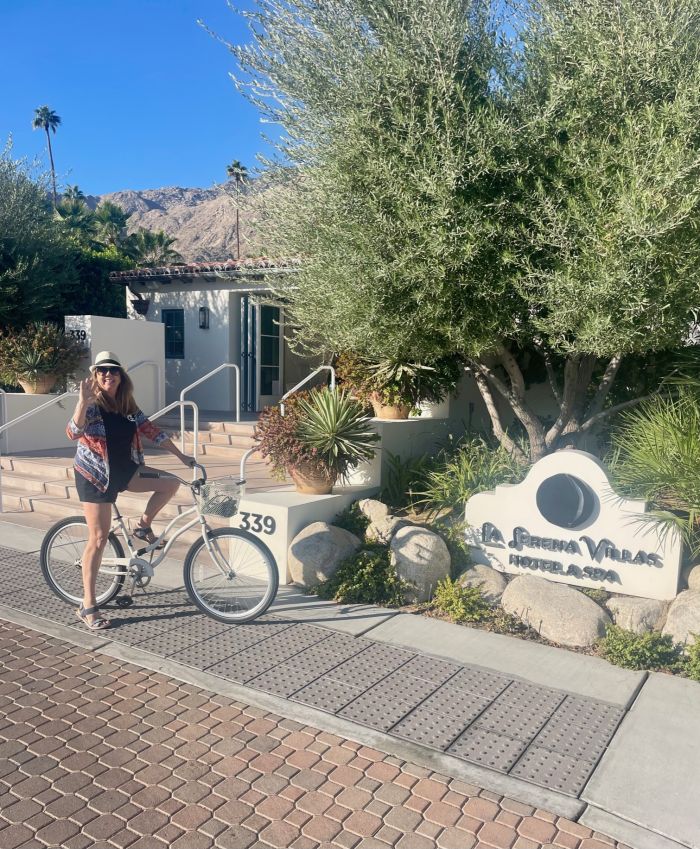 La Serena Villas – Photo by Jill Weinlein
Next door to Del Marcos Hotel is the historic Spanish-style La Serena Villas resort. Originally built in 1933, this luxury gem sits on over an acre of beautifully landscaped grounds featuring individual villas, a sparkling pool, spa, poolside restaurant and rooftop lounge. This resort also offers complimentary bicycles for guests to use throughout their stay.
Kirkwood Collection recently acquired this serene hotel. It was saved from demolition and redeveloped in 2016 by award-winning architect, May Sung. In an interview Sung said, 'We started the project with the intention to create intimacy and privacy with courtyards and meandering paths filled with romance and intrigue, as if you were wandering through an old Spanish town. We brought back the details influenced by George Washington Smith, and imbued the existing structures with modern amenities. In addition, we added three new structures that houses a new reception/retail area, a restaurant building with a roof deck overlooking the Palm Springs Mountains, and a quiet pool with private massage pavilion.' 
Recognized by the City of Palm Springs for the creative reconstruction, the materials, finishes and furniture pieces were carefully selected by interior design group, Avenue Interior Design.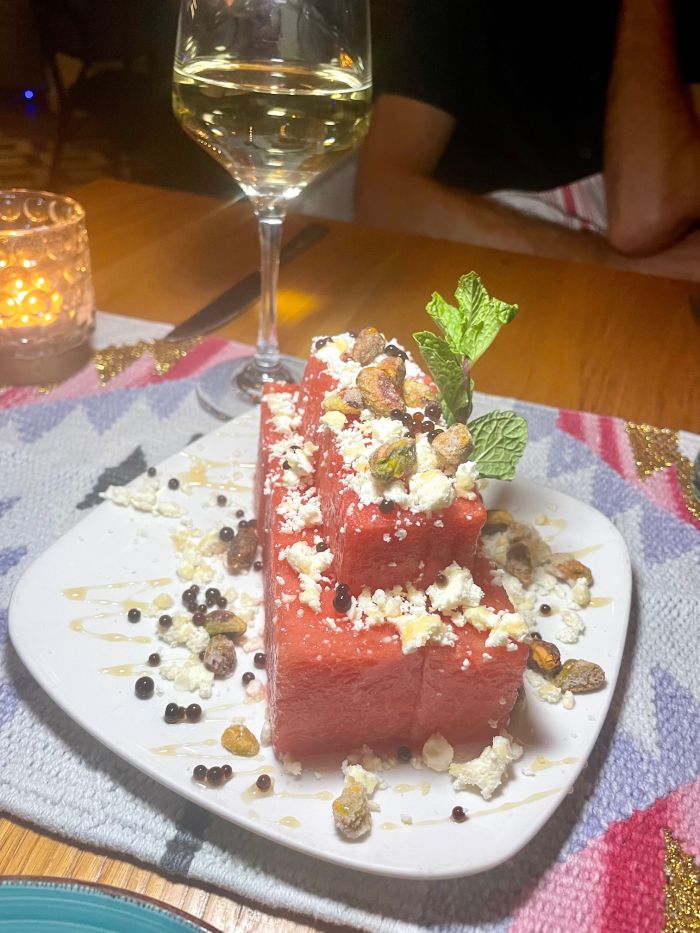 Dinner at Azucar – Photo by Jill Weinlein
Azúcar is a poolside restaurant providing a chef-curated modern contemporary menu featuring cuisine with an emphasis and focus on fresh flavors. Utilizing high-quality and local ingredients, the watermelon, feta cheese and pistachio salad is a seasonal must to try. So are the locally grown dates stuffed with Marcona almonds and wrapped in prosciutto. It's served with a blue cheese fondue and pairs nicely with a spicy melon margarita.
Other menu favorites include the potato-crusted halibut with a glass of Frank Family Chardonnay, and the Chefs Pasta made with penne noodles, pesto, sun-dried tomatoes, feta cheese and kalamata olives. A generous protein of salmon, shrimp or chicken can be added on top.
Tables for two to four guests are near the evening lit pool and inside near the bar. There is also a semi-private dining space to accommodate larger parties.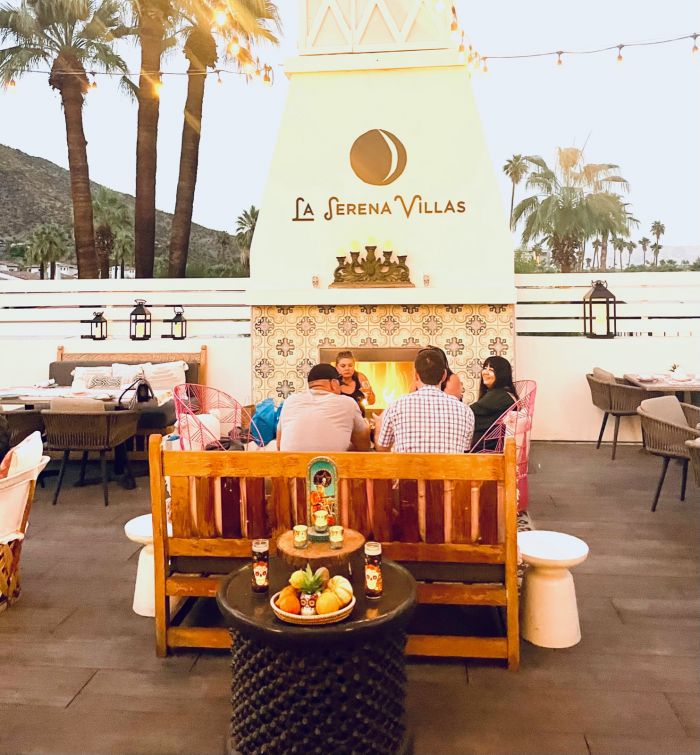 Sugar High Bar and Rooftop Lounge
Upstairs is the special Sugar High rooftop deck offering a Palm Springs Bohemian vibe. Guests can order from the Azúcar full menu or have cocktails and appetizers at the lounge area next to the fireplace.
Since there are few rooftop lounges in Palm Springs, this is a very popular spot for guests and locals to take in the beautiful 360-degree views of the San Jacinto Mountains and hypnotic stars above.
Sugar High Lounge is open first come first served. It is also available for private parties.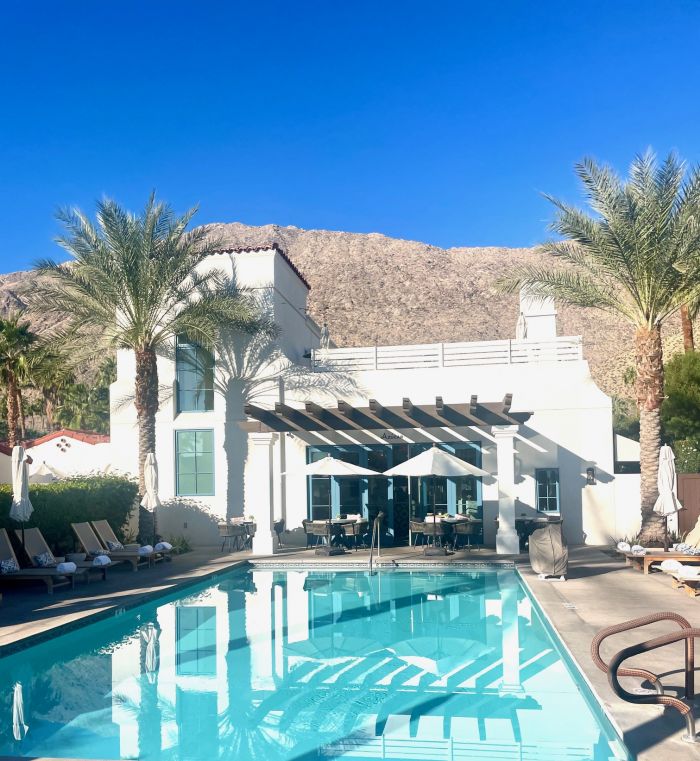 La Serena Villas – Photo Jill Weinlein
Each of the secluded and private 18 villas have a luxurious king-size bed and a private patio. Step out to an outdoor claw-foot tub, fire-pit, and built-in bench. There is also the Kirkwood Residence, a one bedroom villa with a kitchen, king-size bed, private patio, hot tub and fire pit.
During the day, guests lounge on comfortable chairs, and take a dip in the sparkling swimming pool, if they feel the need to venture away from their relaxing romantic villa.
Next time you seek an adult getaway, both Del Marcos Hotel and The Serena Villas provide the respite you desire. Now is the time to soak up the warm and inviting desert sunshine in Palm Springs.