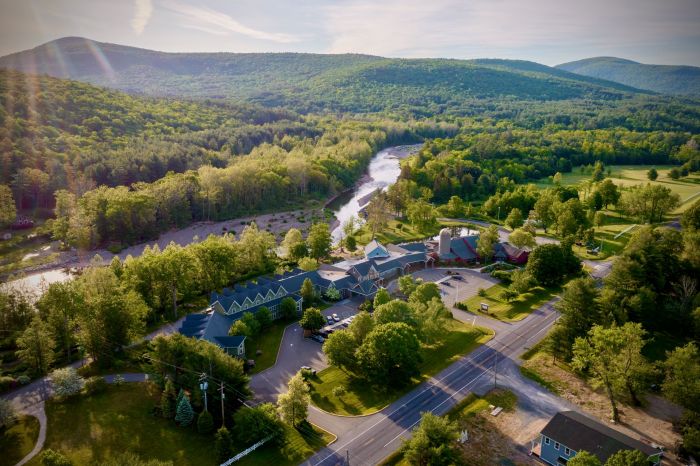 Courtesy of Emerson Resort & Spa
"Live in the sunshine, swim the sea, drink the wild air."
That famous quote by Ralph Waldo Emerson has become the mantra of the Emerson Resort & Spa tucked away in the Catskill Mountains. Paying homage to one of the most influential writers of the 19th century, the resort features hints of Emerson's legacy throughout the entire property.
Guests are greeted at check-in with a reminder to "adopt the pace of nature" noted on the lobby wall. It's an easy feat, as the property sits on 20 acres overlooking Esopus Creek, the birthplace of fly fishing, where you may also spot a bald eagle or two.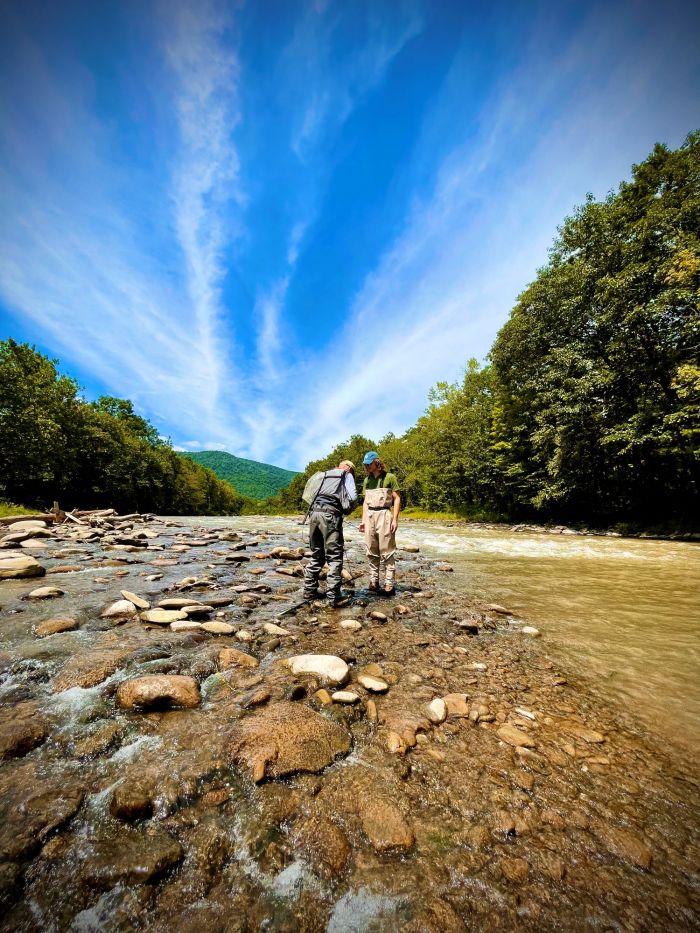 Courtesy of Emerson Resort & Spa
Whether you want to book a spa treatment or take advantage of the many outdoor activities, there are plenty of things to do here. At check-in, guests are given a listing of the week's scheduled activities that may include a guided nature walk, pebble painting, or Suminagashi marbling.
A Royal King Suite offers a relaxing retreat and true escape for all family members, including four-legged friends. The second-floor pet friendly accommodations feature eight-foot vaulted ceilings and a cozy gas fireplace with separate sitting area – the perfect warmup on a chilly fall evening. Morning coffee is best enjoyed on the private outdoor deck offering stunning foliage views while enjoying the soothing sounds of the nearby rushing creek. The spa-inspired bathroom features an oversized air-jetted tub (an ideal spot to unwind with a glass of wine before bed) and separate Swiss rain shower.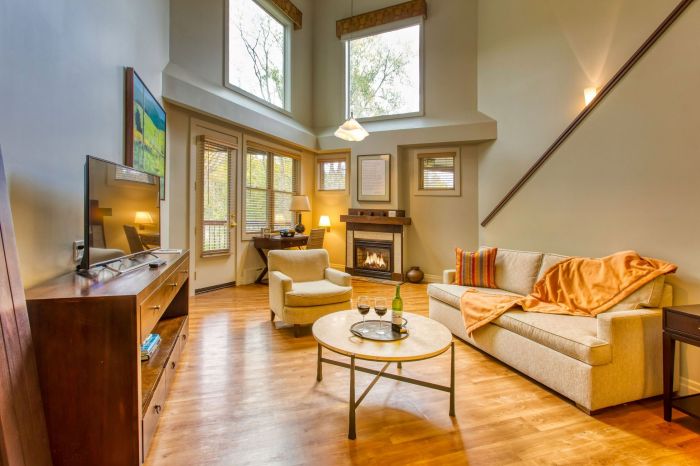 Courtesy of Emerson Resort & Spa
There are also many things to do on your own schedule, including completing a scavenger hunt, visiting the fitness center, taking a dip in the in-ground pool (open Memorial Day through Labor Day), playing a round of pickleball, cornhole or horseshoes at the Emerson Park playground, walking along the Emerson Riparian Woods and Trail alongside the Esopus Creek, or taking the dog for an off-leash run in the fenced-in Emerson Dog Park.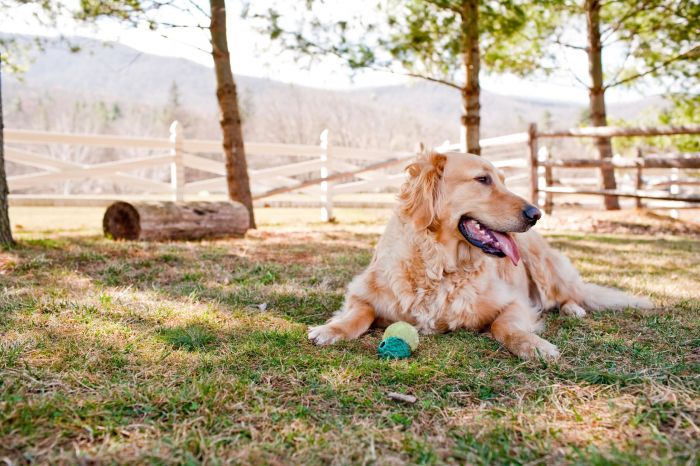 Courtesy of Emerson Resort & Spa
Dinner at the log cabin-inspired Woodnotes Grille should not be missed. Start off with one of their creative cocktail specials like an apple cider mimosa before moving onto delicious locally sourced dishes like herb seared sea scallops served on a bed of cabbage slaw. Main dishes include a flavorful New York strip served with mashed potatoes and grilled asparagus.
The portions here are large, so be sure to save some room for dessert. The warm apple crisp drizzled with caramel sauce served with a scoop of vanilla ice cream offers the perfect ending to a memorable dinner. (The restaurant is also open for breakfast).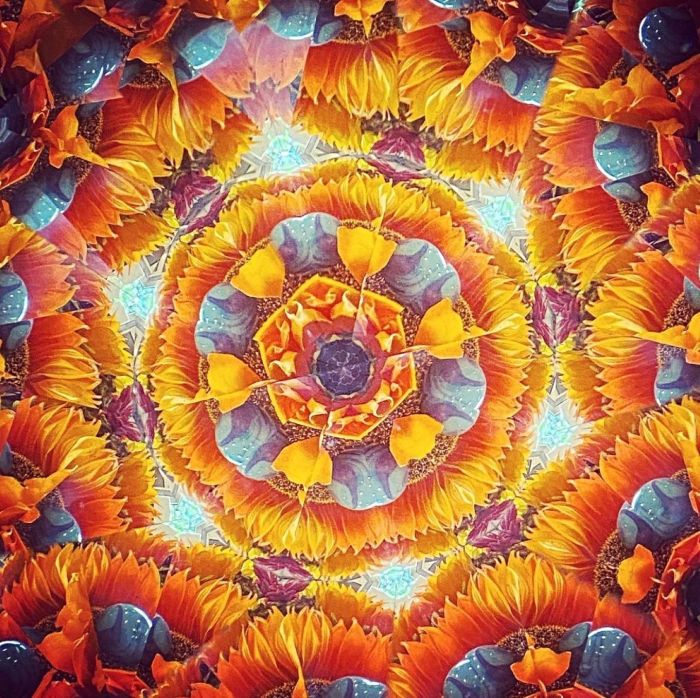 Courtesy of Emerson Resort & Spa
In addition to the Inn, the Emerson Resort & Spa also features Adirondack-style accommodations designed for families in The Black Bear, The Grey Wolf, and The Red Fox.
The property also features a collection of shops that include everything from a General Store, Men's Shop, Toy Chest, and Bath & Body shop. When booking a stay here, a visit to see the World's Largest Kaleidoscope is a must. Housed in a 56-foot-tall silo, the mind-blowing kaleidoscope provides guests with a mesmerizing multimedia show featuring moving images set to theater-quality sound. When staying on property, guests receive complimentary admission.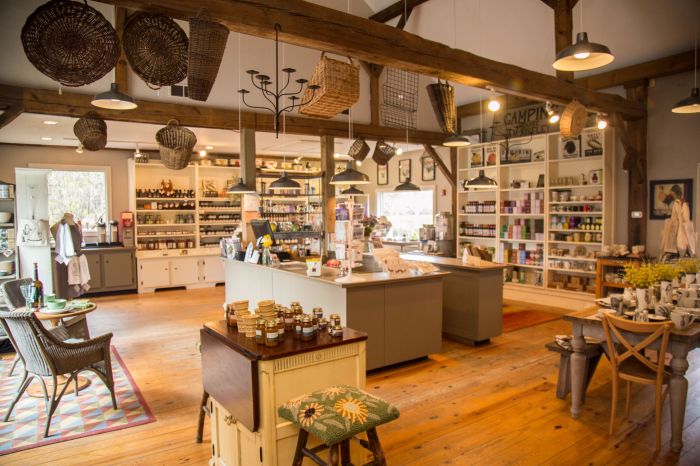 Courtesy of Emerson Resort & Spa
Take time for a quick walk across the street to visit Emerson Gardens filled with fresh vegetable, herbs, and flowers that is also used to harvest produce for the property's restaurants.
It is important to note there is no cell service available on property, but guests can enable Wi-Fi calling from their phones. Room service, including changing out trash and used towels, is available upon request only. There is also no elevator at The Inn, so if you are unable to climb a set of stairs to the second level, be sure to request a first-floor room in advance when booking a stay. Guests should also note the rooms here are non-smoking, including their balconies.
The Emerson Resort & Spa is located at 5340 Route 28 in Mount Tremper, New York.