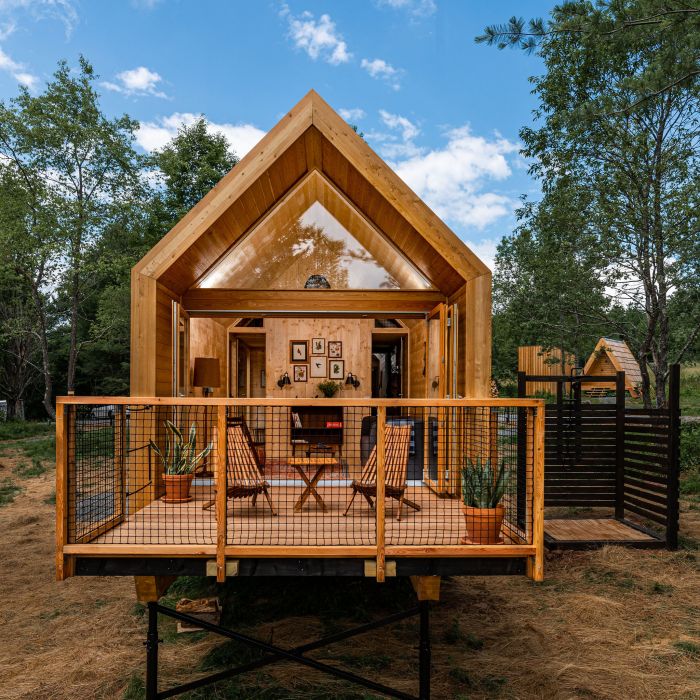 Lawrence Braun
If you think the idea of camping sounds like fun but prefer the modern comforts of a glamping-style cabin with running water, free from the elements, a luxury compound known as Eastwind in Windham, NY just might be your answer.
The pet-friendly property is outfitted with 10 stylish standalone cabins and 16 hotel rooms tucked away in the Catskill Mountains offering a true mountain getaway.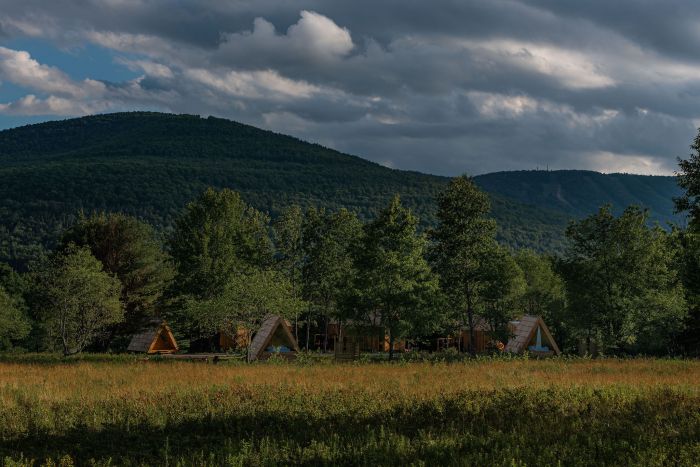 Lawrence Braun
Check in here is easy and contactless. You will receive a welcome text the day of your reservation alerting you to which cabin you are staying in and how to gain access. Housekeeping here is by request only, so be sure to let them know at check in if you have any specific needs.
One thing to note is parking is not allowed at each cabin. Guests are only permitted to drop off their belongings by parking their car in front of the cabin for a short period. You must park your car overnight in the designated area that is accessed by a short walk.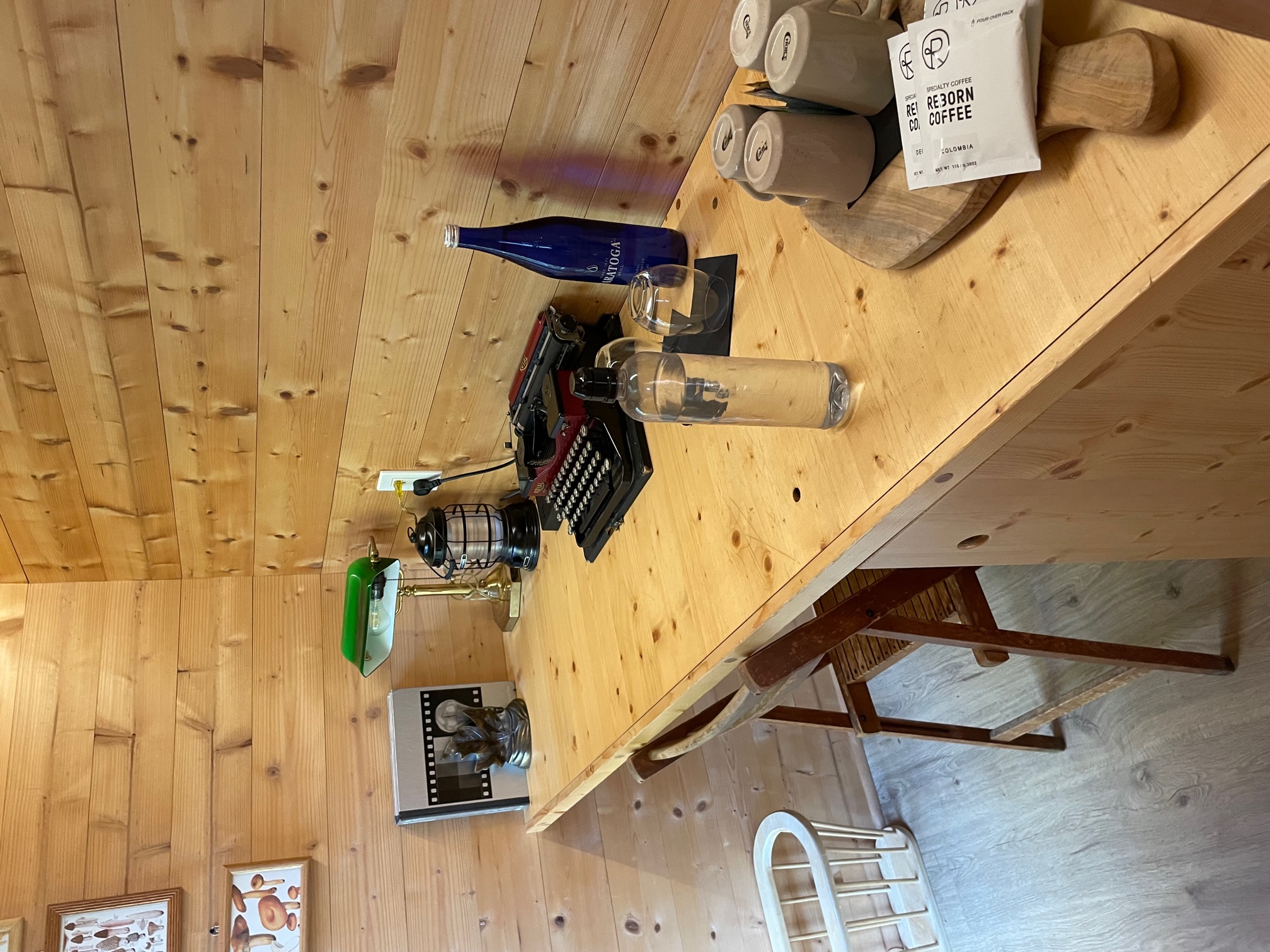 Kellie Speed
Whether you come here for a quick weekend getaway or are looking for a weeklong escape, the Lushna Suite offers roomy and comfortable accommodations. As soon as you enter the cabin, there is a cozy "writer's nook" on the left side complete with old-fashioned typewriter. An outdoor lantern for exploring the property after dark is also provided along with a small fridge to keep beverages cold.
Wood block stairs presenting a steep incline lead upstairs to a lofted bedroom with queen bed. An oversized triangular window here offers beautiful views of the property.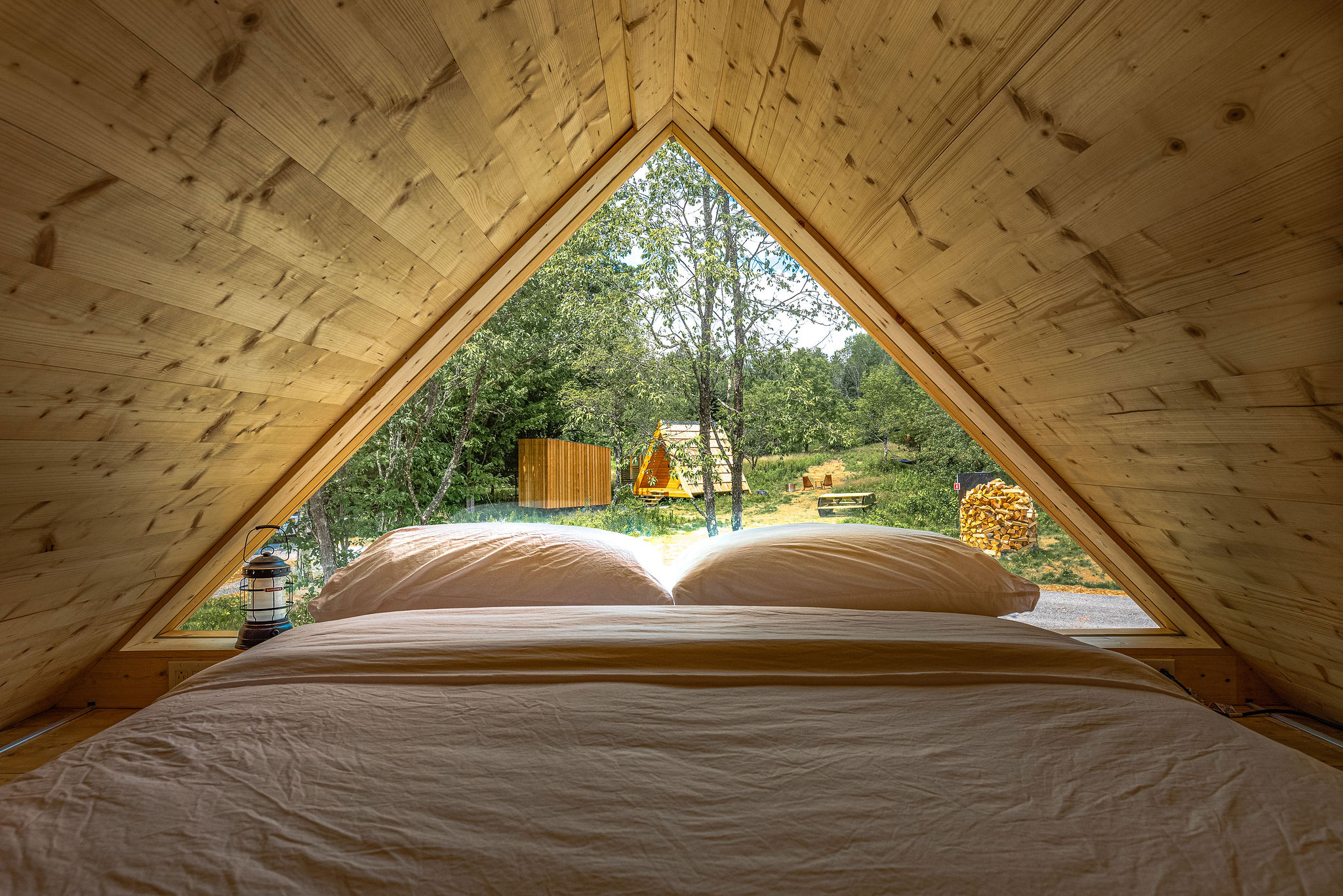 Lawrence Braun
The main living area to the right as you enter the cabin features a two-story interior with a wall of windows that provide a natural and seamless transition to the outdoors.
Folding glass doors here open up to a spacious private deck, offering the perfect spot for morning coffee.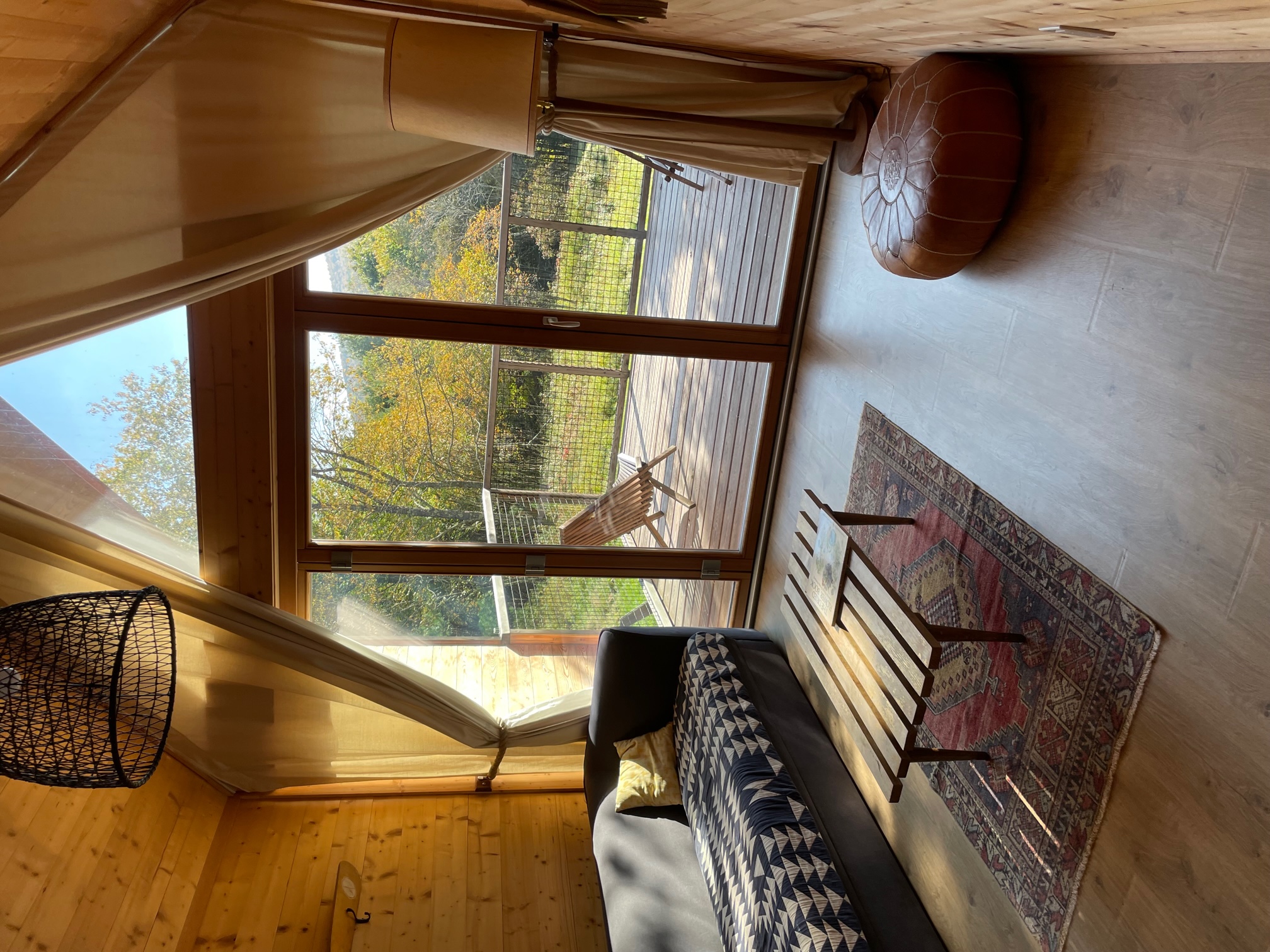 Kellie Speed
There is also an outdoor shower as well as a smokeless fire pit out back for enjoying s'mores by the campfire. If you are looking to grill up some food at your cabin, just let them know when you check in and they will provide all of the necessities.
When it comes to relaxing, two wood barrel saunas can be used at any time during your visit along with complimentary bikes to explore the area.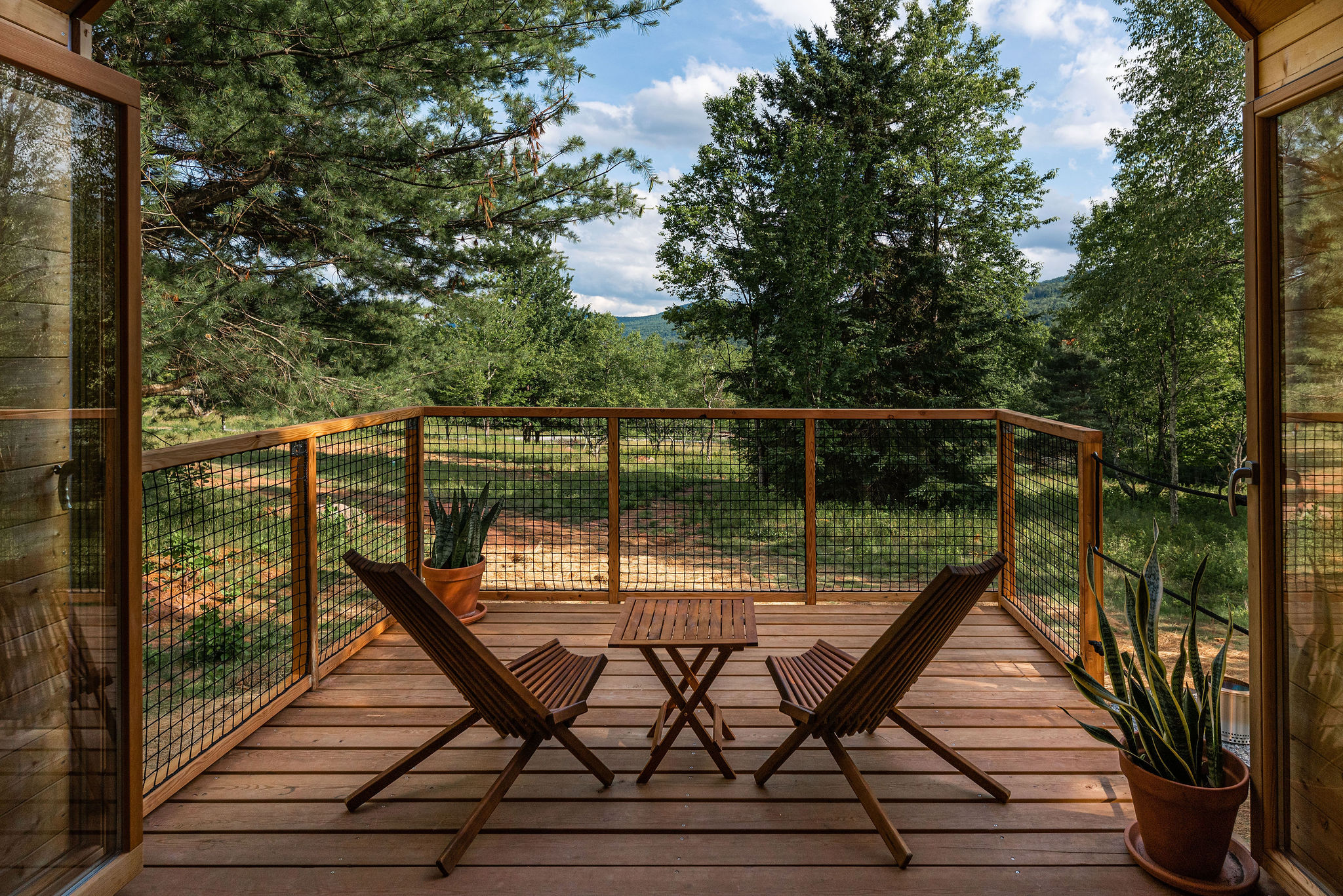 Lawrence Braun
Eastwind also offers breakfast baskets that can be reserved the night before to be shared between two guests. Snacks include coffee or tea, orange juice, milk, yogurt parfait, fresh fruit, hard boiled eggs, and croissants.
There are two other New York Eastwind locations, including a newly remodeled collection at Lake Placid featuring five guest houses, 17 hotel rooms, and eight cabins, along with their newest addition at Oliverea Valley, a newly constructed "ground up build" with 12 guest rooms, nine Lushna cabins, and six Lushna suites. 
Eastwind Windham is located at 5088 Route 23 in Windham, NY.