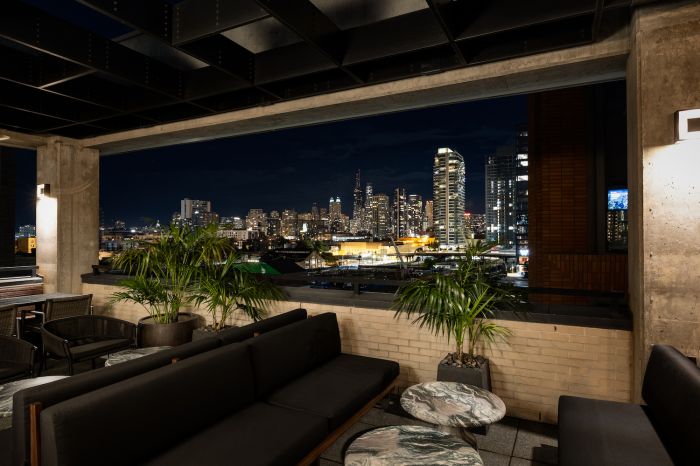 The Emily's Selva cocktail lounge features city views
Chicago is fun. A stay at The Emily hotel makes it even more fun. Echoing the verve and vivacity of its host city, The Emily offers more than simply a cozy room in which to relax and revive for another day of sightseeing. The Emily itself is a destination, one which reflects the city's arty and edgy dynamism. It's a place where visitors and locals intermingle over crafted cocktails served with skyline views. It's where West Loop residents grab their morning coffee. It's where movies are screened al fresco under the stars, and where a speakeasy style omakase restaurant lurks behind an "employees only" marked door.  
Guests who merely seek a comfy bed and well-stocked mini bar will certainly find that at The Emily. A variety of room styles and sizes feature all the amenities necessary for a comfortable stay, including plush robes, large, flat-screen televisions, deluxe sized mini bar spirits, and a mini-fridge filled with sodas, beer, and wine. Some rooms boast deep, soaking tubs.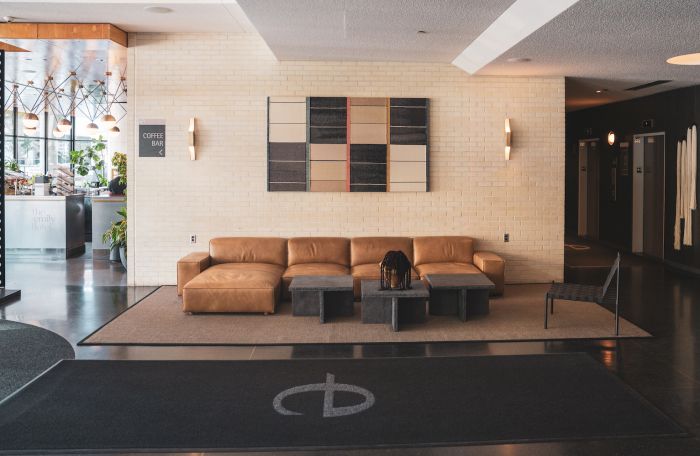 The Emily lobby
But it's what is outside your hotel room door that makes The Emily a great Chicago hospitality choice. Its West Loop location, on the edge of the Fulton Market region, is one of the Windy City's most vibrant neighborhoods. Here, the tech industry's biggest names intermingle with chic art galleries, high-end dining, cozy coffee shops, and an energetic nightlife scene. Google's primary-colored logo, visible directly across the street from The Emily's front entrance, is evidence of the location's emerging popularity, as are the crowds that gather within the hotel's three dining venues.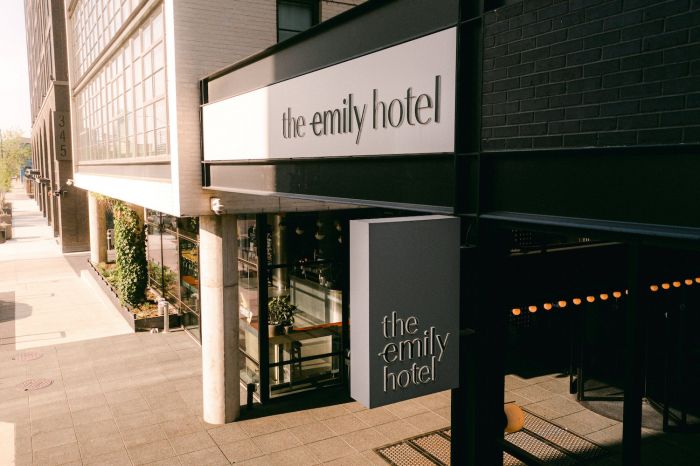 The Emily's Fulton Market location is centrally located to all things Chicago
Lobby located Fora restaurant and its bar feature crafted cocktails and globally inspired menu items within a casually sophisticated dining room. On clear sky evenings, the party moves outdoors to the twinkle-lit patio where two large fire pits ward off cool breezes. Upstairs on the 7th floor rooftop, you'll find Selva cocktail lounge where food and drink are served with a splash of Latin inspired flavor. And the speakeasy-esque dining venue? It's Sushi by Bou, the themed omakase experience also found in New York, New Jersey, and Florida. Here in Chicago, the motif is neon red 90's hip hop, with a corresponding soundtrack.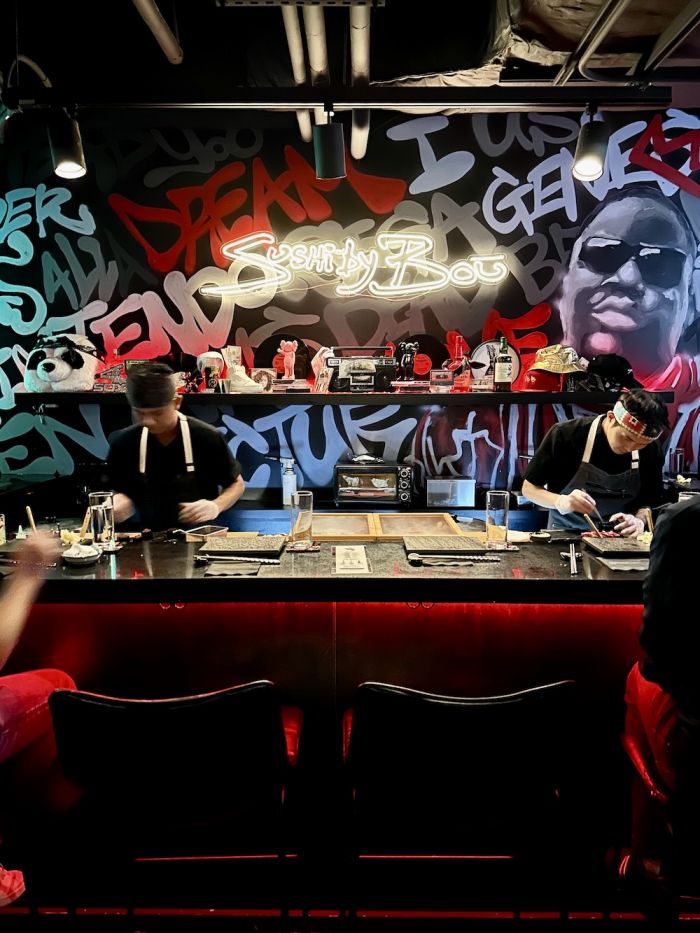 Sushi by Bou serves omakase sushi with a side of 90's hip hop. Photo: Fran Miller
Visitors will no doubt notice the colorful walls in central areas, and in the exercise equipment-stocked fitness room. The Emily partners with local artists such as Raspy Rivera to provide the modern graphics that rev-up the hotel's energy level. Guests can rev-up their own energy level at the lobby located Coffee Bar featuring locally roasted Sparrow Coffee and freshly baked pastries from local cult-favorite Dan the Baker.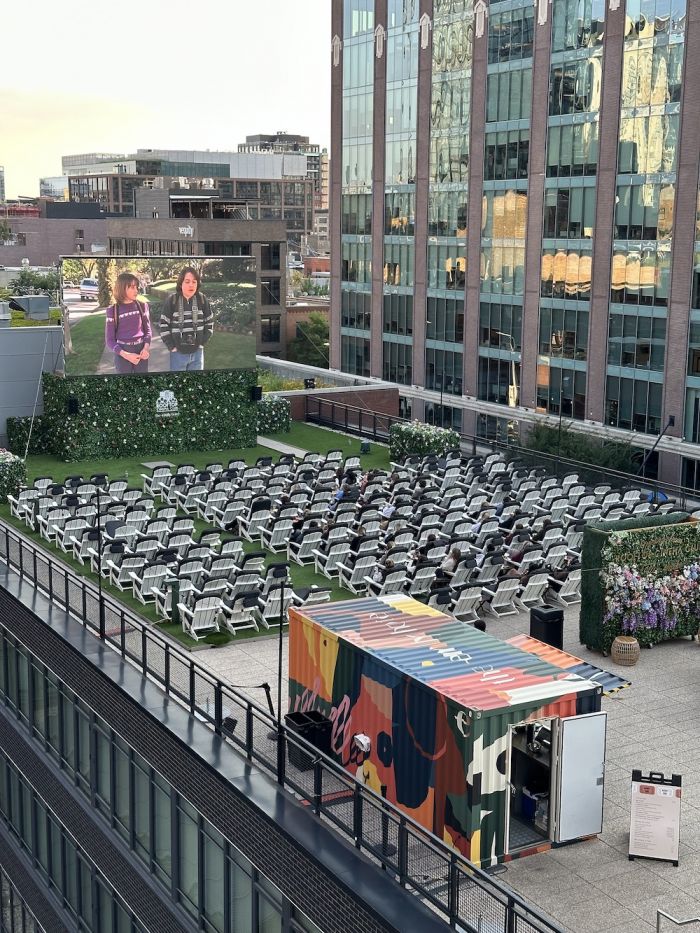 On-site Rooftop Cinema Club screens cult classics and new releases. Photo: Fran Miller
And day or night, Rooftop Cinema Club Fulton Market can be accessed via The Emily's elevators. Al fresco screenings of both cult classics and new releases take place under the sun and stars. Pair your viewing with on-site food and drink, and be sure to dress in layers. Chicago is always fun, but the weather is always unpredictable. 
Photos courtesy of The Emily except where noted