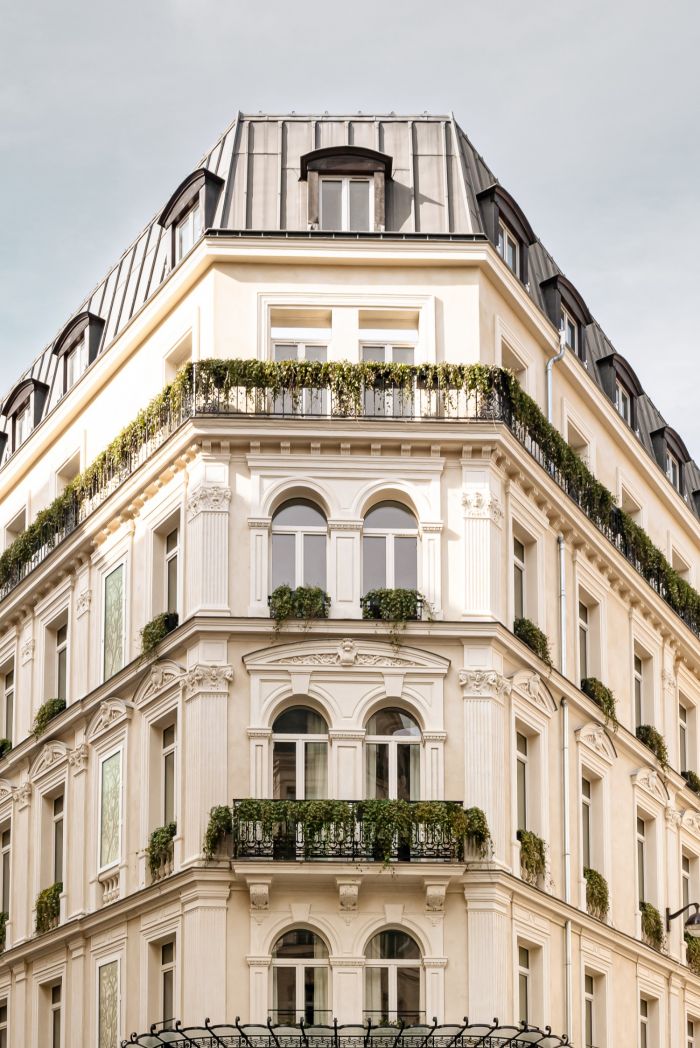 (credit: Mr. Tripper)
Château des Fleurs, a boutique hotel created by Bertrand Hospitality, provides a tribute to the elegance of Paris of the 19th century. The luxury boutique hotel opened this summer and is set in a magnificent 1910 building enhanced by Art-Nouveau design. 
Translated to "The Castle of Flowers" the hotel exudes Parisian style, with a contemporary touch and Mediterranean colors and references to flowers and plants throughout. From the design of the lamps or the patterns of the stained glass windows to the planters that adorn the facade and the arrangements placed in the lobby, Quintana Partners, the Spanish architecture agency, wanted to pay homage to the festive history of this place and to Paris.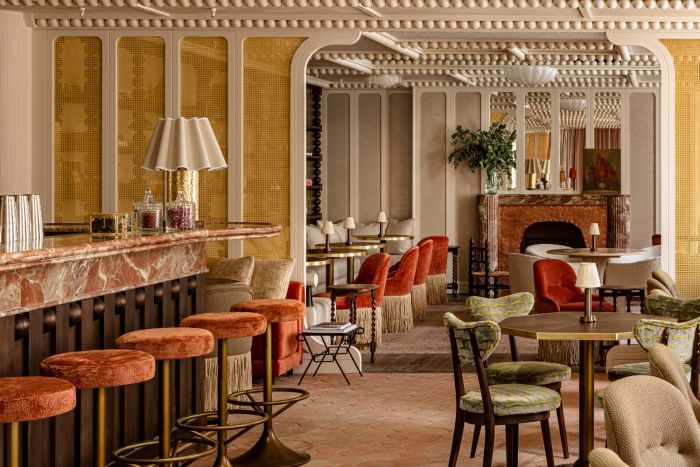 (credit: Mr. Tripper)
Up the three steps to the hotel's reception, you are welcomed to a cozy and elegant space. Your eyes are immediately drawn to the pearl-shaped moldings, on the ceiling or on the dazzling bar just off to the right. Next to such, terracotta-colored velvet fringed seats welcome weary travelers to sit and enjoy a Spritz des Fleurs with jasmine syrup, a tea infusion and blueberry flowers, one of the hotel's signature cocktails. 
Just beyond the bar, the velvety and warm setting is home to Restaurant by OMA, presenting a cuisine halfway between Paris and Seoul. The 20-seat lounge and restaurantOMA, presents signature dishes including the Mulhué, a combination of raw fish and fresh vegetables, with a spicy iced broth, or OMA rice, a comforting dish from chef Ji-Hye Park's childhood.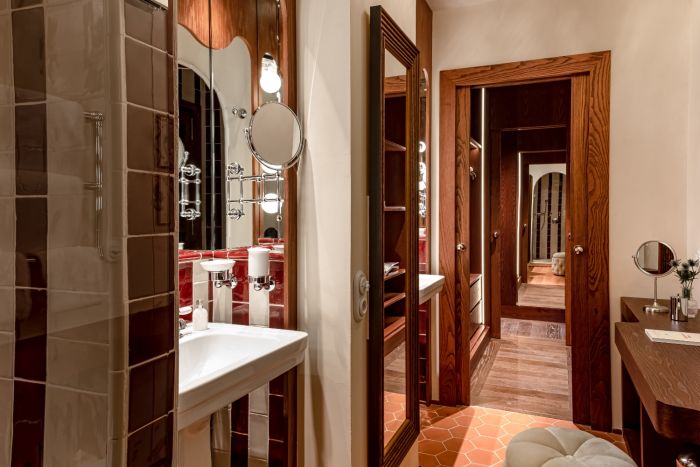 (credit: Mr. Tripper)
On the upper four floors, their 37 rooms and suites optimize space beautifully and are adorned with Art Nouveau decorative elements. The retro-designed bathrooms feature white and red checkerboard tiles bringing guests into decades of the past. Entering through curved wooden doors, the rooms are cozy with large windows and Murano glass lamps and have references to the French capital from Parisian shutters to cable pattern carpeting and more. 
In the basement, Château des Fleurs also has a gym and a refined spa area with an indoor swimming pool. The cork-floored gym both serves purpose, to absorb shock, but also design as it is paired with wooden furnishings, and graphic tiles in red and black. The gym features Technogym machines and a leather patina punching bag, while adjacent to the gym is the spa which partners with Omnisens to provide a holistic approach to well-being with personalized treatments. 
Château des Fleurs is a sister of the Saint James Paris and the Relais Christine in Paris 6th arrondissement and provides an establishment with personality with tailor-made French service.