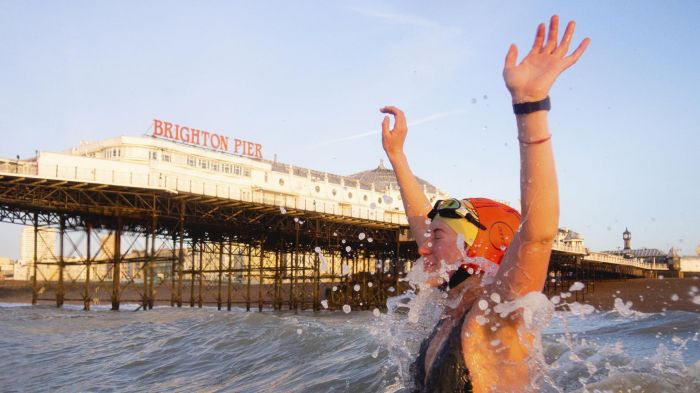 Photos courtesy of the Blanch House and Visit Brighton
It is one of the most famous places in England and clearly one of its most rich when it comes to nostalgia.  A place to go to the sea, with boardwalks, carnival rides, and seafront bistros serving the freshest fish and chips money can buy.   But Brighton is so much more than that with a buzzing downtown area with shops and restaurants as well as a calendar full of cultural events and shows. The Blanch House is a lovely townhouse hotel close to it all and created for guests to enjoy all that this wonderful part of England has to offer.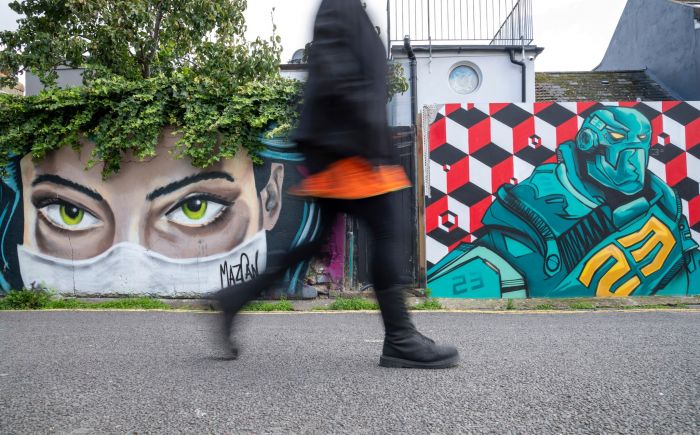 The Blanch house is exactly what visitors to Brighton will want to seek out. What it is not is a massive chain hotel where guests receive mass market service and stay in a place bereft of any personality. The Blanch House oozes with style and flair with a design and décor that could be described as nothing less than delicious.  The hotel is for adults only to maintain its mature and serene ambiance and caters mainly to couples there for a romantic weekend by the sea.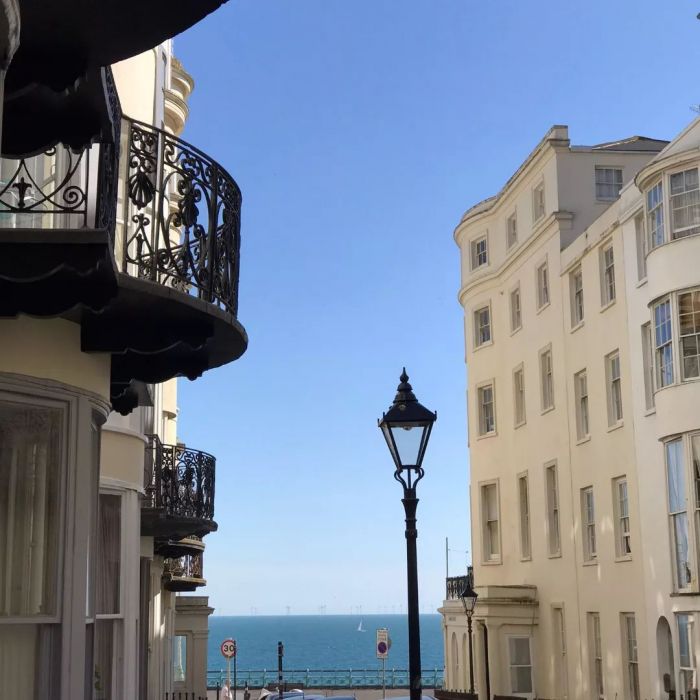 The hotel is as chic as it is charming on a residential street amongst other Georgian architecture townhouses in Kempton, one of Brighton's quiet and upscale neighborhoods.   It is a stone's throw from Brighton Beach and a short Uber lift into town making it the ideal respite to explore the city.
Visting Brighton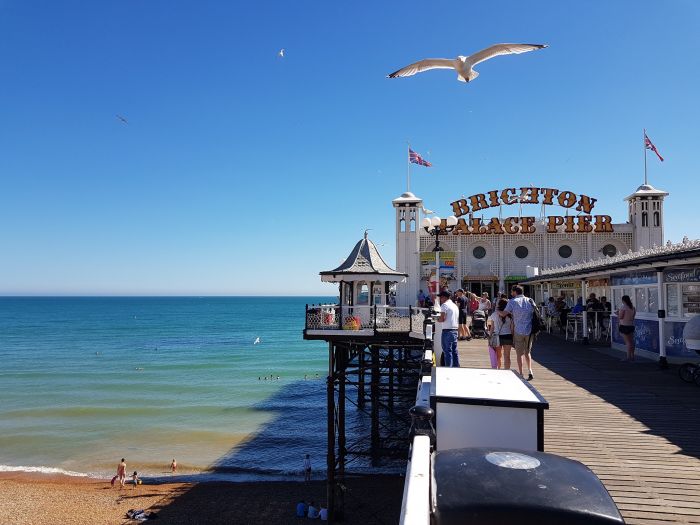 Those of us from the East Coast of the US will instantly draw the connection between Brighton with Coney Island. Those from the West Coast will see it as a doubleganger for the Santa Monica Pier.  The icon of this part of the world is its Brighton Palace Pier which opened in 1899 and is one of those places that everyone visiting the UK should go to at least once. Yes, its heyday was clearly long before the Instagram and TikTok era. A walk back in time when the best day of summer was a meal of hot dogs, cotton candy, and soft serve ice cream followed by bumper cars or perhaps a ride to the top of the world in a Ferris wheel.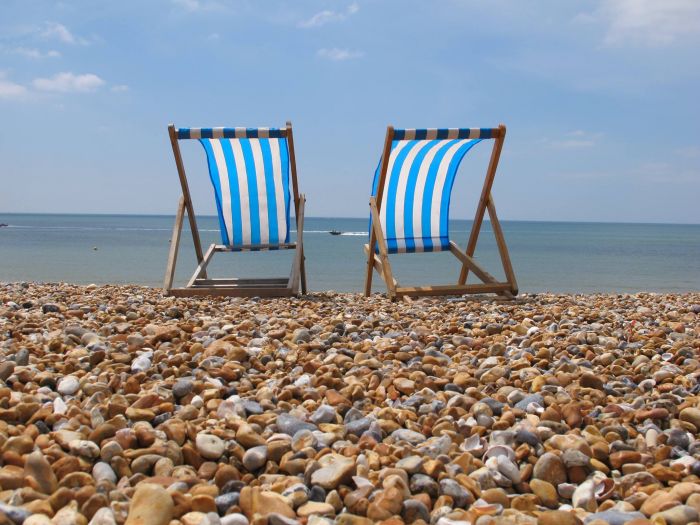 You'll find that and so much more at the pier with plenty of booths selling all kinds of eats and treats from crepes and hot dogs and of course, the UK's mother's milk, fish, and chips. The pier is a carnival on a boardwalk with roller coasters and other amusement park rides, game booths, and even a house of horrors. There are video game rooms as well as one-armed bandits or slot machines as well.  The pier is massive and juts 1722 feet out into the English Channel; that's almost six football fields. Along its length are hundreds of deck chairs where visitors and take a break to take in the sights along the coast or gaze out to the sea.  The pier is a great place for families where the parents reminisce with the little ones.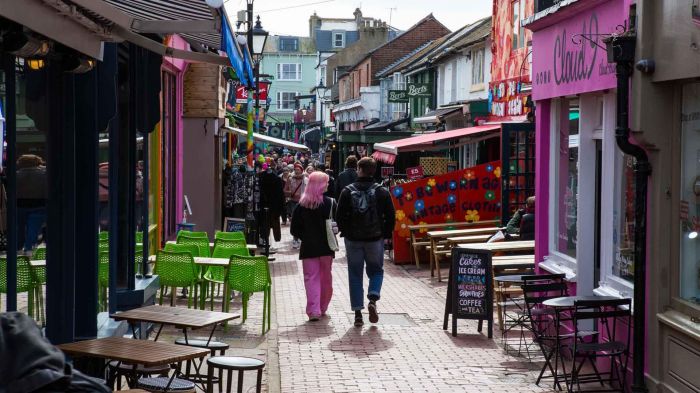 But Brighton is so much more than its most famous pier. The shoreline stretches for miles with a beach. Forget your white powdery sand from the Caribbean, these are rocks and pebbles but yet just a refreshing to walk along as they crunch under your feet, or should you wish to brave the cold English waters, that's there for you as well. All along the coastline are beachfront pubs and eateries ideal for bending the elbow at the end of the day.
Brighton is also known for its lanes. A labyrinth of cobblestone walkways that would be a nightmare for anyone who suffers from claustrophobia. Be that as it what makes this area so fabulous is to allow oneself to get lost and explore the myriad of clothing, jewelry, and specialty shops that your wander will present to you. It's a breath of fresh air from the cookie-cutter shopping malls of today or even worse all too common the god-forsaken strip malls.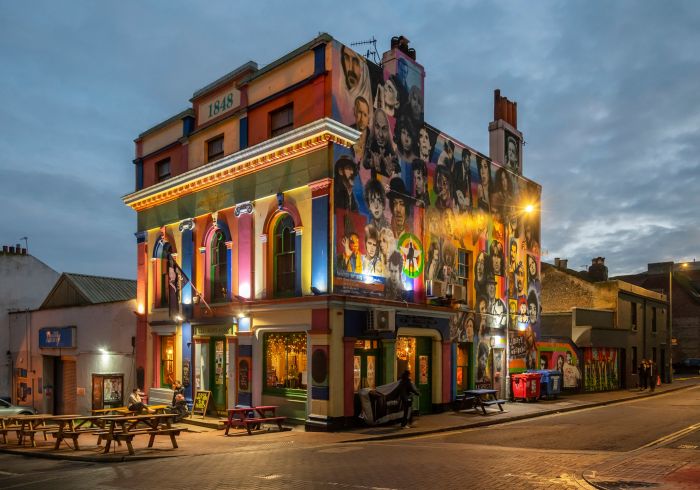 Brighton is a thrilling and vibrant city and one might go as far to say rambunctious.  It has a reputation for being artsy, and that's just fine by most. A haven for creatives with a bohemian vibe where their talents are fostered, supported, and celebrated. You'll see impressive street art including Banksy's renowned Kissing Coppers as well as larger-than-life murals that look as if they belong in a fancy gallery.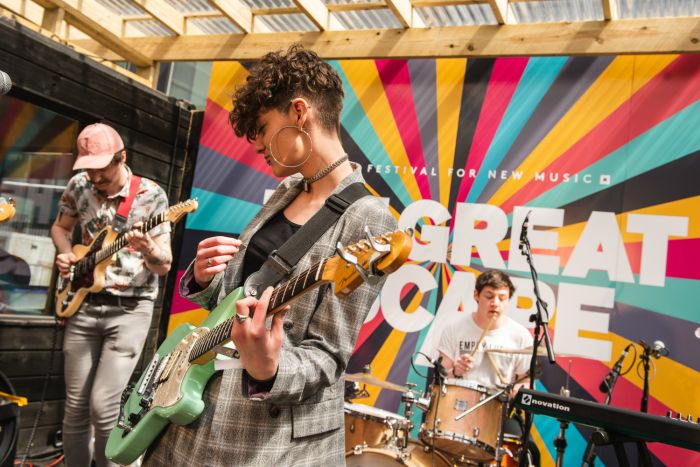 There are countless events taking place there from major shows, music festivals, and concerts to the Fringe Festival which is a weeklong celebration of the arts and artists.  Just beyond is the town of Hove which offers even more signs to see with its regent design buildings and a clutch of Michelin star restaurants.
Where to stay in Brighton: The Blanch House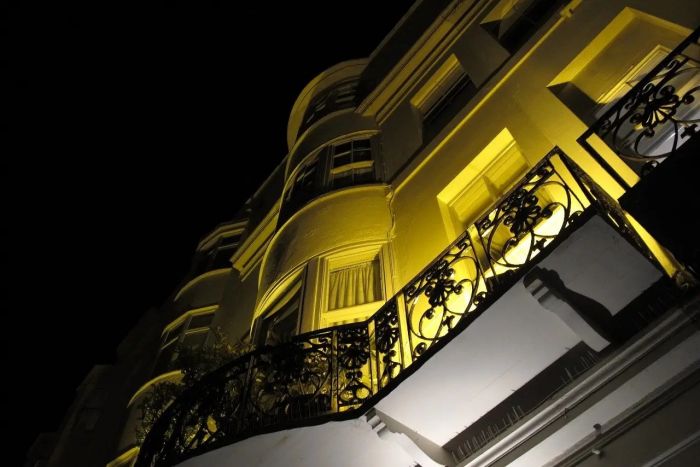 The word authentic is thrown around a lot. But sometimes that is the only word that fits. The Blanch House is perfect for an authentic stay in Brighton. The hotel is intimate and personal; a townhouse that has been converted into an inn for discerning guests looking for a stylish stay by the beach. Don't expect valet parking and 24-hour room service, it is not that kind of place. What it is is a home-like place with beautifully designed interiors, friendly service, and a restful stay after days and nights exploring the area.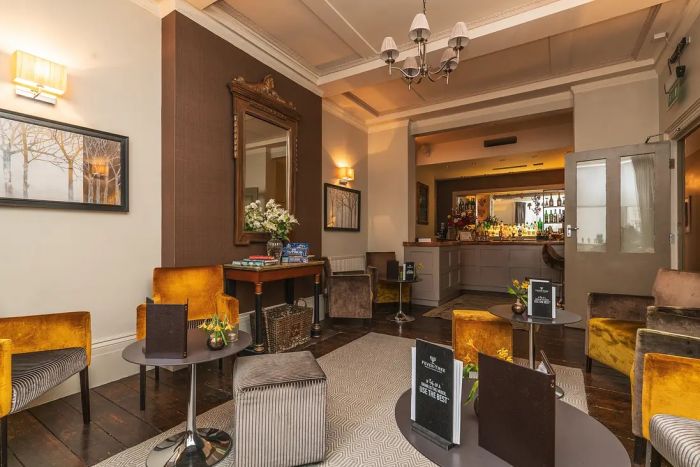 The townhouse features original Georgian architecture while you'll find high ceilings and large windows that flood the rooms with natural light. The 12 elegant rooms are situated over the four floors of the townhouse each with their own unique style and configurations. This is a design-forward auberge the art deco touches, a crystal chandelier, and comfy areas in the lobby to recline in the plush chairs while having a cocktail.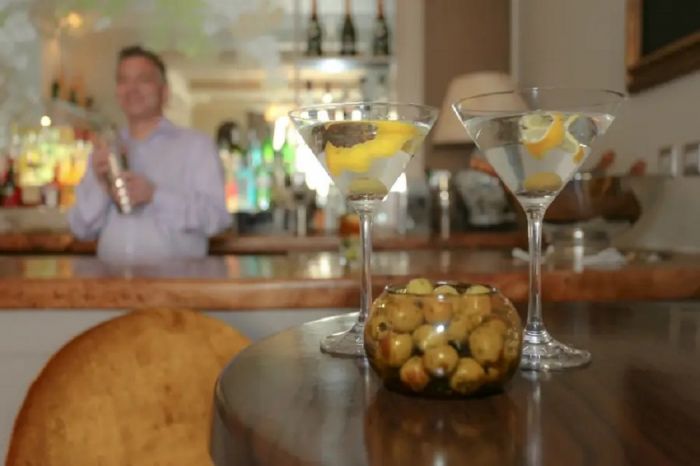 The first floor parlor includes a stylish champagne and cocktail bar which serves a creative offering of signature drinks or a glass of bubbles. Light bits and nibbles are on offer as well. There is no restaurant at the hotel however breakfast is served each day in their Belle Epoque dining room. Guest dine out at one of the endless offerings of restaurants in town.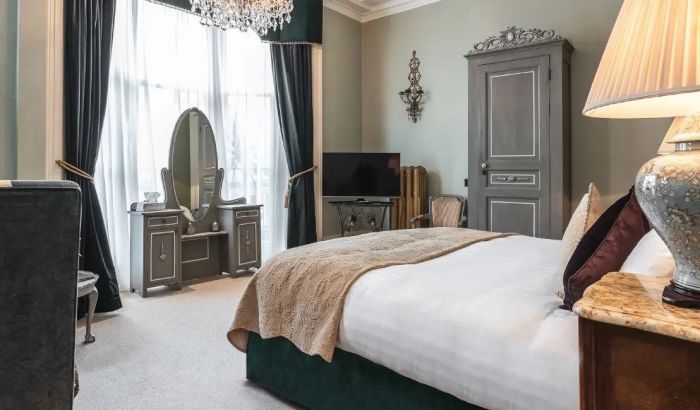 The accommodations perfectly fit what guests are after on a visit to Brighton. Unique, captivating design and the ideal pairing between the old and the new with quirky details thrown in for good measure. This is a turn-of-the-century Regency-era building with a 20-foot ceiling, crown molding, and massive windows. That canvas has been matched with an unabashed style of period antiques and captivating artwork. The design is art deco meets boudoir creating the perfect ambiance for a weekend getaway with your beau.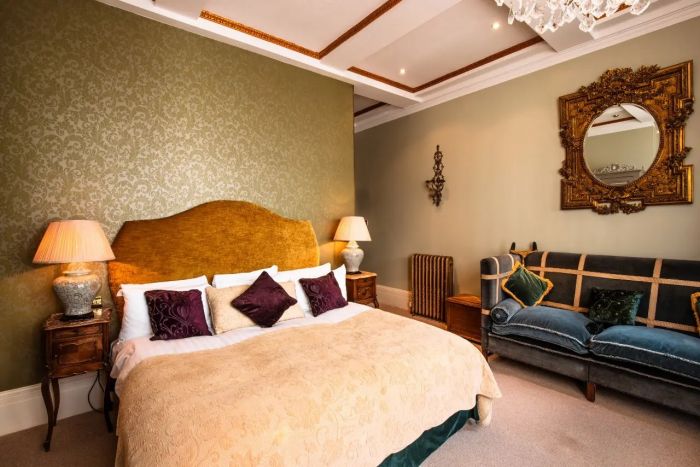 The twelve rooms vary in size and configuration, with the Perrier Jouët room being their premium accommodation.  The well-sized suite has a plush velvet sofa and an ultra-comfortable king-sized bed with a large bay window. The bathroom is luxurious with elegant chandeliers and mirrors and with a claw foot bath and separate shower.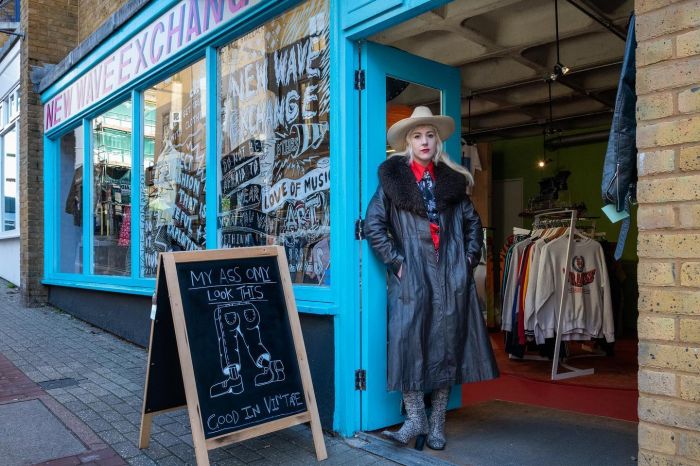 Brighton makes the ideal side trip for an extended stay in London. The unbridled personality of the city is its biggest draw as well as its iconic pier. The Blanch House makes the ideal base to explore the city and then come back to an auberge with a fascinating personality of its own.