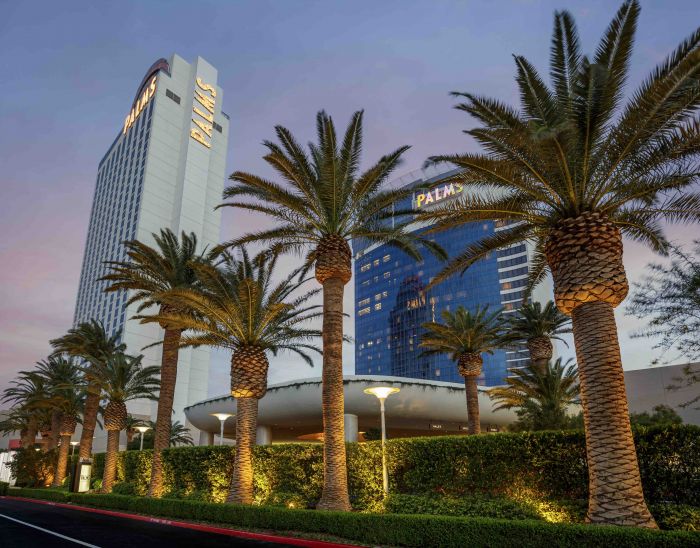 The Palms
Located a few blocks off the Vegas strip, The Palms was once THE party spot in Sin City. "The Real World Las Vegas" was filmed here in the early 2000s and in 2007 the resort hosted the MTV Music Awards. Flash forward a few decades and the Palms had a $690 million renovation and changed ownership to the San Manuel Band of Mission Indians. Now the resort has a bevy of great dining options, a world class art collection, a beautiful pool deck with pretty private cabanas and unique only in Vegas suites. You can still party here, but you can also spend a relaxing weekend enjoying shows, great dinners and stellar pool and spa time.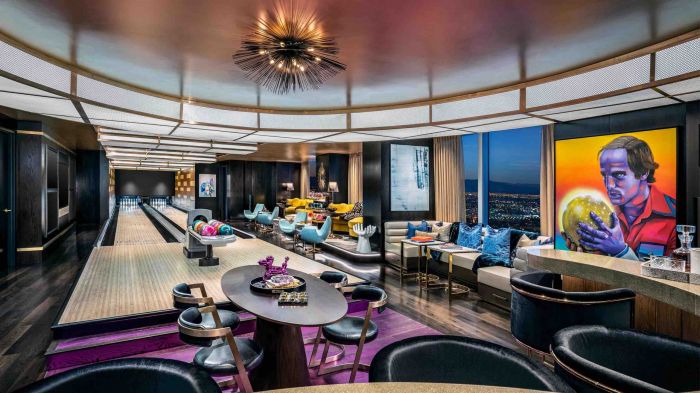 The Palms
STAY
I arrived to see one of the many imaginative art displays, a pretty party-themed balloon wall outside of the lobby. Once inside, the renovated space was clean and inviting. The Palms features artwork from various artists including Jean-Michel Basquiat, Andy Warhol and others. The main reception desk features a "Wish You Were Here" Instagrammable backdrop.
The accommodations range from standard rooms to giant specialty-themed suites perfect for celebratory getaways. My King Suite in the Fantasy Tower was a roomy 460 square feet and housed a big sofa, spacious worktable, and a king bed. The space was sophisticated with neutral tones and light wood furniture. The walk-in shower in the bathroom was decorated in a pretty striped marble. There was also a nice separate mini-bar and fridge area.
For those wanting a spectacular specialized suite, The Palms is the place to stay. Their Kingpin Suite is 4,240 square feet and features two bowling lanes, bowling shoes and balls, a pool table, DJ booth, 12 televisions, 24-hour butler service, a VIP table at Ghostbar, a free pool cabana and airport transportation. Their Cinema Suite is 1, 960 square feet and features a theater with surround sound, unlimited movies, a pool table, 24-hour butler service, and a free pool cabana and airport transportation.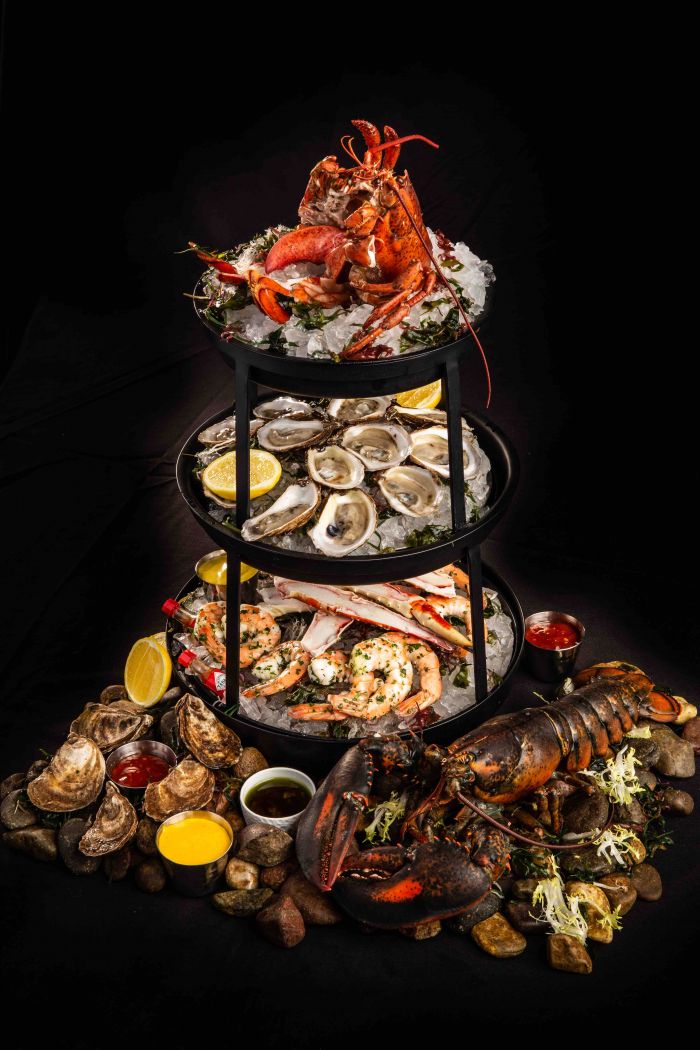 The Palms
DINE
The Palms recently opened La Popular, a huge Mexican restaurant and the third location of the chain in the U.S. The interior design is bright, tropical and inviting with a huge middle bar with a taco and Al Pastor station. I loved the free large chips featuring four specialty salsas. The menu features a wide variety of tacos, enchiladas, and sides. I opted for the fajitas with charred jalapenos, potatoes, bacon, melted Manchego, guacamole, pico de gallo and sour cream with shrimp and chicken. They also have a great cocktail menu with pineapple mango and cactus pear and pomegranate agua frescas which can also be served with their added house tequila.
You can get two tacos for around $15 and a couple can easily get dinner here for around $50, which is a great price for Vegas.
If you want to go upscale, you can head to Scotch 80 Prime, the Palm's signature steakhouse. This elegant space is huge with a few separate dining rooms, long bar and an impressive menu and wine selection. We enjoyed a beginning lovely warm bread service and started off with the char-broiled seafood platter with oysters, scallops, mussels and crabs which was flambéed tableside with cognac. Next came the A5 Wagyu empanadas with ground Wagyu, tomato, carrots and peas in puff pastry. Shrimp toast also arrived before our perfectly cooked rib-eye. Diners can choose from a huge variety of cuts including filets, rib-eyes, New York as well as an extensive Wagyu collection of beef. Accompaniments include garlic prawns, foie gras, lobster or crab as well as a variety of steak sauces. Main courses also include Maine lobster, New Zealand king salmon, bluefin tuna, Nigerian prawns, Wagyu beef cheek and lamb. Side courses include a delicious lobster fried rice; Millionaire's Maccheroni with truffle cream, prosciutto and a fried egg; creamed corn with bacon; truffle duck fat fries; garlic potatoes; hash browns and creamed spinach. Dessert included a butter cake with fresh fruit and a trifecta of chocolate treats.
The Palms also houses Mabel's BBQ, the Michelin starred Tim Ho Wan dim sum restaurant, Vetri Cucina, Send Noodles, the A.Y.C.E buffet, Serrana Vista Café and a great food court with very affordable dining options.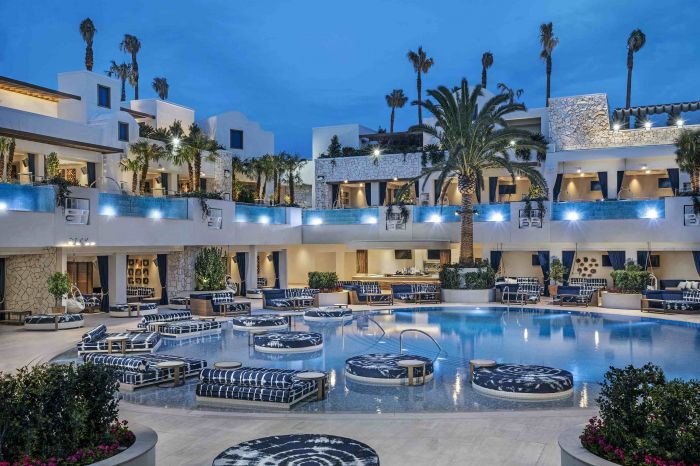 The Palms
CHILL
Choose from the Laguna Pool, a big pool for everyone, and the Soak Pool, where you can book a private cabana with your own plunge pool. You also get a very comfy cabana with a TV, fridge and plenty of charging options to fuel your phone and iPad. I loved these cabanas because they provide the option of lounging by the pool in the shade, soaking in your own private pool, or heading out to the round bigger pool. There are also cabanas on a second level that look down at both pools.
After swimming, you can head to the three-story spa for a facial or massage and enjoy the hot tub, sauna and steam rooms. For those inclined to do a workout, the fitness center is next to the spa.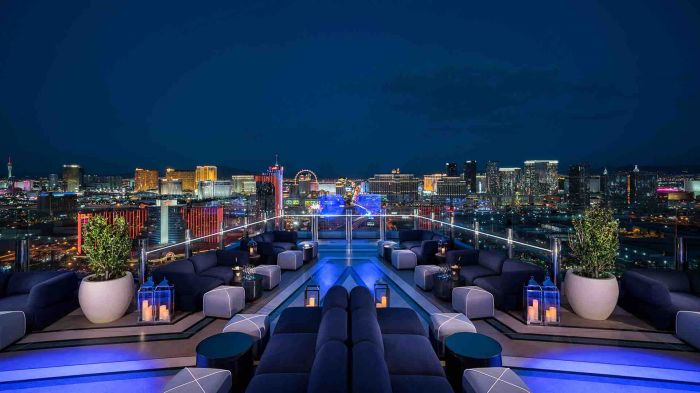 The Palms
PARTY
Although The Palms is much quieter than when it was the place to party in Vegas, you can still let loose at their Ghostbar rooftop lounge with panoramic views of Sin City and live entertainment. The Peral Theater offers a wide variety of concerts and comedy acts throughout the year including acts like the Black Crowes, Chris Isaak and Tracy Morgan.
It's an easy five-minute Uber ride from The Palms to get to the Strip, but you might be tempted to spend your entire visit staying at the resort and enjoying world class dining, spectacular specialized suites and a less crowded casino.
The Palms is located at 4321 W. Flamingo Road, reservations at 1.866.942.7777.