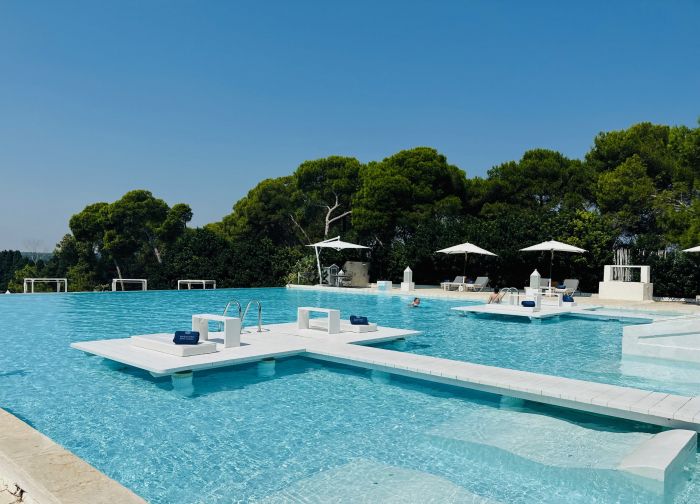 Whitney Spielfogel
Over the past couple of years, Puglia has become one of Italy's top trending destinations… and for good reason! For anyone looking for incredible food and wine, diverse landscapes, a captivating coastline, beautiful beach clubs, history, culture, and super stylish places to stay, look no further than Puglia, the land of plenty. In sundrenched Puglia, in southeast Italy, the warm glow of summer lasts well beyond September, making it a perfect time of year to still visit the region (well into Fall… or any season, really).
The bountiful heel of Italy's boot, with its southern Italian temperatures and miles of natural coastline, Puglia remains blissfully under the radar (for now). Tucked between the Adriatic and Ionian seas, Puglia's waters are as crystal clear as the Caribbean and its culture is a mosaic of influences pieced together perfectly. From Puglia's ancient, white-washed little towns to its verdant vineyards and valleys, visitors will be immersed in the region's rich traditions, warm hospitality, and delectable cuisine… not to mention, endless opportunities for Instagram-worthy exploration and locations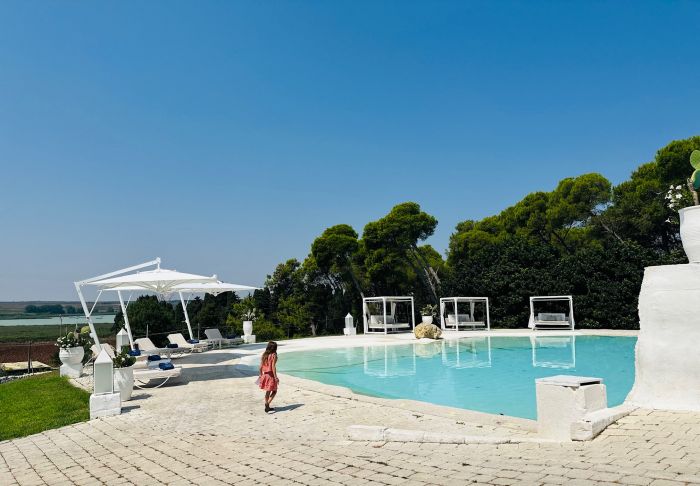 Whitney Spielfogel
Around an hour from the Italian Brindisi airport lies Baglioni Masseria Muzza, a full-service, five-star resort that caters to couples, families, and everyone in between (including pets). If you're looking for a property that combines beautiful design with a great location, and warm, personalized service, Baglioni Masseria Muzza offers an Italian countryside meets seaside village oasis unlike any other. Baglioni Masseria Muzza is a haven of tranquility and luxury in the heart of Puglia. Its blend of modern comfort with traditional charm, exceptional dining, and impeccable service make it a true standout in the region.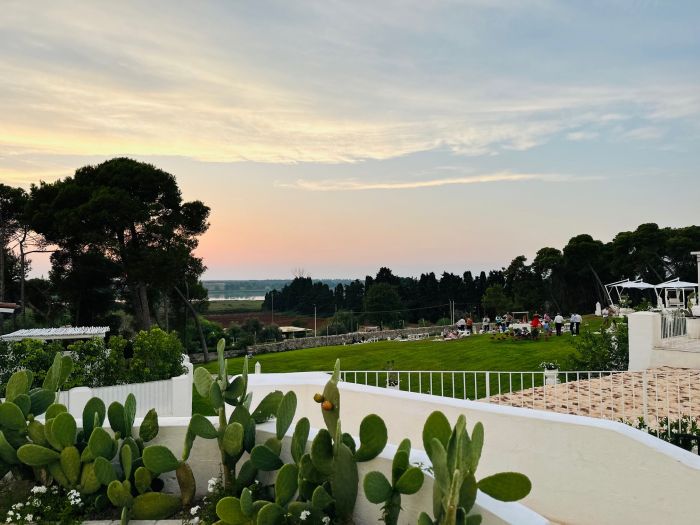 Whitney Spielfogel
Baglioni Masseria Muzza is part of the ultra-exclusive Baglioni Hotels & Resorts collection,a prestigious hotel group globally recognized for its signature services, exclusive elegance, and world class resorts. Its Puglia property is located a quick 10 minutes from the UNESCO heritage city of Otranto. This charming resort, a secluded heaven, is centered around an ancient farmhouse (called a Masseria), dating back to the 17th century, and steeped in strong history. Embraced by five acres of breathtaking tranquil countryside, the property delivers an unforgettable experience and enchanting stay.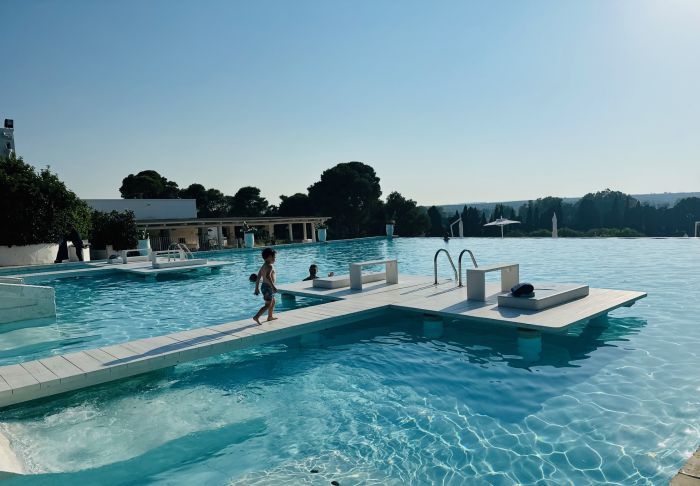 Whitney Spielfogel
Nestled amidst the picturesque landscapes of Italy's enchanting Puglia region, the Baglioni Masseria Muzza is a true gem that embodies the essence of luxury, relaxation, and authentic Italian charm. Surrounded by olive groves and lush gardens, the setting is nothing short of breathtaking. The Masseria's strategic location to Otranto, allows for easy access to nearby attractions and dining options, and the stunning Adriatic coastline, making it an ideal base for exploring the region.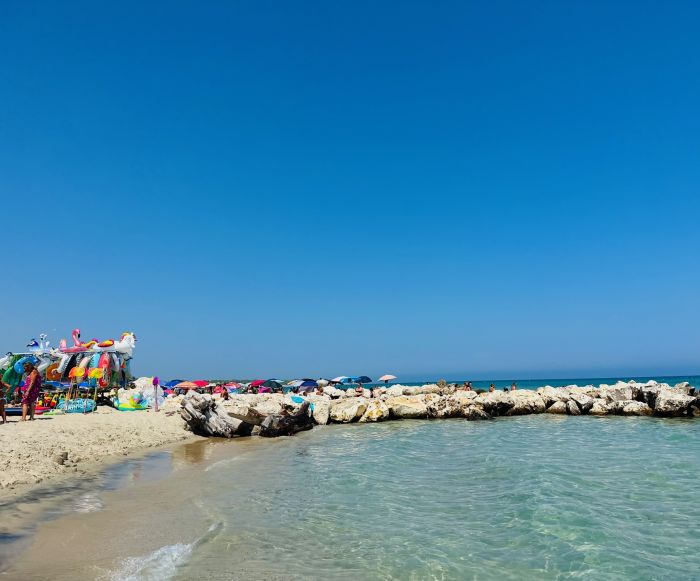 Whitney Spielfogel
The Masseria offers a range of well-appointed rooms and suites, each exuding a rustic chic, elegant charm. I had the pleasure of staying in one of their suites, which featured a private terrace overlooking a peaceful courtyard. The room's décor seamlessly blended contemporary comforts with traditional Puglian elements, creating a warm and inviting atmosphere.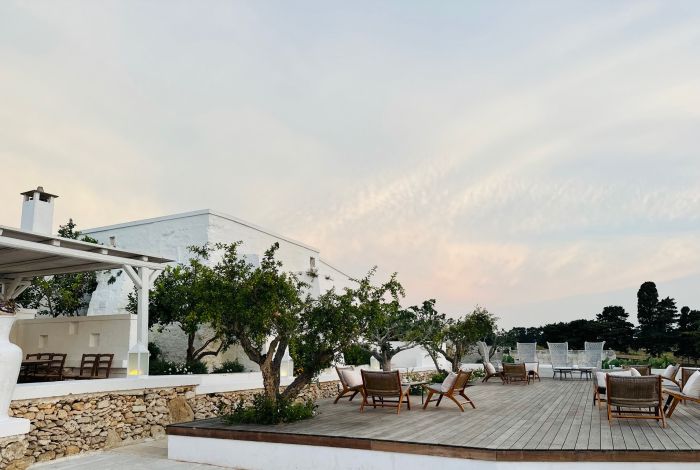 Puglia is often referred to as "the garden of Italy". One of the highlights of my stay was the exceptional dining experience on-site at Baglioni Masseria Muzza. The on-premise restaurants take guests on a culinary journey through Puglia's rich gastronomic heritage. From freshly prepared pasta dishes to locally sourced seafood, and a very impressive local wine selection, every meal was nothing short of a masterpiece. Dining al fresco under the starlit sky added an extra layer of magic to each evening. Another standout meal was at Il Diavolicchio Goloso, a stunning seafood restaurant situated in a modern farmhouse, with a beautiful covered, whimsical garden terrace.
Baglioni offers an array of bespoke experiences including some newly launched programming: a family truffle hunting experience led by the region's truffle masters, as well as a food tour through the town of Lecce, discovering the best selection of local delicacies and wines. TOURANGO is the official DMC designer of unparalleled experiential travel for Baglioni Masseria Muzza. Experiences are available exclusively to clients of Baglioni Masseria Muzza and can be booked through the hotel's incredible concierge (or contact info@tourango.it for more information).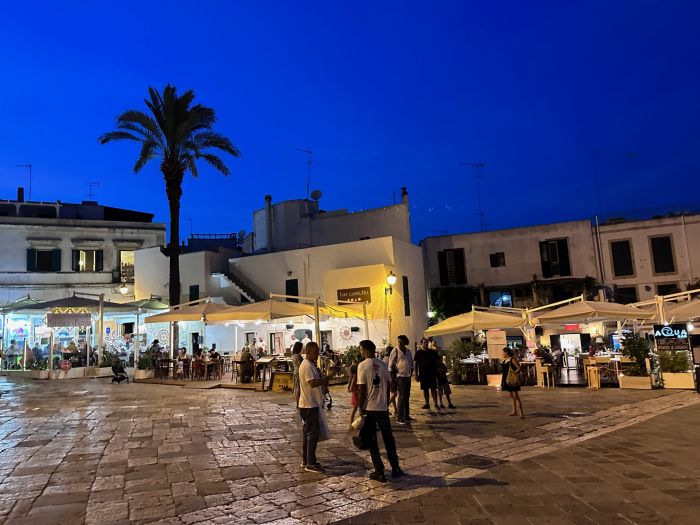 Whitney Spielfogel
Baglioni Masseria Muzza offers a wide range of additional activities and various amenities to cater to diverse interests. I enjoyed several afternoons relaxing by the exquisite infinity pool… or the smaller, but just as picturesque, shallow (children's) pool, with a full staff to cater to every need. For those seeking wellness and rejuvenation, the spa is a must-visit, offering a variety of treatments inspired by traditional Puglian rituals. If you're an active traveler, the Masseria provides bicycle rentals for exploring the countryside or a daily shuttle service to the area's local beaches and clubs. The region is characterized by its extensive coastline, from dramatic cliffs to long sandy beaches, to rocky inlets… there's a beach for everyone, and the hotel's concierge can suggest the perfect one (and arrange for beach chairs/sunbeds). The water, fed by both salt and spring water, is fresh and there are plenty of restaurants and beach clubs to enjoy local seafood and several cold Aperol Spritzes from.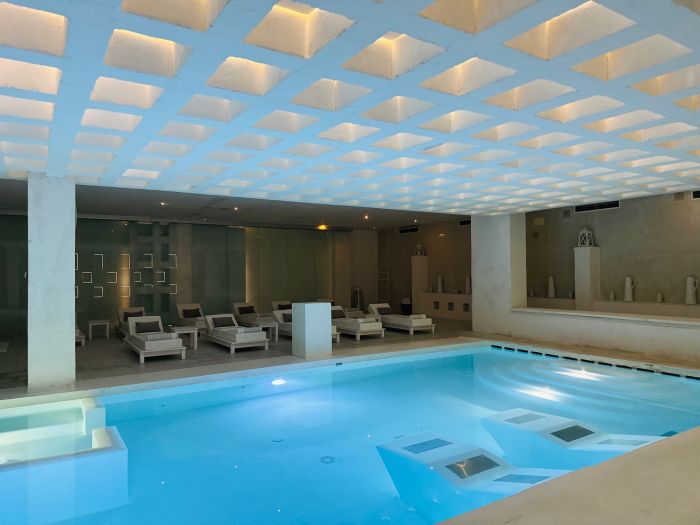 Whitney Spielfogel
With its inviting Mediterranean climate and warm temperatures throughout much of the year, Puglia provides an ideal setting for an unforgettable vacation. Whether seeking a relaxing escape or an adventure-filled journey, Puglia's diverse offerings make it a great destination to visit for travelers of all tastes and preferences. With its dreamy bays and charming stone, it's no surprise that Puglia is the vacation destination for plenty of celebrities—and a visit to Baglioni Masseria Muzza will make you feel like just that. Built from white Lecce limestone, surrounded by bountiful bougainvillea, and perched in position with access to endless beaches and the town of Otranto, the property will quickly win your heart over.