It is arguably one of the most spectacular cities on Earth, set high above it all at over 11,000 feet above sea level. At such a high altitude, most will take time to acclimate but its altitude is just one of the many aspects that makes Cusco so special. It is rich in Incan history,  influenced by Spanish colonialism and today's modernity. This patina of cultures and the beautiful setting amongst the clouds makes Cuszo one of the most unforgettable cities that one could visit. Close to it all is one of its most iconic hotels, the Inkaterra La Casona.  
La Casona is located in the heart of the city along the cobblestone streets and fronting one of the city's many public squares. Inkaterra La Casona is not a massive resort. It is small and intimate. The residence was the former home of a conquistador converted into a fine boutique hotel which is today a member of Relais & Châteaux. The 16th-century manor house offers a homey feeling with lovely antiques and sculptures,  colorful Andean textiles,  hearth fireplaces, and plenty of places to relax a with glass of wine or to peruse a coffee table book. Although the hotel is small in size, it is a full-service luxury retreat with fine dining, spa services, and all the amenities that one could need to completely enjoy their Cusco holiday in the clouds.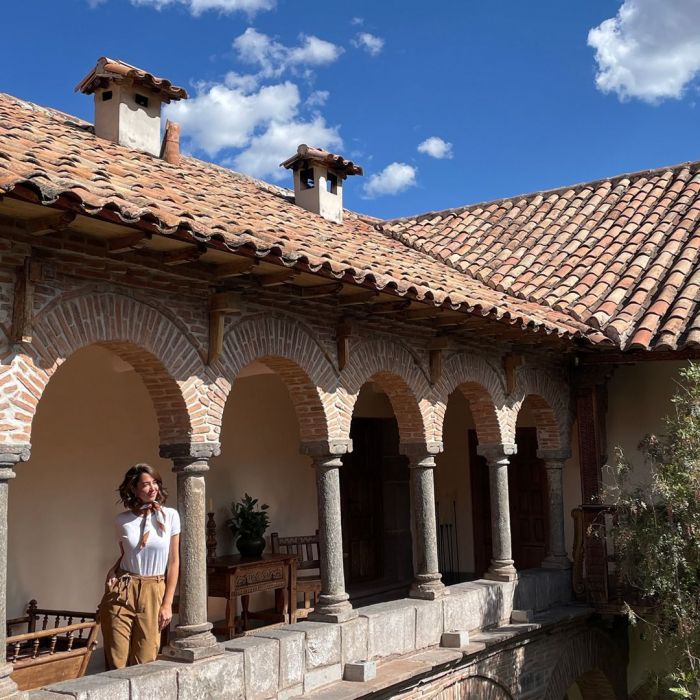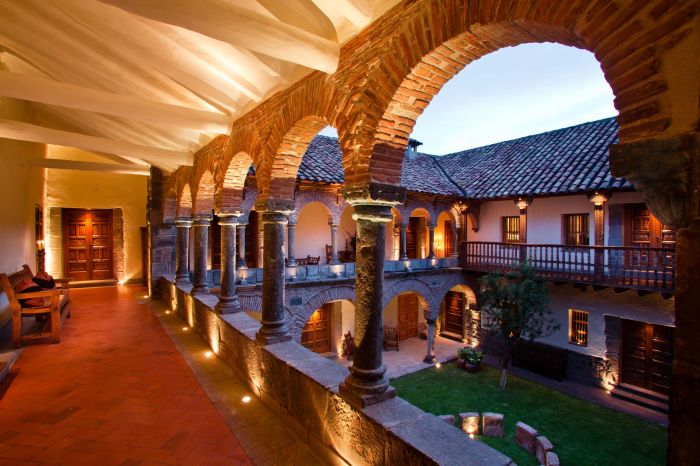 La Casona comes from a rich history of its own. Casona means large house and this estate was built in 1585 as one of the first Spanish colonial buildings constructed in Peru.  The estate was the home of Diego de Almagro, an original conquistador who conquered the Incas. It certainly holds its place in Peruvian history in its relationship with Spain and,  as fate would have it, Simon Bolivar, who liberated Peru from Spain, stayed there in 1825.
The hideaway has been designated a historical monument and has been painstakingly restored and continues to be meticulously well-maintained.  That rich history is everywhere throughout the opulent colonial building from the craftsmanship, antiques, and paintings, and the stories that its walls still tell.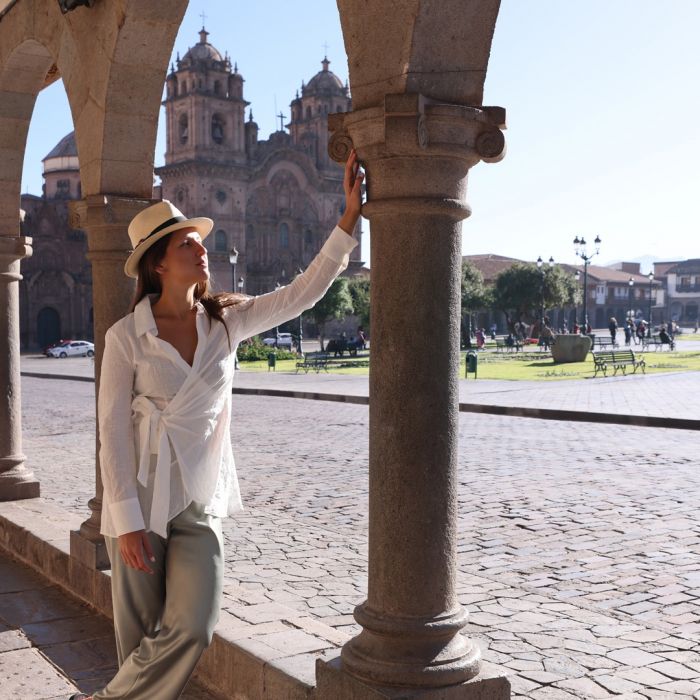 From the first moment you arrive, you will sense there is something magical about Cusco.  It's one of those cities that actually lives up to the hype. It is a beautiful city with Spanish colonial architecture, plazas, and squares throughout the city with green colorful flower gardens and gorgeous water fountains.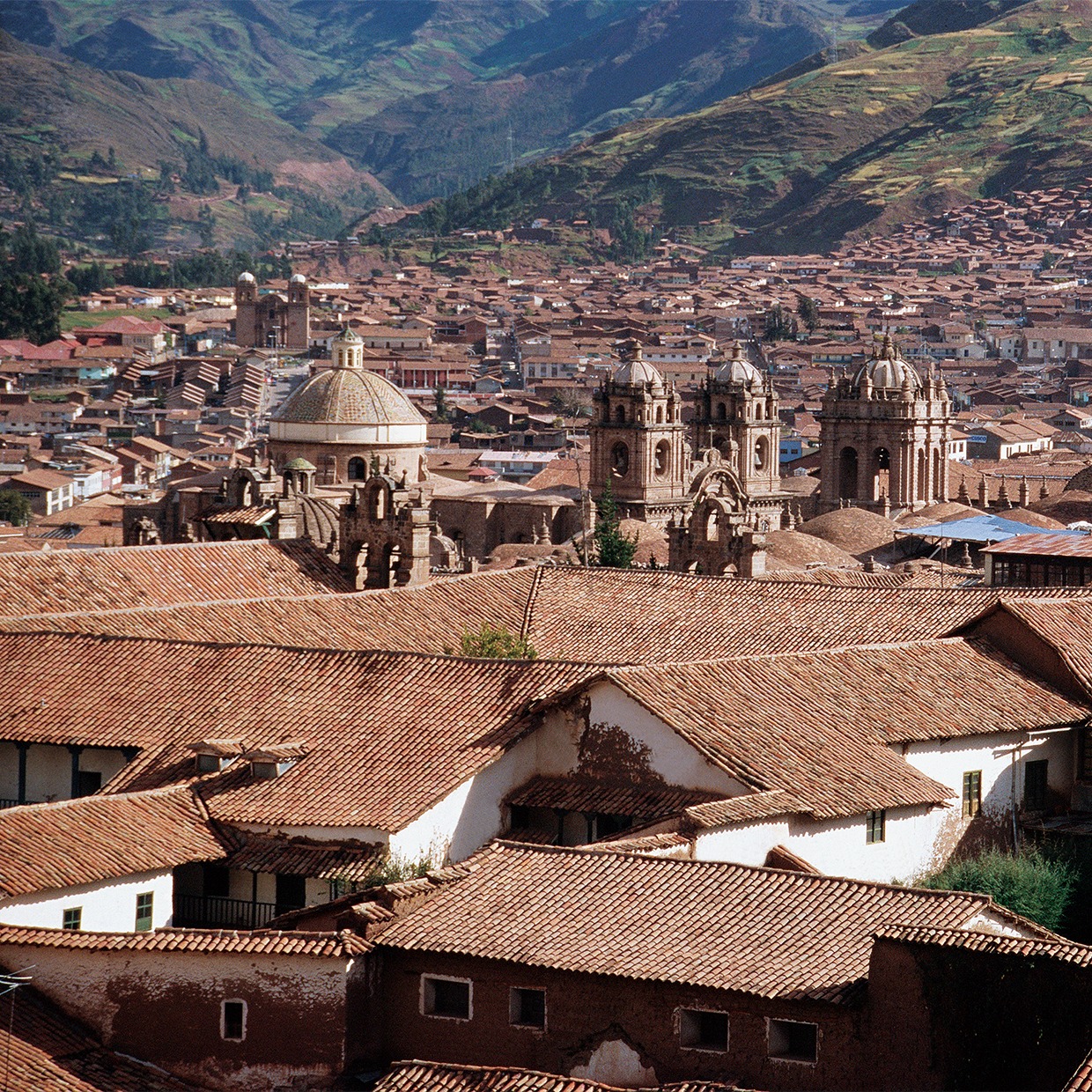 Cusco has many significant places in history as the capital of the Incan empire. Throughout the cities are remnants of this period and in fact many of the buildings standing today are built upon those foundations. The churches and cathedrals are remarkable as well with stained glass windows, design, and impressive craftsmanship.  In the past century, Cusco was also an artist colony and that tradition is still thriving with shops and galleries selling the paintings, sculptures, and textiles of gifted regional artists to admire or perhaps take a piece or two back home.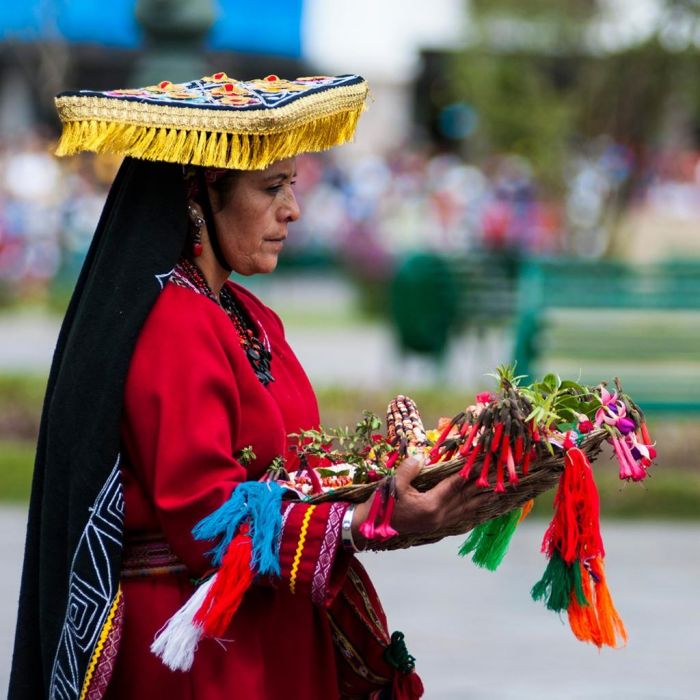 The city is Peru's most beautiful city and a must-visit destination on any trip to Peru for tourists visiting Machu Picchu, the Sacred Valley, or the Amazon rainforest in the north. As such, it's a city that accommodates tourists so there is an endless offering of cafes, shops, bars, and restaurants that cater to travelers.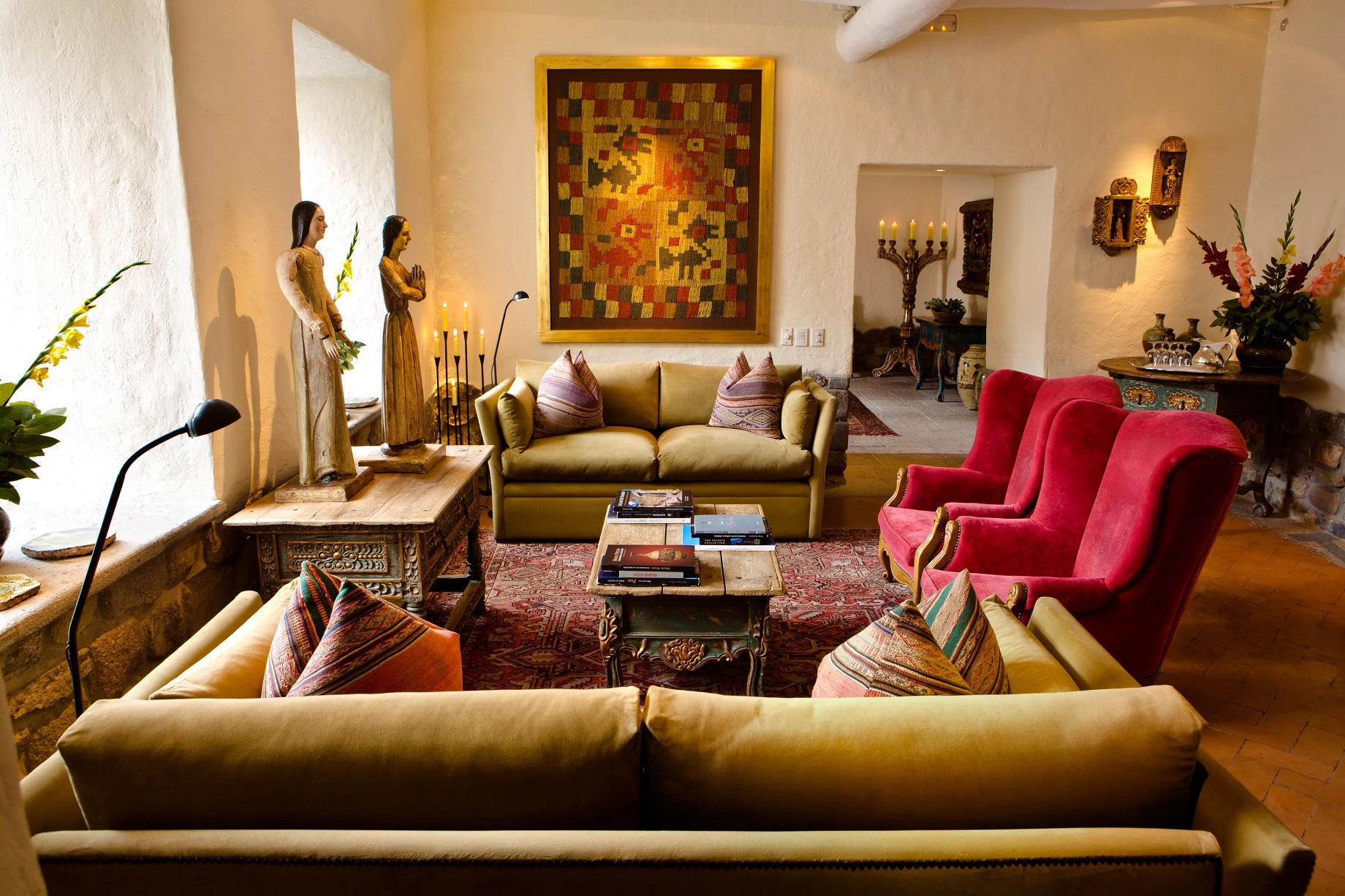 And many will be concerned about the altitude and getting altitude sickness. And they should be. At 11,000 feet above sea level, the air is thin there and most will feel it. Shortness of breath, lightheadedness, and nausea are the common effects.  As such, it is recommended that visitors acclimate at a lower altitude for a few days before going to Cusco.  For mild cases, a glass of cocoa tea will help. For others, they'll want to request oxygen which is sold in canisters, or most hotels, such as La Casona, have an oxygen tank on hand for use when needed by guests. Either way, don't let that concern get in the way of seeing this absolutely stunning city in the clouds.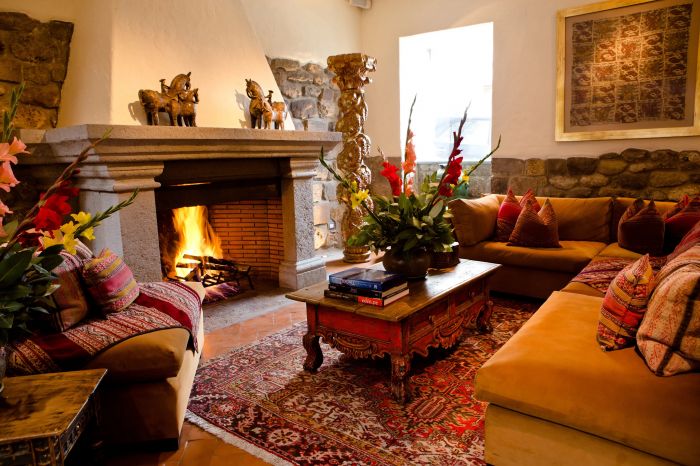 For those in search of an authentic boutique hotel in Cusco, it doesn't get much better than La Casona. From the outside, it doesn't look like much. Just a big thick wood door that you would otherwise not even notice as you passed by. But inside is another story of decadent interiors with whitewashed walls, ancient wood beams, and stone hearth fireplaces. The feeling is of a home versus a big resort hotel where in place of reception areas are living rooms with comfortable furnishings, colorful textiles, and Peruvian rugs. In every nook, you'll see a rich collection of antiques, clay sculptures, and gorgeous paintings that add to the ambiance.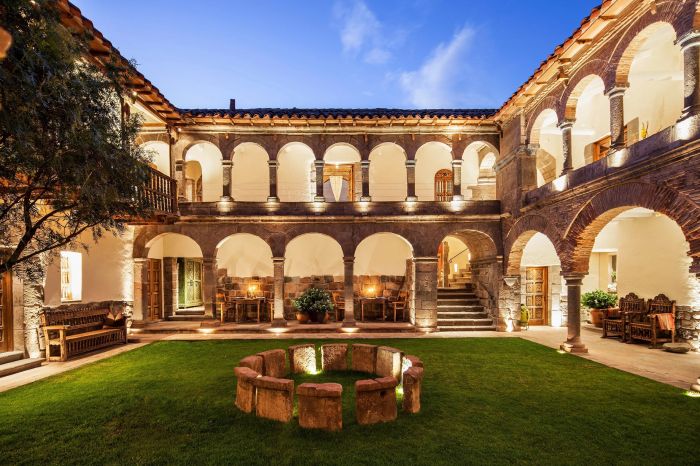 This is a traditional Spanish colonial home with a large courtyard with a lawn and flower gardens at its center and views of the blue sky or starry night above.  Accommodations are set around the yard on the second floor and led through a colonnade of ornate cloisters built during medieval times.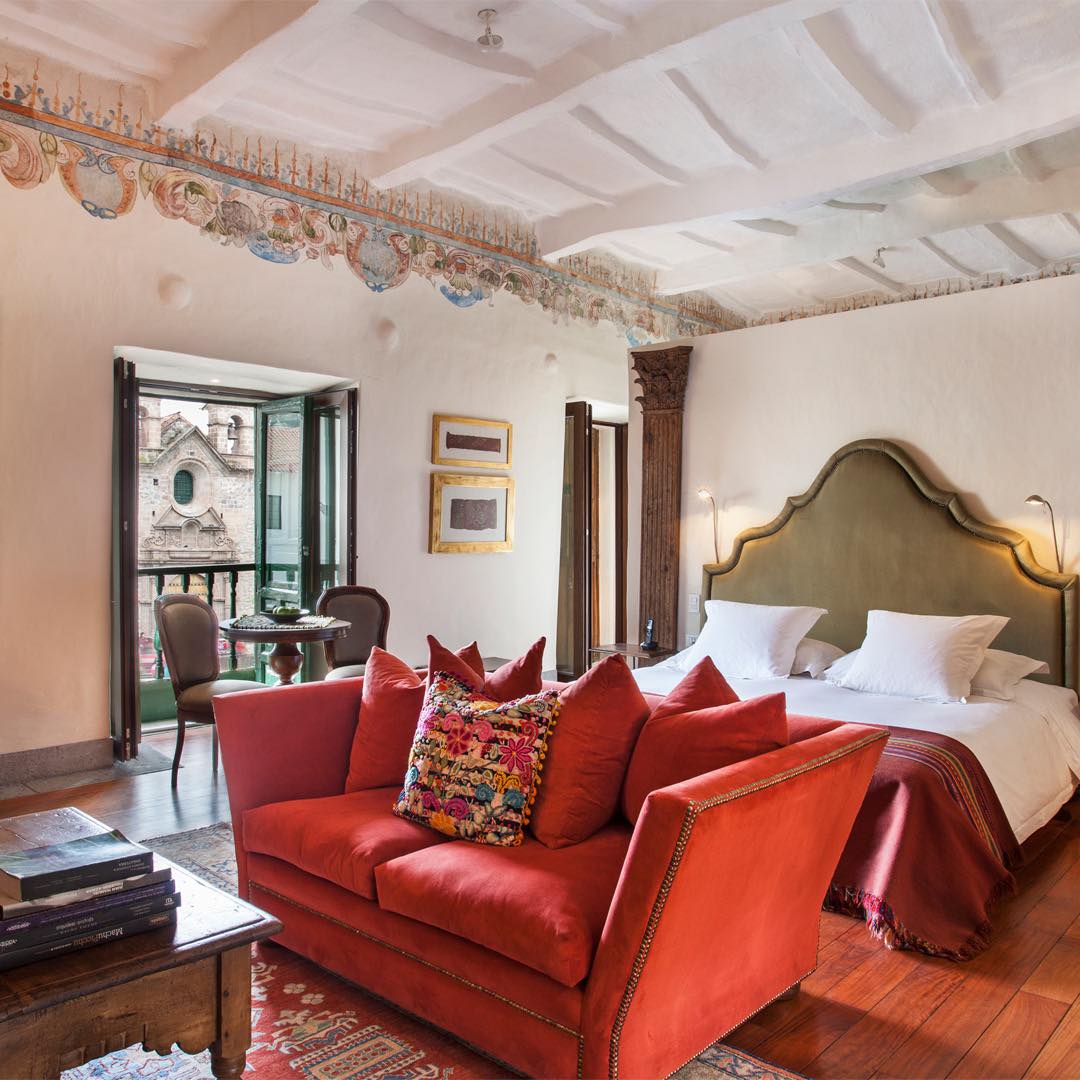 There are only 11 rooms in the manor house; each one is unique and special in its own way.  Something that causes one to take pause is knowing that you sleeping in the same space where the conquistadors, dignitaries, and prominent figures in history have also rested over the past 500 years.    That richness of history is evident throughout with exposed ceiling rafters, colonial-era antiques, and fine craftsmanship from another era. The colorful textiles, oil paintings, and other brilliant works of art add to the ambiance.
But as old as La Casona may be, it is also quite new with every creature-comfort provided from the ultra-plush bedding, comfortable sitting areas, dining table, spacious rooms with heated floors, and stone fireplaces. Many rooms have a balcony overlooking the streets below. The bathrooms are exquisite as well, awash with white marble, and claw foot bathtubs.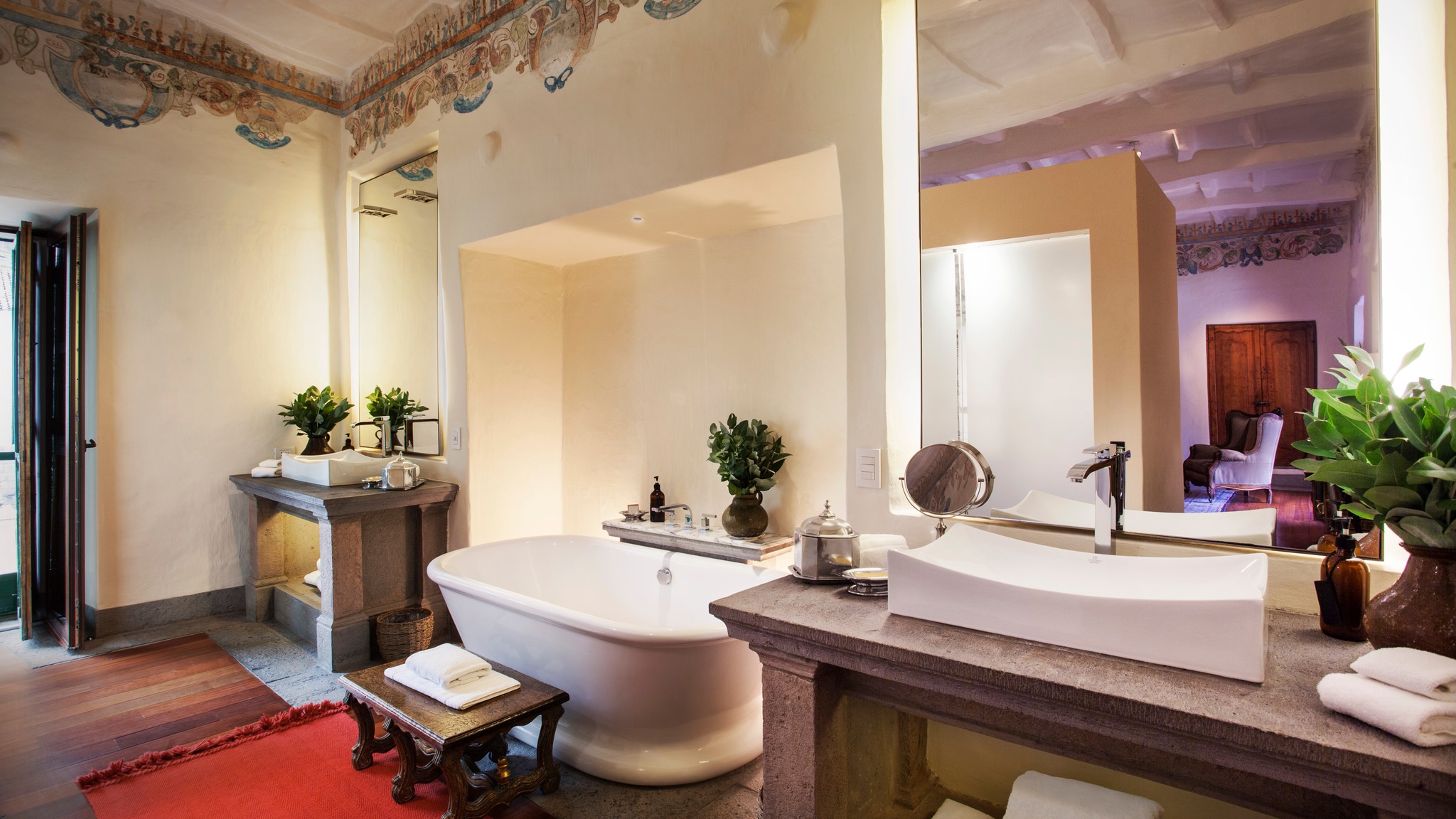 One of the many considerate services provided is that the staff will draw your bath for you so all you have to do is soak and let the warm water and bath salts soothe sore muscles. work their magic. Those extra touches don't end there;  each night there is a hot water bottle set in the sheets to warm the bed before you enter.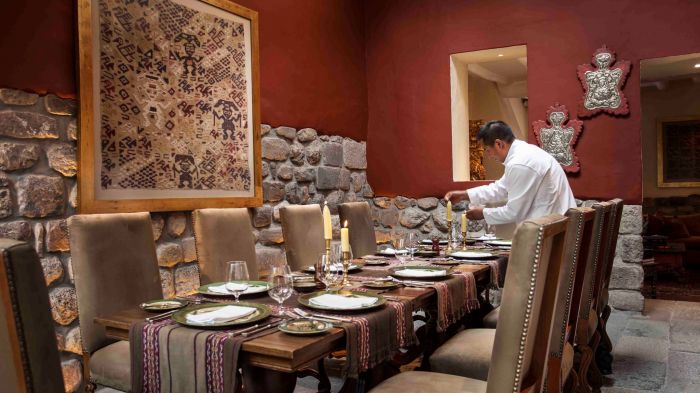 La Casona is a Relais and Chateau hotel so one would expect a top-notch gastronomic experience.  And they would not be disappointed. The restaurant is intimate, with just a few tables spread out in a small dining room and terrace under a glass atrium. The ambiance is romantic with a fireplace that crackles nearby and candlelit tables with colorful settings with handmade terracotta plates designed by the owners.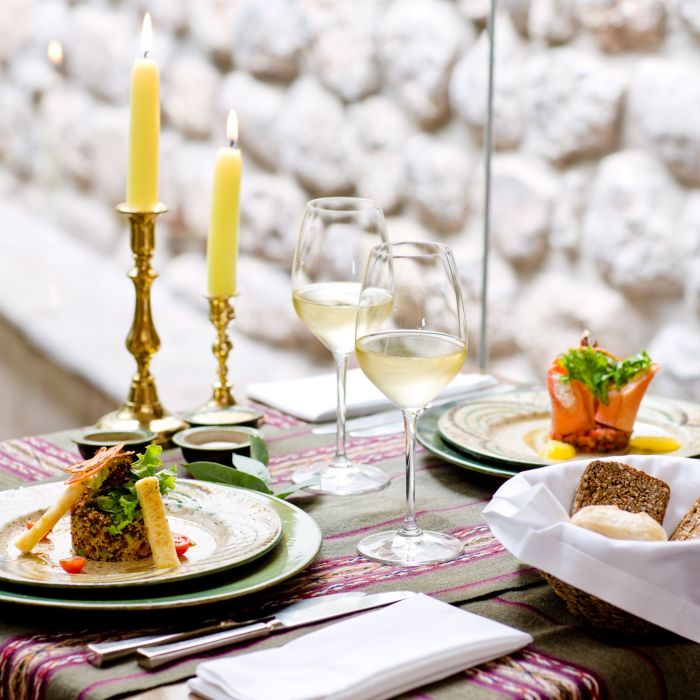 The restaurant serves unfussed traditional Peruvian cuisine with modern touches. The cuisine is excellent, fresh, local, and authentic.  The ceviche is a must there and a source of pride as each region of Peru, and Latin America for that matter, has its own take iconic dish. Other not to miss dishes are the Andean trout and the slow-roasted merlot marinated lamb shanks.  The concept is earth to table where the chef serves rustic dishes made from native ingredients that showcase the best of Peru's culinary culture.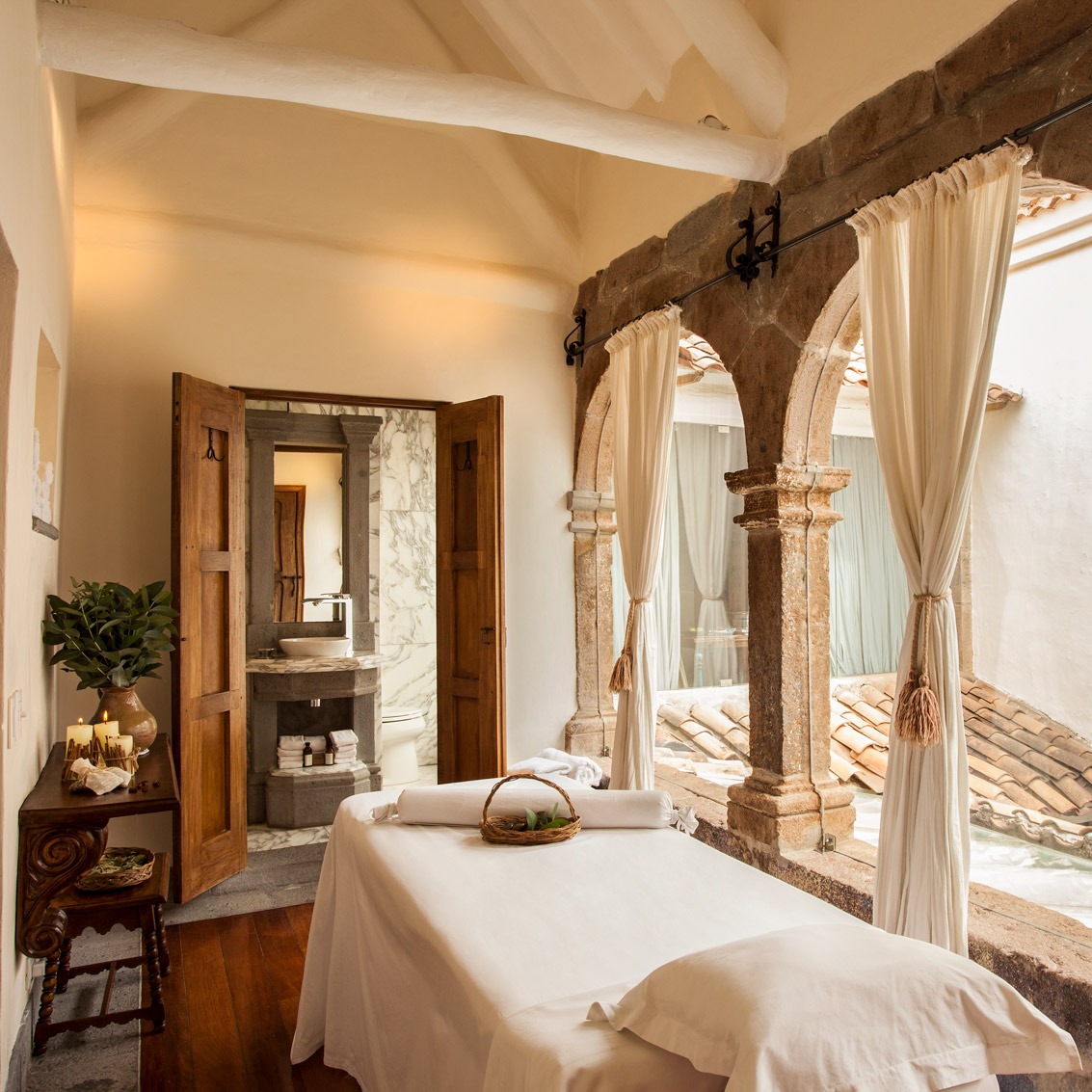 After those days of hiking and climbing the endless stairs and hills around the city, guests' muscles will surely have some unavoidable aches and pains. La Casona offers a menu of massages from their talented therapists to get their guests right and ready for the next day's adventures. On the second floor in a lovely decorated space, the therapist goes to work needing those knotted muscles into submission and replaces aches and soreness with relaxation and rejuvenation. Their therapies use 100 % natural spa products derived from local botanical extracts.  Surely a must-have experience for all active travelers especially at the end of their holiday in Peru.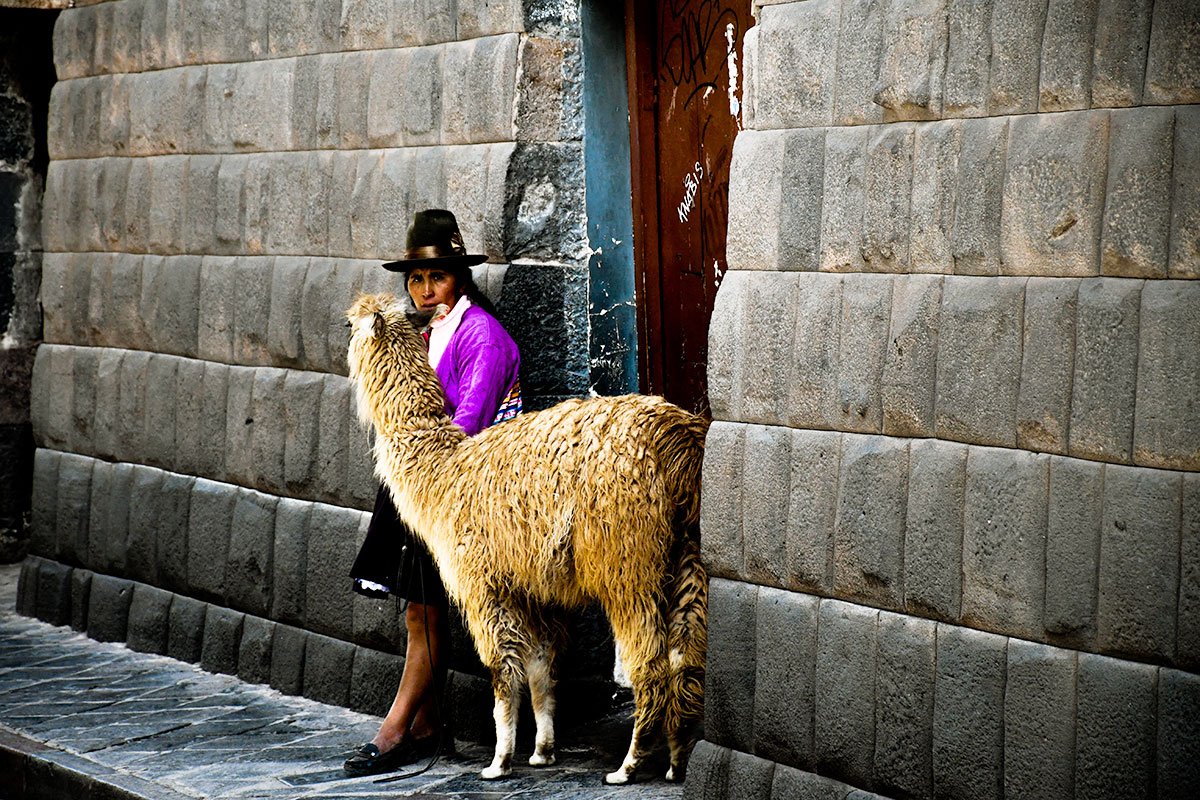 Cusco is not the first place one should visit as an international traveler. You need to see other places first; cosmopolitan cities, rural  villages, perhaps a bit of Europe, Asia and North America.  That is the only way you can fully appreciate how special Cusco is is to have something to compare it with. You will find that it is among the most special places in the world and definitely one that you will never forget.  A visit to Machu Picchu, the Sacred Valley, and the Amazon culminating in Cusco makes the ideal holiday experience in Peru. Staying in Inkaterra La  Casona during your visit to Cusco will make it a vacation beyond compare.