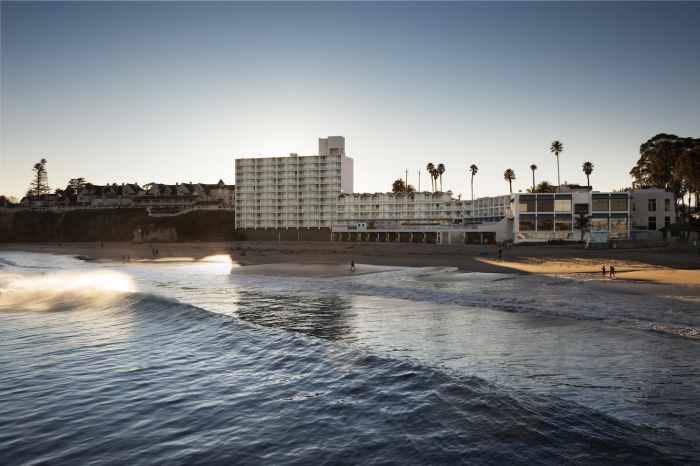 Every guest room & suite at Dream Inn features an ocean view
Situated on the landmark site of Jack O'Neill's first surf shop, the Dream Inn is Santa Cruz's only true beachfront hotel. A playful hop, skip, and jump away from the adored 100-year old wharf and historic Santa Cruz Beach Boardwalk with its iconic Giant Dipper roller coaster, this 1963-founded hospitality grand dame evokes the best of summer and surf sentimentality. By embracing its O'Neill heritage and Cowell's Beach proximity with surfer-chic, retro style, Dream Inn is the very definition of nostalgic hospitality.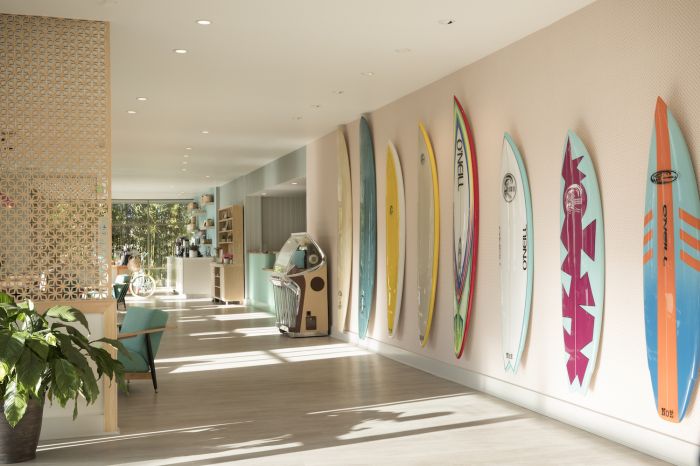 Surfboards line Dream Inn's lobby wall
Dream Inn conjures the California beach lifestyle those of a certain age remember well; and younger guests—those who don't know every Beach Boys song by heart—will find themselves equally enthralled. (The numerous surf shops surrounding the hotel provide ample opportunity for guests to emulate Dream Inn's décor scheme at home.) Ocean blue dominates the color palette while surfboards and sea murals punctuate walls, halls, and elevators, with more-than-overt nods to its hang ten heritage. Whether surfer or landlubber, guests can't help but to fall under the hang-loose spell that permeates the property.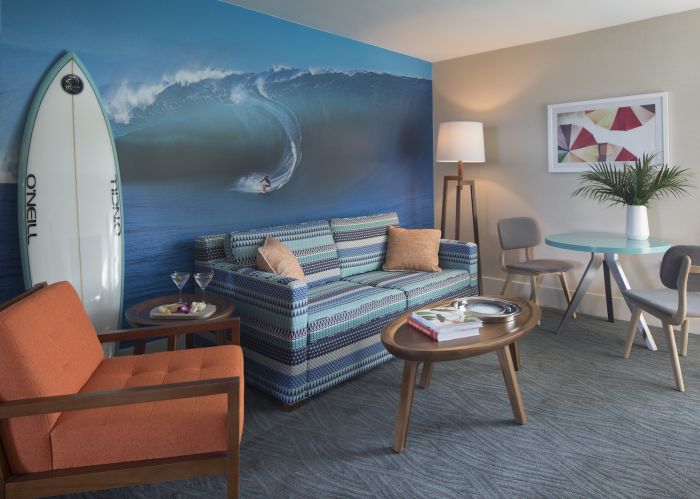 The surf theme is prevalent at Dream Inn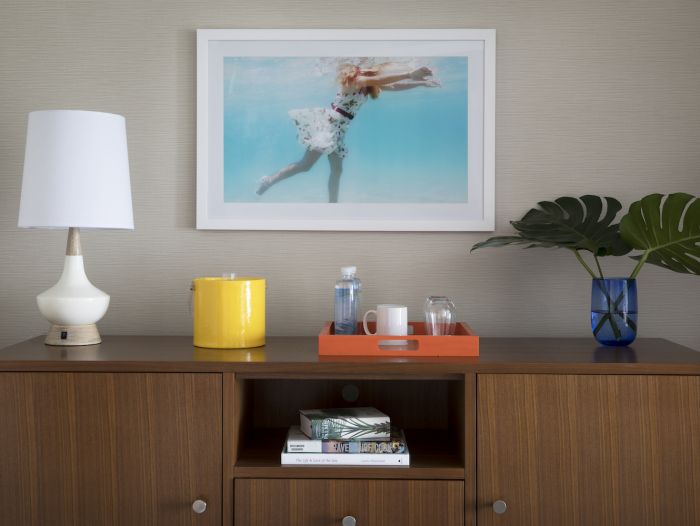 Dream Inn guest room decor
Originally a four story low-rise when first built, the hotel now includes an additional 10-story tower. Each of the 165 mid-century modern guest rooms and suites feature ocean-facing, furnished patios or balconies from which seahorse and sea shell hooks hang on the wall, welcoming damp swimsuits. Swim, float, or wade in the steps-from-the-sand heated outdoor pool or take a dip in the hot tub. Relax atop a chaise lounge and cozy up to a fire pit, cocktail in hand. Take surf or SUP board lessons at Cowell's Beach. Bike along Santa Cruz's waterfront on a Dream Inn cruiser bike, or explore wildlife such as harbor seals and sea lions while kayaking in Monterey Bay.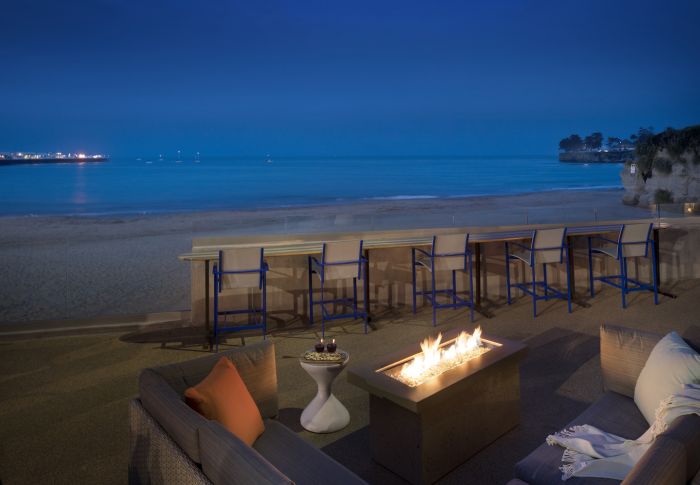 Cozy up by an ocean-facing fire pit at Dream Inn
While it might be tempting to enjoy to-go meals from your balcony, where sunset views are more than stunning, don't miss signature, on-site Jack O'Neill Restaurant and Lounge where Executive Chef Gus Trejo has elevated the offerings with menu items made from quality, locally sourced ingredients. Trejo is passionate about working with trusted farmers and purveyors, sourcing only the best ingredients from partners such as Mariqueta Farm, a 25-acre property in Watsonville that grows heirloom and specialty vegetables, greens, fruit, herbs and flowers. In addition to elevating the menu, Trejo has raised the bar with a welcoming hospitality team that serves to make Jack O'Neill Restaurant and Lounge a coveted destination. It doesn't hurt that nearly every table features an ocean view. Enjoy breakfast, lunch, or dinner here, and be sure to try a creatively crafted cocktail, such as the bourbon based "Smoke on the Water," the presentation of which well matches the name.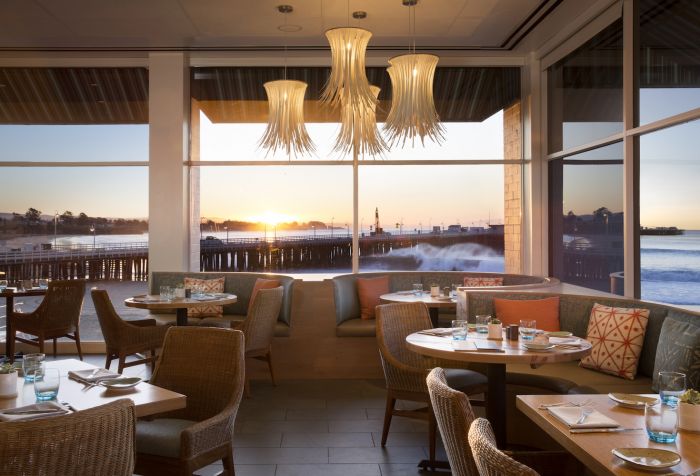 Jack O'Neill Restaurant and Lounge dining room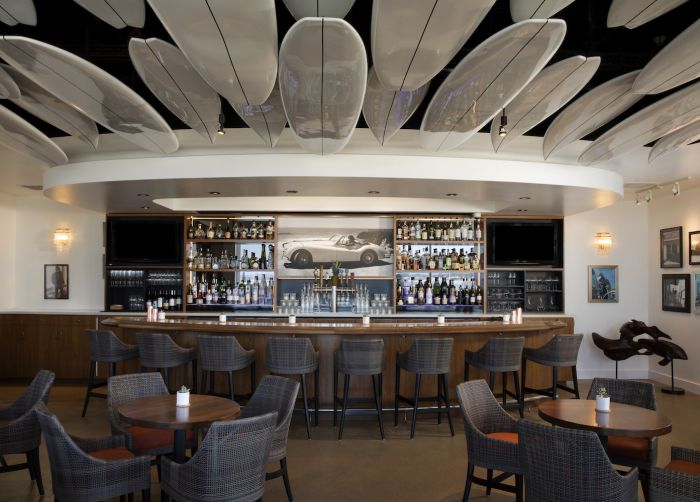 Jack O'Neill Restaurant and Lounge bar
For an on-the-go breakfast, head downstairs to the lobby-located coffee bar, serving Verve coffee from the Santa Cruz-based roaster.
Dream Inn Verve coffee bar
All photos by Paul Dyer