Apple
The Apple Watch Series 9, released last month, is the best smartwatch yet thanks to significant performance upgrades and the addition of a nifty new double-tap gesture. Apple's flagship smartwatch also leads the company's efforts towards carbon-neutral certified devices.
The S9 processor in the Apple Watch Series 9 represents the smartwatch's most significant performance boost in years, powering a brighter display and faster Siri interactions. An enhanced ultra-wideband chip enables new ecosystem functions, too. What's more, the new double tap gesture  makes it possible to carry out a number of Apple Watch Series 9 controls single-handed. Apple Watch Series 9's progress for Apple's larger sustainability missions is also meaningful. Eco-friendly watch bands, reduced packaging, and recycled parts throughout make this year's Apple Watch family (including Apple Watch Ultra 2, Apple Watch SE as well as Apple Watch Series 9) the first set of carbon neutral Apple devices to hit the market.
Design
Superficially there is not much to differentiate the Apple Watch Series 9 from its predecessor, Apple Watch Series 8. The big exception is that the Apple Watch Series 9 comes in a pink finish. It is a subtle, almost iridescent hue – not a gaudy bright shade – but is unmistakeably rosy.
Other design differences are less obvious. All aluminum Apple Watch models were already made of 100% recycled aluminum, but now they have more recycled internals, including a 100% recycled cobalt battery. The new Sport Loop that came with my review unit features 82% recycled yarn, so when paired with the aluminum watch, it's the first carbon-neutral-certified Apple device.
Apple is also phasing out all leather bands in lieu of a new recycled textile called 'fine woven' that pairs nicely with the stainless steel models, even though the Stainless Steel unit doesn't have the carbon-neutral certificate. Of course, all Apple Watch bands are compatible with the Series 9, so you can swap them out to suit your style. 
It's also worth noting that the Apple Watch box is smaller than before, using less paper, and Apple says it's shifting away from air-shipping and offsetting power demands. The rest of the products are on track to join the carbon-neutral bandwagon by 2030, but it's the 2023 Apple Watch family that's leading the way.
Performance
Apple highlights some major spec upgrades for its smartwatch silicon. The Series 9 chip sees a 25% improvement to efficiency thanks to 5.6 billion transistors and 4-core neural engines that can power machine learning twice as fast as before. Effects look noticeably smoother with a 30% faster GPU.
When toggling between apps and navigating menus, the Series 9 certainly felt more responsive next to the Series 8. Using the new Smart Stack UI in watchOS 10 felt effortless as well.
Siri also works faster with new support for complete on-device computing, so nothing is being sent up to the cloud. This means that Siri can execute certain commands even when the Apple Watch Series 9 is disconnected from Wi-Fi or a smartphone. Opting to leave my iPhone at home for an outdoor stroll, I was able to use Siri to launch the workout with my voice. Apple says that dictation is 25% more accurate now as well, and I definitely noticed a marked improvement in the accuracy of reproduction when I dictated. 
The S9 also helps maintain the Apple Watch's 18-hour all day battery life despite the display brightness now reaching 2,000 nits. That's double the brightness rating of the Apple Watch Series 8.
In addition to the S9, the Apple Watch Series 9 gets Apple's new U2 ultra-wideband (UWB) chip, which introduces some fresh functionality. I frequently misplace my iPhone and rely on my Apple Watch's ping feature to find it. With the U2 chip, the Apple Watch Series 9 can direct me to my iPhone's location, although it should be noted that this this feature only works in this way if you have an iPhone 15 that also has the newer U2 chip.
Double Tap
The headline feature of the Apple Watch Series 9 is a gesture called double-tap. Even if you already knew about controlling your Apple Watch with hand gestures, from an accessibility standpoint, the new dedicated double-tap control looks to make single-handed Apple Watch control highly practical for all users.
Imagine you're holding something in your dominant hand, but you're getting a call you'd like to take. Instead of using your opposite index finger to answer, you can double-tap your index finger and thumb on your watch hand to start the call. Another double-tap will end the call when you're done.
Double tap has several applications, including scrolling through the Smart Stack. Certain Apple Watch apps, such as the timer and Apple Music, support a double tap command as well. with double tap, remote content capture becomes more convenient.
Another plus is that you can quickly respond to incoming texts with a double tap, speak your response and then double tap to send your reply. 
Double tap is available only for Series 9 and Apple Watch Ultra 2. Even though the heart rate sensor is the same as in previous generation models, the S9 processor powers the algorithm that detects an intentional double tap gesture. That said, if it doesn't sound like something you'd like or are worried about accidentally triggering it, you can disable it.
Double tap only works when your wrist is intentionally raised, and sleep mode does automatically disable it as well so you won't have to worry about double tapping apps while you're in bed.  
Watch0S 10 and Features
Apple Watch Series 9 ships with watchOS 10. I mentioned the Smart Stack UI, but the software update also includes new tools for cyclists, mental health tracking via the Mindfulness app, vision health monitoring using the watch's ambient light sensor and a pair of new watch faces.
Apple Fitness Plus also gets some significant updates, including the ability to stack classes and create custom workout plans. When you get a new Apple Watch, you get a free trial of the virtual workout platform which is certainly worth trying.
You can further personalize your Apple Watch experience by downloading some of the best Apple Watch apps, too – I particularly enjoy using SwingVision for tennis.
Battery Life
The introduction of Apple Watch low power mode last year made a difference, although daily charging is still needed for regular use, rated for 18 hours.
There's no difference in charging. Apple's charging cord comes braided as a standard, which is nice, but it still takes about an hour for the watch to go from dead to full. You can top off charging for a few minutes before bed for it to last the night while sleep-tracking, which I always appreciate.
Conclusion
I've been using Apple Watch virtually continuously for years. So when I say I'm actually able to see and feel the Apple Watch 9 performance upgrades, I'm not doing so lightly. 
Especially if you're worried about longevity, the Series 9 is definitely more future-proof than any of its predecessors. Instead, these usability-centric updates, it's another step toward advancing the smartwatch experience, making the Apple Watch a more essential device and hopefully powering much more life-changing features going forward. 
For now, if you're in the market for a new smartwatch, the Series 9 is the best you'll find. The internal upgrades make a difference, the double tap gesture is super handy, and no one should take for granted the environmental statement this year's family of Apple Watch devices make.
Apple Watch Series 9 Specifications
Starting price: $399 / £419 / AU$629Sizes: 41mm, 45mm.
Colors: Midnight, Starlight, Silver, Product Red, Pink.
Processor: Apple S9.
Connectivity: Cellular (optional,) Wi-Fi, Bluetooth, U2, NFC, GPS.
Dust-resistance: IPX6Waterproof: Up to 50 meters.
Health sensors: Skin temperature, heart rate, ECG, SpO2.
Battery life: 18 hours (36 with low power mode).
Compatibility: iOS only.
Apple Watch Series 9 Price and Availability
The Apple Watch Series 9 is available to buy now.
Apple Watch Series 9 starts at $399 for the GPS-only model and $499 for the GPS + Cellular variation.
The larger 44mm model, meanwhile, will start at $429 and go up to $529 for optional cellular support.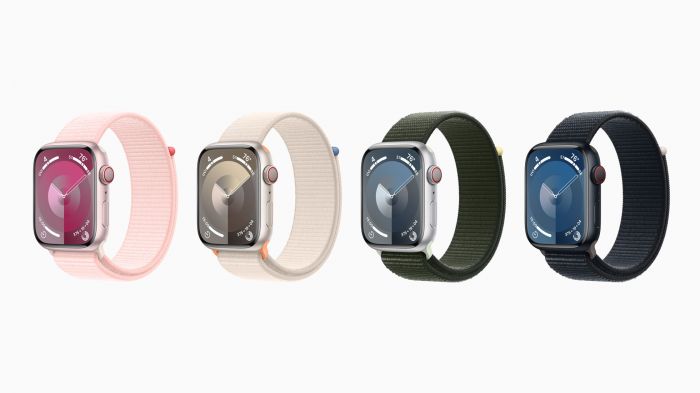 Apple
Select case and band combinations of Apple Watch Series 9 are Apple's first-ever carbon-neutral products.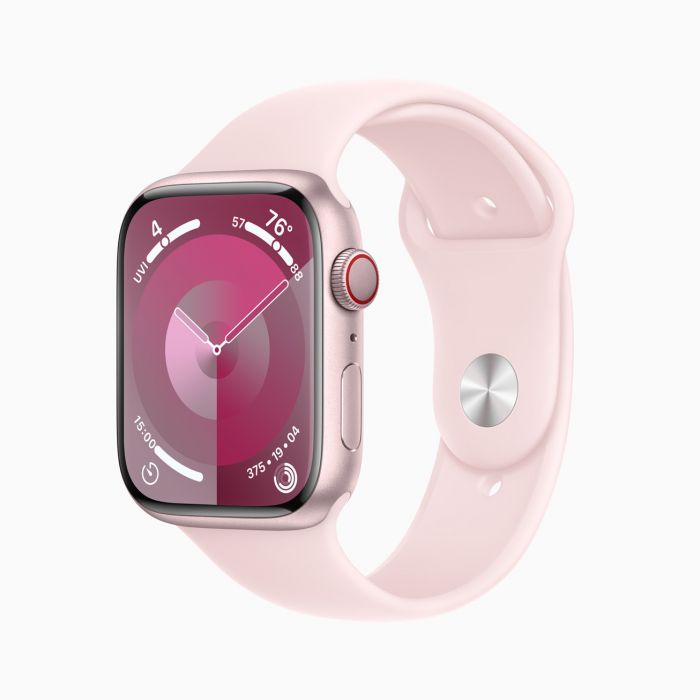 Apple
Shown here in the new pink aluminum case with a pink Sport Band, Apple Watch Series 9 is available in 41mm and 45mm sizes.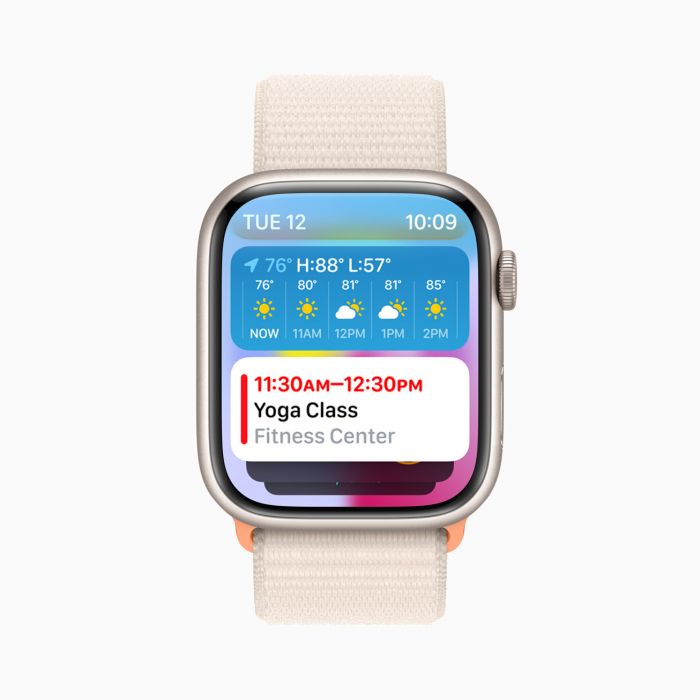 Apple
WatchOS 10 brings Apple Watch users a new Smart Stack to show relevant widgets right when they're needed.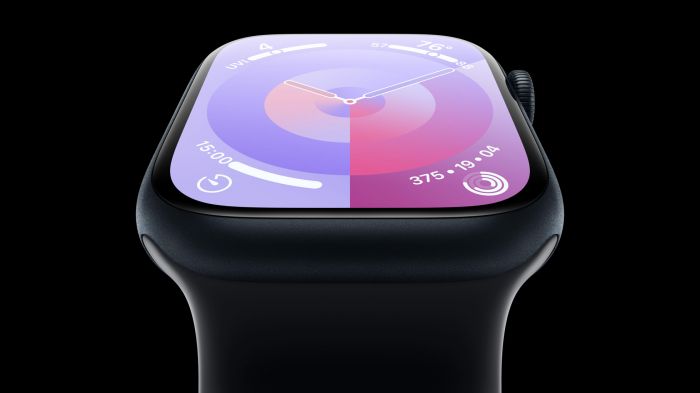 Apple
Apple Watch Series 9 features a maximum brightness of up to 2000 nits — double that of Series 8.