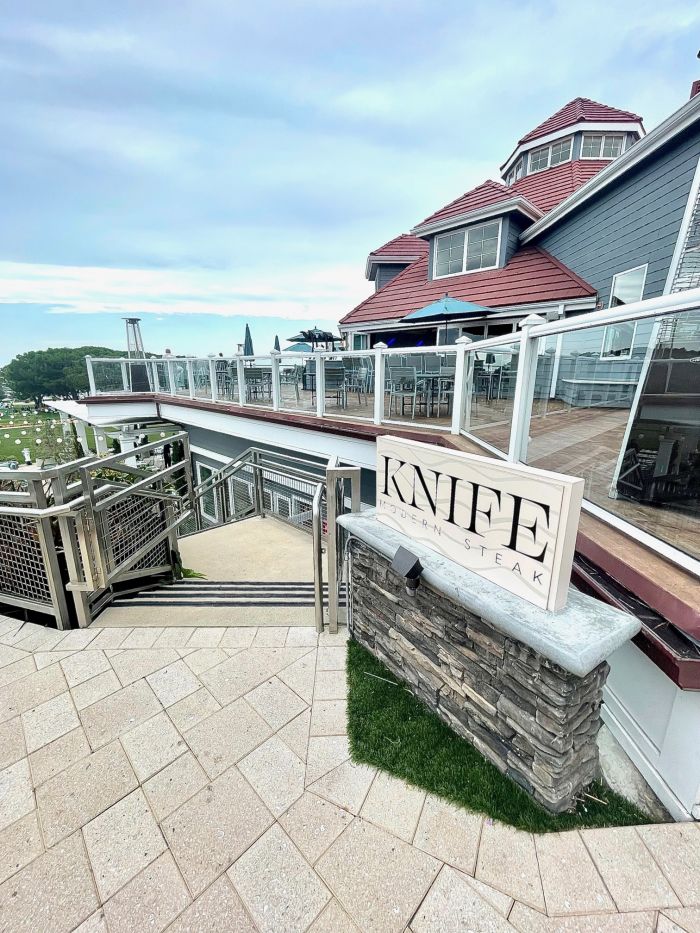 Knife Modern Steak – Photo Jill Weinlein
Celebrity Chef John Tesar recently opened his Knife Modern Steak restaurant at The Laguna Cliffs Marriott Resort and Spa in Dana Point. One of the most exciting venues at this resort, this food and beverage concept is reminiscent of the Hamptons in decor and ambiance.
Since Chef John grew up on the East Coast, he wanted guests to enjoy a similar Hamptons beach vibe on the West Coast. Clean lines, and colors of blue and white blend beautifully with the Pacific Ocean beyond.
The red-roof Victorian-style resort offers 378 guest rooms and 17 deluxe suites, along with an exciting modern steakhouse dining experience.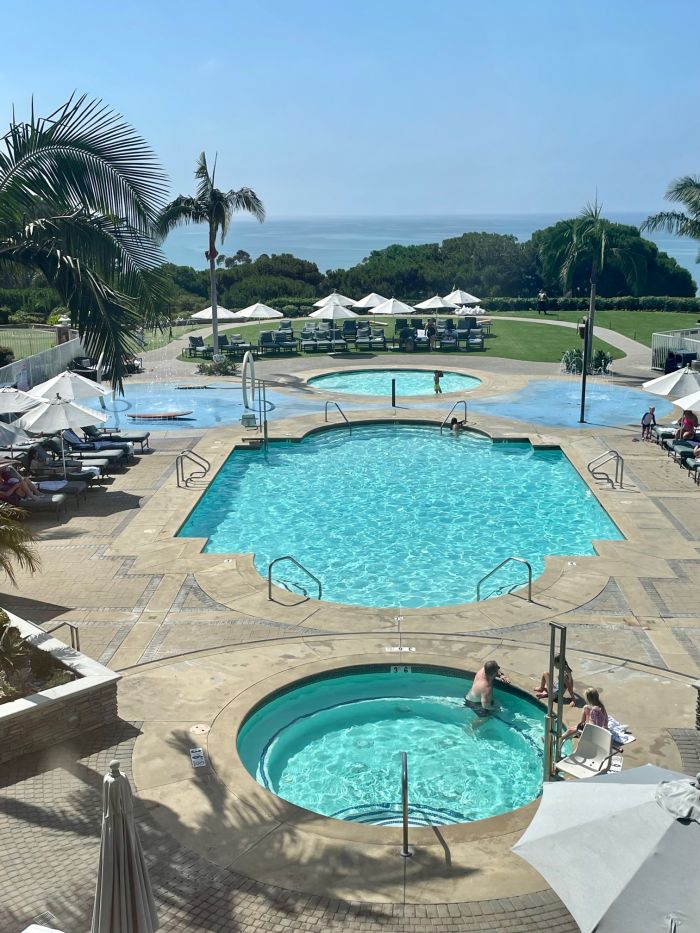 Family Pool at Laguna Cliffs Marriott – Photo Jill Weinlein
One of the outdoor swimming pools offers a kid-friendly pool with a splash zone and water pad utilizing recycled chlorine-free water. There is a small putting green and outdoor games for all to enjoy.
The other pool area in the center of the resort overlooks the ocean and offers plenty of lounge chairs, an onsite bar, hot whirlpool and plenty of umbrellas for those seeking shade.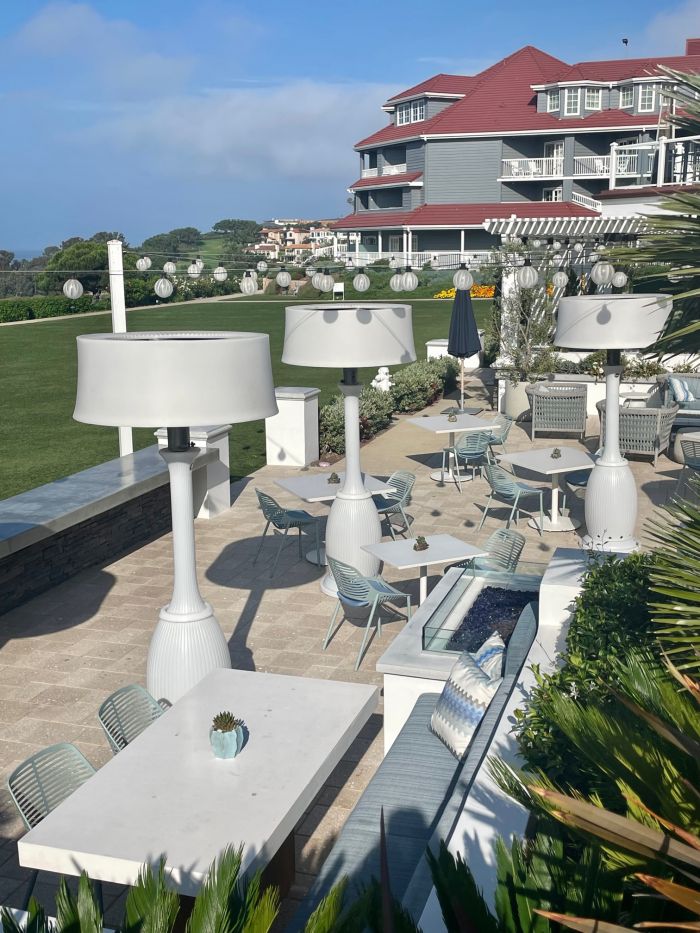 Knife Modern Steak – Photo Jill Weinlein
The nationally acclaimed chef and his team prepare breakfast, lunch and dinner inside the restaurant's dining room and outside on its expansive, string-lit patio.   
During the dinner hour, diners appreciate raw items on the menu that include fresh yellowtail medallions topped with juicy red grapefruit sections, avocado, and a touch sriracha and olive oil. There is also a selection of East and West Coast oysters by the half dozen.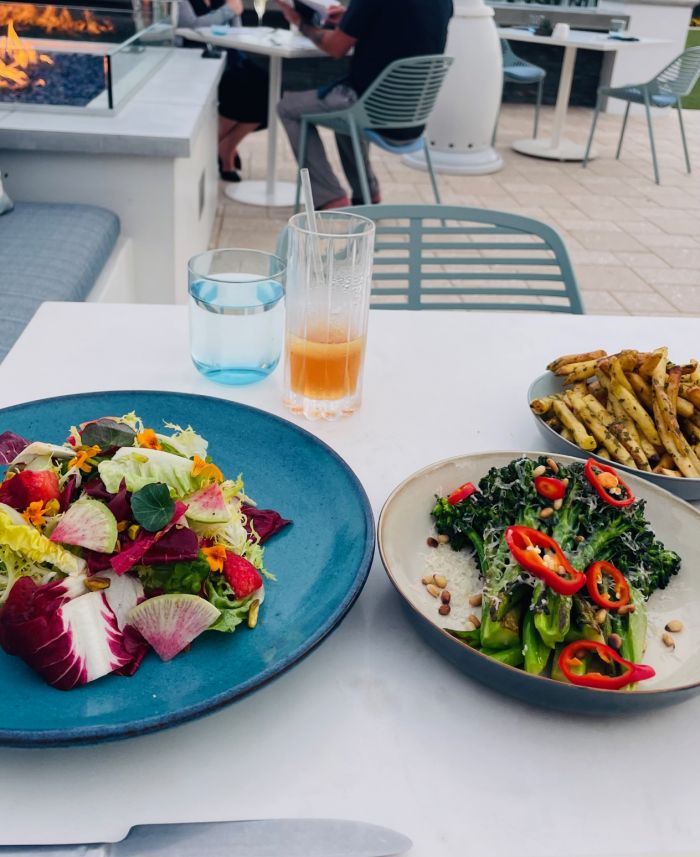 Knife Modern Steak – Photo Jill Weinlein
Knife Modern Steak also offers three different steakhouse-style salads on the menu include a Caesar, baby iceberg wedge and colorful Summer Greens.
To pair all of the menu items is a list of creative cocktails and mocktails, and impressive wines by the glass or bottle curated by its expert sommelier, Georgi Stoianov.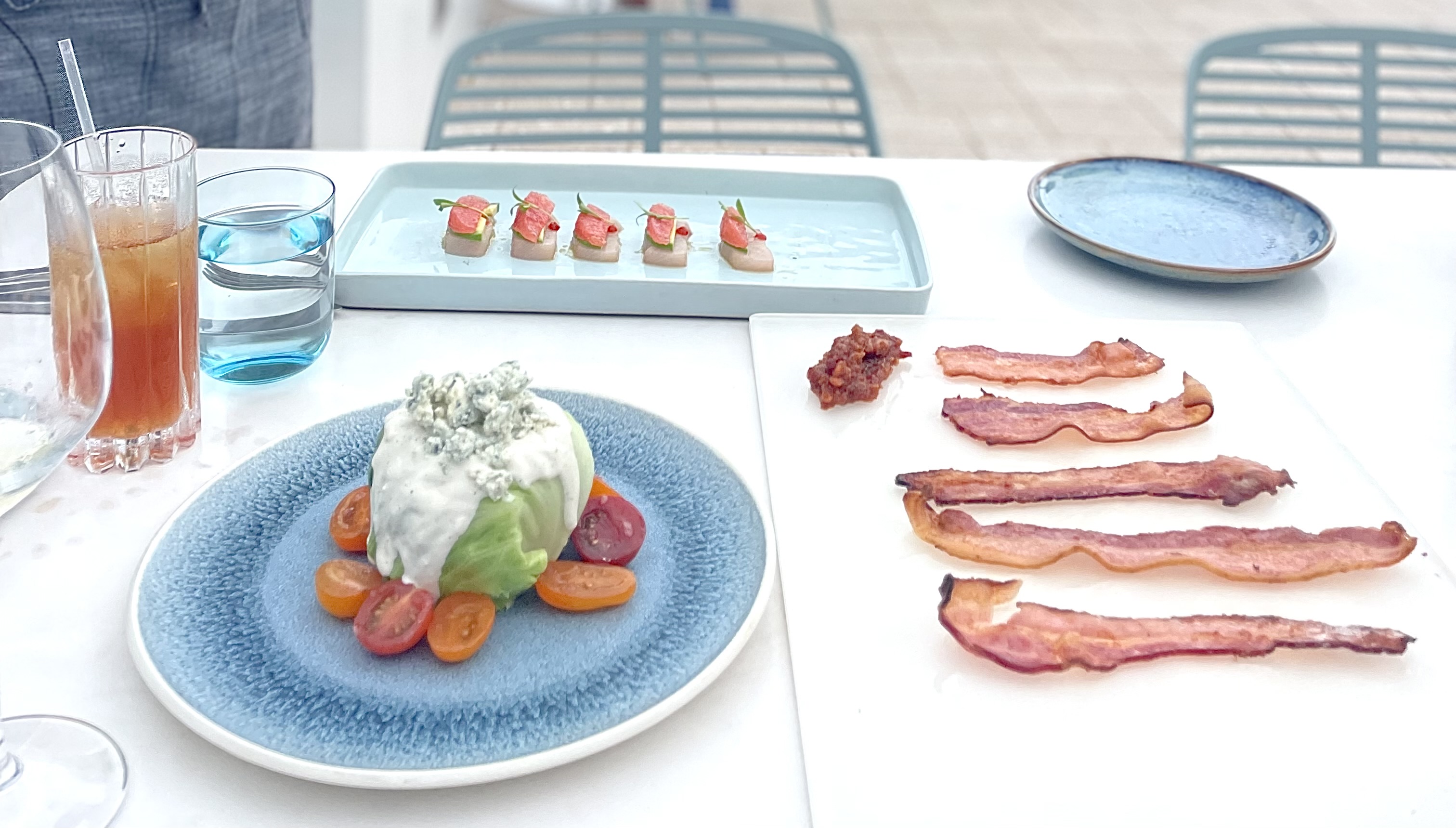 Bacon Tasting at Knife Modern Steak – Photo Jill Weinlein
Two of the most unique menu items at Knife Modern Steak includes a delicious and fun bacon tasting plate. There are six different tasting experiences. First there is a housemade bacon jam that is ideal to spread on the Parker House rolls. Next there are 5 perfectly house-smoked bacon strips. One offers a pecan essence, while others offer a smoked apple, cherry and hickory flavor. The last is an Iberico Spanish pork bacon that is a little fattier and flavorful, as these pigs are fed acorns.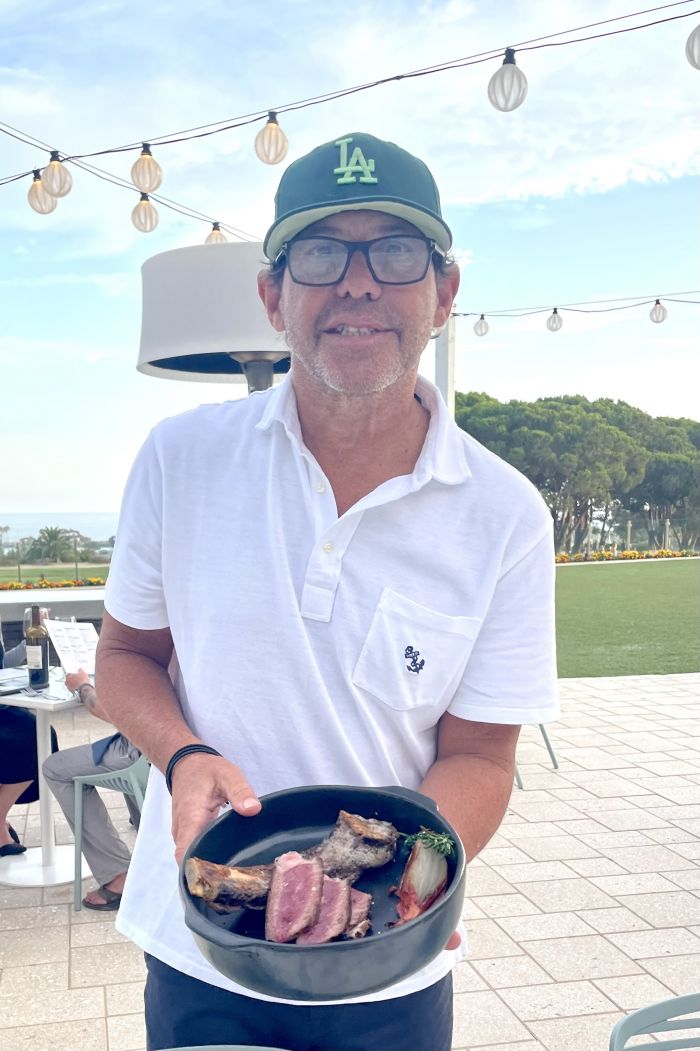 Executive Chef John Tesar – Photo Jill Weinlein
Chef John Tesar was awarded a Michelin-star for his concept restaurant Knife and Spoon at The Ritz Carlton Orlando, Grande Lakes. This four-time James Beard nominated chef, was also a two-time contestant on Bravo's "Top Chef".
At Knife Steakhouse in Dallas and now Knife Modern Steak in Dana Point, Chef John Tesar works with Texas ranchers and farmers to provide high-quality, exceptional meat. Known for his dry aged classic and prime cuts, he uses specialty cuts that include the chuck flap, outside skirt, culotte, beef cheeks, oxtail and Akaushi beef.
The menu offers New School meats that include a 10 oz 44 Farms coulotte cut, and a 12 oz tri-tip, plus a 10 oz 44 Farms skirt steak and a sirloin flap. The beef from 44 Farms is hormone-free and antibiotic-free Angus cattle. 
The menu also offers a 10 oz Allen Brothers flat iron steak. Since 1893, Allen Brothers provides high-quality meat to top chefs and restaurants nationally. 
Old School steaks includes a petite filet, filet au poivre, bone-in New York steak and a 32 oz, 45-day Akaushi bone-in ribeye. This pasture raised, non-GMO wholesome beef offers creamy white marbling and a rich buttery taste. 
His exotic beef selection is unique on the menu. Not only does it include include a 90-day dry-aged, bone-in ribeye, plus a 120-day and 240-day dry-aged, bone-in ribeye. According to Chef John Tesar 'Our 240 day dry-aged rib-eye from 44 Farms is a process that grows mold, which is vegetable penicillin. It provides a sweetness and not a death funk or blue cheese flavor. The result is a denser and extremely flavorful steak.'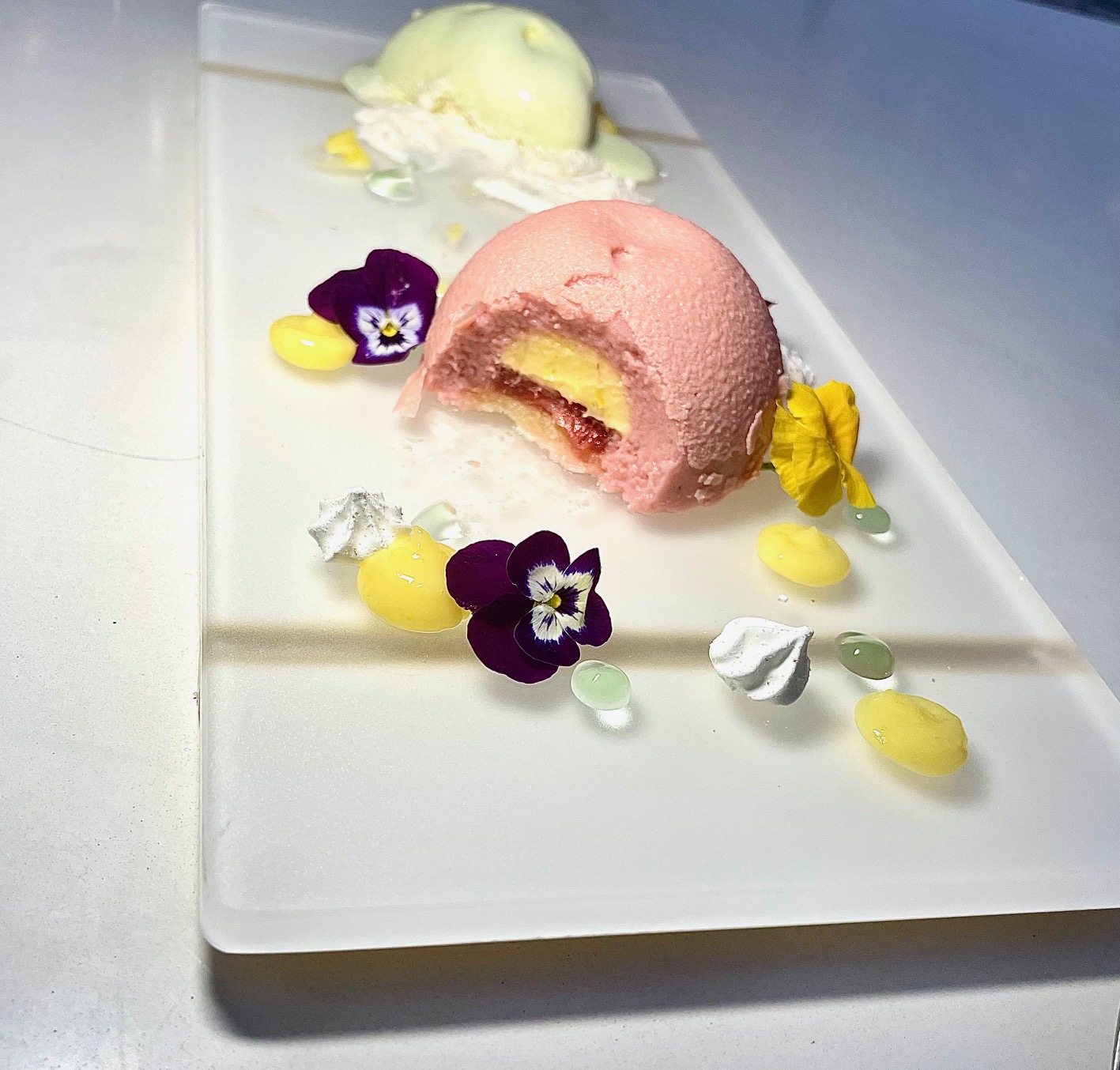 Desserts at Knife Modern Steak – Photo Jill Weinlein
Desserts include a strawberry and yuzu plate made with strawberry mousse and yuzu curd plus strawberry meringue. A scoop of basil ice cream adds a touch of refreshing herbaceous flavors.
Chocolate and Coffee lovers will enjoy the chocolate sponge cake with coffee ganache, milk chocolate and coffee ice cream. There is also a hazelnut and chocolate terrine with passionfruit cremeux and sorbet.
Laguna Cliffs Marriott – Photo Jill Weinlein
Near the entrance of the resort are bicycles to take for a spin along the beach and harbor before dinner at Knife Modern Steak. The next morning visit the 14,000-square-foot Spa at Laguna Cliffs Marriott Resort for a specialty massage, facial or body treatment in one of the ten beautifully appointed treatment rooms.
Splurge and enjoy lunch at Knife Modern Steak by Chef John Tesar before checking out and driving or flying home.