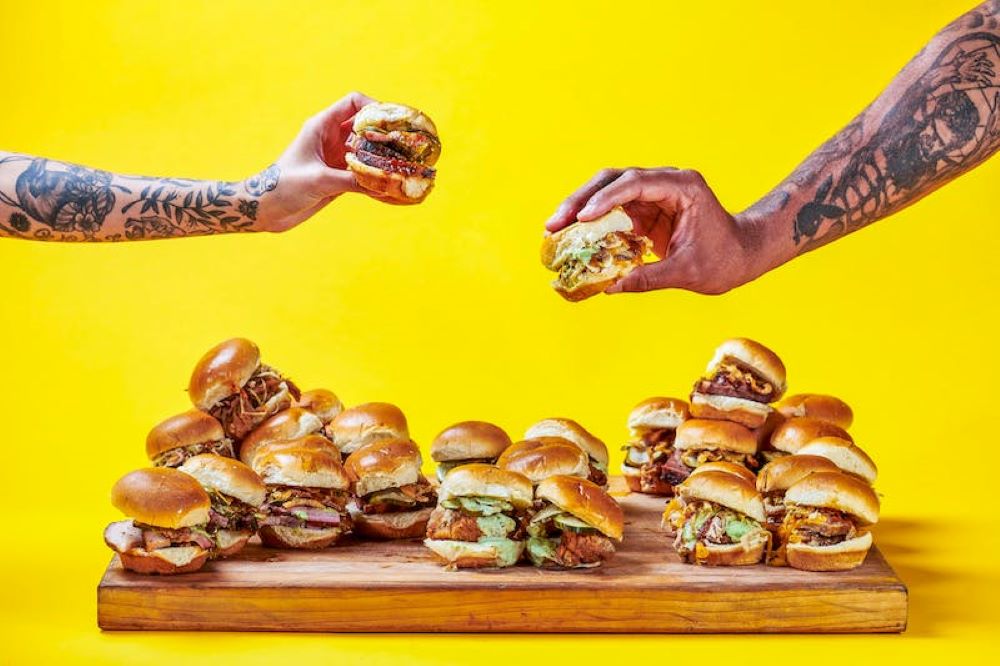 Photo Credit: Laura Chase de Formigny
The current state of the restaurant industry reflects an overall consumer shift toward experiential spending. Today's discerning patrons want more than just a meal; they are looking for an experience — a narrative, ambiance, and the creation of an unforgettable memory. The ability to strike a balance between opulence and accessibility, creating a place where people want to go and can actually afford to, is resonating with modern consumers.
Steve Salis, founder of Salis Holdings and owner of Catalogue (its restaurant and retail platform) is a hospitality industry veteran having founded, owned, operated, exited, and invested in multiple restaurant brands — although he is not a chef himself. Each of Salis's ventures embodies his distinctive premium and approachable philosophy, catering to the modern consumer by making luxury more accessible. In contrast to traditional luxury, his paradigm imbues a level of elevated quality that remains attainable, free from the pretentiousness normally associated with the term. By artfully making what is typically exclusive more approachable without sacrificing its allure, Salis has developed a unique ability to contemporize heritage artifacts. Drawing on his experience as a modern consumer himself, Salis — through Catalogue — acquires and transforms new and existing brands into havens for their community, places where locals come to for intimate connections and dissociate from their busy lives.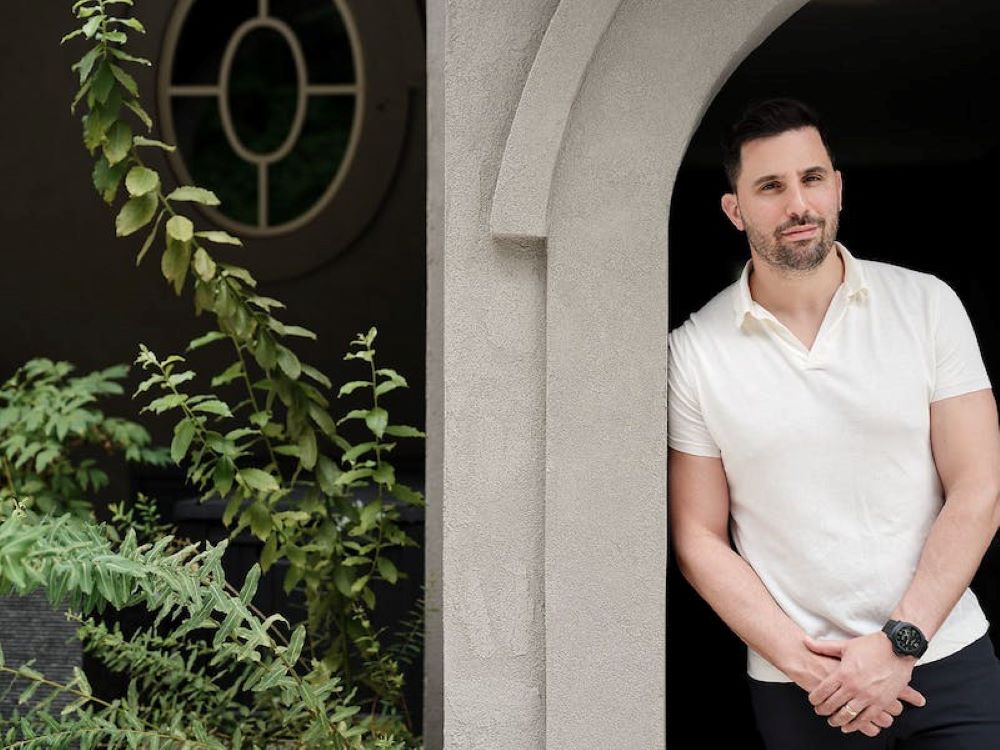 Photo Credit: Kirth Bobb
A prime example of this formula is his growing DC-based brand, Federalist Pig also known as Fed Pig. Federalist Pig has not only cultivated a dedicated consumer base, but has also won multiple national accolades for its premium take on regionally-inspired BBQ.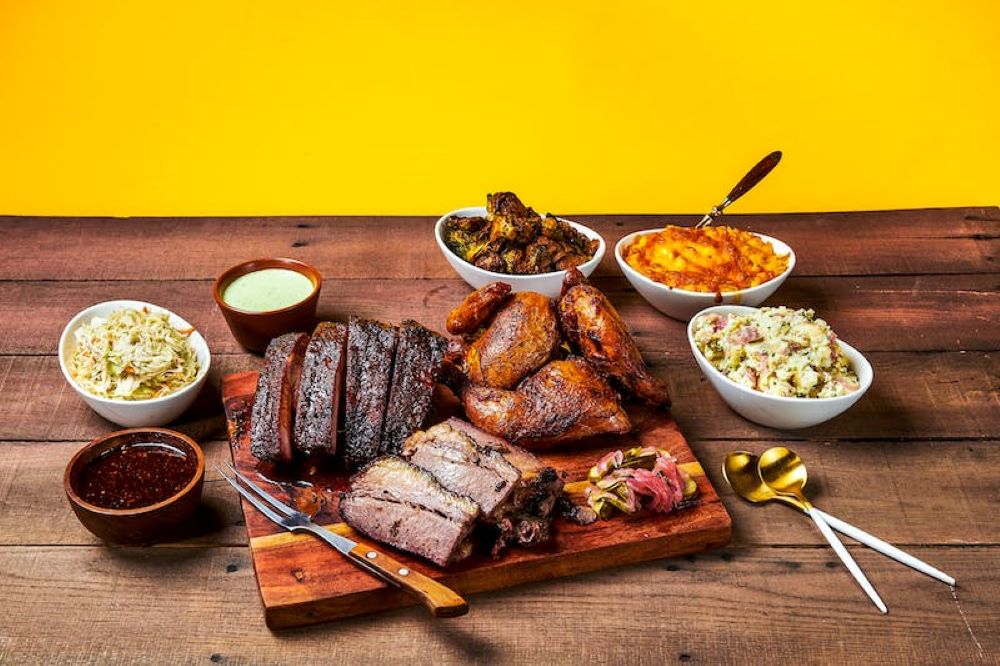 Photo Credit: Laura Chase de Formigny
Federalist Pig takes something comforting, classic, and beloved in BBQ and infuses it with modern flair and international flavor to create something crave-able for everybody. Federalist Pig is not snobbish about which BBQ tradition is the best and strives to honor the breadth of what BBQ offers, along with some creative spins. Instead of focusing on just one tradition, Federalist Pig pays homage to the many great American BBQ traditions from the Carolinas to Kansas City to Texas with its menu offerings while adding the best global palettes from Korea, Lebanon, Vietnam, and Mexico. The result is a classic yet innovative menu full of BBQ favorites and exciting spins fit for carnivores, vegetarians, and vegans alike. Federalist Pig's menu features every cut of pork, beef, chicken, and turkey in platter and sandwich forms. With plenty of vegetarian and vegan options like the tofu banh mi sandwich and internationally infused specials like the pork belly Korea town sandwich along with all the classic sides like mac and cheese, beans, brussels sprouts, coleslaw, and more, Federalist Pig is the ideal spot for lunch and dinner for BBQ lovers and all types of eaters.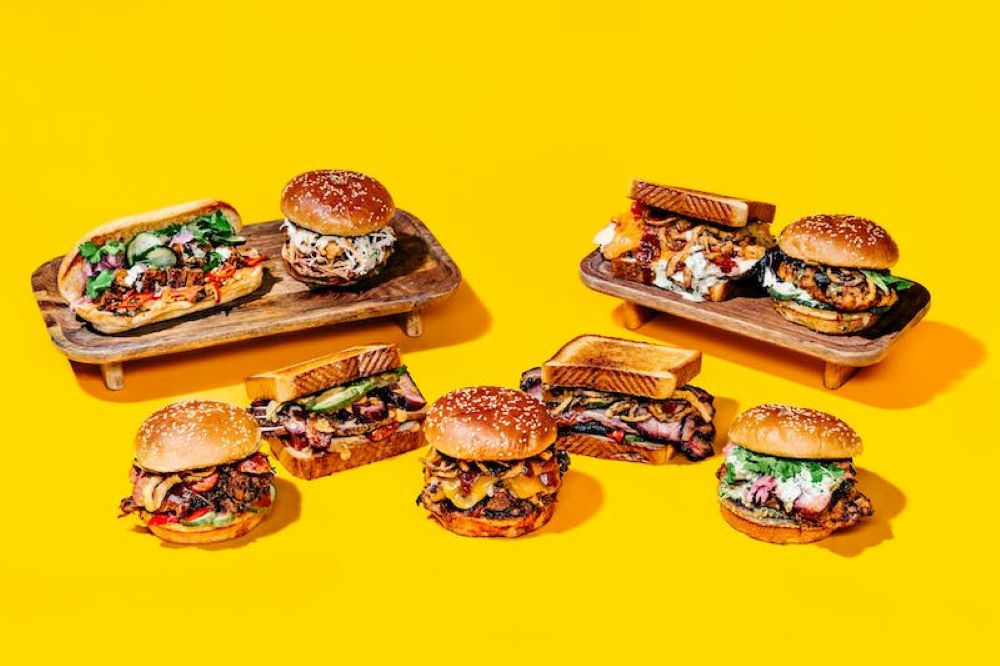 Photo Credit: Cameron Whitman
Responding to the fanatical consumer demand, Federalist Pig is currently expanding its flagship location from 1,000 sqft to 3,100 sqft after leasing a storefront next door. As a part of this expansion, Salis is using this opportunity to renovate and remodel the interior and exterior of the restaurant. Salis and the Federalist Pig team are implementing a refreshing take on the saturated design aesthetic of most barbecue establishments featuring distressed metal and wood finishes. They plan to flip this trend on its head by using finer versions of the same materials while introducing new finishes as well. This will create an environment that is comforting and familiar but elevated and premium. Of course, the authentic spirit of BBQ will be paramount throughout the restaurant despite this modern spin. Federalist Pig plans to prominently display its smokers within a "jewel box" in addition to an open kitchen concept, a full bar, and a large outdoor patio. Salis envisions the new Federalist Pig as a spirited and theatrical experience. With two additional deals signed, this renovation is setting the stage for a prototype to be scaled to multiple locations in the near future.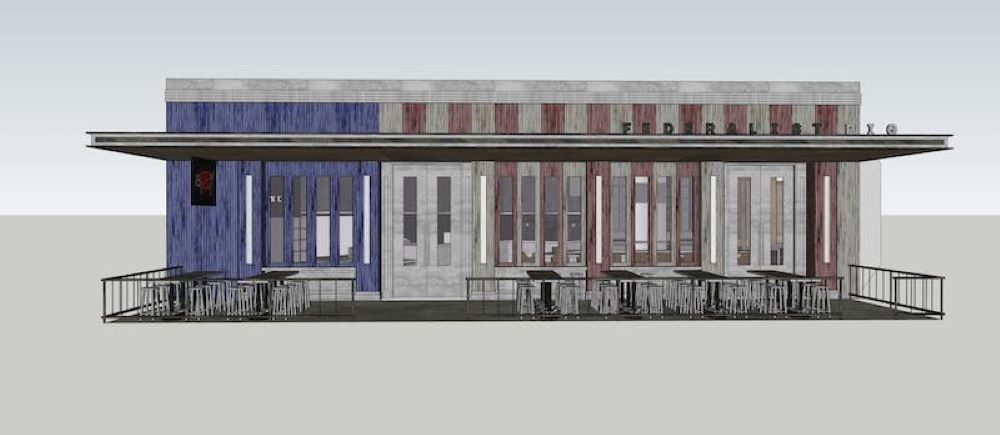 Rendering Credit: Federalist Pig
Always looking for new ways to grow and to connect with its consumers, Federalist Pig has two unique clubs for their patrons to join. First, Fed Pig Supper Club features Chef & Pitmaster Rob Sonderman's culinary expertise and shows the fancier side of Federalist Pig. Once a month, Chef Sonderman showcases a carefully curated menu that puts a smokey spin on various gourmet cuisines from around the globe, going beyond its regular offerings. Second, the Monthly BBQ Box enables consumers to bring the Federalist Pig experience to the comfort of their own homes. Every month, Chef Sonderman creates and sends a box filled with novel proteins and unique preparation methods so BBQ enthusiasts and novices can upgrade their knowledge and cook great BBQ at home. Of course, the brand has plenty of catering options ideal for large gatherings such as birthday parties, corporate events, tailgates, and more.
Federalist Pig is essentially the same as fine dining in terms of ingredient quality, preparation methods, and taste, but instead of unnecessarily expensive costs and stuffy attitudes, it has best-in-class pricing and an accessible ambiance. For those still skeptical about this model, the results speak for themselves. Federalist Pig has been honored with three Michelin Guide Bib Gourmand awards, an award Michelin created because they wanted to venerate the brands and businesses in the industry that are providing the same quality of a five or six-star location, but without the traditional (pretentious and expensive) service model. This award validates Salis's and Federalist Pig's philosophy of taking a heritage concept and transforming it into a premium and approachable product — something of premier quality and fit for the modern consumer, but reasonably priced.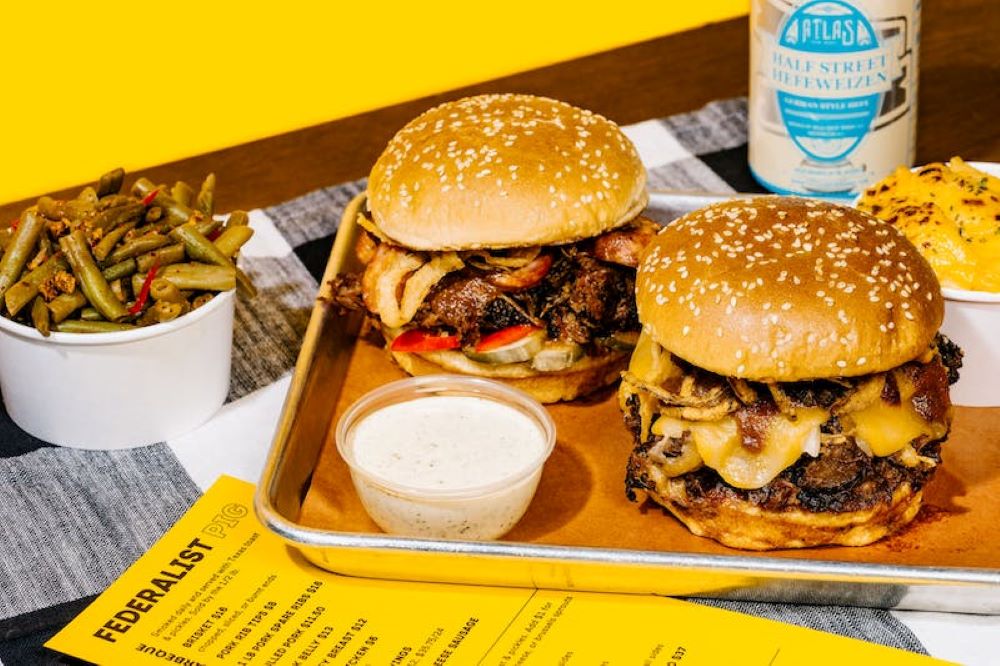 Photo Credit: Cameron Whitman
Like most of Salis's and Catalogue's premium and approachable restaurants, including Ted's Bulletin and Honeymoon Chicken, Federalist Pig is creating a new style of restaurant in between fine dining and fast casual. This fine, flex casual style is the perfect melange of fine dining, casual, and fast casual, with all the benefits of the three styles without the downsides. Restaurants like Federalist Pig have not only carved out a niche that is resonating with consumers due to the premium dishes, approachable ambiance, and accessible price points, but also due to their ability to create high-touch returning consumers. This is achieved through various menu items appealing to different guests at different aspects of the day and the inclusion of legitimate, full-service bars in each location. Further distinguishing themselves from fast-casual restaurants — outside of the obvious jump in service model and food quality — Federalist Pig sees plenty of guests returning for dinner, drinks, and brunch, not just lunch.
The proof of Federalist Pig's ascension is in the pudding—or rather, juicy ribs, as the brand was named Best BBQ in America in 2022 by Good Morning America.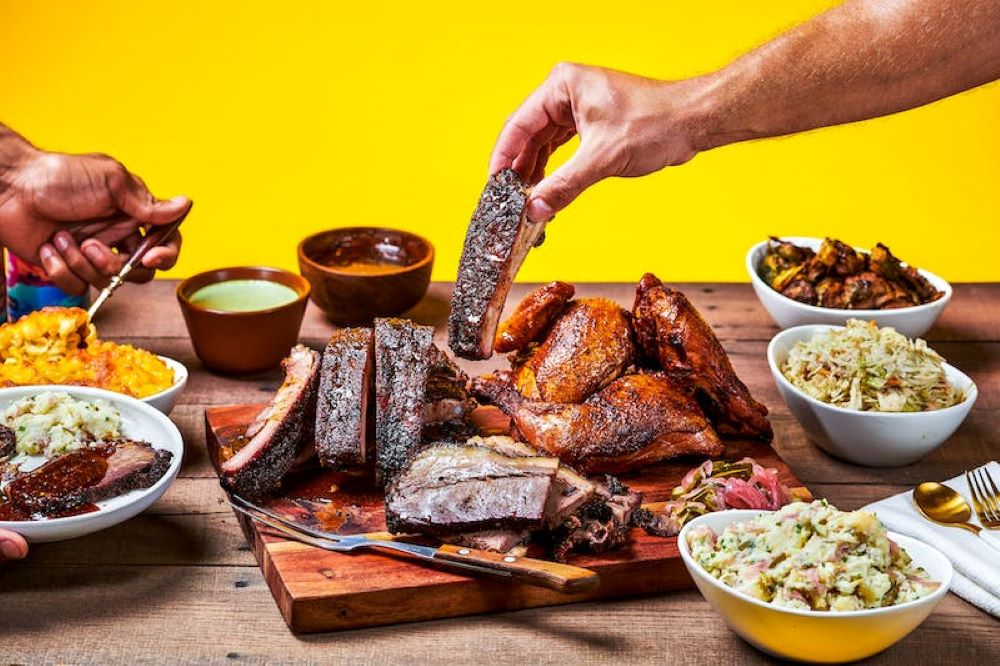 Laura Chase de Formigny
Steve Salis and his team at Salis Holdings have helped Federalist Pig carve a niche that is both quintessentially American and universally resonant. His philosophy of creating premium and approachable — elevated yet accessible luxury — experiences have cultivated an unparalleled ability to breathe new life into heritage ideas and a knack for creating third places, as OK! Magazine points out. Through its premium and refreshing take on BBQ dishes, a sophisticated yet approachable atmosphere, and reasonable price points, Federalist Pig is a space that inspires connection and sparks joy in the Washington D.C. marketplace today and many other marketplaces soon.