Veteran cars that starred in a classic British movie have arrived at the National Motor Museum at Beaulieu over the summer.  The film star cars, Genevieve and Spyker, are on display to celebrate the 70th anniversary of Genevieve, the much-loved, Bafta-winning movie which was first released in 1953.
The comedy film follows the adventures of two couples participating in the annual London to Brighton event when driving a pair of veteran cars, the 1904 Darracq called Genevieve after which the film is named and a 1905 Spyker.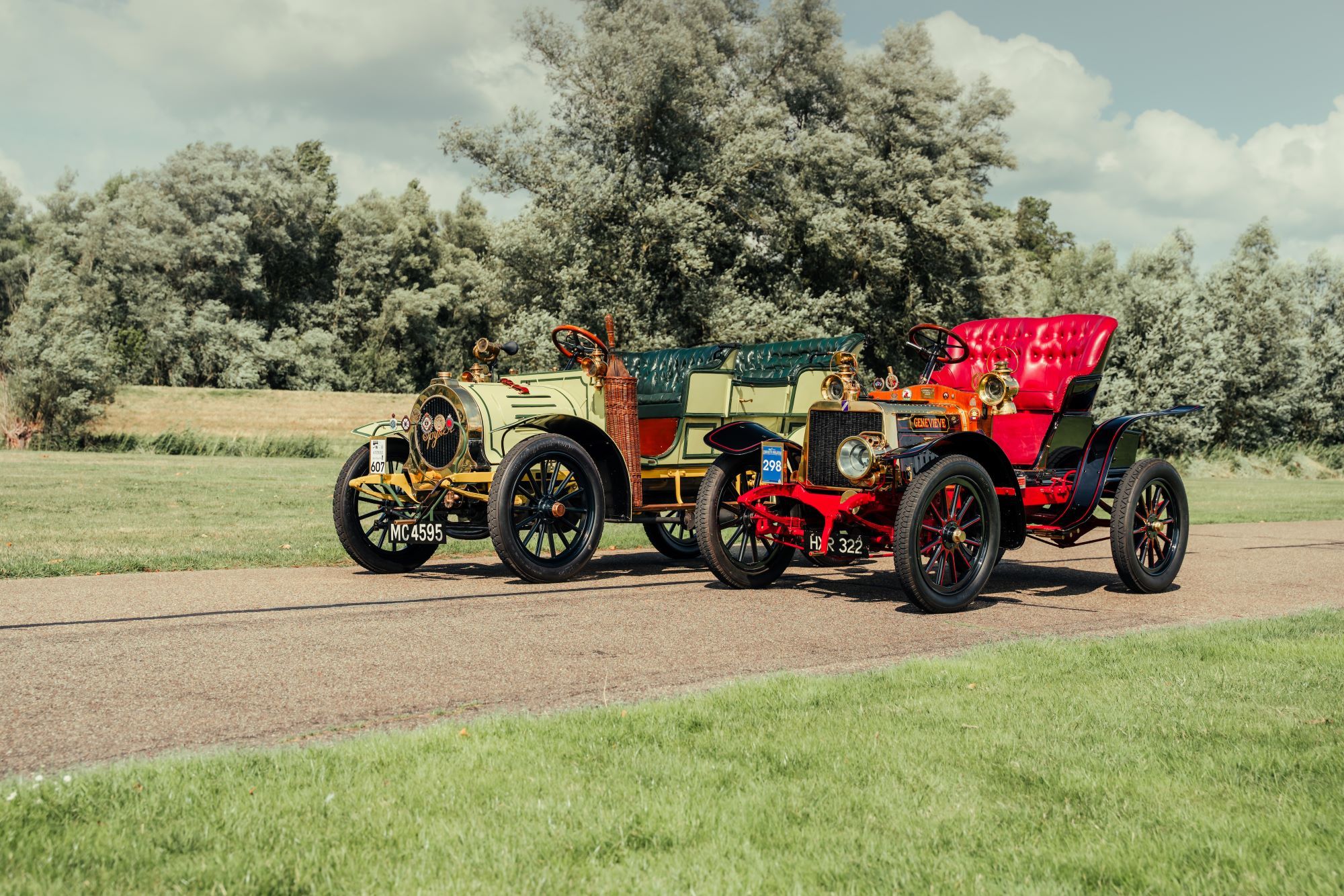 Andrea Bishop, Director of Collections and Engagement at the National Motor Museum says, "It's wonderful to have Genevieve and the Spyker on display in the Museum. Film buffs and motoring enthusiasts will, I'm sure, revel in celebrating this classic Ealing-style comedy and its role in inspiring the preservation and driving of historic cars in Britain."
In the movie Alan McKim, a young barrister, and his wife Wendy (played by John Gregson and Dinah Sheridan) are aboard a 1904 Darracq called Genevieve after which the film is named. Their friend Ambrose Claverhouse (Kenneth More), a brash advertising salesman, and his latest girlfriend, fashion model Rosalind Peters (Kay Kendall) – plus her pet St Bernard dog – ride in the Spyker. Although timid by today's standards, their exploits on the way to Brighton and on a return race to Westminster Bridge won millions of admirers right around the globe, and also fuelled unprecedented interest in the veteran car movement. 
Following their time at Beaulieu the cars will visit the Royal Automobile Club in London and in November participate in the RM Sotheby's London to Brighton Veteran Car Run.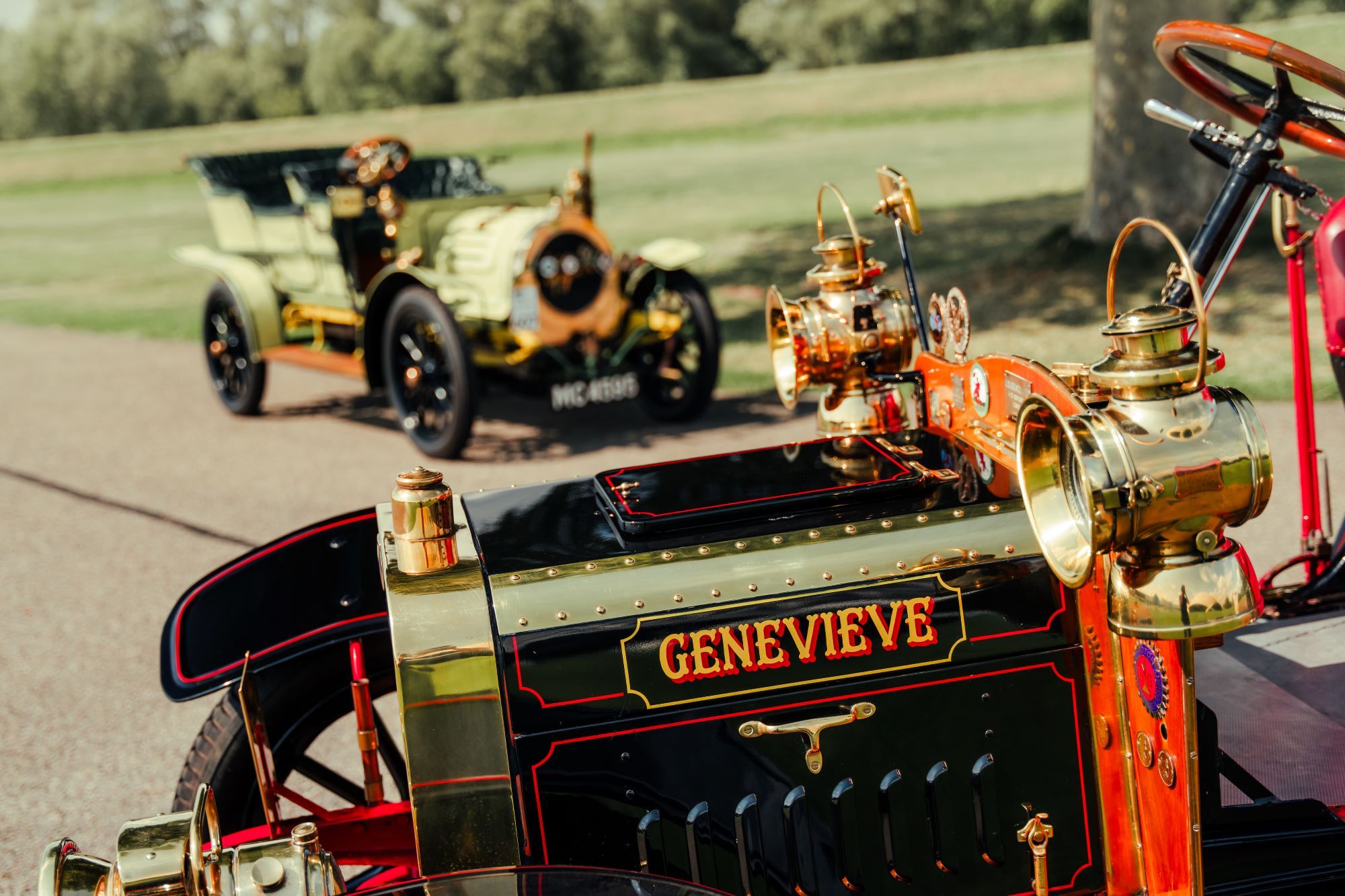 Genevieve has an interesting history. The Darracq was discovered among piles of junk on an estate in East London shortly after WW2 and purchased for £25. The new owner found an appropriate two-seater body but had neither the time or money to complete a restoration so sold it onto Norman Reeves who oversaw the car's complete renovation and named it Annie. Film director Henry Cornelius cast the little reborn Darracq for the leading four-wheeled role in the motion picture, rechristening it Genevieve after the patron saint of Paris where the car had originally been built. Reeves eventually got tired of all the publicity surrounding the celebrity Darracq and sold it to a new owner in Australia. After 40 years, Genevieve returned to Europe and is now displayed – appropriately alongside the Spyker – at the Louwman Museum in The Hague, Netherlands. However, with such an important anniversary to honor, both film stars will be back in Britain this summer and autumn.
70 years of Genevieve will also be the subject of a 'Transport Torque' lecture by Andrew Roberts at the National Motor Museum Collections Centre on the evening of the 7 October. Genevieve will be in the Collections Centre for the evening of the Transport Torque.
For more information, please visit https://nationalmotormuseum.org.uk/events