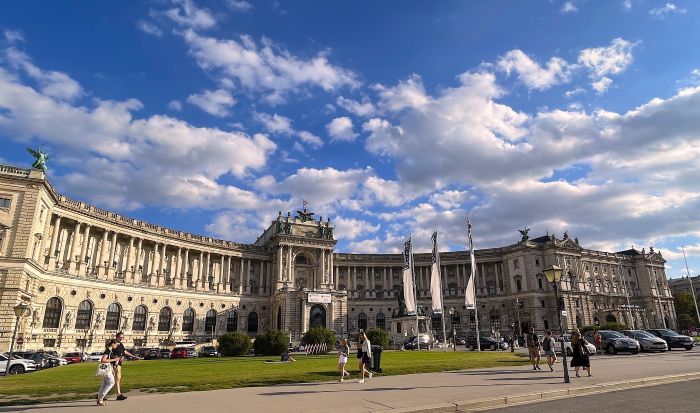 Photo by Michael Reiss
Austria, this scenic, strategic, centrally located country has a long and illustrious history as a powerful, pivotal force in shaping European and world events. It remains a significant player on the international scene and it attracts visitors from across the globe. Let's explore awe inspiring Austria.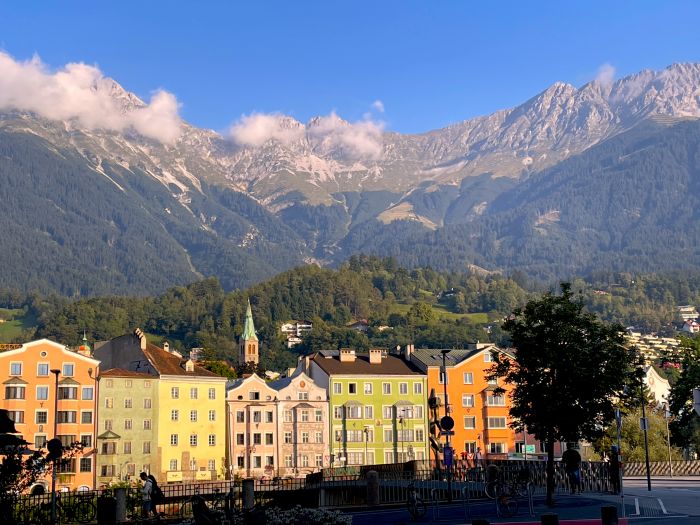 Photo by Michael Reiss
The first stop on our tour was incredible Innsbruck. This stunning city was an Imperial City during the reign of the Habsburgs who ruled the Holy Roman Empire and continues to this day to be an important destination for tourism, sports and commerce. It is nestled up against the soaring Alpine peaks and the Inn River that runs through it. Its proud legacy is visible in the intact medieval and renaissance architecture that regals the old city and provides endless eye candy for locals and visitors alike.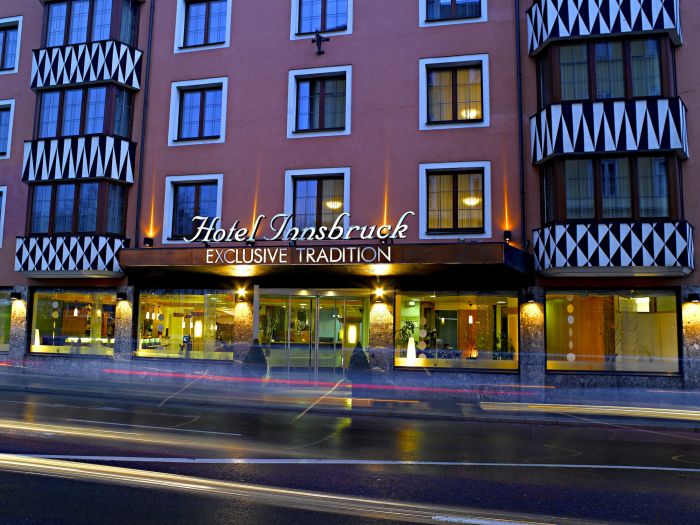 Photo by the Hotel Das Innsbruck
Stay in the heart of the city center at Hotel Das Innsbruck and you will be steps away from all the action. The comfortable modern rooms provide every desired accommodation, and the real surprise is the luxurious spa.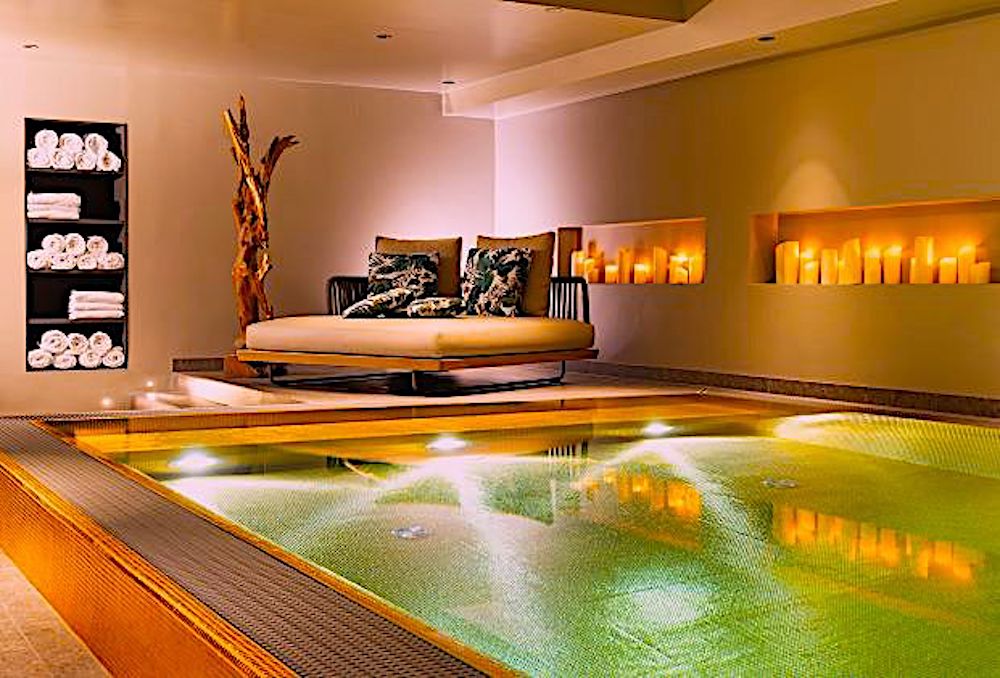 Photo by the Hotel Das Innsbruck
Besides the typical services, the large, gold bedecked swimming pool, sauna and lounge areas provide a cozy enclave open 24 hours and a welcomed treat at the end of a full day of touring.
From city to mountain top, Innsbruck's cultural treasures and natural wonders will fill your days and evenings.
We started our exploration with a city guide who suggested taking the cable car to the mountain top for spectacular views and all manner of mountain activities.
We then walked the compact old town where the history and glory of this Imperial City came alive through the lore of its architecture and narrow cobbled streets luckily preserved for centuries and expertly explained by Monica, our guide whose family has resided here for centuries making bells that are now used round the world.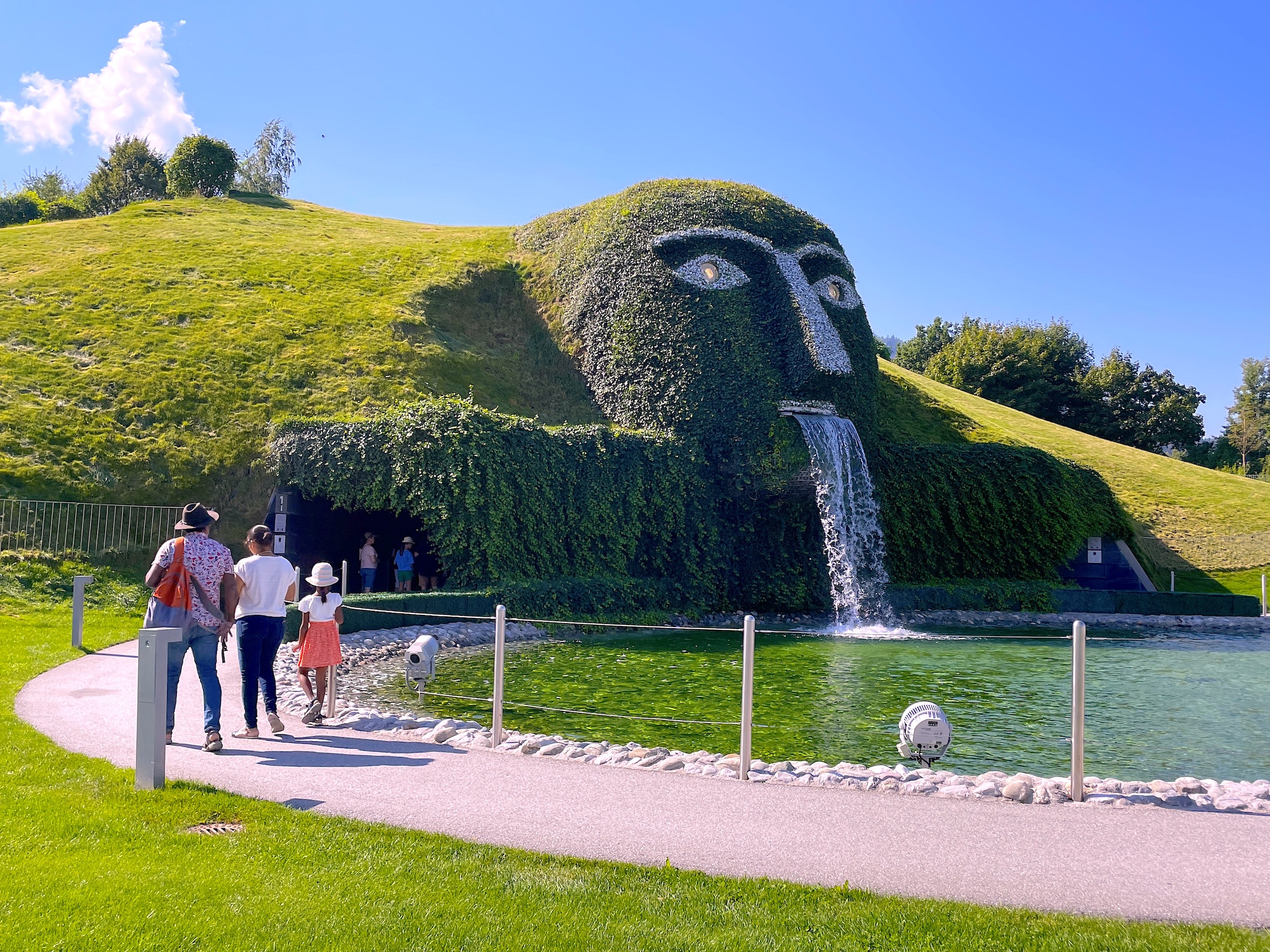 Photo by Michael Reiss
The next day we were shuttled to Swarovski Crystal World where we were impressed by the genius of its founder, Daniel Swarovski and the generations that followed him to produce an endless array of crystal creations displayed in a dazzling setting that is unique and worth the visit to its factory campus close to the city center.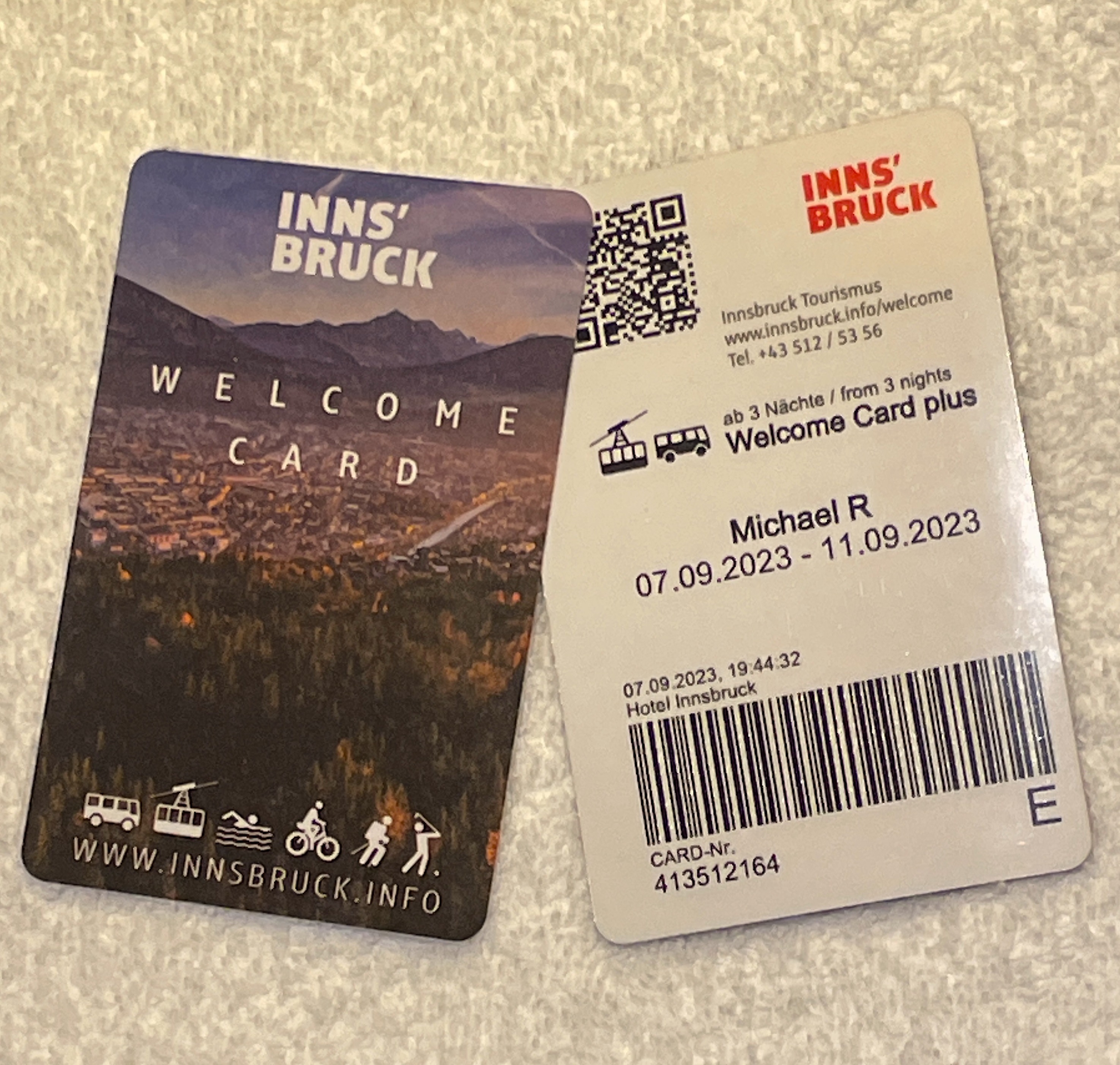 Photo by Michael Reiss
Check out Innsbruck Tourism for help in planning and booking tours and excursions and visit them upon your arrival for the most current information on what to do.
We used our Innsbruck WelcomeCard, purchased at the tourist center, to hop on the Sightseer Bus to visit several points of interest.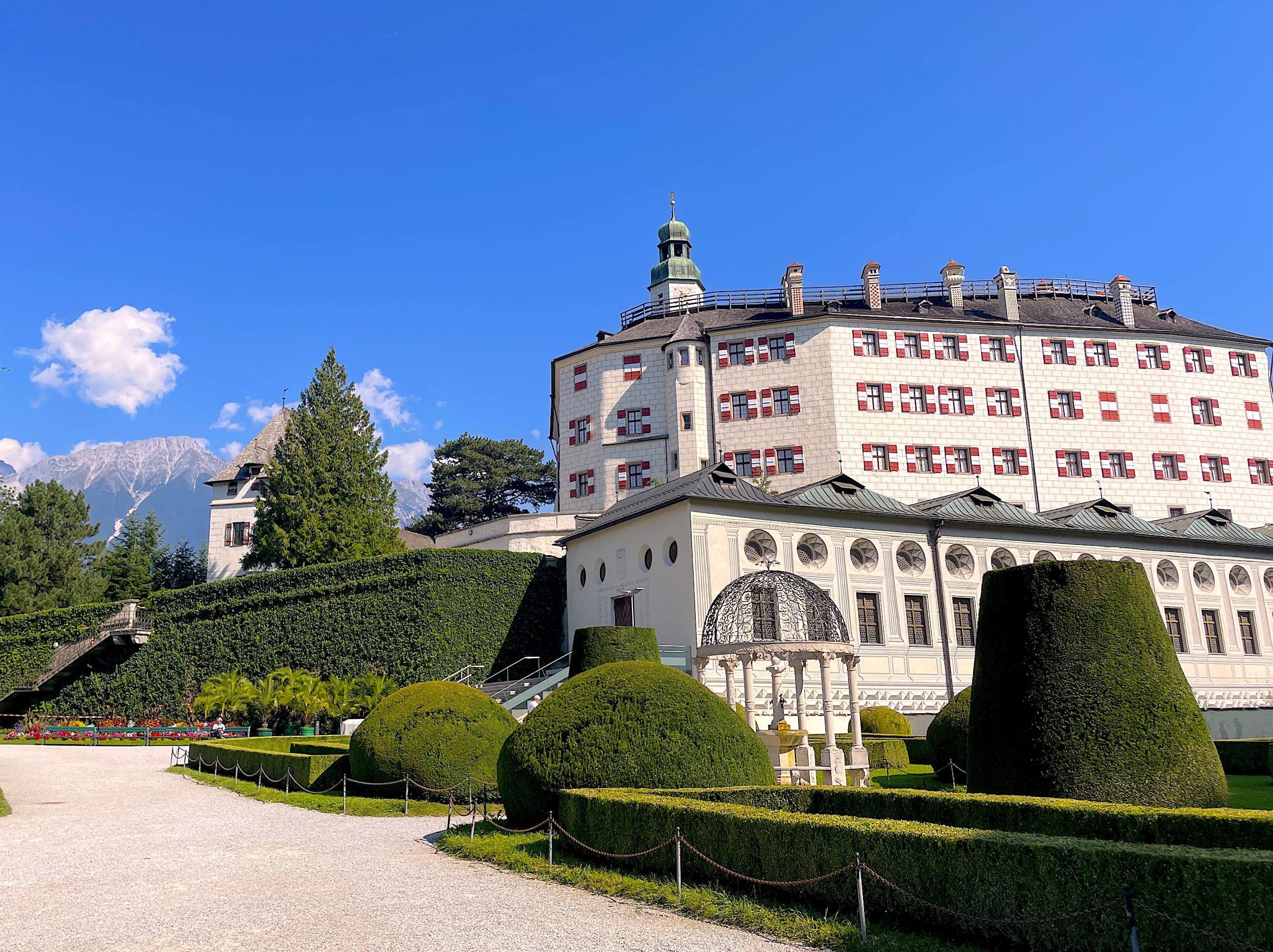 Photo by Michael Reiss
We visited Ambras Castle dating from the 16th century and the nearby Tirol Panorama Museum.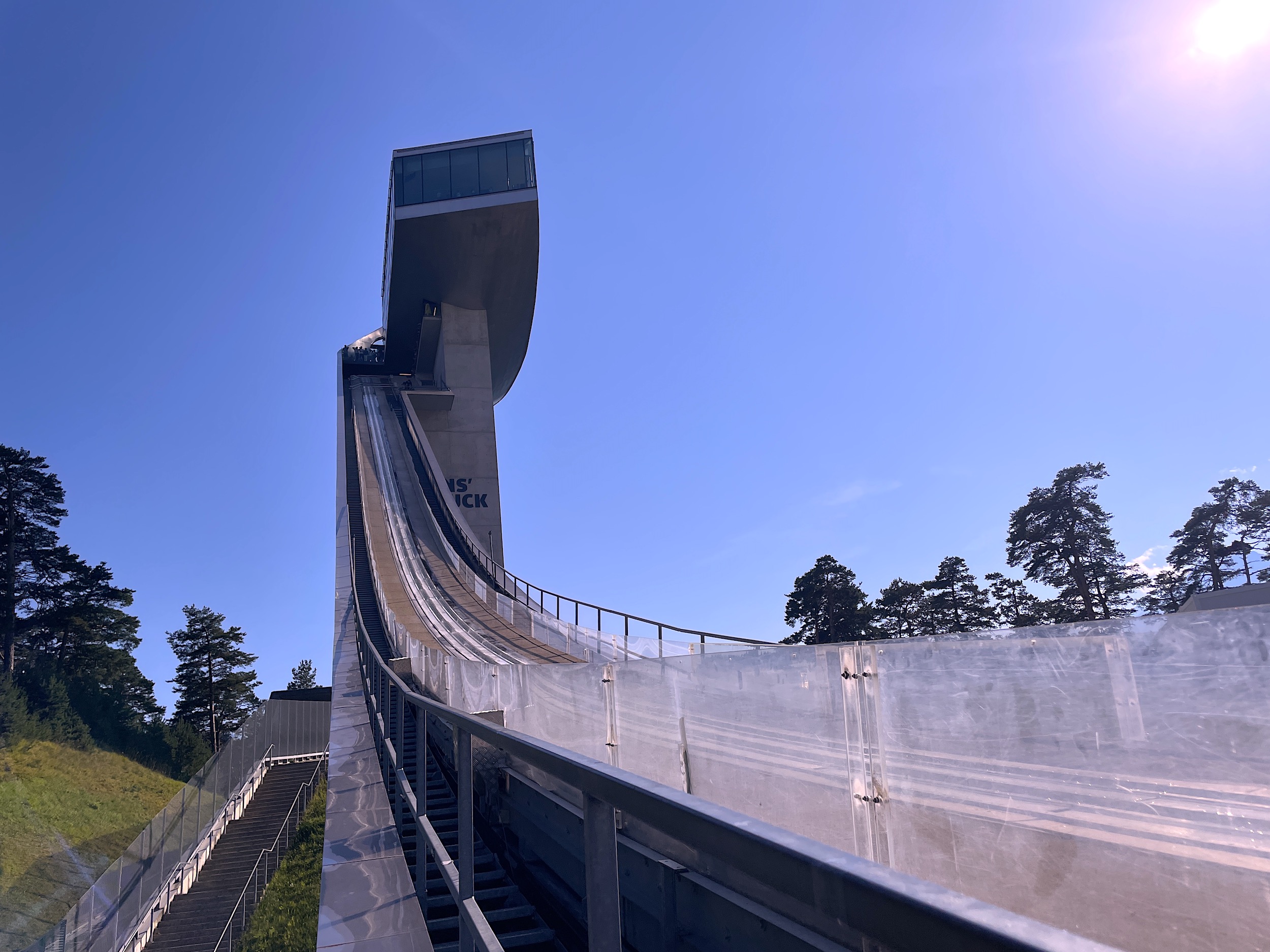 Photo by Michael Reiss
Located on the same stop is a do not miss experience, a visit to the Bergisel Ski Jump. We viewed, at extremely close range, Martin, an expert ski jumper, zoom past us at 60 miles per hour while our hearts raced just watching the feat unfold in a split second of sheer athletic prowess.
Our appetite for touring was ably matched by our culinary curiosity that was satisfied by Kurt, our engaging culinary tour guide. Kurt, from Innsbruck Food Tours, led us on an enlightening, entertaining and appetite fulfilling afternoon.
His introduction to authentic Tyrolean products and culinary traditions set the tone for our dining adventures.
We tried traditional Tyrolean dishes at several top-rated restaurants in the old town and surrounding areas. At Weisses Rossl, the Kässpatzle, a spaetzle with 3 kinds of melted alpine mountain cheese and crispy fried onions was our favorite.
At Daniel Kristallwelten Restaurant located at Swarovski World, the Rinder-Bouillon, Beef Broth with Kaspressknödel was our tasty Tyrolean treat.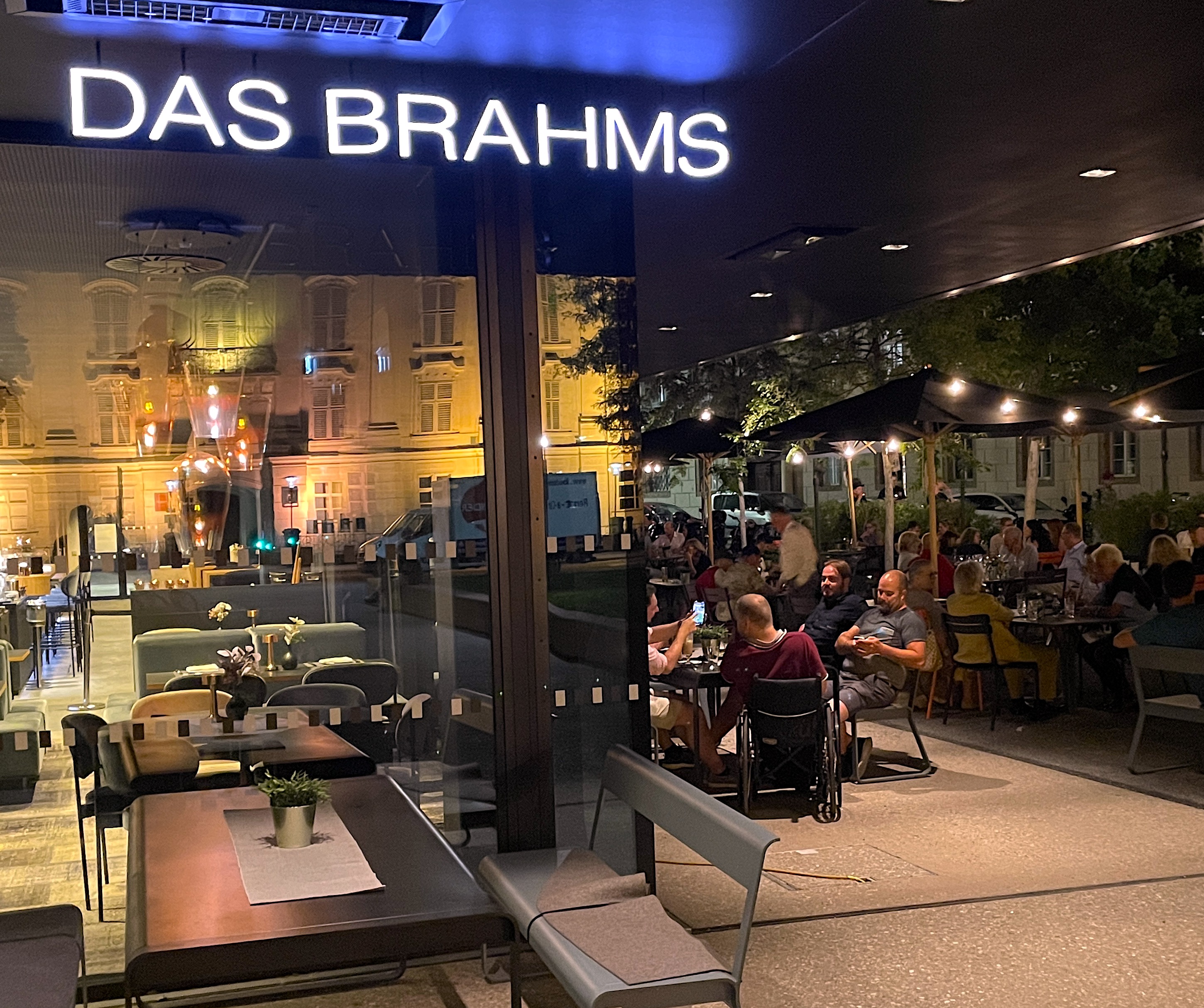 Photo by Michael Reiss
At Das Brahms, the Veal Weiner Schnitzel with warm potato salad hit the spot. At 1809 Restaurant located at the Tirol Panorama at Bergisel, the Roasted Filet of Pork in Mushroom Bacon Sauce was our choice.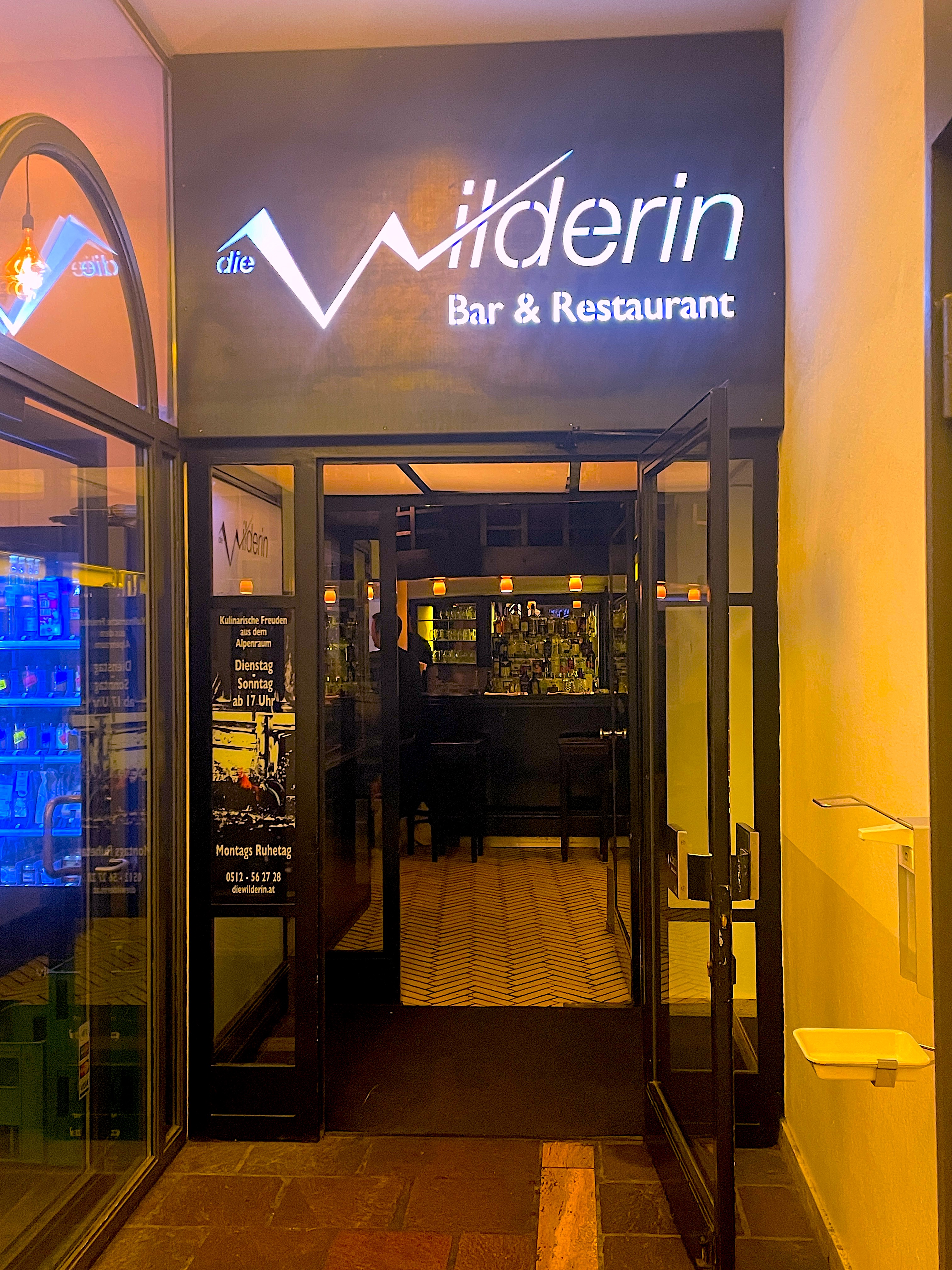 Photo by Michael Reiss
At Die Wilderin, the Tyrolean Duck Thigh cooked confit style with bread dumplings was a succulent treat. And at Ottoburg, we chose the Rosti potato dish with truffles and a fried egg. As our culinary guide Kurt explained, the Tyrolean approach to food has always been local, organic and seasonal. It is apparent they were way ahead of this food philosophy that has been embraced by the rest of the world.
It is no wonder why we encountered tourists and university students from around the world enjoying Innsbruck. The breathtaking beauty and old-world charm combined with gracious, generous Tyroleans–who are all too eager to share their city's charm– make this a mecca for a memorable holiday.
Photo by the Tourismus Salzburg
Departing from Innsbruck a short, comfortable, scenic two-hour train ride brings you to Salzburg, where the hills are still alive with the sound of music. Although larger and more cosmopolitan than Innsbruck, visitors flock to the city for its renowned Baroque architecture, its Alpine surroundings, and its unparalleled musical offerings. Both the Mirabell Palace and Gardens the palace and gardens are open to the public and provide a royal respite from the sounds of the city surrounding it.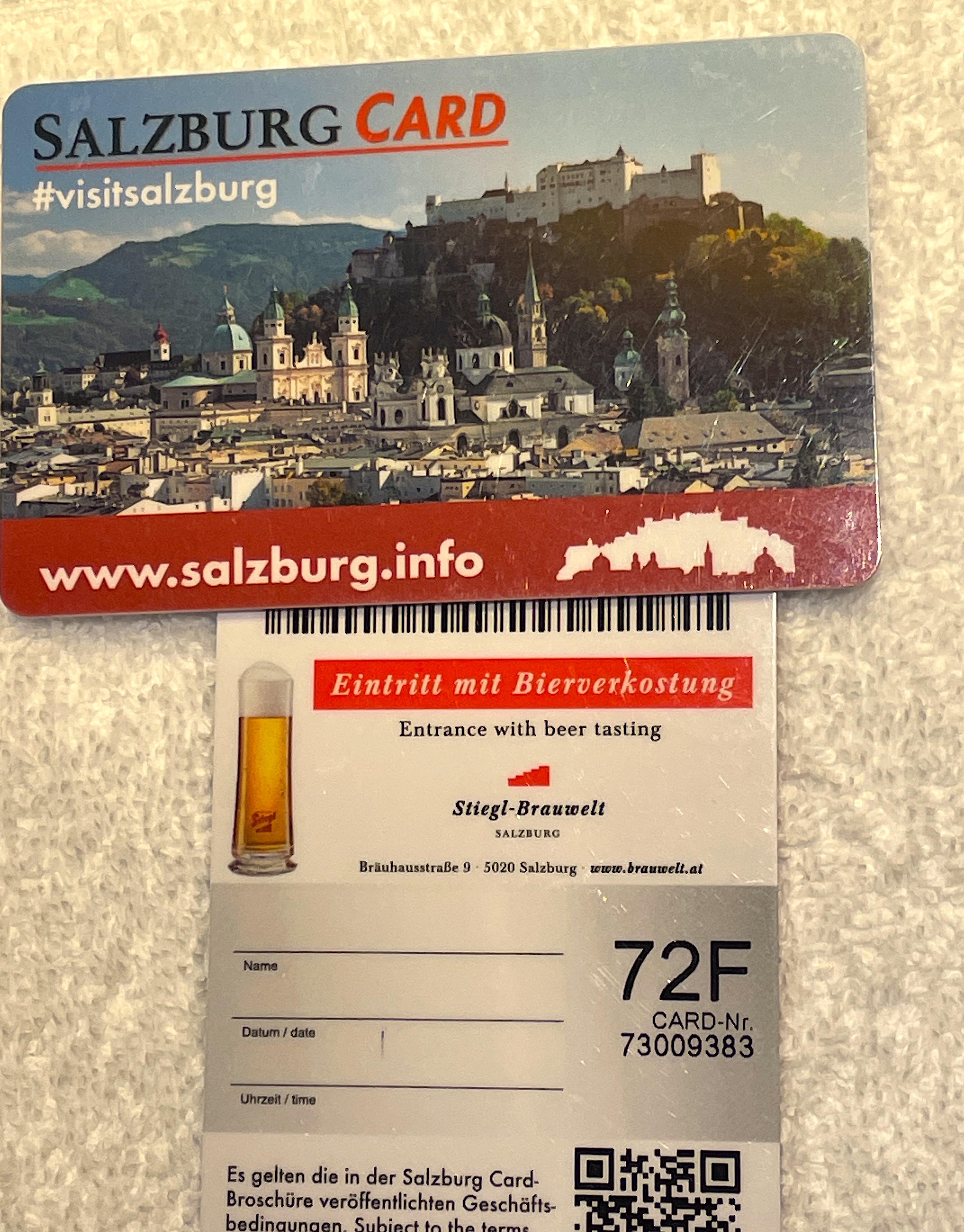 Photo by Michael Reiss
With the help of the Salzburg Tourism Office, we were guided on a city tour by Naomi who shared her city secrets and literally made the day come alive with legend and lore and plenty of laughter. The Salzburg Card was a real benefit as it was a great way to visit the City of Mozart easily and conveniently.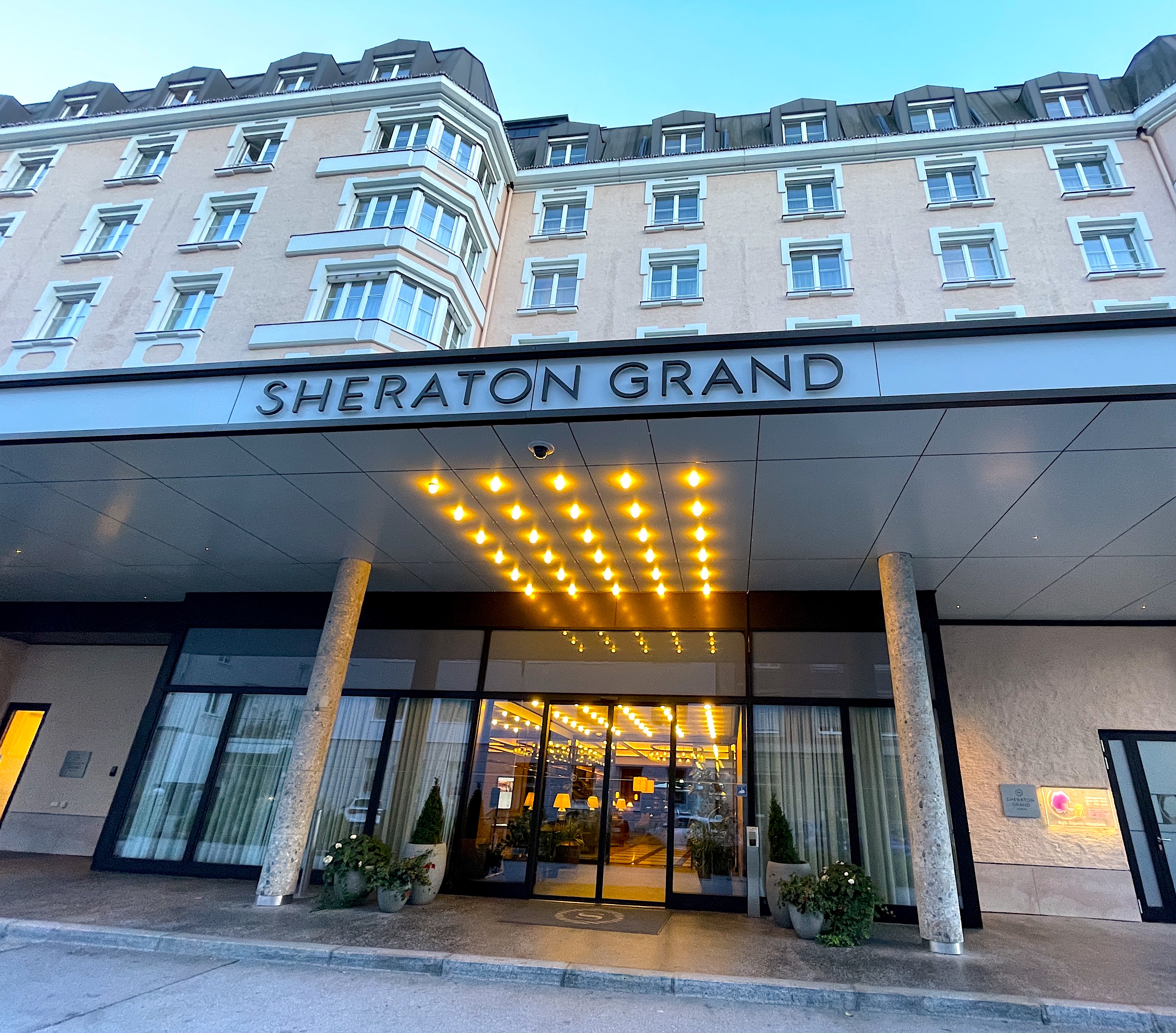 Photo by Michael Reiss
We chose the Sheraton Grand Hotel for its superb location facing the Mirabelle Palace and Gardens where many of the scenes from the Sound of Music were shot.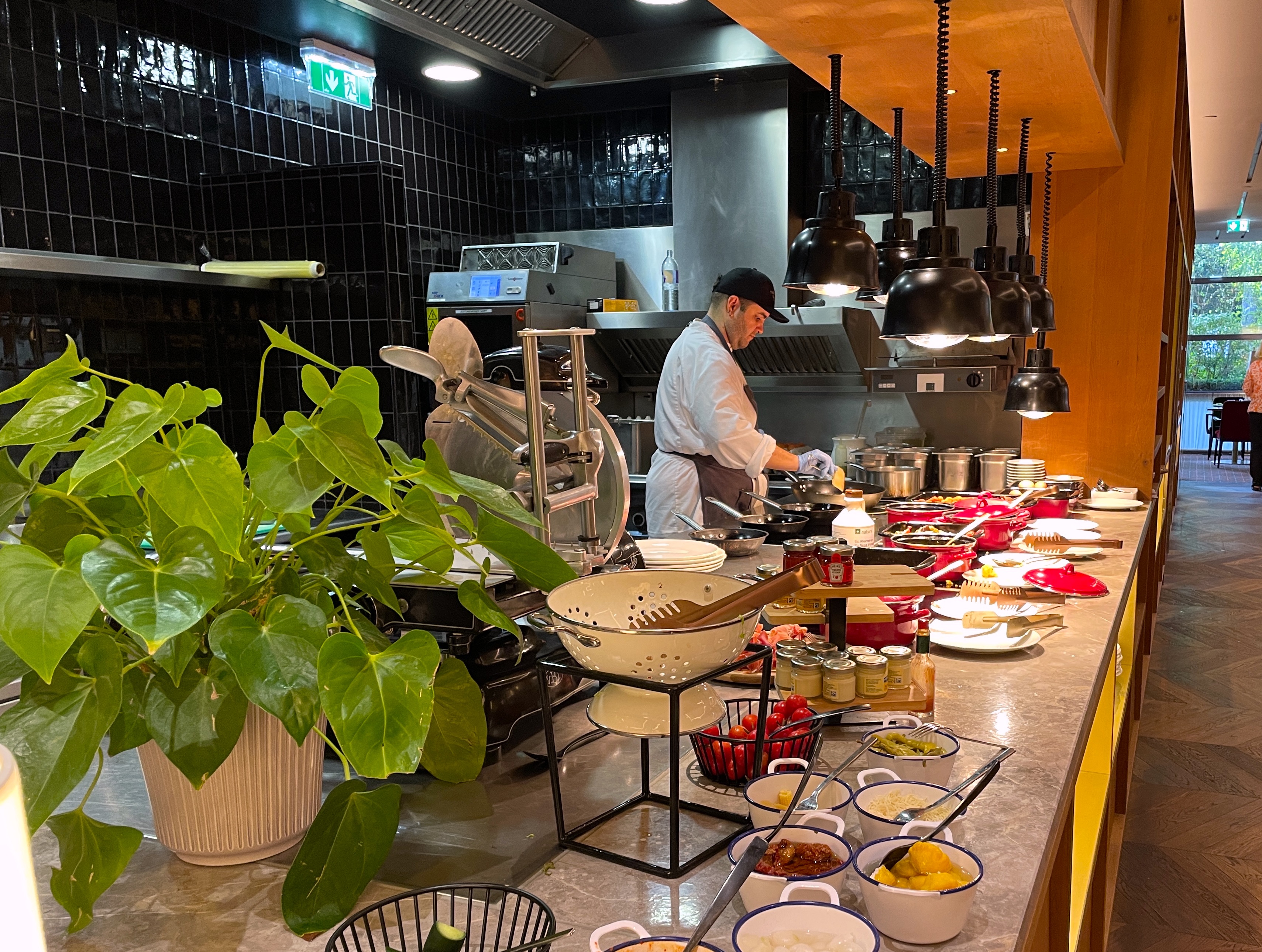 Photo by Michael Reiss
The Sheraton Grand Hotel had tastefully appointed rooms, many facing the Mirabelle Gardens, a full-service Club Lounge, a bountiful buffet breakfast, and a modern fitness gym.
Both the Mirabell Palace and Gardens the palace and gardens are open to the public and provide a royal respite from the sounds of the city surrounding it.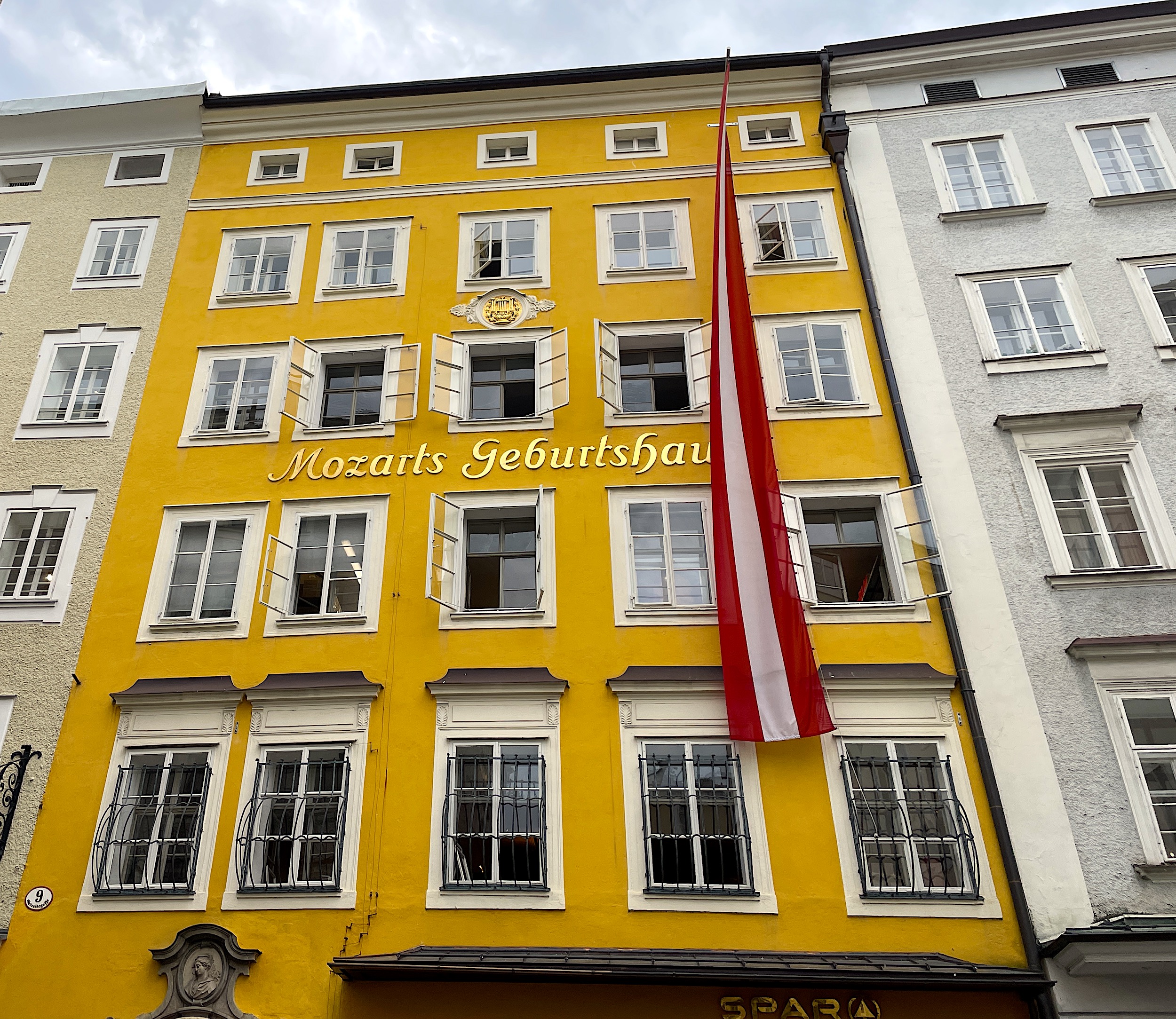 Photo by Michael Reiss
Just a short walk in the garden leads you to a town square where Mozart's birthplace is located. A walk across the main bridge strewn with lover's locks brings you into the old city where gems for all the senses abound including the treasures displayed in Mozart's residence in Getreidegasse. There you will find endless boutique shops, each decorated like precious jewel boxes, tempt you at every turn. Look at me, smell me, try me, taste me, listen to me. As the many church bells ring out, you are dizzy with delicious choices.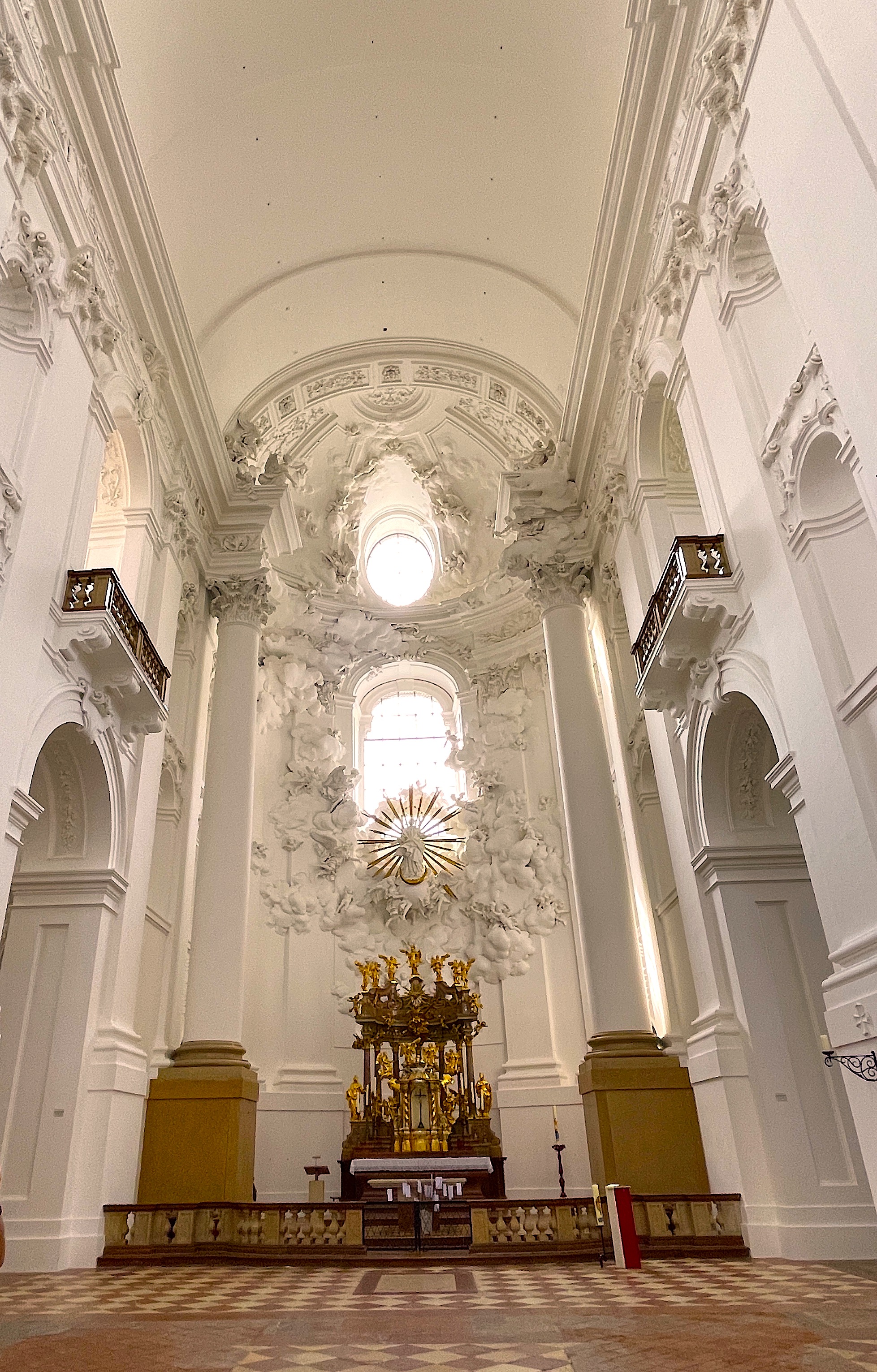 Photo by Michael Reiss
Perhaps most intriguing are the many sweet shops with their unique recipes for Mozart chocolates. Each version contains the same ingredients, but each had different proportions of marzipan, pistachio nuts and milk or dark chocolate. Having tasted several samples with stops for gourmet coffee, you'll be ready to visit some of the many outstanding baroque churches including the heavenly University Church done in all pure white baroque detail.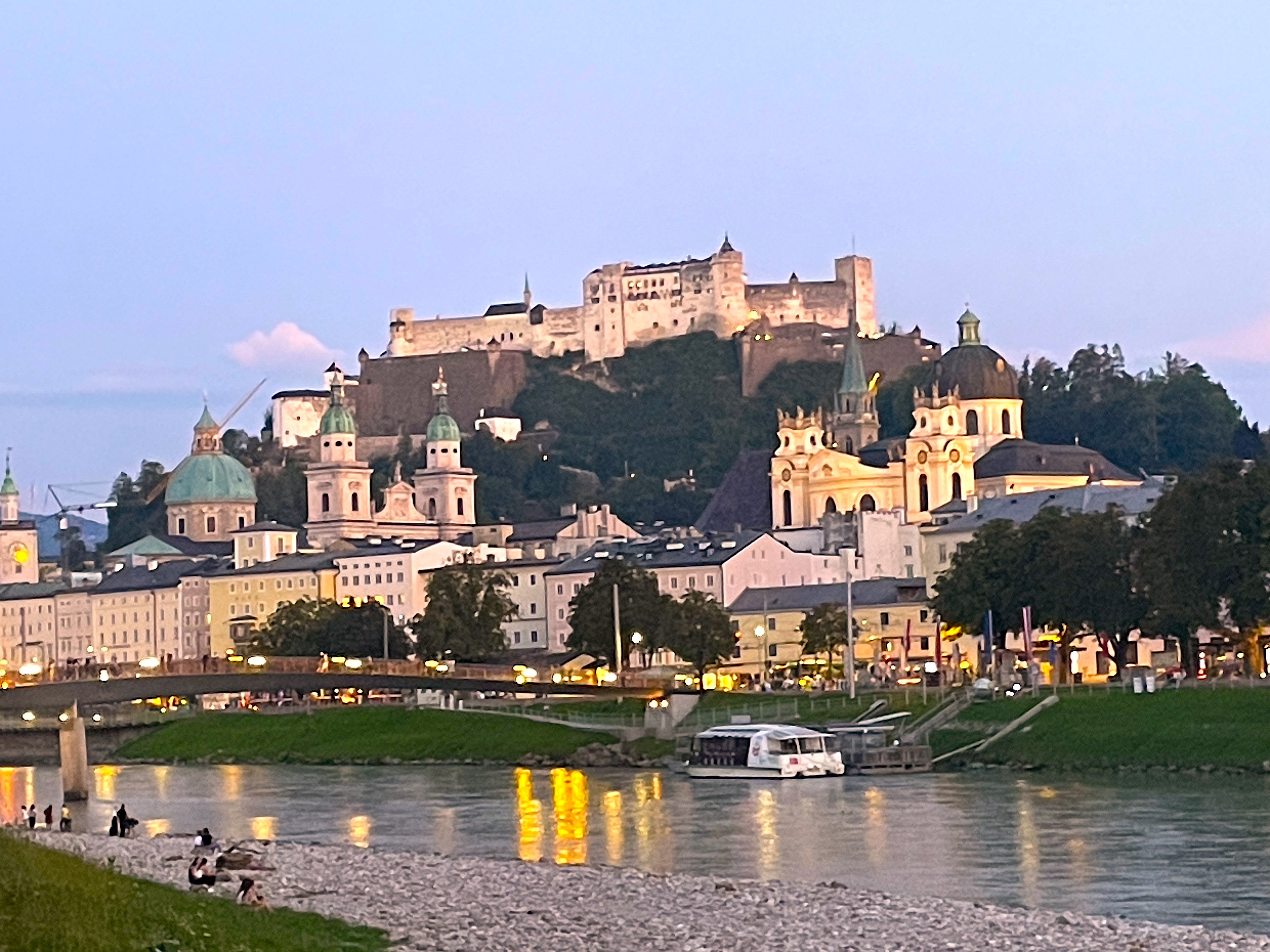 Photo by Michael Reiss
Make your way to the imposing Fortress of Hohensalzburg. With its commanding view of the city and surrounding mountains, this is an ideal lookout to view the Salzach River and the city that spreads out on its banks. Take a boat ride and plan to be at the Cathedral just before 11 AM or 6 PM to hear the famous carillon concert. Visit the impressive Dom Museum which includes the residence of the Prince's Archbishops during the period in history when Church and State were one under his leadership.
The renowned Salzburg Music Festival takes place annually in July and August and attracts music lovers from all over the world. If you miss this world class festival, there are daily opportunities year-round to experience live musical concerts in this melodic metropolis.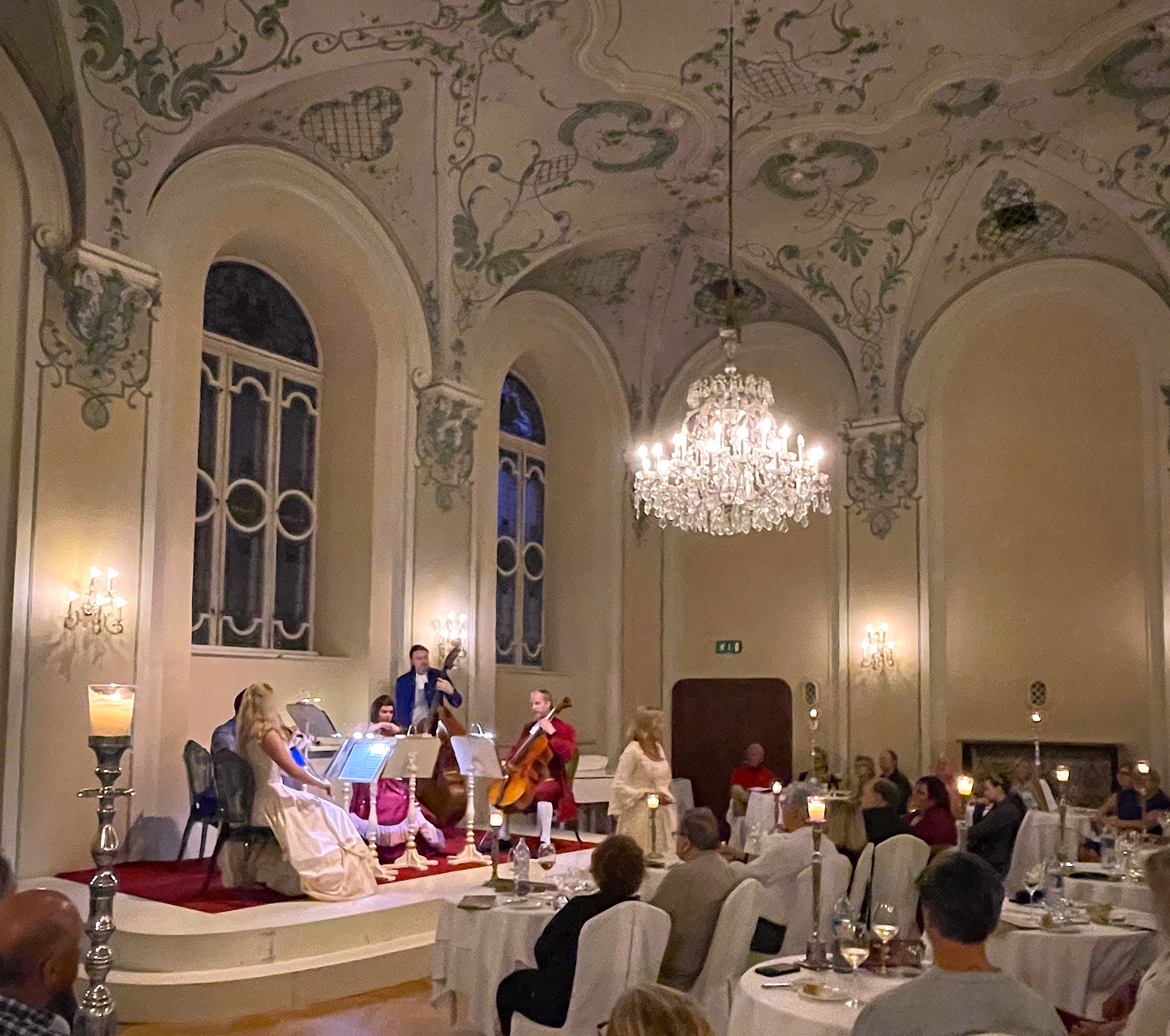 Photo by Michael Reiss
We attended a Dinner Concert at St. Peters that included a menu reminiscent of what was served during Mozart's time along with some of his most recognizable operatic music sung by virtuosos who playfully engaged the audience to cap off a magical visit to song filled Salzburg.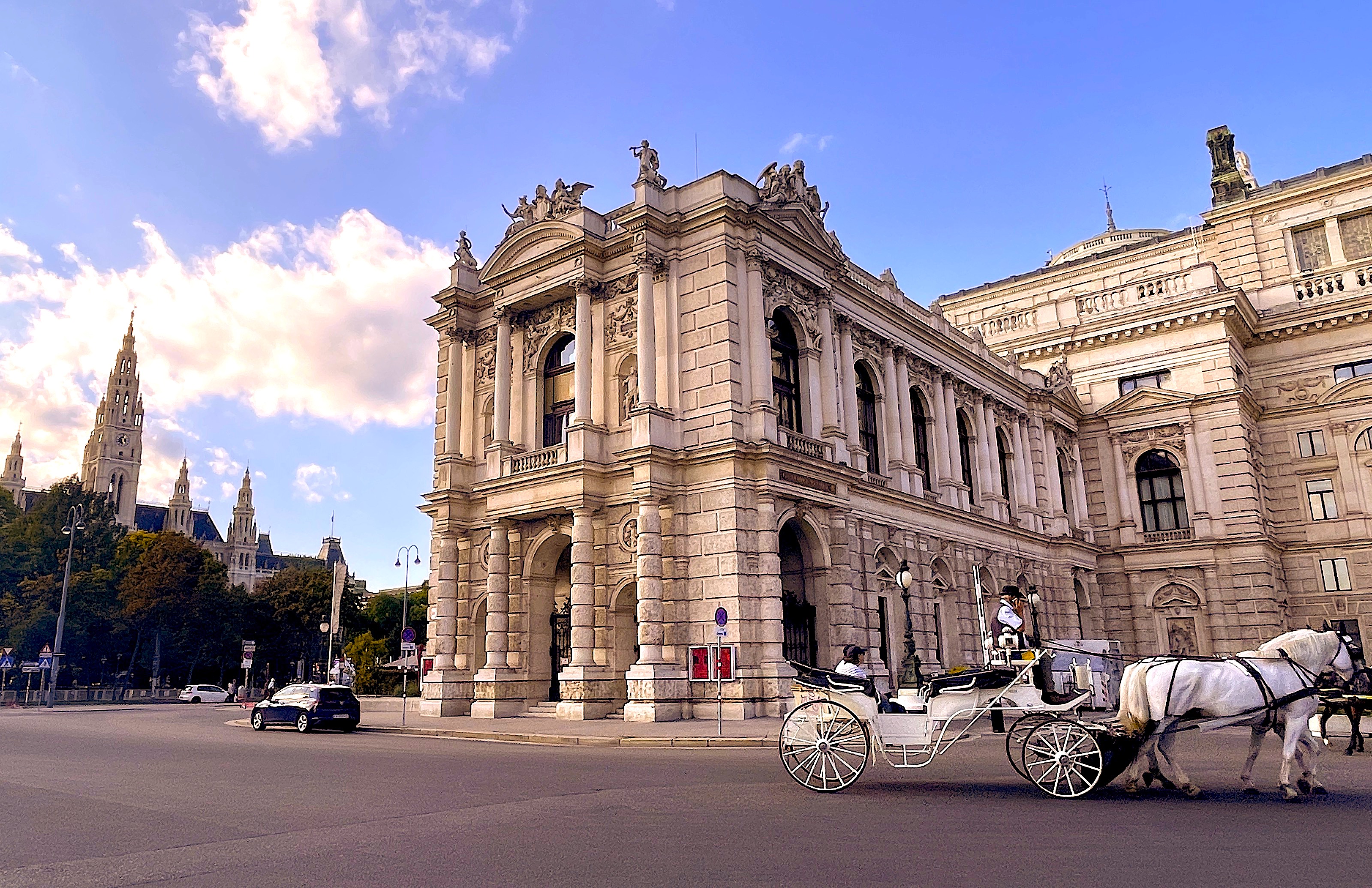 Photo by Michael Reiss
After leaving Salzburg and taking another comfortable, bucolic two-hour train ride, we arrive in Vienna, the illustrious capital of Austria. Treat yourself to one of the exceptional lodging venues that this historic capital offers.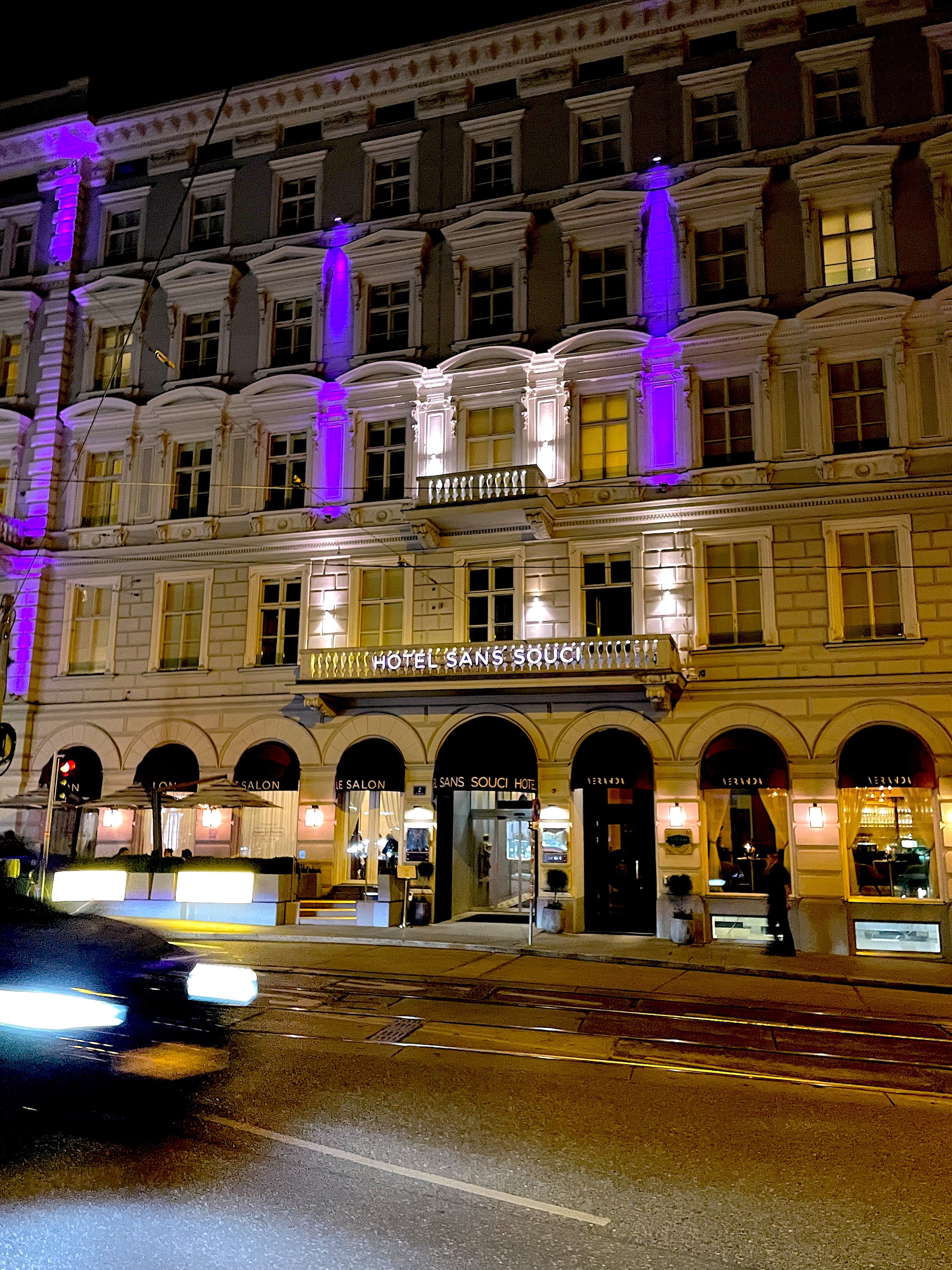 Photo by Michael Reiss
We began our stay at Sans Souci, a Five-Star boutique property housed in an 1872 building. Its contemporary, modern art filled interior spaces reflect its location right next to the Museums Quartier, one of the world's largest areas of modern museums in the world, just 2 minutes from the entry door.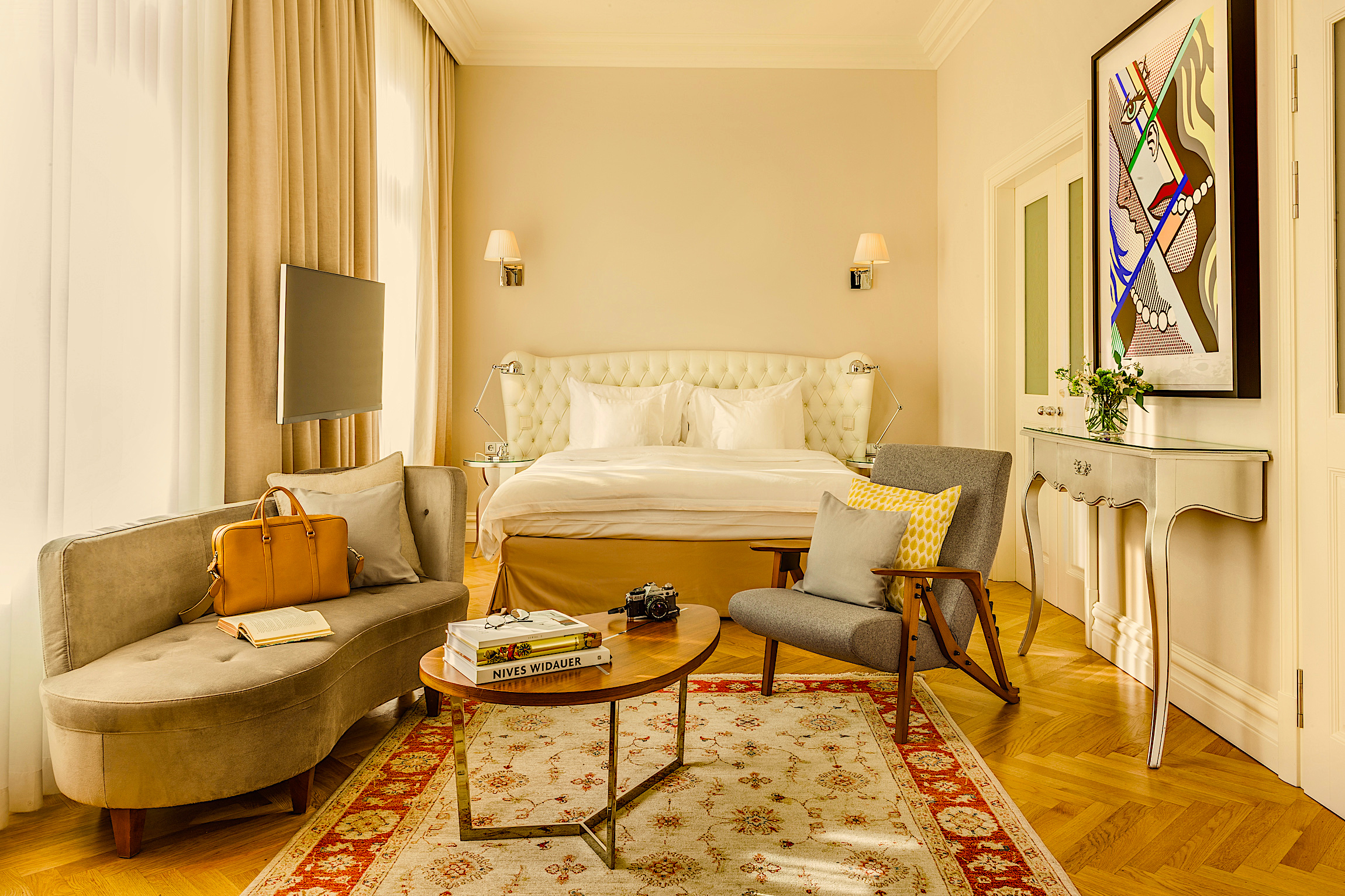 Photo by the Sans Souci Hotel
Besides its artistic décor, its claims to fame include the stylish rooms, which afford a high level of comfort.
Photo by Michael Reiss
At the Sans Souci there is a Champagne Bar, and a complimentary champagne breakfast, held in their restaurant featuring Laurent Perrier Champagne.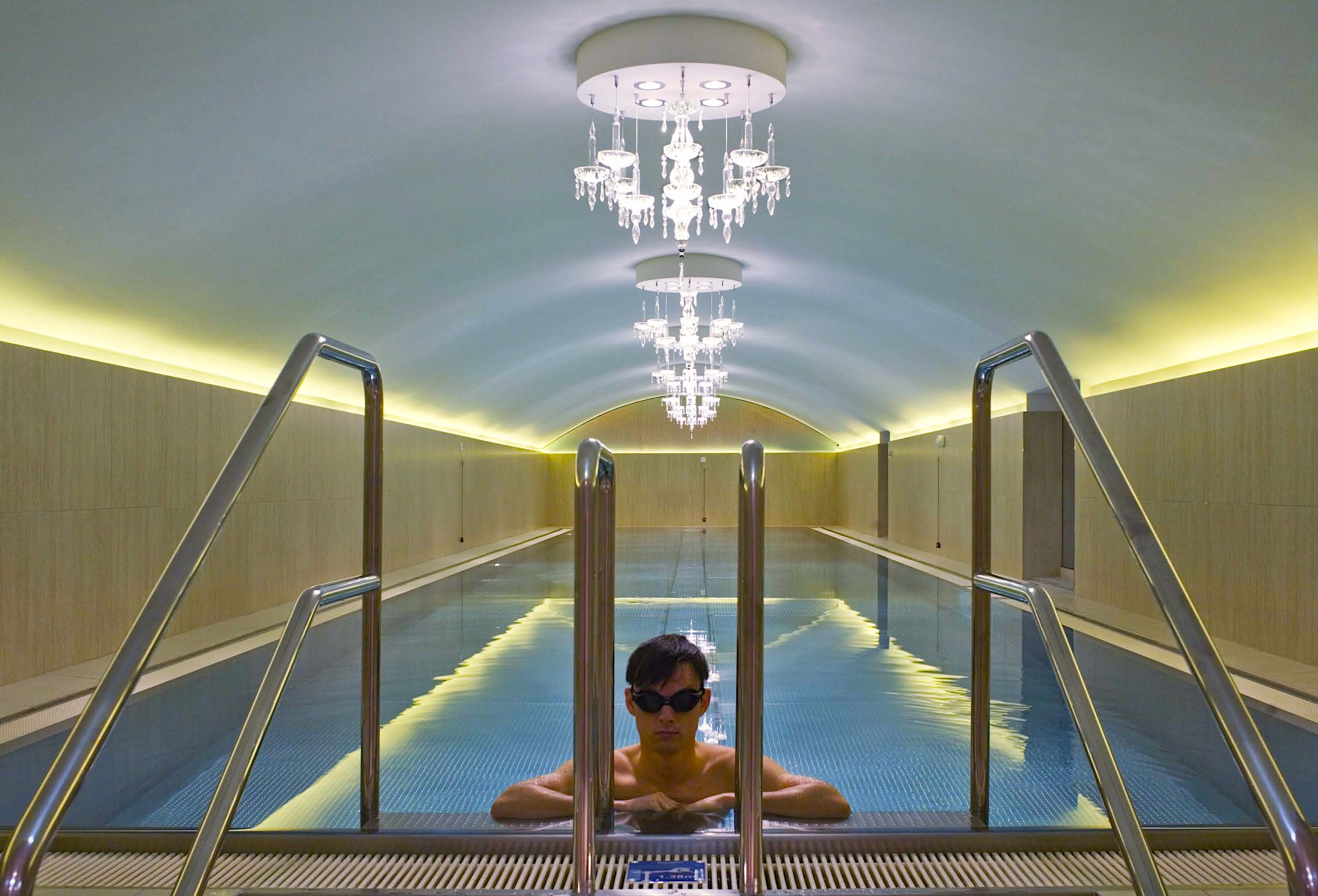 Photo by the Sans Souci Hotel
Also, the Sans Souci's Spa includes a steam, sauna, fitness center, and a magnificent Olympic size swimming pool. All of this and the warm, accommodating service staff make this a clear choice for a memorable stay in the 7th District.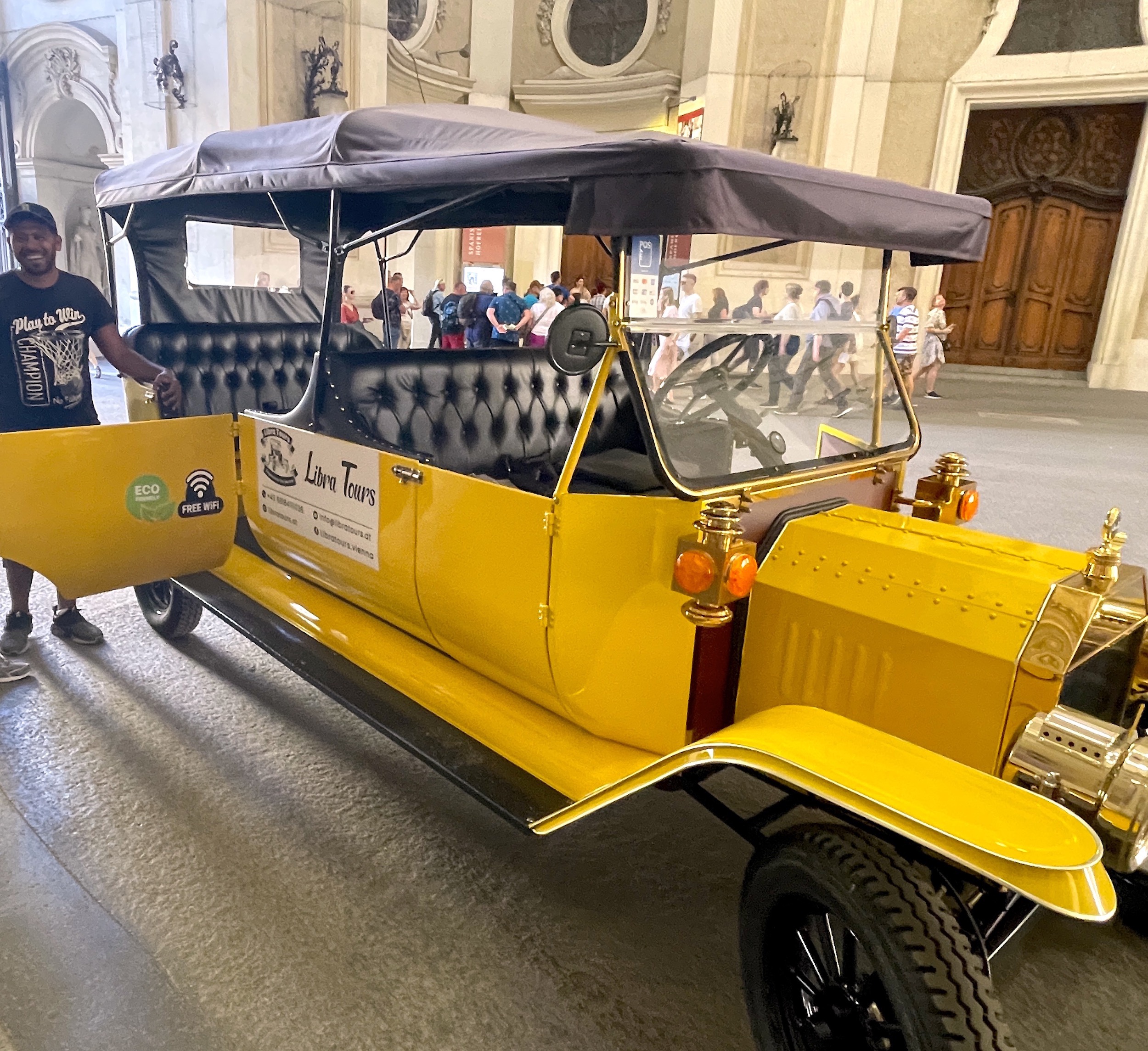 Photo by Michael Reiss
The wide avenues and impressive architecture of palaces and monuments are dazzling and daunting as you attempt to take it all in. Take a private tour in a classic car with Libra Tours. A live, knowledgeable driver will orient you to this remarkable city and help you understand the history and architecture, as you gaze and gasp at its grandeur.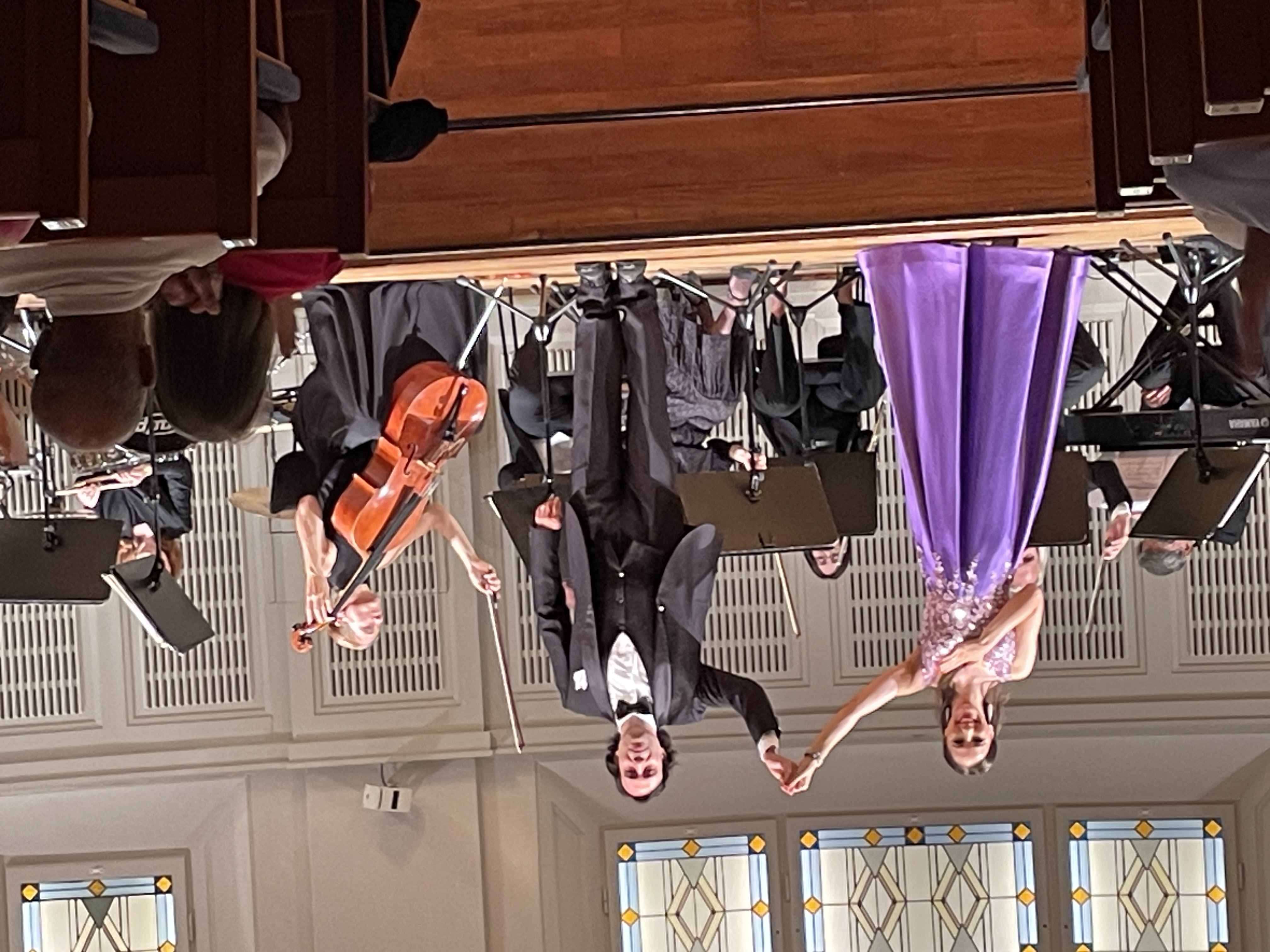 Photo by Michael Reiss
In Vienna there are numerous concert venues with nightly scheduled performances. We attended a delightful evening called the "Sounds of Vienna" at Kursalon Wien. It featured popular pieces by Strauss and Mozart and included virtuoso musicians, opera singers and dancers.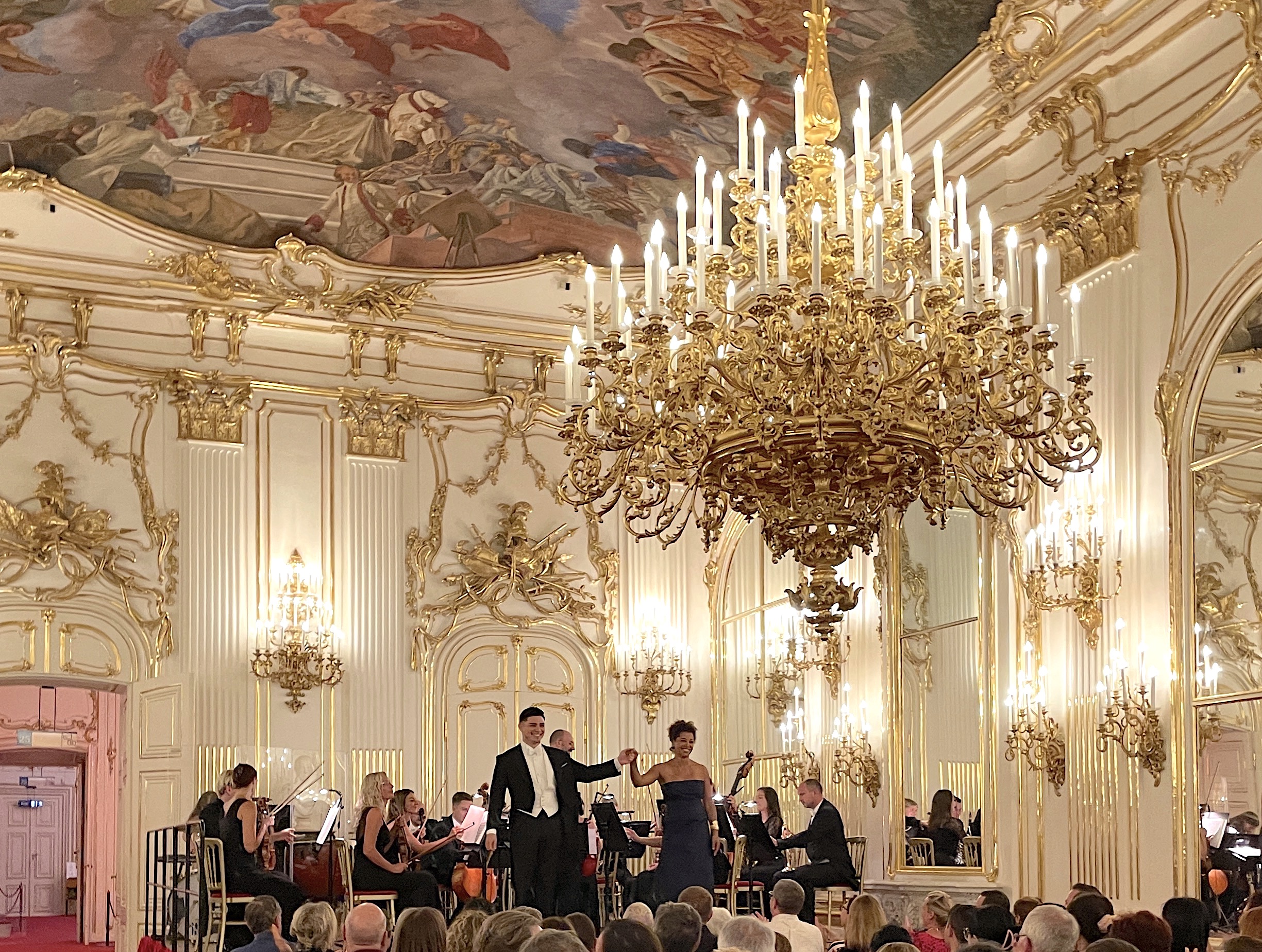 Photo by Michael Reiss
On another evening we enjoyed an after-hours tour, dinner and concert at the stunning Schönbrunn Palace, the summer home of the Hapsburg emperors. The classical music and operatic performances played in the gilded, chandelier lit music salon made for a magical evening.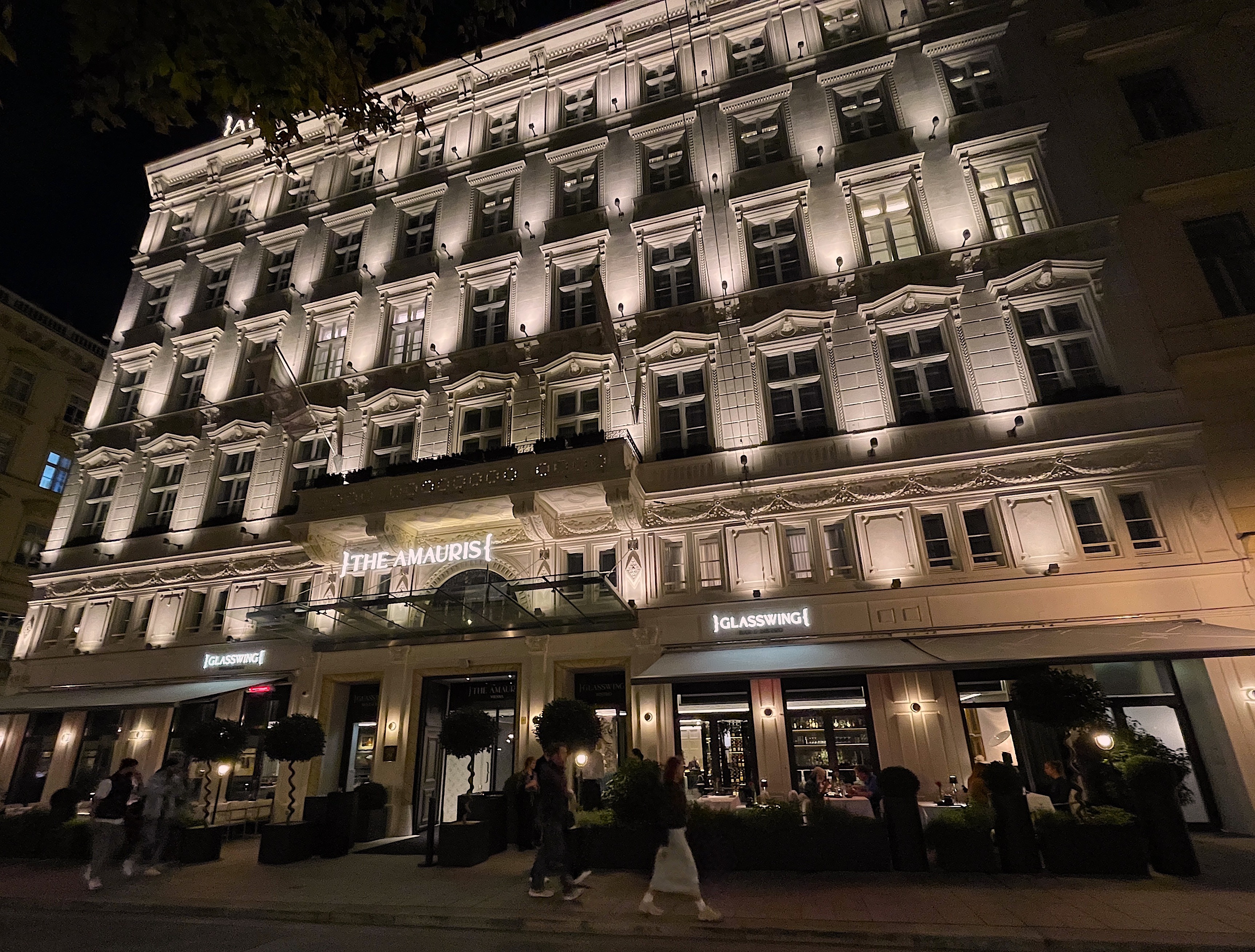 Photo by Michael Reiss
If you want to be in the center of the action, stay at the Amauris Hotel in the 1st District, just steps away from the famous opera house and Albertina Museum.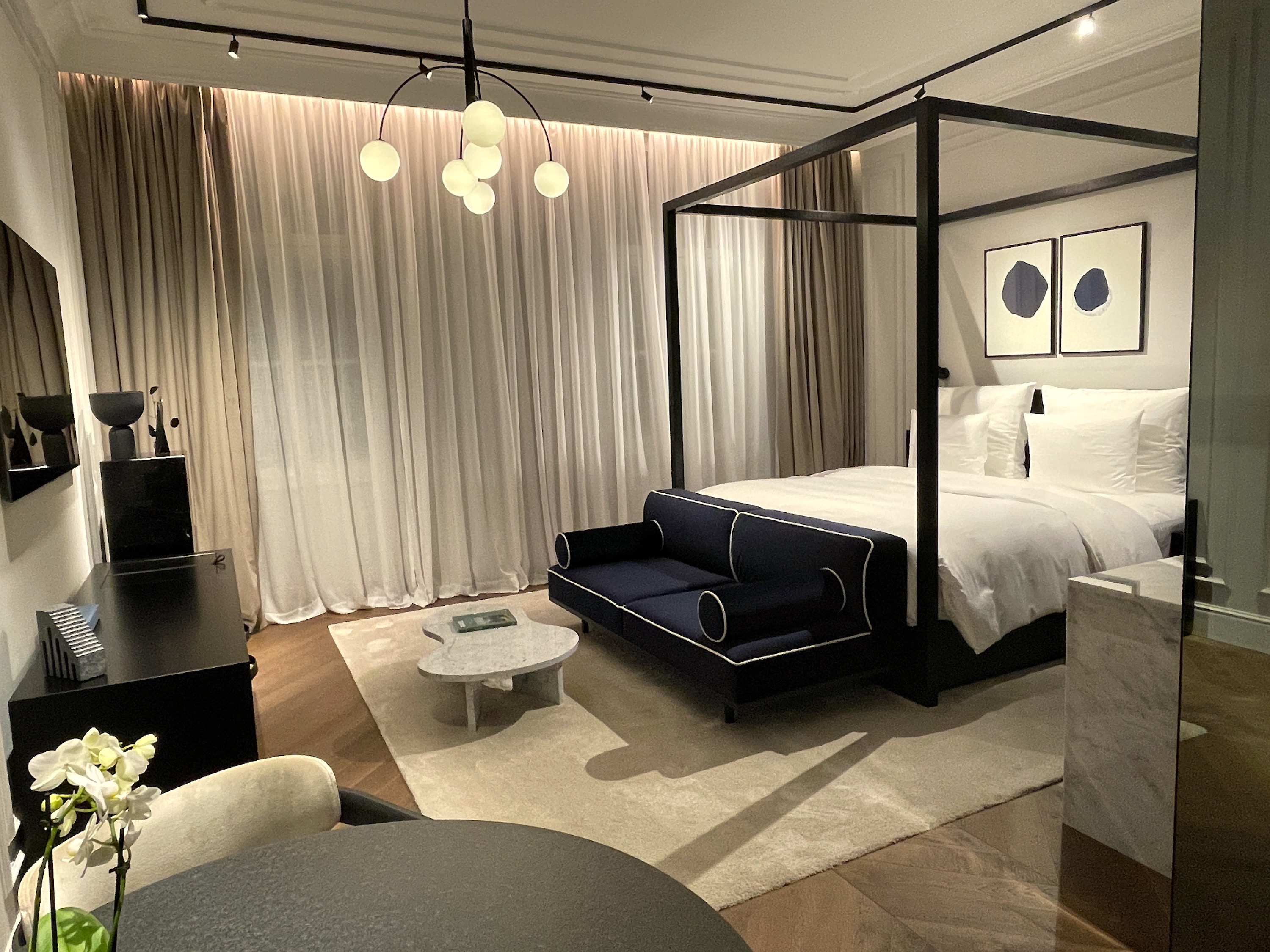 Photo by Michael Reiss
This newly renovated Relais & Chateaux hotel, set in an 1860 city palace, will deliver a superior stay of the highest quality. From the moment you enter, you feel the warm, personal welcome of this luxury boutique property. The stylish design and exquisite, high-end finishes in both the public rooms and the accommodations underscore their passion for beauty and excellence.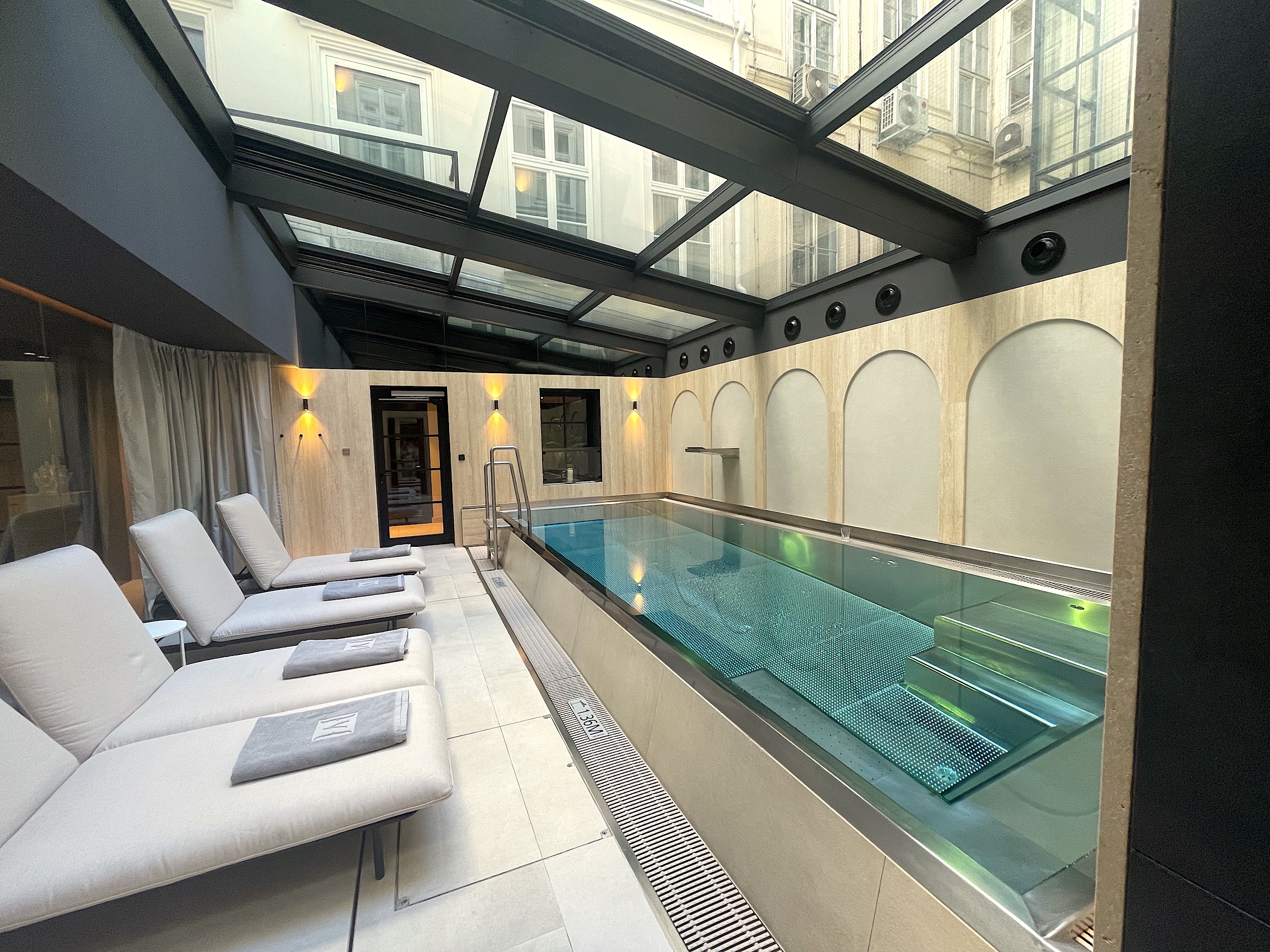 Photo by Michael Reiss
Explore the compact, elegant spa with its steam room, sauna, and heated pool to round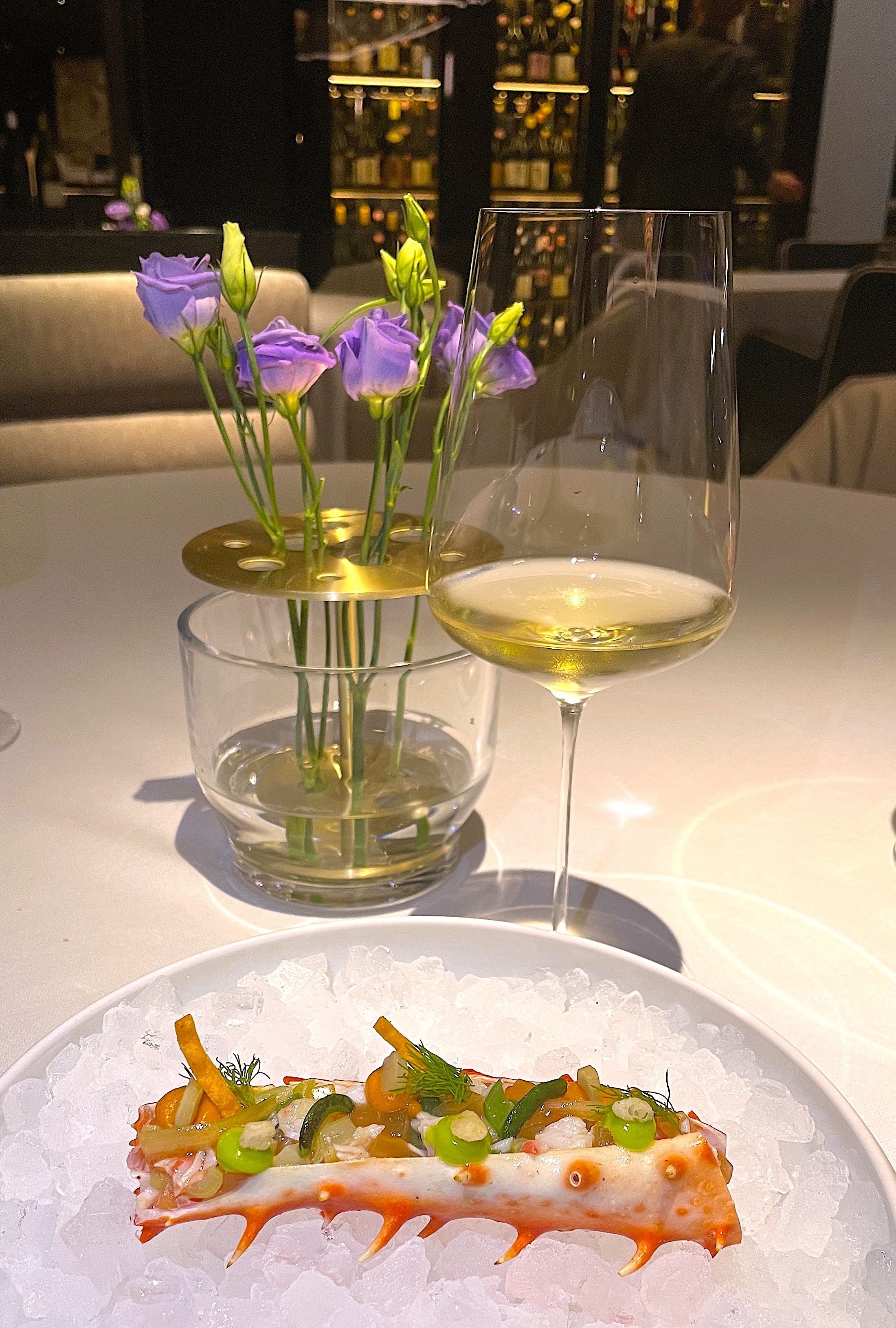 Photo by Michael Reiss
This passion is further emphasized at their Glasswing Restaurant where Executive Chef Alexandru Simon pulls out all the stops in his Seven Course Menu with Wine Pairing. Starting with an array of luxury ingredient pre-appetizer bites paired with Champagne and an array of international wines, you will be delighted with the fusion of flavors and presentations designed to excite your taste buds. Highlights of our meal included a King Crab Salad, a Wild Mushroom Tart, and Wagyu Entrecote A5.
If you want a more casual repast, the Glasswing Bar and Bistro offer an array of tasty dishes including some Asian and Italian items with a fully stocked bar and a master mixologist at the ready to create an original libation.
Photo by Michael Reiss
Before you leave Vienna, treat yourself to one of the Michelin Star restaurants in the city. We selected Two-Star Michelin Konstantin Filippou, for his take on modern, creative seafood. The minimalist décor done in shades of grey and black allowed each dish to take center stage. The service was impeccable, the wine pairings were stellar, and the dishes sparkled.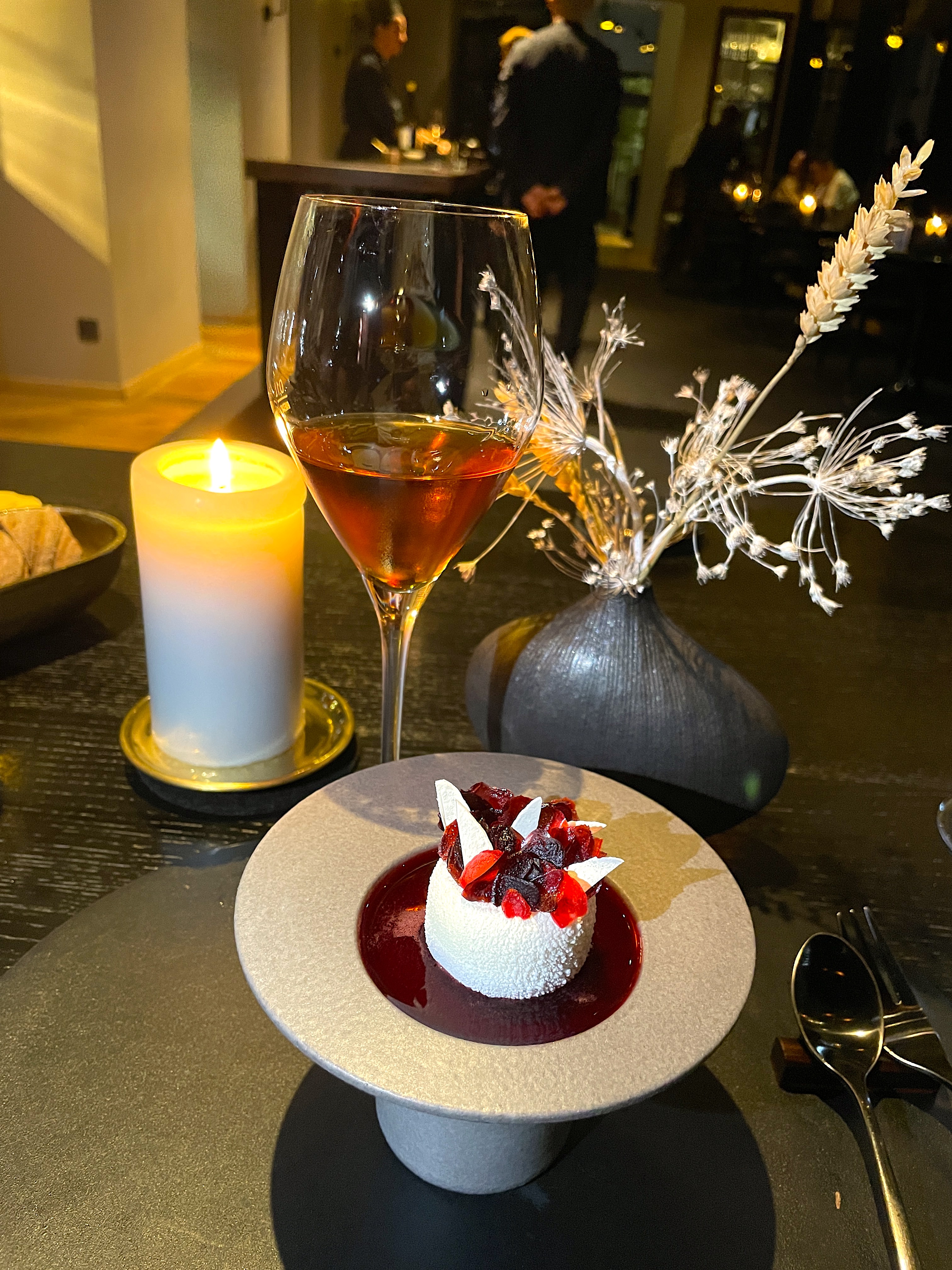 Photo by Michael Reiss
The chef's ability to merge unusual ingredients into combinations that entice the senses is legendary and well deserved. We particularly loved the Smoked Eel and Duck Liver with Bonito and Apricot Vinegar as well as the Norwegian Scallop with Mountain Cheese, Winter Truffle and Radish.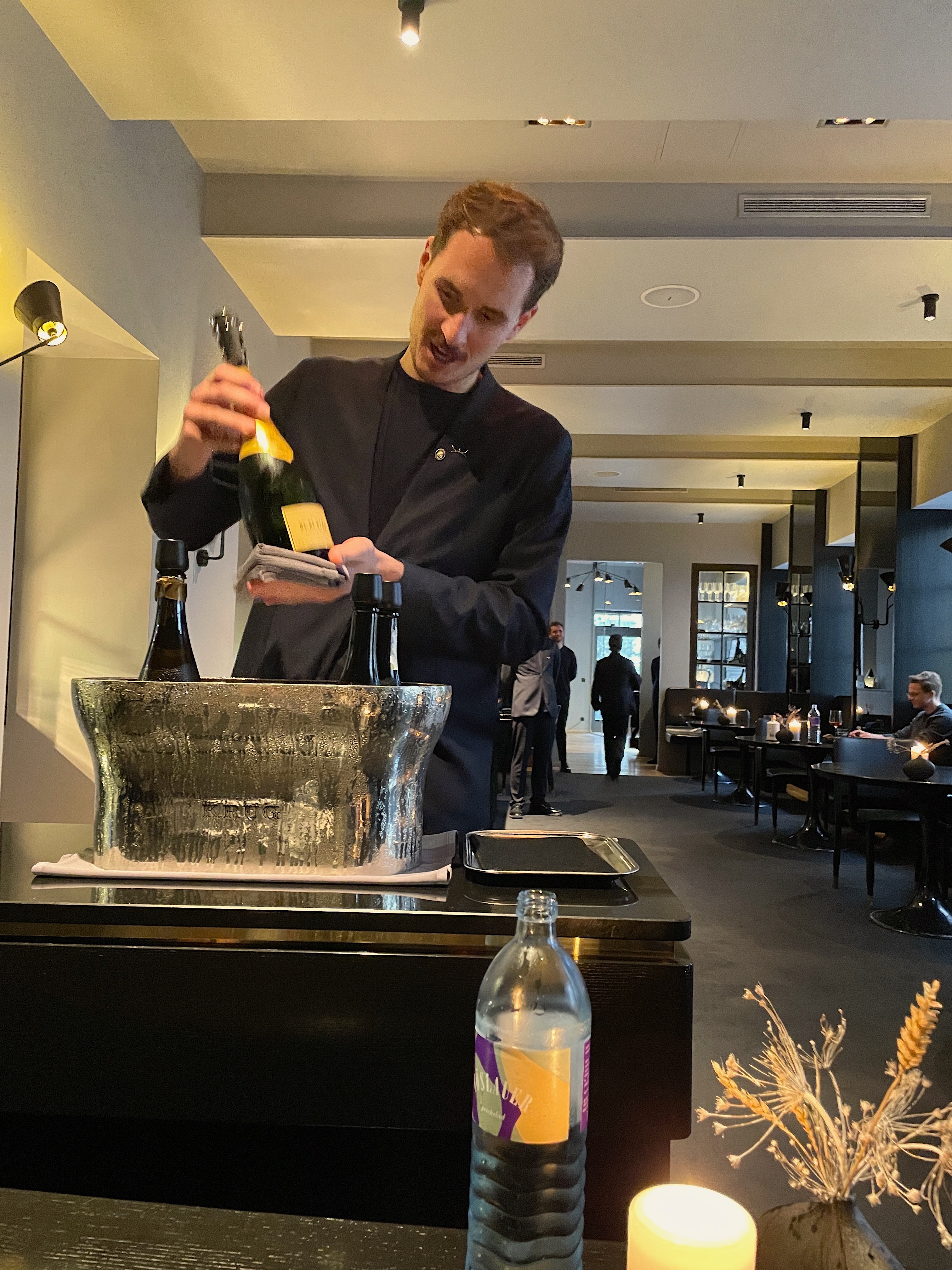 Photo by Michael Reiss
The wine service done by the sommelier was exceptional. Each pouring was paired perfectly and complemented the dish presented. Especially memorable was the Krug Champagne service.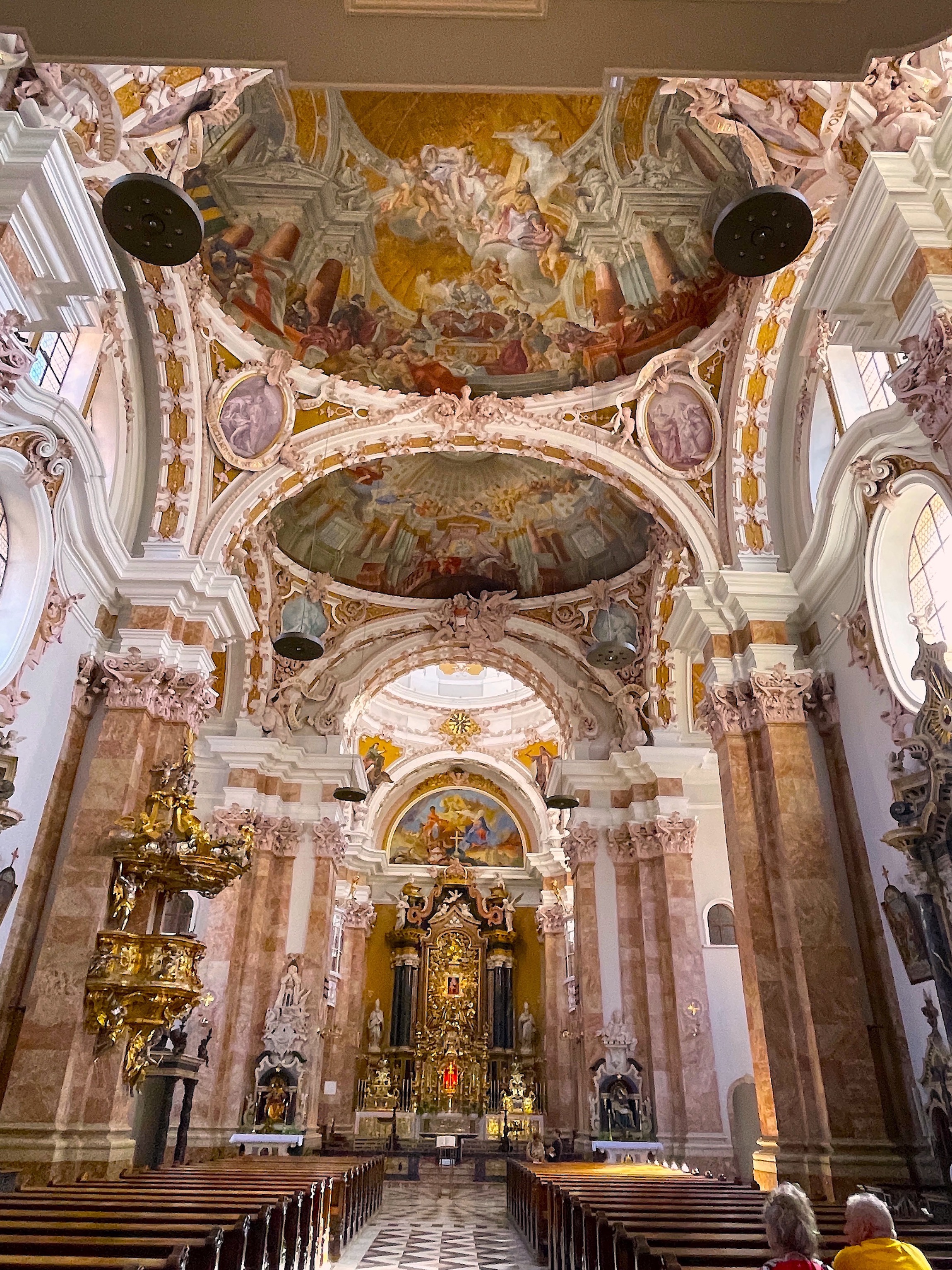 Photo by Michael Reiss
If you are wondering where to find mountains, monuments, music, history, art, culture and culinary traditions all rolled up into one sensational strudel, Awesome Austria is your answer. Check out visit Austria or each city's tourist office mentioned above.