Spain offers so much for the intrepid traveler from thriving cosmopolitan cities including Barcelona and Madrid to sultry sandy hotspots for jetsetters Ibiza and Mallorca. But for the traveler who is looking for something a bit more grounded in the earth, the outdoor adventures are many. The natural beauty of Spain boggles the mind from rocky shores, powdery sand beaches, and verdant mountains beyond description. Being in Spain's unspoiled nature restores the soul in so many ways from each time fresh air fills the lungs,  getting gobsmacked by an unbelievable view or those precious memories from an authentic interactions with locals. Nowhere is this more apparent than in the Asturias, otherwise known as Spain's Green Coast. One of the best ways to combine outdoor adventure, sightseeing, and culture is taking a walking holiday aventure across the Asturias curated by S-Cape Travel.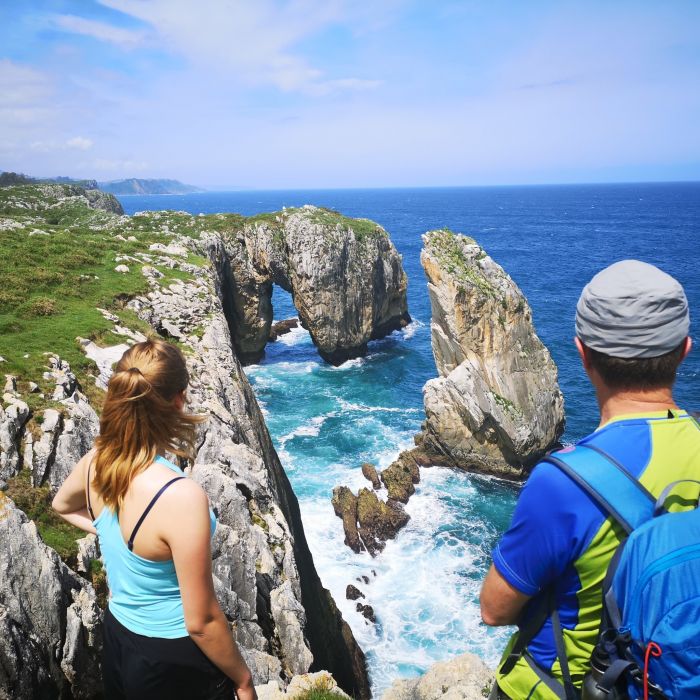 The Asturias walking holiday provides an experience that combines the best of what Spain's Green Coast has to offer. This is far away from the congested and frantic pace of a trampled vacation destination, in fact, this is the polar opposite. Yes, some of the beach towns are vacation getaways, but there are no massive crowds with traffic jams and overcrowded beaches. This is a much more laid-back, less manic, and less hurried way of life there.  
The daily hikes are around 10 miles so guests get a good workout out but it is not too demanding. There are the occasional "elevations" or steep hills but relative to other hiking excursions, this one would be considered fairly easy. What you'll see is incredible views along the coast, from beach to beach, farm to farm, and village to village all connected with gravel roads, grassy paths, and the occasional sidewalk.
Each night, guests stay in intimate boutique hotels for a restful sleep to awake ready for more adventures ahead.  Breakfast is part of the package and from there you are off on the day's adventure. For lunch, hikers are on their own but most days can stop at a café along the way in a village or at the beach. If they choose, they can stock up from a shop in town and pack their lunch. Dinner is always a special affair with options that range from top-rated Michelin Star restaurants, seafood eateries, or family-style restaurants oozing with local charm.
Walking Holidays with S-Cape Travel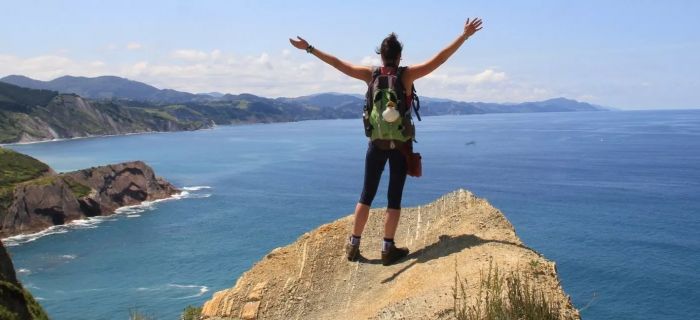 The host for your holiday is S-Cape Travel, one of the leaders in outdoor holidays which provides guests with all they need to enjoy walking or biking holidays. Most of their excursions take place in the UK and Europe.  The company arranges self-guided walking holidays that allow travelers to independently explore these stunning lands on their own schedule without the hassle and arranges porterage of luggage as well as transfers throughout the journey. Accommodations are also provided at quaint family-owned inns.
What makes these walking holidays so special is the freedom of going at your own pace. If you want to sleep in on a day you can, or if you want to get up and leave early to catch the sunrise from the trail it is up to you.  It's no problem to spend a few extra hours in a coastal town for some shopping. You are free to do what you want without the constraints of a walking holiday with a group. Gone are the "we leave at eight", "lunch is at one" and "dinner at seven". There are no group breaks, waiting for other hikers, other inconveniences, and frankly the annoyments of a week of hiking with 20 other people.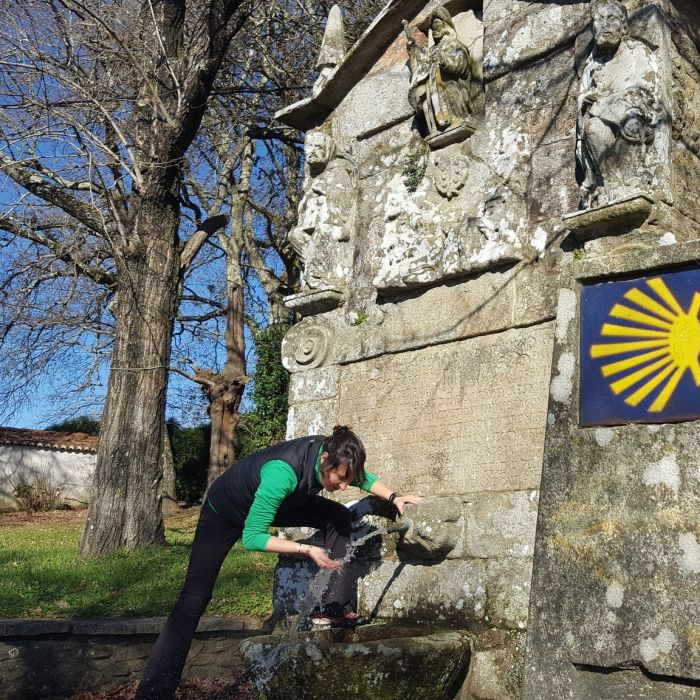 The way it works is that your trip plan is arranged in advance and you'll know where you are going, staying the night, and the hikes that you'll do each day.  You'll leave your bags behind and porterage is handled for you so you'll just take your walking gear, food, and water. The luggage will be delivered for you to where you are staying that night.
There's no need to carry a map either or the frustration of figuring out if it's a left or a right at the next corner. All the necessary information, instructions, and directions are provided through the easy-to-use app that uses GPS vs. data ( so no worries about roaming charges) to guide you along the way. If you go off course by 15 paces you can easily see it and correct your way.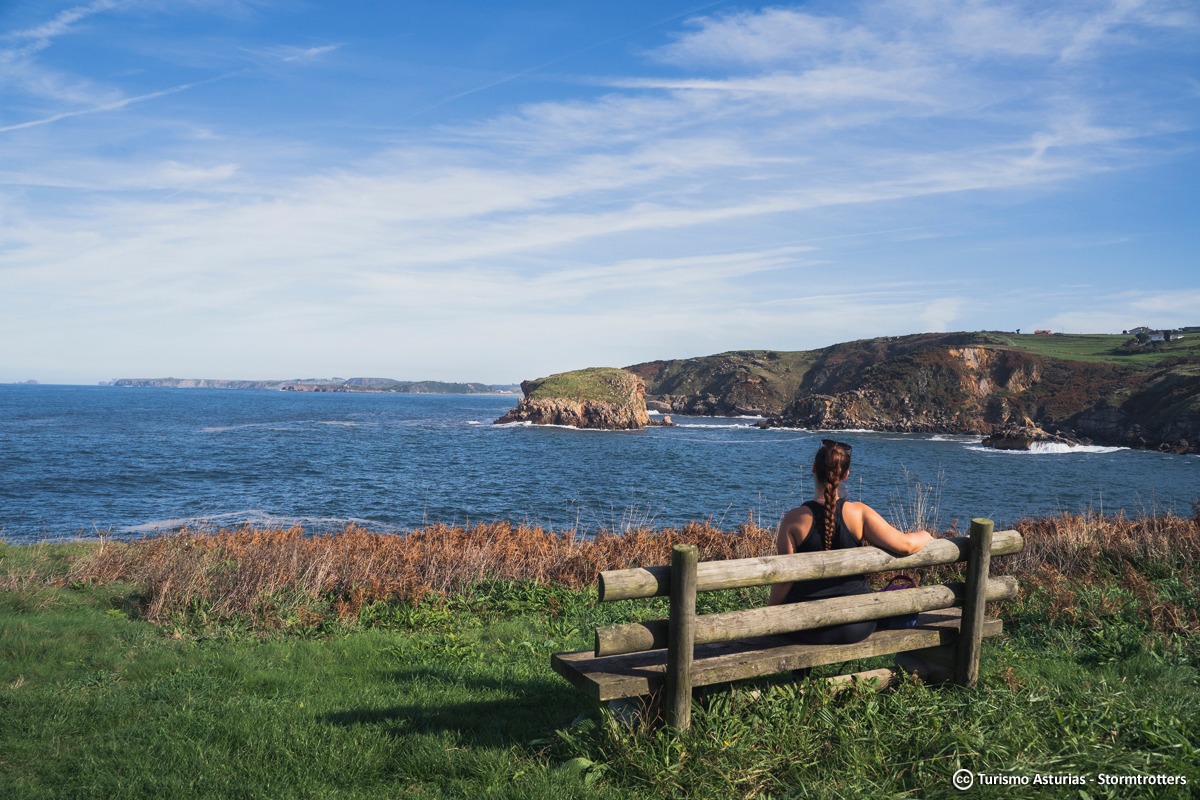 One must admit that the first time at it can be a bit daunting. The driver drops you off at your starting point and off you go. There are typically no signs, maps, or marked routes to follow per se, the app tells you where to go and the roads, trails, and paths to take.  However, if there are any issues, S-Cape Travel is there with 24-hour-a-day service to give you advice or assistance as necessary. Any serious issues can be handled quickly and responsively as well. Having said that, the Asturias walking holiday does overlap in many places with the Camino del Norte so you'll see the signs for that as well as come in contact with other friendly hikers with whom you can share the trail for a few hours before going your separate way. 
THE ASTURIAS: Spain's Green Coast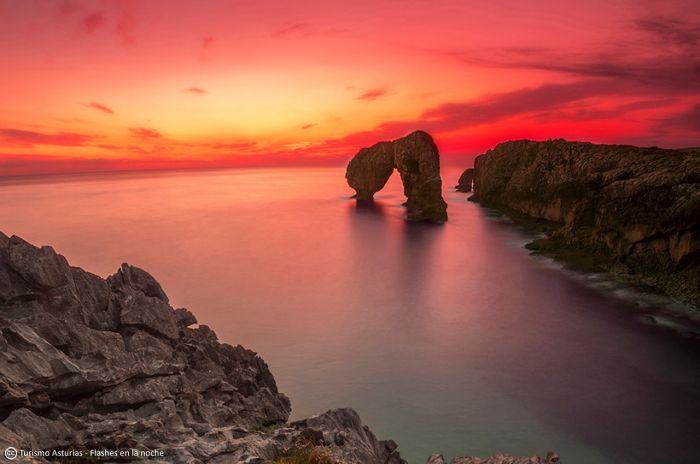 The Asturias is one of the most breathtaking places in Western Europe. A rugged coastline of dramatic rock formations, bucolic landscapes, as well as pre-Romanesque architecture and medieval villages. The backdrop is the towering Picos de Europa mountains in a region that offers a unique combination of coastal, mountainous, and forested landscapes, all within close proximity. Yet it is untrampled by mass tourism, allowing hikers to walk for miles without seeing another soul.
Furthermore, the Asturias are not like other parts of Spain. First, the local dialect is different, Asturiano or Bable, but most can speak Catalan. The language and culture are influenced by the Celts but also the French and the nearby Basque region. Unlike Barcelona or Madrid, there are no grande Gothic architecture, flamenco shows, or bullfighting, and don't expect the sun-tanned outdoor Mediterranean lifestyle. The Asturias offers a much simpler way of life, more rooted in the earth and rural living at a much much slower pace.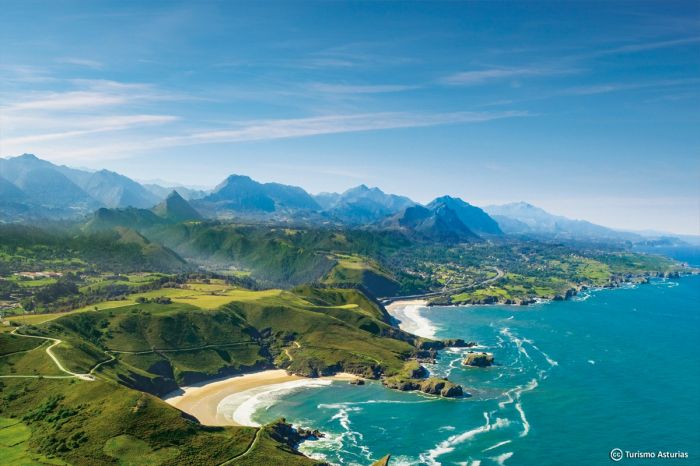 The Asturias' coastline is a masterpiece of nature, characterized by dramatic coastal cliffs that rise majestically from the Bay of Biscay. These cliffs, carved by centuries of oceanic forces, create a stunning visual contrast with the deep blue sea. These same forces created Asturia's iconic sea stacks or dramatic rock formations that are surreal and almost otherworldly.   
The coastline also offers hundreds of coves and beaches where hikers can cool off from their hike and laze about on secluded beaches. Beyond the little beaches and coves, there are more popular beaches like Playa de San Lorenzo in Gijón and Playa de Rodiles near Villaviciosa that are frequented by tourists and locals.  The Asturias are also known for their dense forests that are often cloaked in lush moss. The winding trails go through fragrant eucalyptus forests which also create the ideal habitat for birds and other wildlife.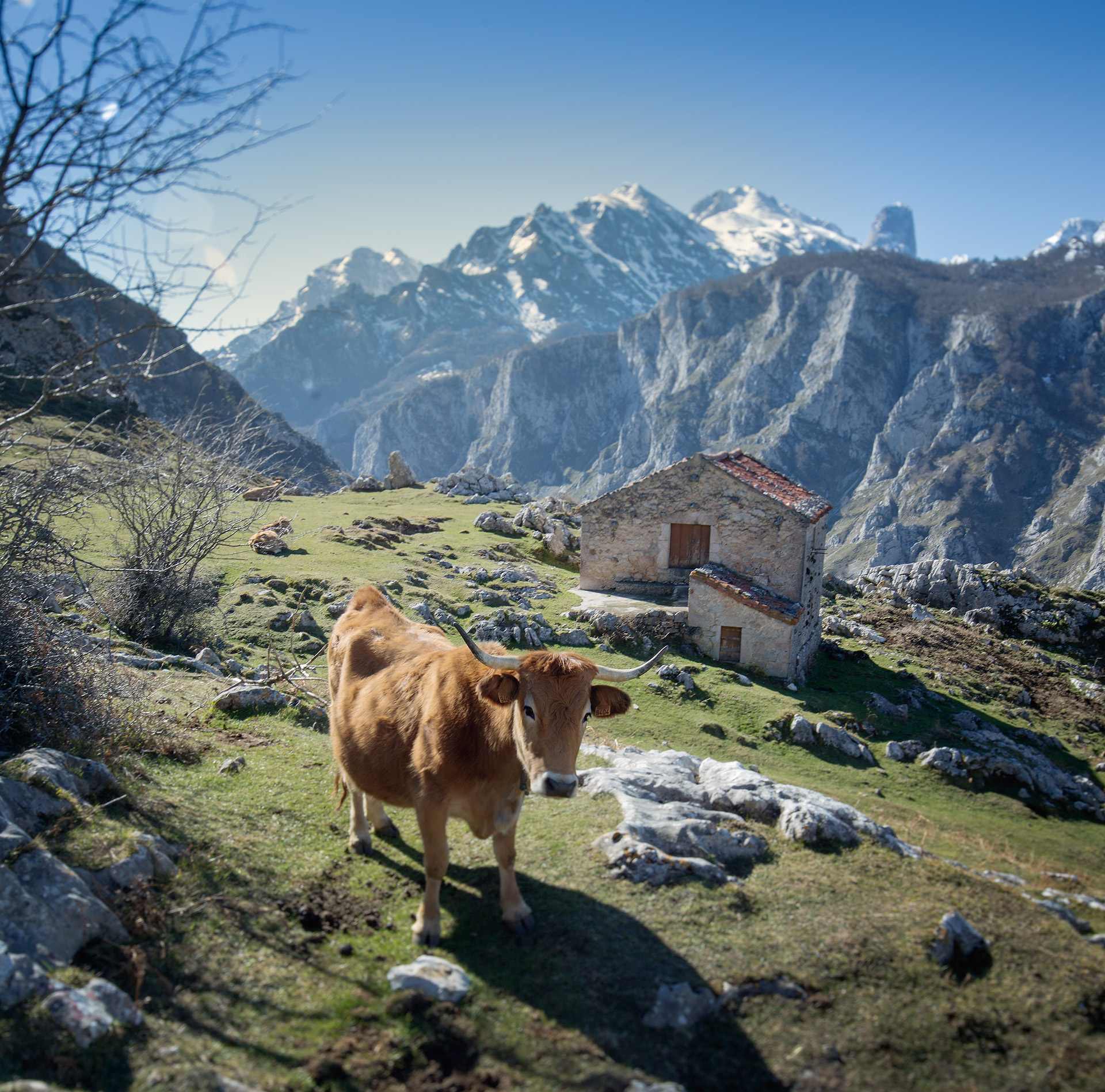 Beyond the coast are lush valleys where you'll see all manner of farmlands with crops and livestock. You'll also see apple orchards, which provide the apples for the region's famous cider, 'sidra.' These valleys are home to traditional Asturian farmhouses, where families have tended to their livestock and crops for generations. The sight of cattle grazing peacefully against the backdrop of the mountains is a pastoral scene straight from a postcard. 
Exploring the Villages and Towns of Spain's Northern Coast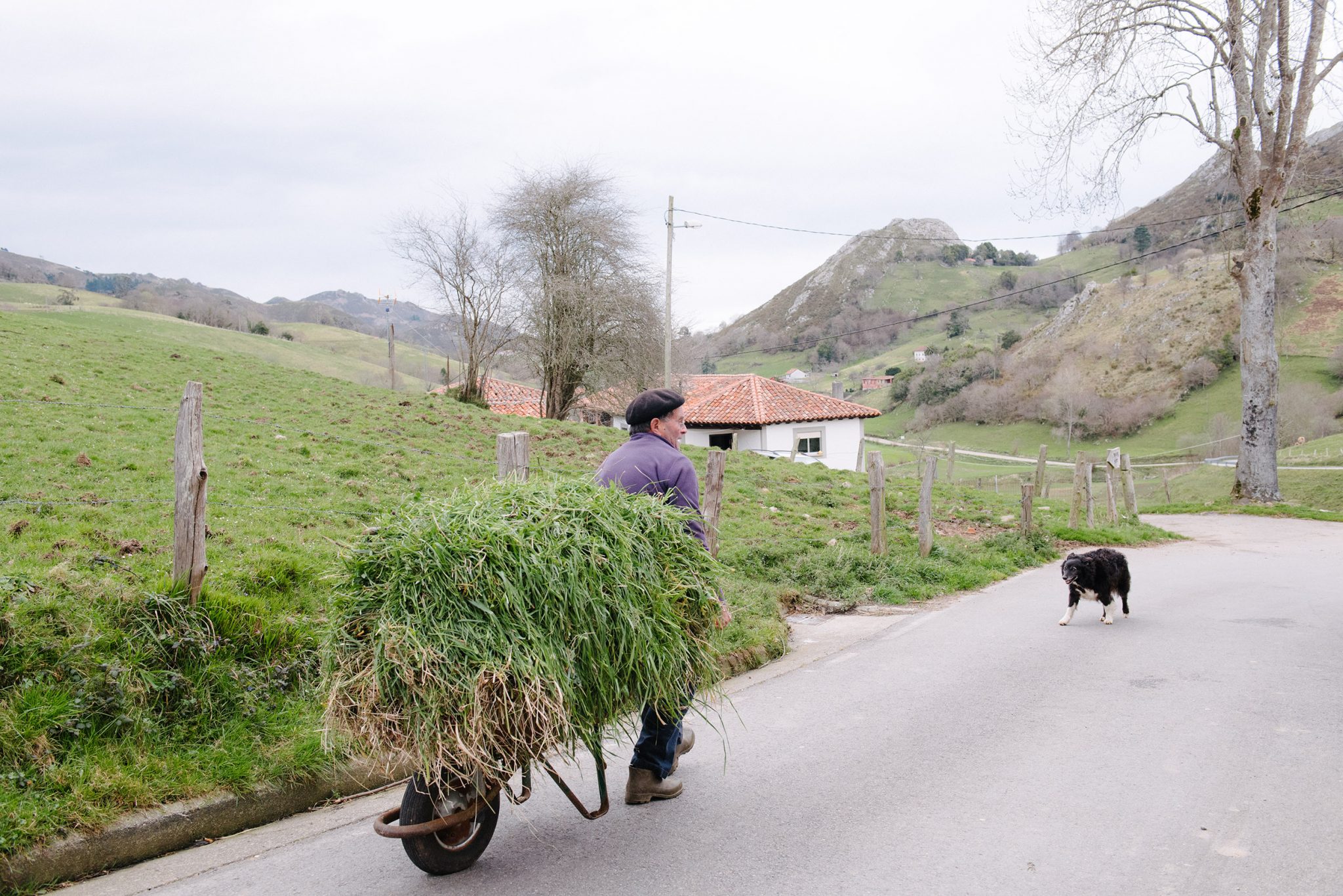 The hiking experience is more than just walking through the gorgeous nature and landscapes of the Asturias. It also offers rich experiences in the culture by visiting the towns and villages along the way. Hikers encounter charming coastal villages with colorful houses lining the shoreline. These towns, steeped in history and tradition, reflect the region's maritime heritage. Their picturesque streets, often bustling with local fishermen, offer a glimpse into Asturian coastal life.  Inland there are small hamlets with families that have lived there for generations and you may see them tending the fields or herding cattle along the country roads.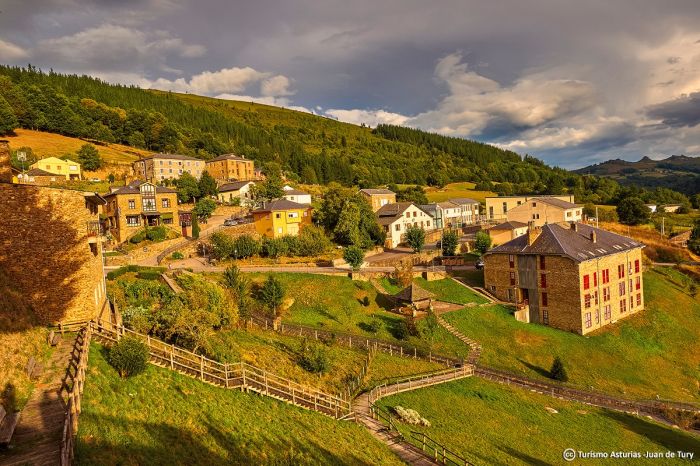 Each night, walkers stay in an interesting town with a history and culture of its own; some with sea views and bustling ports while others are mountain villages surrounded by farmlands. The trip includes visiting villages and towns including Nueva, Colunga, and La Isla among others.   All have plenty to see and explore from winding cobblestone streets to cozy cafes and bars, and so much more. 

The hiking adventure begins in the town of Llanes, a coastal gem with popular beaches with golden sands and crystal-clear waters. The historic heart of Llanes is a maze of narrow, cobblestone streets lined with traditional Asturian houses adorned with intricate wooden balconies. The town's medieval past is evident in its architecture, including the iconic Cubes of Memory, stone cubes carved with symbols and inscriptions.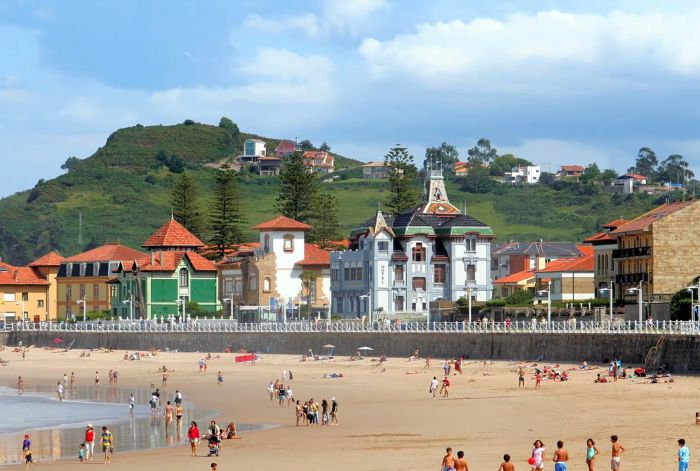 Ribadesella
Another fascinating town that hikers will love is Ribadesella. This is the largest of the towns visited and includes an old town with cobblestone streets and centuries-old Gothic and Baroque architecture. At the heart of Ribadesella lies its stunning beach, Playa de Santa Marina. This expansive stretch of golden sand invites sunbathers, surfers, and beachcombers alike. Along the boardwalk are seaside mansions that overlook the calm waters of the bay.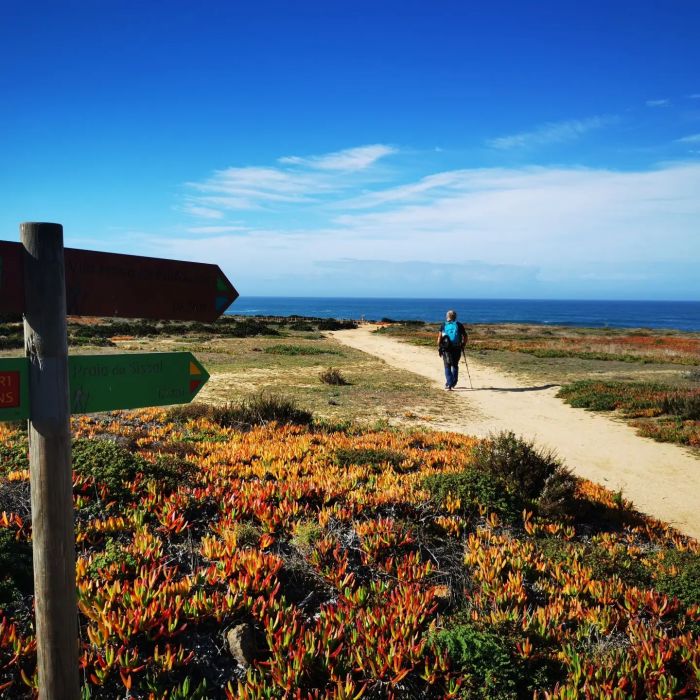 This article continues with part two that explores the culinary traditions of the Asturias as well as where you'll stay during your S-Cape Travel walking holiday along Spain's Green Coast.