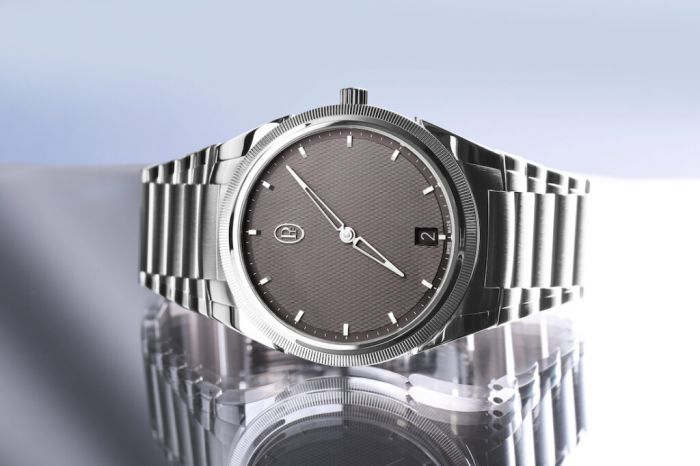 From JustLuxe content partner iW Magazine
When Parmigiani Fleurier debuted its first set of Tonda PF watches just a few years ago, the watchmaker called the then-new series sartorial, with a look inspired by fine clothing design.
Wearing one of the earliest models to emerge from the collection, the Tonda PF Micro-Rotor Steel Slate, gave me a new appreciation of that reference and a clearer idea of why the description so aptly applies.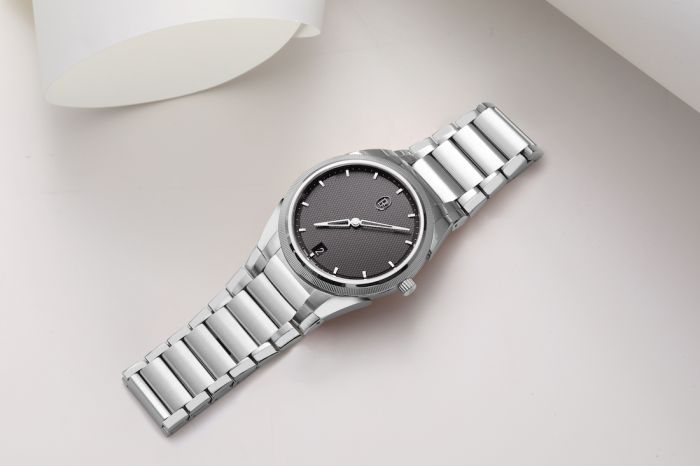 The Parmigiani Fleurier Tonda PF Micro-Rotor Steel Slate.
On the wrist, the watch feels lighter than you might expect from a solid steel bracelet watch, especially one with a relatively weighty platinum bezel and a solid platinum micro-rotor. Both these flourishes of high-end watchmaking weighed more on my psyche than on my wrist.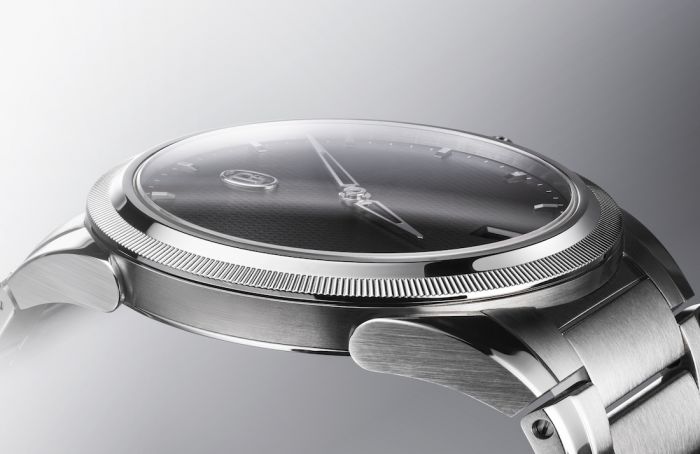 Knowing that this rare and highly coveted element was built into my (borrowed) timepiece conveyed a warm feeling of luxury. This is in part intended I presume, considering Parmigiani Fleurier rightfully humbly brags about using platinum on and within the Tonda PF series.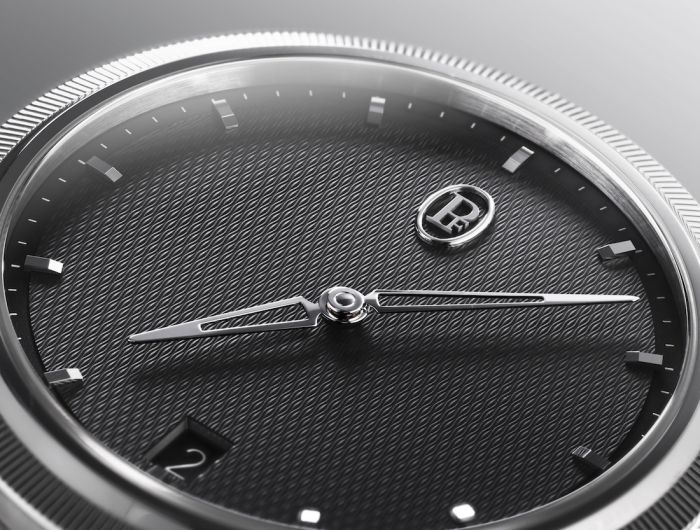 Notes of the precious metal enhanced my enjoyment of the many details Parmigiani Fleurier builds into its watches. Wearing the Tonda PF Micro-Rotor for a week, I also enjoyed other built-in details, some sartorial and some technical, that added to the pleasure.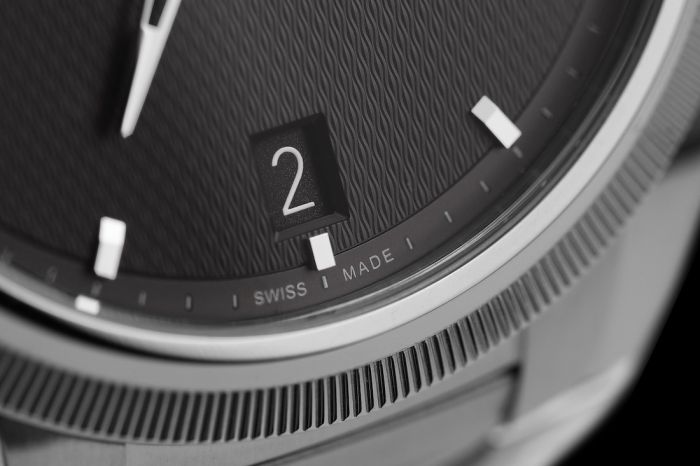 For instance, after staring at the slate-colored matte guilloché dial for some time I was delighted to realize that the date window perfectly matches the dial's minute track. The longish hands, cut from real gold, are open-worked to nicely expose the slate dial.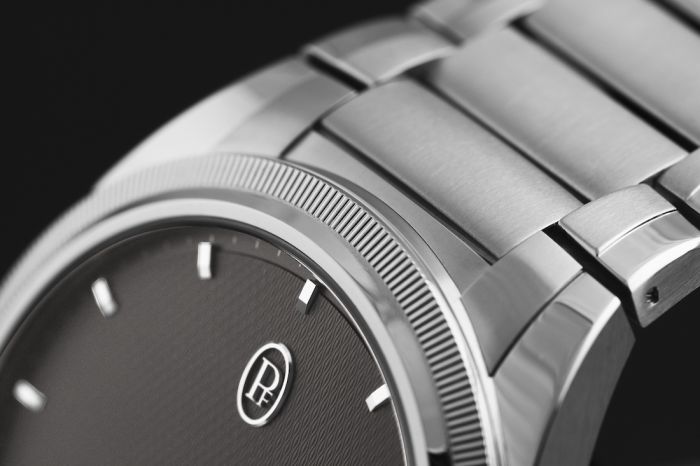 The watch's gently knurled platinum bezel reflects the ambient light and provides a distinctive yet subtle  – yes, sartorial – frame for the hands, date, and dial.  
As the 40mm watch is only 7.8mm thick thanks to the space-saving micro-rotor powering its automatic Caliber PF703, the Tonda PF Micro-Rotor Steel Slate slips easily under a long sleeve. (Note that even the newer, smaller (36mm) steel Tonda PF Automatic 36, at 8.6mm thick with a traditional full-size rotor, rests slightly higher on the wrist than this earlier example.)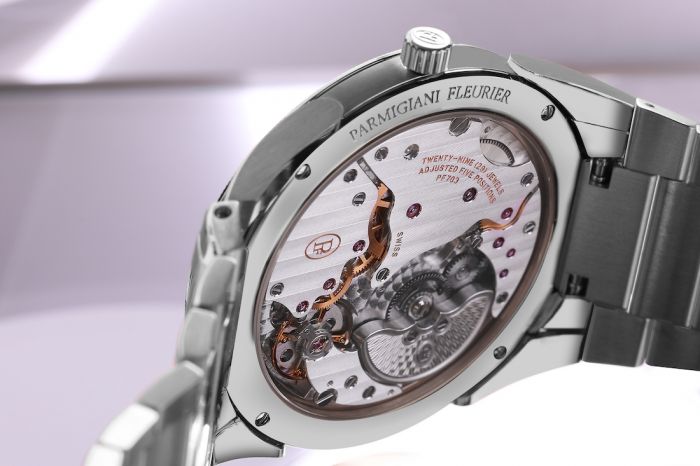 Wearing the watch during a warm summer, I didn't quite try out this particular attribute, but I'm confident that the Tonda PF Micro-Rotor Steel Slate would slide nicely under even a tight-fitting cuff. 
Parmigiani Fleurier updated the Tonda bracelet when introducing the new Tonda PF collection two years ago. Now wider near the bezel and narrower along the length, the bracelet is silky smooth and feels slimmer than it appears. It offers an eye-catching horizontal-satin-finished surface that perfectly echoes the upper surface of the lugs.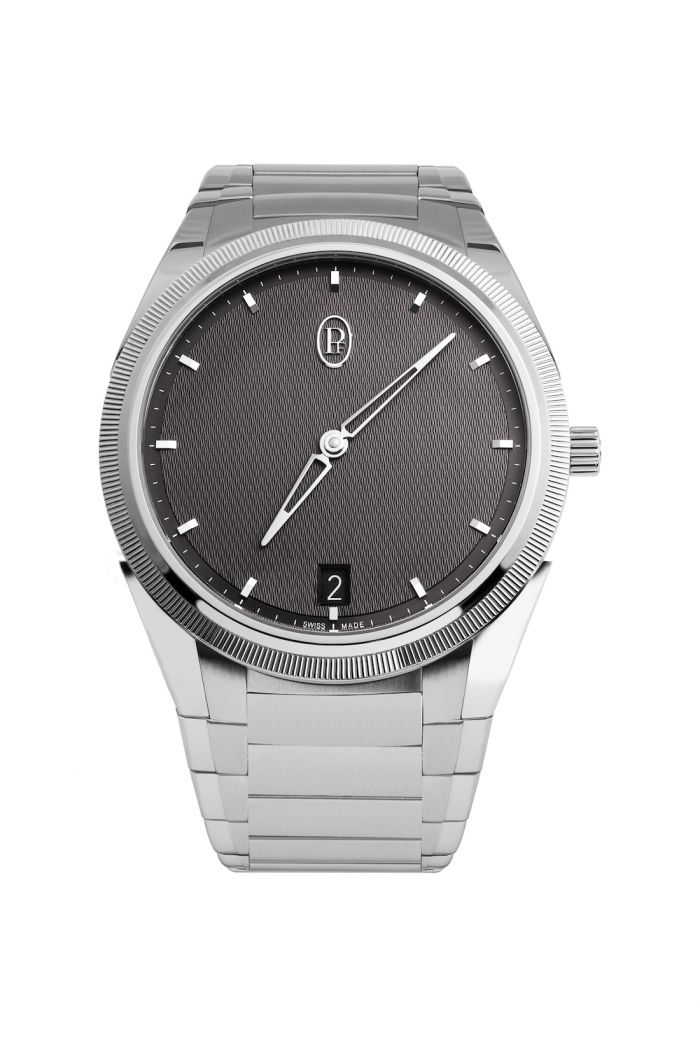 I enjoyed wearing the Parmigiani Fleurier Tonda PF Micro-Rotor Steel Slate very much and would happily recommend it to any collector in search of a comfortable steel dress watch with loads of genuine luxury detail. Price: $22,900.
Specifications: Parmigiani Fleurier Tonda PF Micro-Rotor Steel Slate
Movement: Automatic Caliber PF703 with platinum micro-rotor and 48-hour power reserve, 21,600 vph.
Case: 40mm by 7.8mm steel with platinum bezel, anti-reflective sapphire crystal, and sapphire back. Water resistance to 100 meters. 
Dial: Slate grey Guilloché Grain d'orge, delta-shaped custom hands, rhodium-plated applique markers. 
Bracelet: Steel with a horizontal satin finish.
Price: $22,900.