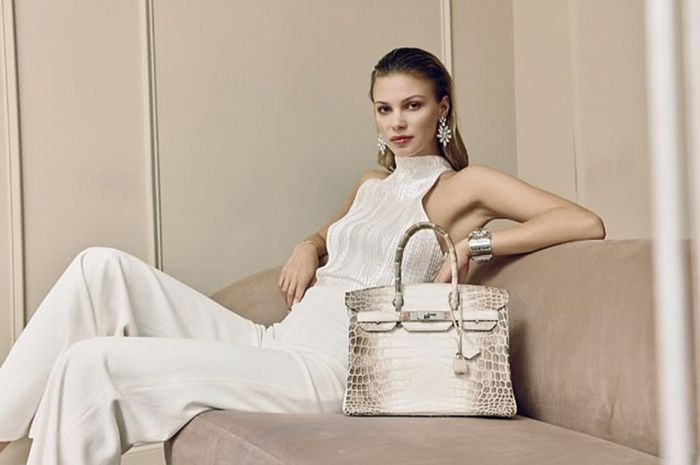 As global markets have become increasingly unpredictable, luxury accessories have seen a steady rise in sales. 
The recategorisation of luxury goods — particularly luxury handbags — from frivolous purchases to viable investments has a lot to do with how financial investments are perceived. 
The unstable stock market has created an opportunity for alternative assets within portfolios. With limited edition handbags selling for premiums and their value increasing over time, they've surprisingly become one of the safest options.
With a global market value of $72 billion, which is expected to grow to $100 billion by 2026, it's clear that this emerging class of commodities is not going anywhere.
And while demand continues to rise, supply is not quite keeping up, driving up prices on secondary markets. 
These factors have created a niche market opportunity for haute luxury goods within the greater sector, led by players such as New York's Madison Avenue Couture.
Founded by CEO Judy Taylor in 2010, the pioneering company's diverse set of rare luxury handbags—physically located in-store—quickly gained traction amongst the new breed of luxury shopper investors, and Madison Ave Couture soon began doing boutique pop-ups on Rue La La. 
Within a year and a half, Judy's brand caught the attention of Gilt, leading to a mutually beneficial three-year partnership that got the luxury reseller on the map.
After thirteen years in business, Madison Avenue Couture has earned a reputation as the gold standard in the luxury handbag resale space. 
Focusing on highly sought-after brands like Hermès and Chanel, discerning local and international buyers recognize Madison Avenue Couture's curated handbag collection. 
Whether shopping online or at its NYC showroom, fashion enthusiasts chasing the latest bags and lifelong connoisseurs—whose private reserves rival most luxury vintage stores—can always find what they're looking for.
Like with any resale item, authenticity is paramount due to the whopping counterfeit market that's reached $3trillion. 
Madison Avenue Couture follows a thorough three-step authentication process—consisting of two in-house checks followed by a third party—ensuring the condition of each bag is as advertised, that accurate documentation is provided, and the bag customers see on the website is the exact one they will receive.
Taylor explains: 'Our edge is that we own, and actually have all the items we list on hand and can ship purchases to their homes within one to two days from the sale'.
Because having physical possession of the bag in question is rare in the industry, this competitive edge is a major game-changer for buyers. 
Whether shipping internationally or coming to the New York showroom to pick up, customers receive their purchase as fast as an Amazon Prime order. 
For clients who prefer to examine their piece before buying, the showroom in the heart of New York City—which opened in 2020—allows customers to 'try before they buy' while receiving support and advice from the team's experts. 
And those who can't travel to the showroom can schedule a Facetime appointment with Madison Avenue Couture's luxury specialists to examine the merchandise. 
Such concierge services are a major differentiator for buyers who expect their shopping experience to match the caliber of their purchase.
Madison Avenue Couture's unique inventory of rare bags draws high-level collectors more than any other factor. 'Details and rarity, these specifics really matter to our clientele,' adds Vice President of Sales and Marketing Alexis Clarbour.
In addition, the company accommodates those who are also newer to the space or who are just beginning to build their collection by providing education and helping them find the best fit for their specific needs. 
For instance, if a husband wants to surprise his wife with a dream Kelly bag, the team can assist him throughout the process, even offering an option to FaceTime to see the possibilities on video. 
Recognized as a leading reseller of Hermès, the company is renowned in the space for sourcing some of the rarest pieces in the world, including a recently sold Birkin Himalaya with diamond hardware, priced at $550,000 (setting a record). 
In addition, due to Hermès' complex buying policy, which often involves long lead times and various filler purchases, Madison Avenue Couture's concierge service is an equally luxurious but welcoming alternative that does not require a waitlist.
Whether it's a move towards sustainable styles or a change , fashion is constantly in flux, responding to the world as it evolves. 
As the shifting global economy causes uncertainty across markets, investing in luxury handbags, whose value has consistently proven to stand the test of time—even performing better than stocks at times—has become increasingly popular. In fact, luxury handbag prices have risen 92% over the last decade. 
With Madison Avenue Couture continuously expanding its range of inventory and quickly responding to trends and customer demand, the company is a leader in the luxury reselling game and this growing class of investment.