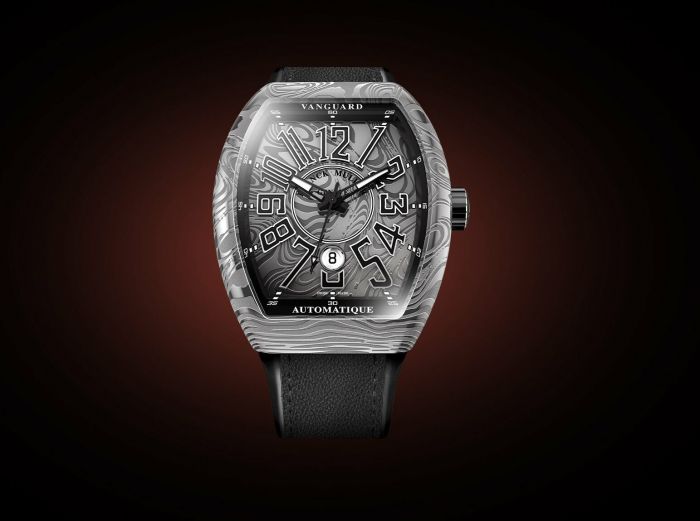 From JustLuxe content partner iW Magazine
New in 2023, Franck Muller's new Damascus Steel collection celebrates the art of metallurgy as it extends its best-selling Vanguard collection with sporty, skeletal, and dressy editions, each using Damascus steel cases.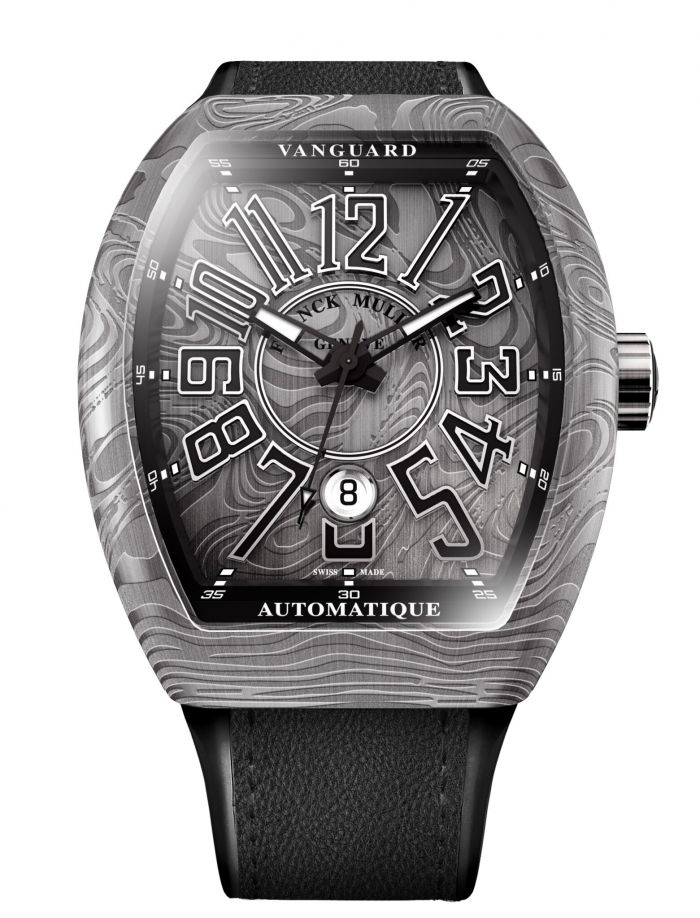 One of two models in the new Franck Muller Vanguard Damascus Steel Dial collection.
Originating in the Near East with steel likely imported from India, extra-strong Damascus steel features a wood-grain-style pattern. Artisans in Japan are perhaps the best-known Damascus artisans for their Damascus work on Katanas, the emblematic swords of the Samurai warriors.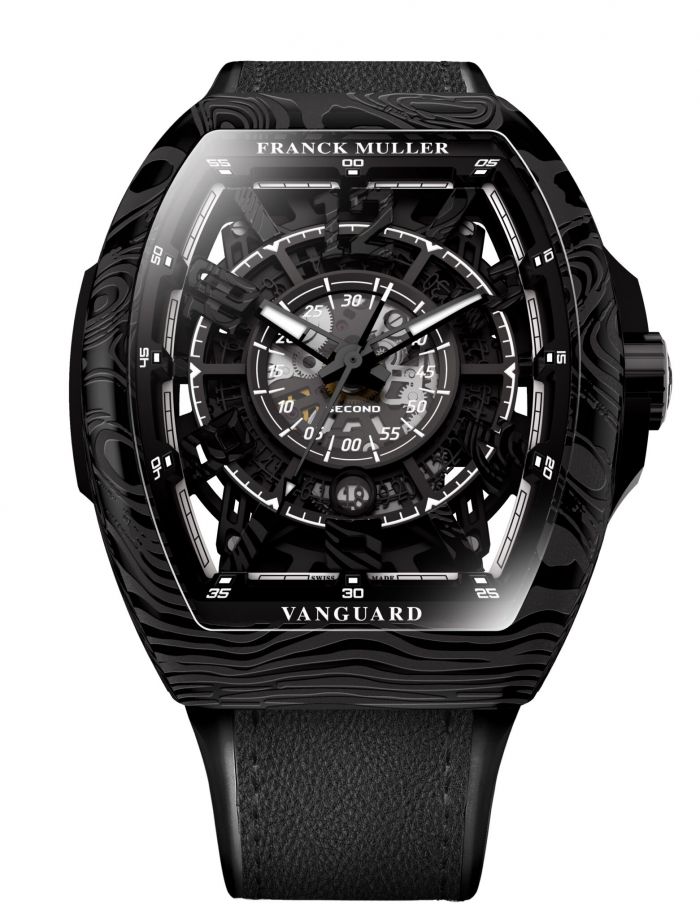 The blackened example from the new Franck Muller Vanguard Damascus Steel Racing collection.
Franck Muller creates its own style of Damascus steel made using two types of non-magnetic stainless steel (which allows a watch movement to function). Its grain design is naturally revealed when immersed in an acid bath, and each piece offers a unique pattern.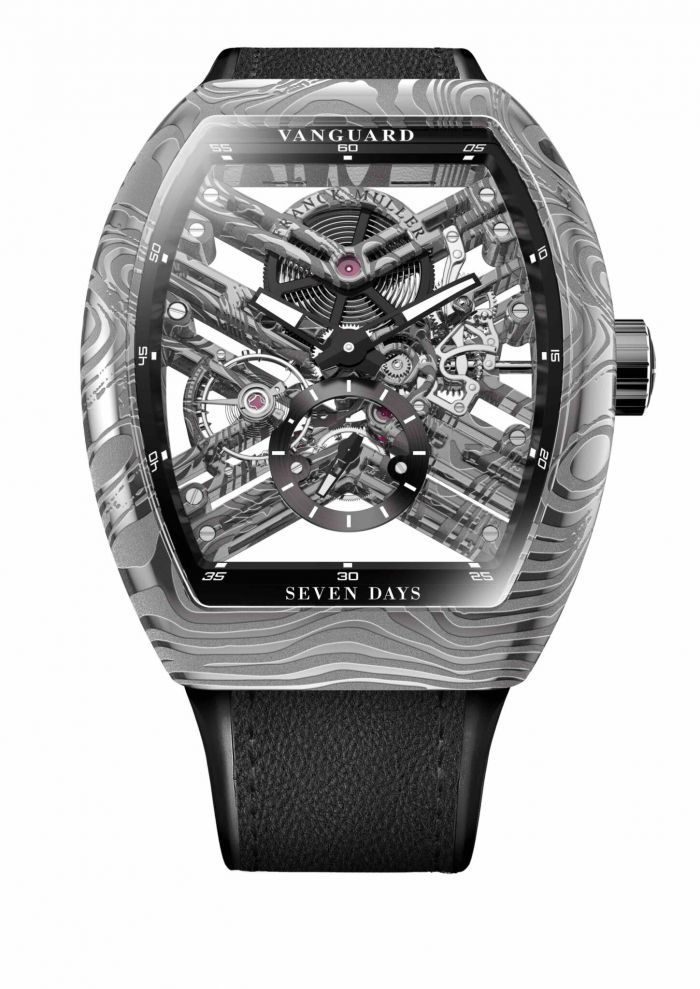 The new Franck Muller Vanguard Damascus Steel Skeleton.
Within the barrel-shaped Vanguard collection, all models measure either 45mm or 46mm across. Within each style, Franck Muller offers a model with blackened surfaces and a lighter, natural Damascus-grain surface, each framing a Franck Muller manual or automatic movement. On all watches, even the buckle is made of Damascus steel.
The three-hand with date Vanguard Damascus Steel Dial models arrive with a grosgrain leather strap ($13,100). The Vanguard Damascus Steel Racing series exposes its movement with slanted, open-work markers and an inner seconds dial ($24,200).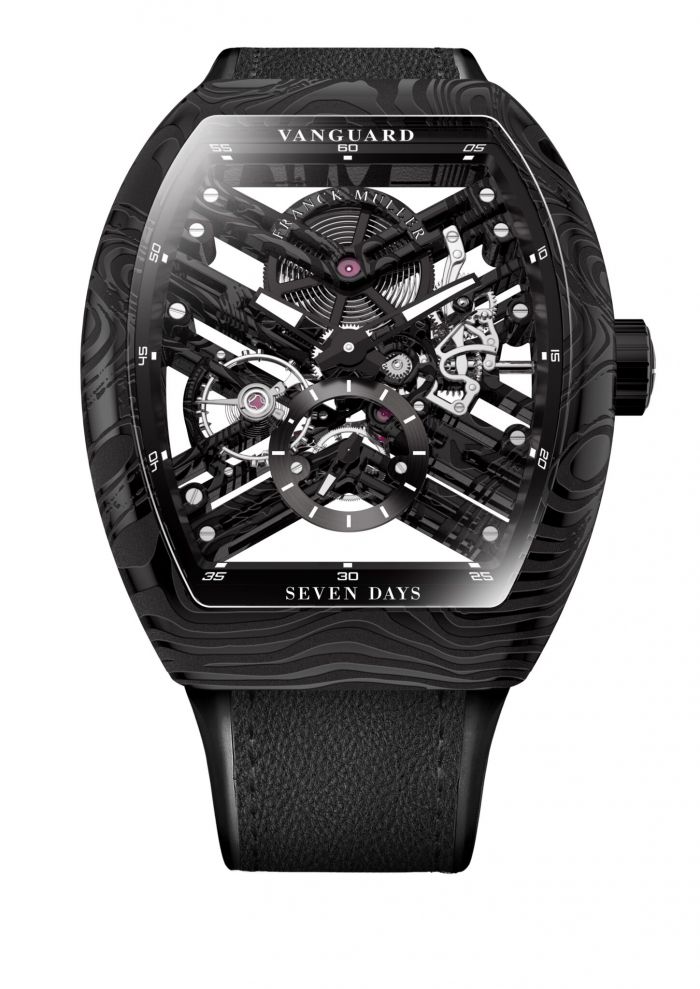 The darker version of the Vanguard Damascus Steel Skeleton.
The most dramatic series here, the Vanguard Damascus Steel Skeleton ($44,200), echoes the existing, contemporary Vanguard Skeleton series, but with Damascus bridgework that matches the case around it. Inside you'll find a Franck Muller manual-wind movement with seven-day power reserve.